Black bedroom ideas - how to create chic and cosy spaces with this expert guide
The smartest black bedroom ideas elevate this shade into something that feels sophisticated, stylish, and totally right for sleeping in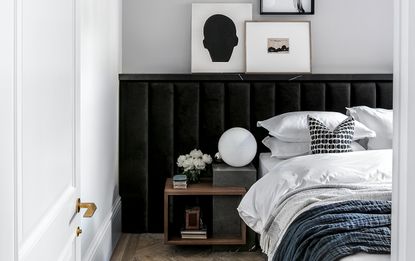 (Image credit: Taran Wilkhu)
These expert black bedroom ideas are here to banish any preconceptions. Yes, using black in a bedroom is far from dreary and depressing. As our experts attest, used correctly, it will deeply enrich any space for a look that's smart, sophisticated and so very stylish.
From getting the lighting right, to enhancing the proportions of your space - black will not only make your colour palette pop but it's also the perfect tool for elevating your bedroom design to the next level, one of those bedroom color ideas you wish you'd thought of earlier
CHOOSE WRAP AROUND COLOUR FOR MAXIMUM IMPACT
If you're already a fully fledged convert to the dark side and need no convincing, you'll love this wall to wall look for maximum drama. Paint is, of course, a good option for dark bedroom ideas, however if you're after something with a little more depth, a textured wall covering could be the answer. Sheena Murphy, co-founder of Nune, explains how this transformed a previously stark room.
'Designed for a professional couple living in Downtown Manhattan, the brief was to up the drama and cosiness of this space. We selected a black Philip Jeffries textured grasscloth wallpaper to completely wrap the bedroom in and it instantly felt like an entirely different space', Sheena says. 'The organic texture gave the colour real depth, while also creating a luscious backdrop to the natural sisal rug and existing cream curtains. Contrasting smooth vintage brass lighting adds sophistication and glamour'.
ADD DEFINITION TO A NEUTRAL SCHEME WITH BLACK FURNITURE
You needn't have to go all out to achieve a bold and striking look. Designer Peter Mikic explains how even the softest of schemes can benefit from a dose of black. 'In this project, our clients were keen to use a soft palette throughout their house, so we were looking at neutral bedroom ideas. In order to achieve some clarity between these muted shades, we introduced a series of black accents that add depth and weight to the soft transitions between different neutrals.'
The best four poster beds are as striking as they are comfortable. Peter says, 'Black furniture, and lighting too, are both great for drawing attention to a certain area and defining subtle details that may have otherwise gone unnoticed. Sticking to simple, pared back silhouettes will ensure a sophisticated look'.
GO FOR GOLD TO CREATE AN ELEGANT LOOK
'Combining black and gold in a bedroom is a recipe for enduring grandeur - we like to call it, The Midas Touch', says Marie Soliman, Founder and Creative Director of Bergman Interiors. The star of this glamorous bedroom is the Art Deco print that adorns an upholstered panel behind the bed - and a beautiful fabric such as this is a great starting point for creating a black and gold scheme.
Marie advises how to use this combination with confidence; 'I always recommend using warm tones for paint on the walls in a bedroom, and this is especially important when combining with gold,' she says. 'Burnt chocolatey charcoals and warm greys will add much more depth to a room than bright white and will also partner more cohesively with rich gold hues,' she says. 'In a bedroom, cosiness is everything, and I love to contrast hard gold finishes with velvets and mohair wools for a really inviting look'.
SAY IT WITH STRIPES
Black is a very bold, directional color, so it's perfect for demanding attention and directing the gaze. Pair with bold stripes, and you've got a force to be reckoned with. This bedroom, designed by Finchatton, uses a monochrome vertical stripe and shows how to wallpaper a statement wall perfectly - it guides your eye from the floor all the way up to the ceiling for an incredibly height enhancing effect.
A bold stripe deserves a bold splash of colour to balance it, and deep terracotta red is a smart choice. Just a hint across a headboard will provide an anchor within the room as well as some visual stability for a well grounded scheme.
ANCHOR A FRESH WHITE SCHEME WITH A STATEMENT HEADBOARD
In any bedroom, the bed and its headboard make for a prime opportunity to introduce some statement color, especially when it comes to black bedroom ideas. Edo Mapelli Mozzi, founder of Banda, explains how for this particular project, they decided to go supersize for maximum effect.
'By running the width of the room, as opposed to the standard bed width, the sheer size creates immediate impact and makes the headboard a statement of the room', Edo says, 'and texturally, it's bespoke fluted suede fabric finish feels luxurious, but also calming.'
'Alone it already created a strong focal point, however we also added a grey marble shelf to the top of the headboard creating the perfect ledge for balancing a cluster of artwork behind that ties the whole monochrome scheme together,' Edo adds.
FRAME UP FOR A SMART AND SOPHISTICATED BEDROOM IDEA
If you're wanting to add architectural interest to an otherwise plain room, black is here to help. Natalia Miyar, founder of Natalia Miyar Atelier explains how she cleverly injected an extra dimension into this bedroom scheme.
'We introduced a black frame on the wall behind the bed as a design feature to create a sense of identity in this typical square bedroom layout and make it much more visually interesting,' she says. 'The frame ties together the furniture in the room, as well as picking up on black accents within the punchy colour scheme for a smart, modern aesthetic. Playing with scale and materials in this way has created a feature out of a blank wall that also unites different elements of the room'.
'Black really helps to give the punchy colour scheme a sophisticated feel,' Nataliya adds. 'Black horizontal lines are repeated throughout, across cushions, furniture and the curtain track. We also added the black stripe underneath the window as a counterpoint to the black frame, giving balance to the room while still visually reinforcing the linear theme running through the scheme'.
GET THE LIGHT RIGHT
In a room filled with black hues, it's important to consider your bedroom lighting ideas in order to prevent the whole scheme from falling flat. Rachel Usher of Rachel Usher Interior Design masterfully employs several tricks to shine this bedroom in its best light.
Globe lighting is a great choice for darker schemes as it provides a soft yet generous pool of light that gives the perfect ambience. 'In this bedroom, we also included illuminated recessed shelves backed with grey tint mirror to reflect even more light into the room and add more depth to the space,' Rachel says.
Of course, with light comes shadow and another opportunity to create depth; reeded texture applied on the wardrobe doors and behind the bed offers another surface for light play, adding even more interest to this deep and moody scheme.
USE BLACK AS AN ACCENT WITHIN RICH PALETTES
'Adding black to an earthy palette is the perfect way of grounding a room', says Irene Gunter, founder of Gunter & Co. 'Black, dark greys and grey-browns are hues often found in nature, so it makes sense to combine these with rich terracotta and olive greens', she says, 'I find earthy tones combined with ivories and yellows can feel quite old-fashioned, but with black there is an 'edge' that makes interiors feel contemporary'.
Hovering on the border of black and grey bedroom ideas, the process began in one specific place. 'Our starting point was choosing the black windows and we knew a period sash frame would lend great character to the rooms in this particular house. We then opted for furniture and lighting with clean, minimal lines and a beautiful matt metal finish that speaks to the black framework of the windows for a smart and cohesive look'.
BE BRAVE AND BOLD WITH GRAPHIC PRINTS
The high impact, authoritative nature of black lends itself perfectly to geometric patterns with orderly motifs. It's a handsome partner for any colour, but paired with white for a monochrome print, the effect is particularly usable for most rooms. Charu Gandhi, Founder and Director at Elicyon explains how she included a bold print in this black boudoir.
'For this master bedroom, we used a matt desaturated black wall covering to create intimacy and impact. Against a black backdrop, everything else stands out in the room, so you can afford to bring a bold graphic element to the design,' she says. 'Layering is the best way to incorporate pattern into a monochromatic scheme - here, we balanced a bold print with eye catching metallics, while also creating calm using nude and neutral tones'.
PARTNER WITH NATURAL TEXTURES TO APPEAL TO YOUR SENSES
Abigail Ahern is a stalwart advocate for dark interiors, and the evocative rooms she designs are testament to the palette's enduring appeal. 'I am obsessed with bedrooms painted in dark, inky hues"', Abigail says. 'Contrary to popular belief, they actually create the illusion of space as dark colours recede in our vision. A black scheme not only looks super sophisticated, but the room itself will also feel cosier, more atmospheric and far more intriguing'.
'Add natural texture into the mix, and the combination will ignite your senses,' Abigail adds. 'Materials such as raffia, rattan and cane are visually interesting and tactile too, appealing to both our senses of sight and touch', she says. 'In darker spaces, our senses are amplified and this use of texture takes on new heights of importance for a grounding and super soothing feel'.
The Livingetc newsletter is your shortcut to the now and the next in home design. Subscribe today to receive a stunning free 200-page book of the best homes from around the world.
Interiors stylist and journalist Amy Neason was the Deputy Style and Interiors editor at House Beautiful for years. She is now a freelance props and set stylist, creating work for a range of national publications and brands such as Imogen Heath. She has previously worked at Established & Sons, and her skills include styling still life and interiors shots for editorial features and sourcing unique products to create inspirational imagery.

She is particularly respected for interpreting seasonal trends into feature ideas and style stories.