How to wallpaper a statement wall
Prepare to wallpaper a statement wall to dazzling effect - from metallics and murals to bold patterns and nature-inspired prints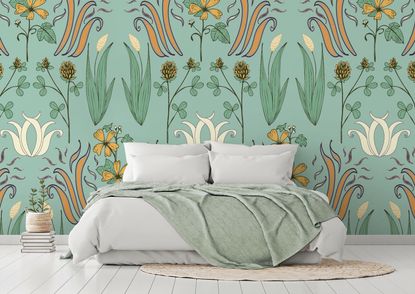 (Image credit: Nici Gabriel at Wallsauce.com)
If your home is feeling drab, knowing how to wallpaper a statement wall may be the only advice you need! Going bold on a single wall is a great way to build your decorating confidence, and knowing how to hang wallpaper means you can let your creative juices run wild without committing to a full room makeover.
"Wallpaper is on a high because there is no quicker way to transform a space," says Martin Waller, founder of Andrew Martin. "You can ricochet between a Renaissance painting or an industrial warehouse, through to the magic of traditional wallpaper and the opening lines of Nicholas Nickleby."
Make punchy designs pop by painting the surrounding walls in a subtler complementary colour. Tropical prints and animal motifs are hot right now, as is anything with an industrial vibe. If you're after something calmer, look to textural wallpapers in gentler palettes.
Murals are set for the big time, too, with Old Masters-inspired designs appealing to fine art aficionados. There are some fun self-adhesive options that renters will love, as they peel off cleanly and easily.
The huge choice of designs (and it is huge!) is both a blessing and a curse - there's something to suit all tastes, but it can feel overwhelming. Let current and projected trends inspire you, but be sure to pick wallpaper that you personally love. You'll be the one living with it, after all!
"Don't let others influence your choice - go with your instincts. The wallpaper you choose should reflect your passion and habits and be a part of your lifestyle," says Stefan Ormenisan, founder of Mindthegap. "Of course, you have to coordinate your wallpaper with the rest of your space, but in the end, a good wallpaper should be a piece of art that tells a story."
With so many of us working from home, it's never been more important to have a backdrop that reflects your personality. If you've got to join that millionth Zoom meeting, you may as well do it in style...
See the latest wallpaper trends.
Bring the bling with metallics
"Creating a statement wall with a metallic accent will give you a glamorous vibe that you can keep well beyond the festive season," says Tracy Appleby, Head of Interior Design at I Love Wallpaper.
"Try embracing metallic greys, which pair beautifully with softer shades like dusty pinks and burnt oranges. Or go dark and moody with trendy deep teal and navy blue.
"Choose a timeless pattern, like a traditional damask or a contemporary geometric and use matt paint on your other walls to balance the shine. Opt for soft furnishings in block colours to avoid prints competing for attention.
"Don't be afraid to mix metallics - a shimmer here and there, from a sparkling glass vase or a cluster of fairy lights, will bring the room to life!"
Push florals out of your comfort zone
Don't be afraid to push beyond your comfort zone, especially when it comes to a style as timeless as florals. "Large floral designs in deep tones can add depth and drama," says Sarah Kelly, Director of Woodchip & Magnolia. "For those looking for a subtler approach, try a vintage-inspired wall mural in a soft neutral."
Step back in time with a touch of Art Nouveau
For a vintage throwback that still feels contemporary, look to modern, 20th century-inspired designs. This collection of Art Nouveau designs by Austrian-born designer Nici Gabriel, available at Wallsauce.com, is brimming with mellow blues, ochre and neutral tones.
"One of my wallpaper designs is a geometric, floral pattern with bows and loops on some marigolds and a magic reflected flower," she says. "The other is inspired by some clovers and mallows in my natural garden. Scrolls and bows give it the necessary elegant feeling of Art Nouveau."
Big up botanicals - and feel better for it
"Use wallpaper to add biophilic elements to your scheme," says interior designer and BIID member Nicola Holden. "Think floral patterns, bird and animal-inspired prints and natural textures, which help bring the outdoors into our homes, creating interiors that nurture our general wellbeing.
"We're becoming more aware of the effect that our homes have on wellness, so expect this trend to continue."
Freshen up tradition with confident colour
Mixing period and contemporary is big right now, resulting in a characterful, eclectic blend of styles with bags of personality. Designer Catherine Rowe combines traditional illustration with modern, Miami Vice-like colour to create her statement wallpaper, from £36 a roll.
"Our need for more self-expression and individuality has seen us step away from 'matchy matchy' schemes and take a more playful, positive approach to decor," she says.
"Hand-drawn wallpapers awash with unexpected colour combinations will marry old and new. This allows everyone from cottage dwellers to those redesigning a modern living room to create spaces featuring contemporary, edgy furniture that exists harmoniously with intricate, wow-factor walls.
"My designs take me right back to my childhood and are inspired by everything from my mum's kitsch china dog ornaments, natural habits and folklore to my travels to the bright communities of Florida that ooze confidence."
Crown your wall with jewels
"Statement wallpapers that juxtapose contemporary geometric forms with archive florals are perfect for a decadent feature wall," says Paula Taylor, Colour and Trends Specialist at Graham & Brown.
"In Timepiece Amethyst, £60 a roll, the dark, jewel-toned purple offers an atmosphere of luxury, while cooler tones like teal cut through the regality to add a splash of freshness."
Pair richly-toned wallpaper with gold accents for an opulent aesthetic, or combine it with velvet upholstery in the luxurious plum of these walls (Epoch, Graham & Brown's Colour of the Year for 2021).
Supersize your statement with a mural
Unlike wallpaper, murals do not have a repeating pattern. Instead, they use a single design to fill your entire wall, like a big painting.
"Murals will be one of the biggest interiors trends of 2021, full of maximalist prints and lush monochrome," says Ami Blackburn, Interior Design Consultant at I Love Wallpaper, which is about to launch a new and exclusive mural range.
"Whether you're decorating a child's room or your kitchen diner, there's a design for you, from florals, foliage and forest scenery to maps and mountains."
Mix and match tonal textures
"Wallpapers that take on a nature-inspired approach, with 3D textures, neutral colours and sustainable materials, are among the most talked-about styles of the moment," says Rebecca Snowden, Interior Style Advisor at Furniture and Choice.
"Soft textures mixed with a neutral colour scheme make a statement by adding more depth to the space and creating a homely feel."
Transport yourself to tropical climes
Foreign travel might have been off the agenda this year, but you can bring it to your home! Try this fabulous copper palm design from Prestigious Textiles, with its shimmering leaf outlines.
"Tropical foliage designs are a great addition to all spaces, whether you go for a more neutral colour palette or make a statement with bold jewel tones," says Nicola Brumfitt, marketing director. "Embrace misty forest landscapes, tumbling ferns and tropical trails."
Run wallpaper over furniture for an even bigger impact
Furniture breaking up the wall you want to paper? Don't let it! Interior designer and antiques expert Holly Johnson often creates feature walls in bedrooms by running wallpaper over wardrobes.
"It makes the wall look large and hides the bulky furniture, creating a really striking look," she says. "Trompe l'oeil, which translates to 'trick of the eye', is all about using realistic imagery to create optical illusions.
"In old manor houses, wallpaper or fabric was often pasted over servants' doors to hide their entryways and blend them with the corridors. This is a similar idea. Just remember to use a heavy-duty varnish on furniture to keep any wallpaper in place."
Lose yourself in folklore and fairytales
Inspire productivity in a home office
Think about the feeling you want your wallpaper to inspire. Deep plums and apple greens will bring a sense of vibrancy and productivity that's ideal for a study, suggests Alex Whitecroft, Head of Design at I Want Wallpaper.
"A bold wallpaper pattern on an accent wall, think striking damasks, will draw the eye away from the room, making the space feel bigger and inspiring an airy atmosphere that's perfect for the home office."
It's not hard to see why Mythical Land, designed by Andrew Martin in collaboration with Kit Kemp, is a bestseller. Inspired by the romance of folklore, this fascinating 3m repeat wallpaper walks you through a fairytale world where a tree grows giant pears, a bubbling brook is bordered with wildflowers and mythical creatures dance.
Hand-drawn, it plays into the trend for heritage design, while fearlessly subverting tradition. It offers a magical escape from the stresses of the modern day - exactly what a statement wall should do.
"Every living space should have elements to capture the imagination and enchant," says Kemp.
Free children from cliché
Children's bedrooms needn't be dominated by cartoon unicorns and farm animals. Plenty of stylish wallpapers and murals are just as light and playful, and they won't need changing every year as your child grows up.
"Cloud prints and antique jungle styles are proving more popular than designs that reflect a certain age," says Rachel Kenny, Head of Studio at Wallsauce.com.
The Livingetc newsletter is your shortcut to the now and the next in home design. Subscribe today to receive a stunning free 200-page book of the best homes from around the world.