Redesigning a modern living room - interiors experts share their tips
Redesigning a modern living room? Architects and interior designers share their best ideas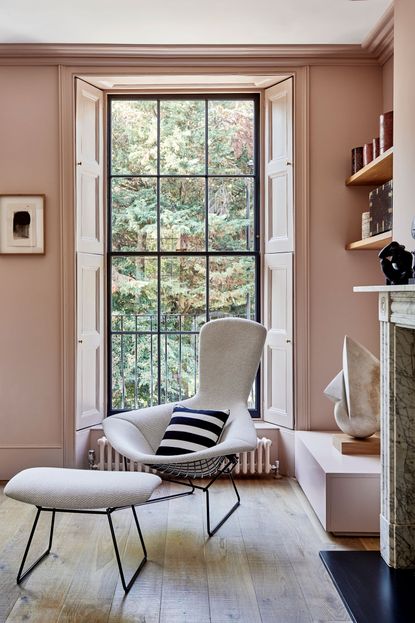 (Image credit: Powell Tuck)
The Livingetc Newsletter
For style leaders and design lovers.
Thank you for signing up to LivingEtc. You will receive a verification email shortly.
There was a problem. Please refresh the page and try again.
Redesigning a modern living room from scratch can be both exciting and daunting at the same time. You could have a whole Pinterest album dedicated to your new living space and still feel unsure about how to make that dream interior a reality.
See also: Living room ideas: 24 decorating tricks to inspire
Perhaps you long for a garden view, or a built-sofa of bed-like proportions. Maybe you're pondering how best to update your home's period features, or deliberating ditching that one family heirloom that seems a little out of place in a modern setting.
We're well aware that the remodelling journey can be fraught with design dilemmas, so we asked 10 talented architects and interiors designers to share their expertise on how to create a beautifully conceived living space, whether you're in the early planning stages or finessing the finer details.
Capitalise on your outdoor space
Reconfiguring a floor plan to create a modern living room that opens to the outdoors is a great way to tackle the physical constraints of any site, particularly one that is small or awkwardly shaped. The original layout of this former worker's cottage had a bathroom at the rear, blocking the connection to the garden from the centralised living spaces.
The entire rear wall of this living room is now glass and can be fully opened up with sliding doors, while the expanse of the garden is visually incorporated into the living room, helping to achieve a greater sense of space and bringing the outdoors in.
Anna Rosen / A for Architecture
View the room as a blank canvas
For each of our projects I start with a blank slate, and then begin to build layers of pattern, colour and texture, often grounded and inspired by a key piece of art. To ensure your space is on trend, look at season-appropriate design elements; perhaps living room fall decor ideas to make this space warm and snuggly for the new season.
When redesigning a modern living room, layout is the first thing to address, particularly with an open-plan space, where careful placement of furniture and partitions can help to define different areas.
I always recommend avoiding views of the backs of sofas, and placing furniture on a rug to help zone the space. And, however you choose to decorate, do it with confidence!
Inject warmth with natural materials
To make a living space inviting, there are different fundamental elements to play with depending on the situation, including proportions, light, texture, contrast, colour and aspect. No matter how seemingly simple the space, natural and textural materials will always enhance the sense of warmth in an interior.
When redesigning the modern living room in this project, we used Crittal-style doors to provide views of the garden and increase natural light. We then contrasted the crisp white interior walls and ceiling with the textural western red cedar battens and granite setts in the courtyard outside.
Invest in your window treatments
Even though window treatments are one of the very last things to be installed, we always consider them at the very beginning of a project. They can make such a big impact on the overall feel of a space, so they're definitely worth investing in.
When it comes to curtains, go as tall as possible, taking them right up to the ceiling and always down to the floor. You never want a curtain to float high off the floor.
Don't be afraid to layer window treatments, you can have shutters as well as curtains on a window. We like to use a café height plantation shutter, this gives you privacy whilst also letting in as much light as possible.
Adele Lonergan and Maria Lindgren / Covet & Noir
Be sensitive to period architecture
When updating the interior of a period property, it's important to respect the existing building without allowing the aesthetic to become a pastiche. In this project, we had a client with a great eye, who chose the soft pink shade for the walls.
We rejected traditional decorating methods and extended the paint all the way to the original cornicing, which both emphasises and modernises the plasterwork.
Painting the window frames black lent the space a graphic quality, which we built upon with clean-lined furniture and a monochrome palette. Other touches, such as compact column radiators and a hardwood floor with an aged finish, contribute to a polished and contemporary take on a period interior.
Consider a custom sofa
The living room of this home I designed in the Scottish Highlands is all about the sofa and the view. The room itself is sunken and the plan was always to have a built-in, bespoke sofa with an integrated coffee table to keep space clear.
If planning similar, take time to find the right dimensions for your sofa (mine was inspired by a built-in seat in The Berber Lodge in Morocco), and work with a carpenter who understands your vision.
I kept the form of my Douglas fir seat base simple and quiet, and used textured, murky colours for the Kvadrat upholstery, which echo the rugged landscape outside.
Jill Macnair / Jill Macnair Interior Design
Find the right rug for your floor
Of all the elements in a room, the floor is the starting point: wood plank or parquet, resin or concrete, Victorian floorboards… they all set the tone of a space and rugs are very much part of the equation. For example, a Moroccan Beni Ouarain rug adds instant warmth to a modern and minimal wide-plank wooden floor, while resin can be combined with daring, colourful Berber rugs.
Hardwood parquet floors call for a more understated look such as a plain rug in dark green, indigo blue or a warm grey. Using textiles at home should never be an afterthought, but rather an integral part of an interior.
Give thought to your lighting scheme
When lighting contemporary residential spaces, it's really important to make sure you are lighting them softly – and I suppose in some sense quite traditionally.
Lighting is a key part of making a modern living room feel comfortable and inviting. At Waldo Works, we tend to eschew down lights where possible, and layer lots of different light sources matched to furniture groups or single pieces.
It's a good idea to keep all your light sources indirect or shaded. There are incredible lamps out there, some of which are more akin to pieces of sculpture. Shown here is a reading lamp by the genius architect David Chipperfield in our project for London's Television Centre. Other brands and designers we love are Davide Groppi, Wastberg and Ingo Maurer.
See more lighting ideas
Add character with one-off vintage pieces
Studio Duggan always sources a carefully curated mix of old and new pieces for our design projects. When redesigning a modern living room, vintage items provide an air of authenticity that's difficult to achieve when buying everything new. Successful rooms have a touch of the unexpected to throw the design 'off' a little and avoid the look becoming contrived.
This is easy to achieve with characterful one-off pieces which have a history and narrative to offer. For example, this mid-century bar was a much-loved piece belonging to our client. It works perfectly with the tones of the original parquet flooring and traditional features, even though it is of a different era and style.
The Murano wall light above highlights it as a special piece and anchors it within the room.
Tiffany Duggan / Studio Duggan
Buy art that you love
When choosing art for your modern living room, listen to your instinct and go with what 'speaks' to you on an emotional or visual level, in other words: buy what you like. Don't be intimidated, this is a new age where art has never been so accessible and there is something for all budgets. Have a look at Instagram or Artsy for exciting and emerging new artists.
When it comes to hanging art, think about playing with scale and contrast. For instance, one wall could showcase a very large work to create impact, while another could display a collection of small works hung together, feeling instantly more intimate. Mix contemporary and vintage paintings, photography, drawings and prints to create a collection that's both interesting and personal.
WHAT ELSE TO CONSIDER
How to use lighting in a modern living room
If you're embarking on a substantial remodel, then any opportunity to bring natural light in should not be overlooked, whether through external or internal doors, skylights or glazed partitions. For evening, turn to table lamps for ambience and reading or desk lamps for task lighting. Ceiling pendants are great for visual impact, but don't always cast the right, mood-setting light for a living space.
How to use colour in a modern living room
Whether bright and bold or soft and tonal, there are a host of ways to experiment with colour. Painting the walls might seem like a big step, but it can easily be rectified if you don't like the result. If accent colours – in the form of soft furnishings and accessories, are more your style – look to shades you are naturally drawn to. This will mean you're much less likely to fall out of love with them as design and colour trends change.
How to do a floorpan for a modern living room
If redesigning your modern living room from scratch, consider the flow between adjoining rooms, and whether you like the idea of an open plan or a more intimate atmosphere. Then, decide what your focal point will be, whether that's a great view or a cosy fireplace. The right layout (along with clever cabinetry and other tricks) will stop your TV taking centre stage. Finally, give some thought to how the flow works when moving around the space, and position furniture in a way that allows for easy conversation.
See more modern homes
For style leaders and design lovers.
Tessa Pearson is an interiors and architecture journalist, formerly Homes Director at ELLE Decoration and Editor of ELLE Decoration Country. When she's not covering design and decorative trends for Livingetc, Tessa contributes to publications such as The Observer and Table Magazine, and has recently written a book on forest architecture. Based in Sussex, Tessa has a keen interest in rural and coastal life, and spends as much time as possible by the sea.