20 living room curtain ideas for the luxurious finish touch to any style space
Our living room curtain ideas range from simple, elegant pencil pleat curtains and subtle decorative trims to statement pelmets and wild colors...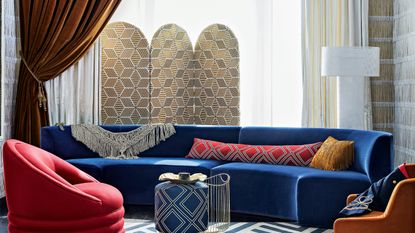 (Image credit: Jon Day)
The Livingetc Newsletter
For style leaders and design lovers.
Thank you for signing up to LivingEtc. You will receive a verification email shortly.
There was a problem. Please refresh the page and try again.
Living room curtain ideas may not sound like the most important design aspect of your room, but they deserve so much more thought than we often give them. The right curtains not only make for a more practical space, providing privacy, warm and the ability to change the levels of light, they also finish off a room. They can also accentuate the height of a room, make a space feel bigger, make a space feel cozier, add color, pattern and texture.
So rather than like them go unnoticed, an after through once your living room is complete, by inspired by these beautiful living room curtains and pick a design that's really going to add to your space.
1. Blend in living room curtains
Curtains complete a living room – and a modern approach is to pair them tonally with the walls. Pick a fabric to complement the living room color scheme you already have, for a truly cohesive and enveloping look. Navy blue linen in this blue living room helps tie the room together.
Opting for a fabric which is just a couple of shades darker than the paint will result in a layered and sumptuous look. Every so often, matchy-matchy works.
You can have living room curtain ideas that match the wallpaper too, as has been achieved here, with curtains dip-dyed at the same height as the strip of color on the walls.
2. Create a clean look with a pelmet
A pelmet is a decorative, often upholstered board fixed above a window to cover up the curtain rod or fixtures. It frames and adds structure and contrast to these blush pink drapes used in this stylish grey living room.
3. Or get playful with pelmets
Turner Pocock, the design duo known for turning traditional treatments on their head, are big fans of using them in their designs. 'When using pelmets we still try to keep an air of modernity about them, we use simple shapes with light-hearted interesting trims', explains Emma Pocock.
Here a statement fabric was used to inject pattern and color, and to balance the blue and yellow tones used in this otherwise quite neutral living room.
4. Add texture with a decorative trim
Whether you've got full-length curtains or a fabric roman blind, adding a decorative trim or pattern can make absolutely all the difference to turning simple window treatment into more of a feature in your living room. This is ideal if working with a very simple color palette as can be seen in this blue living room. It's those textures and small details that will add interest to the room.
Interior designer Naomi Astley Clarke says: 'I love using braids to add interest to curtains, and contrast fabrics to leading edges can make a lovely statement too.'
5. Keep it simple with a roman blind
Roman blinds are the perfect alternative to living room curtains if you are working with recessed windows where there's no space for curtains to bunch up on either side of the window pane. Roman blinds can create a very streamlined look and work perfectly in a small living room if you want to avoid anything heavy around the windows to allow as much light to stream in as possible.
6. Layer multiple living room curtain ideas
Create a super cozy look by doubling up on your living room window treatments. A fabric Roman blind for privacy in the evenings, with full-length curtains either side to frame the window. Crowning it with a pelmet at the top will create a neat and tidy finish.
'Layering window treatments and curtains is a favorite trick of mine. Don't be afraid of adding blinds to your windows and then layering over with floor-length curtains. This adds depth and interest to the space!' says Interior designer Alison Giese.
Interior designer Gillian Segal agrees: 'I'm a huge fan of layering window covering types – for example having a window with a fabric roman (perhaps in a pattern) and solid drapery panels flanking it.'
'I often use Roman shades with curtains to make the room more practical for privacy or to block light,' adds interior designer Anne Carr.
7. Add opulence with tie-back curtains
Tie-back curtains can give volume, and a regal look. They are traditionally crescent-shaped and made by covering stiff cotton cloth called 'buckram' with a light wadding and furnishing fabric. Metal or wood versions which fix directly to the wall are also available or you can simply use a decorative cord.
8. Hang internal curtains for extra coziness
Internal curtains are also a great way of zoning spaces, sectioning of areas and creating privacy when needed, so don't just hang them at the windows. Hang curtains over glass partitions, archways and doors to make a living room feel more intimate, and if you are dealing with an open-plan space, separate from the rest of the room.
9. Use living room curtains to add texture to walls
These lush, satin curtains are inspiring in more ways than one. Firstly, they are used to give this room a permanent texture, hanging in front of walls rather than windows. Secondly, the goblet pleat is a style we don't often see.
Goblet pleats are a detailed heading style where the fabric is tucked and folded to leave an opening at the top with a 'goblet' or 'wineglass' look. To keep the goblet pleats looking full and rounded they need to be shaped with interlining. They can be hung from a track or pole.
And finally, we love the layered look achieved by hanging a painting in front of the fabric. All these brave living room curtain ideas have paid off.
10. Go for an on trend cafe curtain
For windows that have a top half and bottom half, you could consider this living room curtain idea and add curtains along the bottom for privacy, but leaving the top halves bare to allow for more light.
11. Choose a simple pinch pleat
Pinch pleated curtains essentially gather the pencil pleats into groups of two or more for a more decorative heading. This will work with most types of fabric, but bear in mind that the more pleats, the more fabric is needed and so increases the cost of the finished curtains.
Pencil or pinch pleats are the most traditional curtain heading and will work with all types of track and pole and looks lovely with both plain and pattern fabrics too.
12. Go extra long
If you're looking to create dramatic volume but tie-back styles aren't your thing, you could pinch this living room curtain idea and use extra long fabric that bunches up at the bottom. It's a hard look to get right, but when the fabric bunches up in just the right way, the effect is quite beautiful.
13. Pick sheer living room curtains for a softer look
For something minimalist, light and loose, sheers will make a living room feel light and airy while still giving enough privacy during the day.
Interior designer Carly Madhvani favorites sheer curtains for living rooms. 'How to truly upgrade your living space is by choosing a medium-weight-fabric which is both sheer to diffuse day-light and also cosy at night to soften the darkness. I always recommend rechargeable battery-powered electric opening and closing mechanisms to enjoy luxury convenience.'
14. Pack a punch with pattern
Curtains are a really simple way to bring a bold print into you living room without taking up as much visual space as say a wallpaper or large piece of artwork would. The designer of this living room created a Palm Springs-inspired look with acrylic curtain rods, tropical palm print curtains and brightly colored furniture pieces.
15. Add a whimsical touch with quirky tie-backs
For something a bit quirky, you could add extra pizzazz with a statement tie-back... As if this curtain fabric wasn't punchy enough, the designer added a string of faux bananas to add humor to her tropical scheme.
16. Fill a bay window
This curtain pole bends and fits around the corners of the bay window perfectly. But rather than having just one pair of curtains to pull across the whole rail, this bay window features three pairs of curtains, allowing one pair to frame each window pane.
17. Don't let curtains interrupt the view
For rooms where a window stretches wall to wall, have the curtain rail curve inwards so you can pull the curtain right to the side, giving an uninterrupted view.
18. Go double height for an elegant feel
Got a double-height ceiling? Accentuate it with double-height drapes. Allowing for extra fabric will give volume, drama and grandeur. Plus, this great look for a small living room too, ass going floor to ceiling rather than just having curtains awkwardly hanging around a window with allude to more height and make the room appear loftier.
19. Add an accent color with living room curtains
This living room features stand-out curtains in a bold color, injecting this space with a vibrant energy. In this case, it also sets the color scheme for the whole room. Again, it doesn't add as much drama as a totally turquoise wall would but still packs a punch just in a more subtle way.
20. Let curtains fade into the room
For curtains that fade into the background and let the furniture and accessories do the talking, go for something unfussy and simple.
Interior designer Kate Lester says: 'I usually gravitate toward solids and textures when it comes to curtains and drapery. I love keeping things simple so that the drapes frame and soften the lines of the windows, but don't take away from the rest of the room.'
'Stay away from fancy pleats and trims and tassels, and just keep it simple and chic. Sometimes, if our clients are looking for more versatility, we'll layer a blackout shade underneath a linen curtain. This way they get the simplicity and casual look of a linen drape – but can pull down the blackout shade behind if they need to block out the light entirely. When it comes to drapery I also think keeping the rod small streamlined and simple is key. No fancy finials or bulky rings. Less is more!'
Interior designer Anne Carr agrees: 'I really love a minimal and neutral look when it comes to window curtains and drapery. Window treatments are really important to not only provide privacy but also to complete the look of a room. I typically use a solid color in linen or wool fabrics to create depth and sophistication and really like the way natural materials hang.'
For style leaders and design lovers.
Lotte is the Digital Editor for Livingetc, and has been with the website since its launch. She has a background in online journalism and writing for SEO, with previous editor roles at Good Living, Good Housekeeping, Country & Townhouse, and BBC Good Food among others, as well as her own successful interiors blog. When she's not busy writing or tracking analytics, she's doing up houses, two of which have features in interior design magazines. She's just finished doing up her house in Wimbledon, and is eyeing up Bath for her next project.