Best four poster bed ideas: 12 stylish takes on a bedroom classic
Make a statement in your bedroom with one of these beautiful four poster beds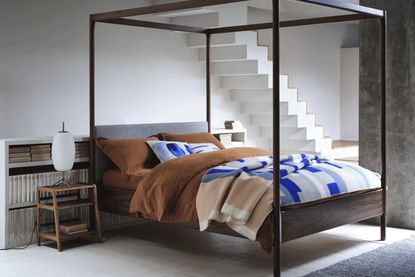 (Image credit: Heal's)
Though of Medieval origin, a beautiful four poster bed is very much at home in the modern bedroom. Once designed with a protective canopy to keep insects out and warmth in, today's four poster beds are less about practicality and more about creating drama – with our without a canopy.
The beauty of contemporary four poster beds is that there is such a wide range of choice now. From bold wood structures, to romantic ironwork models with floaty fabric, you aren't restricted to stately home styles and can find plenty of options to suit an array of modern bedroom ideas.
So have a look at our round up of exquisite designs, take your pick, then make sure you have the best mattress to take your sleep experience to the most luxurious levels.
What to consider before buying a four poster bed
Firstly, you need to make sure your room is large enough for a bed of such dimensions. The grandeur is quickly diminished when the bed is crammed in. This means not just checking you have height for the posts, but also enough space around the bed to make the whole set up look balanced. It is sensible to then choose simple, minimalist furniture to pair with a bed of such stature.
You might want to do away with drapery, but think about the cosseting, insulating qualities that will be welcomed in winter. They cut sound too. However, do consider upkeep of all of this added fabric. Some four poster beds have washable canopies, but if not, be prepared for some thorough vacuuming.
12 of the best four poster beds
Choose the right bed for your space and styling it will be a dream. See our round up of our favourite four poster beds, with some tips on how to make them look even more striking.
1. Neptune Wardley King Bed, £1,490
With its pared-back frame and generous height, Neptune's Wardley four poster bed (from £1,490) feels spacious and modern. When it comes to painted timber, Neptune uses tulipwood – a resilient hardwood that is almost knot-free – making it perfect for painting. Available in a number of classic Neptune hues, we love the Wardley in this dark painted finish as it's a look that will fit within any scheme.
Styling tip: for added texture and privacy, hang curtains on two, or four of the sides.
2. Julian Chichester Bobbin 5ft bed, £4,680
This year, the folks at Julian Chichester have launched the Bobbin bed (£4,680) with its beaded posts. You may have noticed that this is a trend that keeps appearing on furniture, lighting and accessories, if you're a fan of the look then this is the bed for you. The beautiful tapering bobbin posts, finished in Antique Gesso, are what makes this four poster bed stand out from the crowd. Not only that, the beautiful upholstered headboard allows for you to add your own creative touch.
3. Heal's Marlow Four Poster Bed, from £2,899
The Marlow four poster bed from Heal's (from 2,899) has been designed by industrial designer Tim Rundle. Crafted from solid walnut in Porto, Portugal, this is the epitome of premium, contemporary design. Marlow's elegant silhouette lends itself to a modern home, however the darker wood means that it will complement a more traditional space too – this mix makes it the perfect piece for those looking for men's bedroom ideas. The upholstered headboard gives an extra layer of comfort and feels discreet due to the soft grey fabric.
4. Maisons du Monde Zen Market Pine Four Poster Bed, £497
It's all about the detail with the Zen Market Pine Four Poster Bed (£497) from Maisons du Monde. Take a closer look at this design and you will see the intricately engraved wood, reminiscent of furniture found in the Far East. Made from pine and treated with an off-white finish, this four poster bed makes a statement without overpowering a room.
Styling tip: give your bedroom a relaxed holiday-vibe by draping a sheer fabric over this bed frame or having sheer curtains made up – and relax!
5. Pinch Christo Four Poster Bed, £9,360
The Christo four poster bed (£9,360) by Pinch is the bed that dreams are made of. This solid-timber bed has been designed with a striking, peaked headboard that sits within its elegant four-poster frame. The Christo is a customisable piece; choose a timber type, a size that's bespoke to your space, as well as whether or not to have a top panel above the posts. It may be at the higher end of the market but this bed that is ready for design classic status – a true future heirloom.
Styling tip: let the bed do the talking in your space and keep the rest simple. Our white bedroom ideas will give you plenty of inspiration for a simple and effective backdrop.
6. Next Home Langdon Four Poster Bed, from £825
With its eye-catching chrome frame, Next Home's Langdon Four Poster bed (£825) will make a high-shine statement in any bedroom. The headboard and base board have been upholstered in a luxurious pale grey that gives this four-poster an appearance reminiscent of a boutique hotel.
Styling tip: let the chrome finish stand out by setting this bed against a dark coloured wall and pair with generous layers of thick fur throws and chunky wool knits. You may wish to give it a polish every now and then to let this bed sing.
7. Andrew Martin Duke Poster Bed, £3,295
The two-toned Duke Poster Bed (£3295) from Andrew Martin was designed by Kelly Hoppen. This is a contemporary take on a classic and would make a beautiful focal point within a bedroom. The two-tone effect has been created using grey oak with a high-gloss snow lacquer finish on the lower half of the bed, giving an unexpected design detail in a dark bedroom. The headboard has been designed with added comfort thanks to the ultra padded panel, making it perfect for leaning on to enjoy your morning coffee.
8. La Redoute Gilmour Solid Walnut Canopy Bed, £1,925
And the winner of the most unique headboard goes to... the Gilmour bed (£1,925) from La Redoute, thanks to its braided bands made from recycled leather. The walnut veneered structure feels ultra-modern and complements the tones of the headboard perfectly. With the posts delicately tapering at the top, the Gilmour bed is all about attention to detail that offers a beautiful silhouette to boot.
Styling tip: pair this bed with colours that complement browner tones, such as pale pinks, soft greens and rusty oranges.
9. Shaker of Malvern Enfield Four Poster Bed, from £1600
If it's a splash of colour you're looking for then the Enfield bed (from £1,600) by Shaker of Malvern will certainly brighten up your day – or at least your bedroom. Available in any colour of your choice, this jolly four poster bed could be the colour-update your bedroom needs. Pick a colour to complement your current scheme or use this bed as a starting point to create one, the ideas are endless when colour is involved.
10. Cuckooland Single Black Metal Four Poster Bed, £255
Not all four poster beds are for adults, the Single Black Metal Four Poster bed (£255) from Cuckooland will bring some added excitement to a child's bedroom. Made from black powder coated steel, this bed has an industrial look that can be softened with layers of throws, piles of cushions, as well as soft interior paint colours. This is a design that will see your child through the years, thanks to its simple design that simply won't age as your child gets older.
Styling tip: string up some fairy lights, colourful bunting or your child's favourite things to help give this bed a personal touch. And for more inspiration on making a child's space their own, see our kid's bedroom ideas.
11. Raft Milbrook four poster bed, £1,791
This sturdy teak Milbrook four posted bed from Raft – that comes in natural or dark teak to suit your scheme – is handmade with sustainable timber. The pleasingly solid frame can be artfully draped with your choice or fabric bringing the feel of a cabana bed by a pool in Bali to your own bedroom. With sizes from double to super king available, you will have no problem finding comfort and style.
Styling tip: we love the tropical holiday vibe of this bed, but don't overdo that theme. Pair with one or two pieces from your travels then offer contrast to the chunky frame with something finer and maybe a bit glitzy (like the chandelier seen here).
12. And So To Bed Hoxton four poster bed, from £7,790
If a four poster bed isn't quite glamorous enough for you as it is, this solid brass Hoxton bed from And So To Bed is a timeless luxe choice. The form gives a nod to industrial style but the look is softened with detachable fabric panelling which can be removed should you wish to reupholster for a new look. It also comes in nickel or rose gold should you want a different finish.
The Livingetc newsletter is your shortcut to the now and the next in home design. Subscribe today to receive a stunning free 200-page book of the best homes from around the world.
Jo is a News & Shopping Editor across Homes & Gardens and Livingetc magazine. Before joining Future Plc, she worked as an interior stylist and set designer, specialising in editorial and commercial photo shoots as well as installations, exhibitions and events. Her background within this field means she has a particular interest in the creative ways to make a house a home, as well as hunting down the best places to source beautiful things.