10 interior designers share their top small living room decorating ideas
Get the inside scoop on how to maximize space with expert advice and small living room decorating ideas from our favorite designers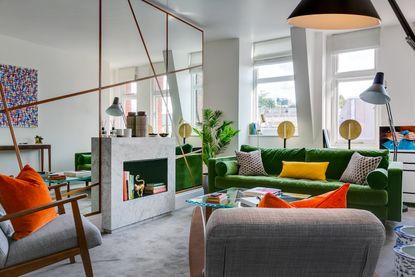 (Image credit: John Marshall)
Looking for small living room decorating ideas? We've got you covered and asked our favorite interior designers for their top tips on how to make the most of even the tiniest of spaces.
Small living rooms can often feel like an endless source of frustration, particularly if key spaces and high-traffic areas are cramped and awkward to move around in. Your living area should be a place of rest and relaxation, so it's even more important to make it somewhere you look forward to spending time in.
It might be tempting to adopt a spartan approach to decorating, but small living rooms can still be cozy and welcoming - it's all about balance and making your space work harder.
We asked 10 interior designers to share their secrets for small living rooms; their tried and tested tips for creating a small living room that's inviting, functional, and free from clutter - all without compromising on character.
1. Streamline with built-in solutions
'Built-in storage can change the function of the space from day to night, depending on how your life works and what you choose to store inside. In this home, we used a wall of cabinetry to create a hidden office space that's easy to close off at the end of the day.'
'The key is plenty of drawers, shelves and movable living room storage inside - whether that's a filing cabinet or a drinks trolley for cocktail hour. Enhance the effect with color too: here, we used a strong, energizing blue inside the office and a calming pale pink for the outer doors.'
Russell Whitehead and Jordan Cluroe / 2LG Studio
2. Place open storage above or below the eye line
'This compact TV room needed to serve as an office and a place for guests to stay, which meant squeezing a desk and an L-shaped sleeper sofa into a small space. To create more room for books, we installed a high bookshelf around the perimeter of the room, which provides 17 linear feet of open storage, and is positioned above the eye line.'
'If you're going to try something similar, we advise painting it the same color as the wall to create the illusion of a floating shelf and contribute to an uncluttered feel.'
Sheena Murphy & Tor Sauda / Nune
3. Commission custom furniture
'Choosing small living room furniture of the right scale and proportions are the key to designing small spaces, which is where customization comes in. For this open-plan live/dine space, we commissioned a curved sofa in a deep green velvet, which helps define the living area and makes the most of every inch.'
'It also converts into a guest bed and comprises hidden storage. If you don't have the budget for a custom piece, you could achieve a similar visual effect by hunting for a petite, low-slung, L-shaped sofa in a striking colour and/or textured fabric.'
For non-custom seating to suit a wide range of interiors, we recommend checking out the best sofas and best sofa beds on the Livingetc team's radar
4. Add character with salvage and vintage pieces
'A small sitting room can still be warm and personal. Inject character with reclaimed materials and vintage pieces, such a salvaged parquet floor, which is is both resilient and glamorous. (Pre-loved parquet is readily available and cheap, but watch out for extra costs such as cleaning and installation.)'
'Lustrous textiles lift a scheme and work beautifully as wall hangings — they can also be both a fabulous and affordable alternative to buying original art. This silk piece is French, from the 1920s, and is woven with metal thread that shimmers wonderfully. Finally, an antique wall sconce is also a great option for a small spaces, offering a hint of vintage without overpowering the room.'
Adam Hills and Maria Speake / Retrouvius
5. Create a sofa nook within a wall of storage
'As a studio, we like to 'ground' furniture particularly when it's is sitting around the perimeter of a room. Encasing it in joinery is often the answer, as this makes a sofa, chair or daybed feel inviting and cozy to sit in as well as providing additional storage, which is always useful in a small space.'
'In this project, we wallpapered to back of the joinery to bring in another pattern and provide a playful backdrop to the items on the shelves. We then used the space above the sofa to create a gallery wall of artwork.'
Emma Pocock and Bunny Turner / Turner Pocock
6. Embrace spatial constrictions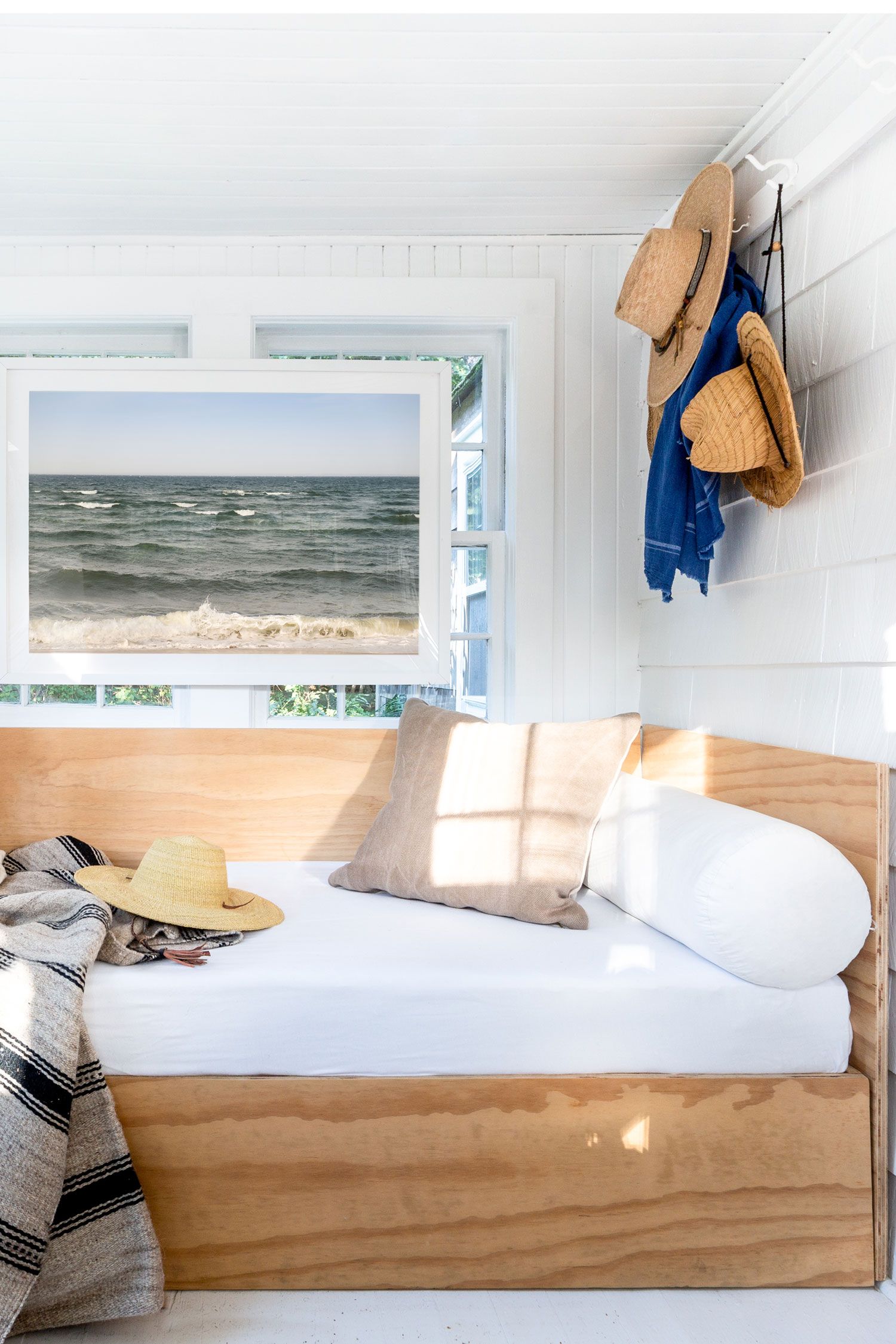 'When I moved into this house, I could have removed the wall between this tiny anteroom and the living room beyond, but instead, I welcomed the idea of having a place to land when I arrived home. I commissioned a daybed inspired by a classic Donald Judd design to slot into one side, which serves as a handy spot to remove shoes, a cozy reading area and a spare bed for extra guests.'
'The room has windows on three sides which allows for cool ocean breezes in the summer months. I made use of one of these windows for hanging a piece of art, which accentuates the seating area beautifully.'
Glenn Ban / Glenn Ban Interiors
7. Allow the light to flow
'When installing structures in a small space, try to capitalize on natural light wherever possible. In this apartment, we decided to add the glass partition wall to make both the combined living area and the kitchen feel bigger and brighter, while still allowing the cooking area to be slightly segregated.'
'This can be particularly useful in the winter months when the light levels are lower. We also installed a new staircase with an open structure, which again aids the flow of light and creates an interesting focal point in the room. Finally, the hits of muted citrus colors add a little vibrancy and also help to define the separate spaces.'
Martin Hulbert / Martin Hulbert Design
8. Be brave with colour
'People often shy away from using bold shades in small spaces, but I think color makes a home more inviting. Plus, giving each room its own personality can actually make a place feel bigger.'
'As a designer and stylist, I'm always decorating walls and sets, so I know how easy it is to rectify a paint job if you aren't happy with the color. I tried a lot of different green paints before I found the perfect chalky, mossy hue for the living room color in this small East London flat, settling on 'Crocodile' from the Colours by B&Q range. It's the perfect foil for marble and brass and looks beautiful throughout the day as the light changes.'
9. Create a convivial layout
'I always advise my clients to adopt a small living room layout that encourages conversations. By this, I mean a furniture arrangement which allows for maximum face-to-face time. This is especially practical if you love to entertain.'
'In my own home, I have created this setup around a vintage travertine table and the fireplace. This layout is particularly great for small spaces as the armchairs give you the flexibility to move them around and the daybed serves the purpose of a conventional sofa while not cluttering the room as much. The added bonus? A cozy corner for power naps.'
Denis Bayern / Studio Kaya
10. Make use of every inch
'In a small living room, it's crucial to utilize every nook and recess, which is why alcove storage can be invaluable. By adding cupboards to the lower half you can hide toys, paperwork, yoga mats, weights, home office equipment and more, leaving the upper shelves free for displays of books, objet d'art and plants to personalize your space.'
'In my traditional Victorian terrace, we created the built-in joinery and storage in the middle room, and in the front room we used the alcove for an ottoman to provide additional seating. Finding an ottoman with under-seat storage is a great option if you need extra space to hide things away.'
Rebecca Wakefield / Studio Fortnum
What's the best storage solution for a small living room?
In any compact space, storage should work hard and be as unobtrusive as possible: think concealed compartments, multi-function designs and wall-hung solutions. For the ultimate streamlined space, consider a wall of built-in cabinetry to keep clutter out of site. Alternatively position shelving above the eye line and cupboards below it to maintain a sense of space. Look to footstools and occasional tables with storage built in, and stackable boxes with lids to keep kids' toys contained.
How to use colour in a small living room
There's no reason why a small space can't be colorful. However, if you're going for a bold scheme, you may want to stick to a limited palette. Spend some time working out how the light changes in the space and reacts with your chosen hue, as the effect will be intensified in a smaller room. A fresh, invigorating shade could look great in the morning, but if you want to create a relaxing atmosphere for cozy evenings, a deeper, warmer color might be more appropriate.
How to get the layout right for a small living room
When space is at a premium, it has to be functionality first. There's nothing more frustrating than a small room that looks good but doesn't work for your lifestyle. Position furniture so that you can move as freely as possible, and ensure nothing restricts the flow of natural light. Be ruthless too: if you don't entertain often, then there's no need for superfluous chairs or occasional tables. Swap in a sumptuous footstool instead.
The Livingetc newsletter is your shortcut to the now and the next in home design. Subscribe today to receive a stunning free 200-page book of the best homes from around the world.
Tessa Pearson is an interiors and architecture journalist, formerly Homes Director at ELLE Decoration and Editor of ELLE Decoration Country. When she's not covering design and decorative trends for Livingetc, Tessa contributes to publications such as The Observer and Table Magazine, and has recently written a book on forest architecture. Based in Sussex, Tessa has a keen interest in rural and coastal life, and spends as much time as possible by the sea.