Colors that go with yellow - the expert guide to decorating your home
Interior design experts decode the colors that go with yellow, turning your home into a sunny delight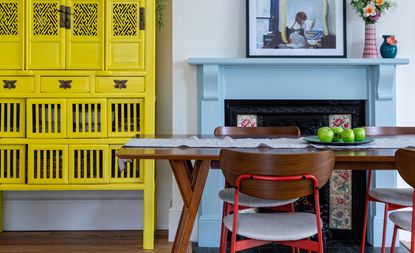 (Image credit: Anna Yanovski)
Colors that go with yellow are an optimist's secret design weapon. For it's no secret that this eternally smiley hue will bring an everlasting dose of sunshine into your home, and knowing how to pair with a palette means you're creating a space in which you can always be happy.
When it comes to yellow, tones range from majestic golds to acid brights, the spectrum is vast. Thankfully, wide-ranging translates in decorating terms to versatility, and there are many gorgeous ways to weave this tone into your schemes.
Whether you want to add warmth to a room or freshen it up, our color theory experts offer solid advice on how to play to the strengths of yellow, turning it into a new neutral along the lines of colors that go with grey.
Colors that go with yellow
WHAT IS A COMPLEMENTARY COLOR TO YELLOW?
Leafy green and serene blue are complementary colors to yellow. Yellow sits at the edge of the warm section of the color wheel, and is certainly a comforting shade. But it's closeness to cooler tones means it also has much more of an energising quality to it than its neighbouring colours of red and orange.
'Yellow always creates a feeling of warmth and coziness, and it truly is a splash of sunshine in your home,' says Ruth Mottershead, Creative Director at Little Greene. 'However, it's also gently invigorating, especially when paired with cool tones, making it perfect to use as part of your modern kitchen ideas, in hallways and dining rooms with a high level of activity, laughter and fun.'
One way to set about creating a color scheme that includes yellow is to decide if you're going to go down the avenue of pairing it with it's cooler neighbouring tones of leafy greens and serene blues, or exploring it's warmer side with fiery terracottas and rich bronze - either option will make for an aesthetically complementary scheme.
WHAT COLOURS WORK WELL WITH YELLOW?
If you're drawn towards cooler colour combinations, blue works well with yellow and is a tough partnership to beat. From pale flaxen hues with powdery blues, to brighter canary yellow with cobalt - it's a scheme beloved of the most esteemed interior designers and sees it ways into many spaces designed to the principles of modern maximalism.
Emma Gurner, founder of Folds Inside, likes to balance bright yellow with softer shades. 'Despite being a bold choice, yellow can work really well with so many different colours, it's all about choosing the right tone and using just the right amount,' she says. 'I tend to use yellow as an accent colour to pop against calmer, more neutral shades - and I particularly love yellow when paired with pale blue.'
Emma's masterful design also includes a clever flash of red on the dining chair frames, achieving the best of both worlds by bringing a little heat into this otherwise cool scheme.
WHAT COLOR GOES BEST WITH GOLDEN YELLOW?
Burgundy and earthy pinks go best with golden yellow. As a palette, they create a richer, cozier scheme. Opt for a deeper tone of golden yellow and look to its neighbouring warm hues among the reds and pinks on the color wheel to find a perfect partner.
Annie Sloan explains the color theory behind this gorgeous combination; 'The warmth of the red pigments in pinks – whether they're blush, peach or coral tones will emphasise the richness of the yellow,' she says. 'The redder the pink, the greater the feeling of heat and comfort the colours will generate together.'
Much like how Emma Gurner of Folds Inside injects a dash of warmth into her cool scheme as part of her yellow living room ideas, Annie Sloan also looks to an opposing cool tone to create contrast in this warming bedroom look. 'Tiny accents of cool blue help to contrast and emphasize the inherent rich warmth of golden yellow and warm pink,' she says. 'However, if you'd rather a more cohesive feel, deep chocolate brown will luxuriously balance.'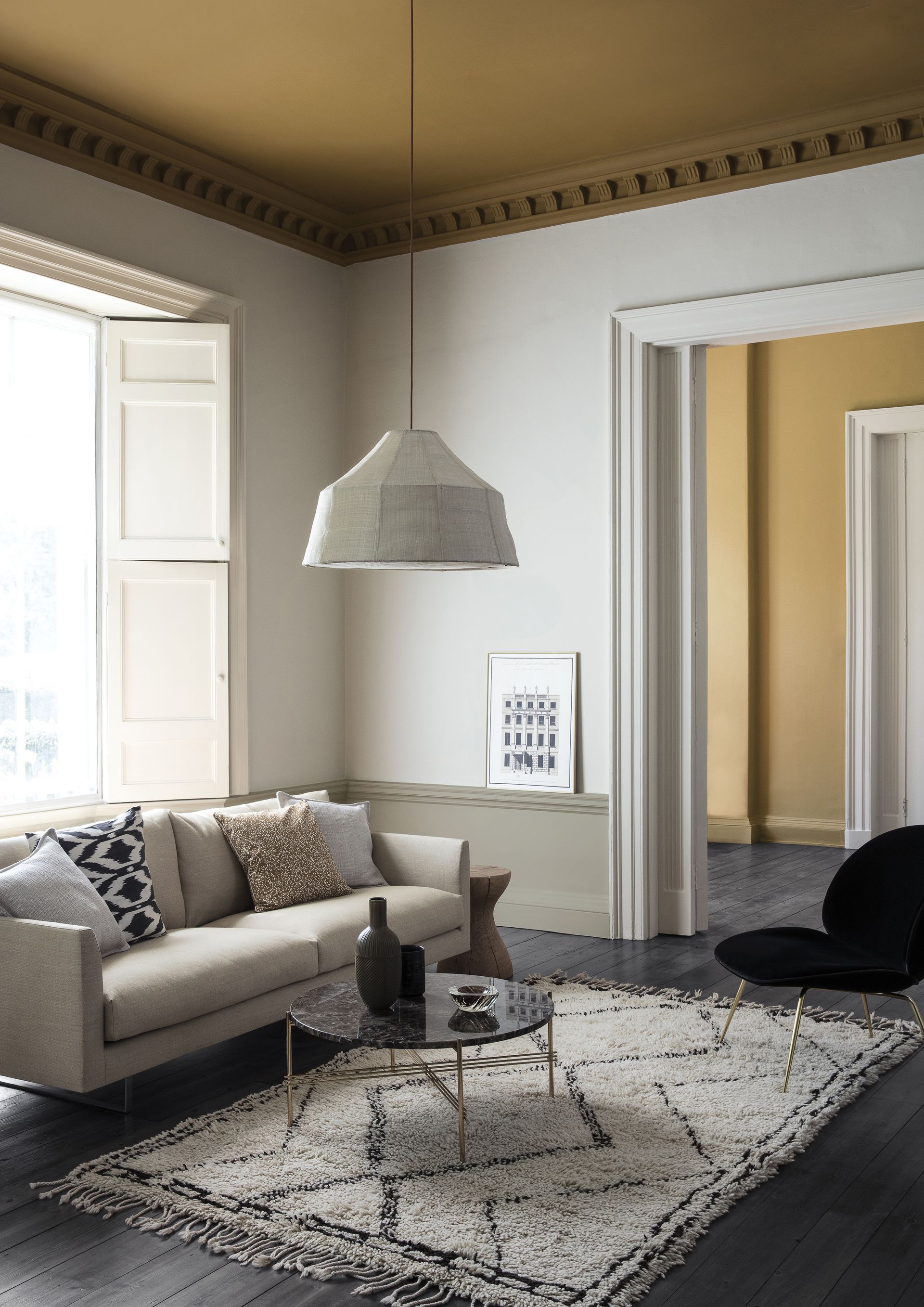 DOES YELLOW GO WITH GREY?
Yes, yellow works with grey - it works beautifully with grey in fact. Let's be honest - with all the best colour-loving intentions, grey often finds its way into most of our homes. But if you are faced with an all grey interior and are desperate to perk it up, all is not lost! Yellow works in both small and larger doses, as Andy Greenall, Head of Design at Paint & Paper Library, can attest.
'Grey and yellow is a perfect partnership,' he says. 'Grey serves to create a cool, soft and sophisticated atmosphere, acting as a canvas and a more calming partner to the vibrant and energetic yellow. Yellow will add warmth and joy to a scheme whilst delivering real design impact. Pairing yellow and grey colours together is a fantastic way to retain an elegant and refined look that's bursting with personality.'
And you needn't have to entirely redecorate to introduce a golden ray of sunshine into your room. Instead, Andy says, that when considering grey and yellow living room ideas, 'consider using the yellow as a highlight colour. Juxtapose existing wide expanses of wall in a neutral or grey with a ceiling, woodwork or door in a sunshine yellow or a warm mustard tone.'
HOW DO YOU MAKE AN IMPACT WITH YELLOW?
Opt for subtle undertones across the palette to make an impact with yellow. Of course you can pair it with contrasting shades for maximum impact, but the trick is to be a bit more clever, as Punam Chada, Carpet Buyer at Carpetright, explains.
'If you lean towards a maximalist aesthetic and want to incorporate bold color on both your walls and floors, then harmony is key,' she says. 'First create a base palette of colors that all contain a common undertone and then choose which surface to apply them to - this will help to give the room structure and coherence.' For example, yellow is an undertone of teal, and so while the combination offers a striking contrast, there is also a mutual dialogue between the two colors, as witnessed in the modern home office ideas above.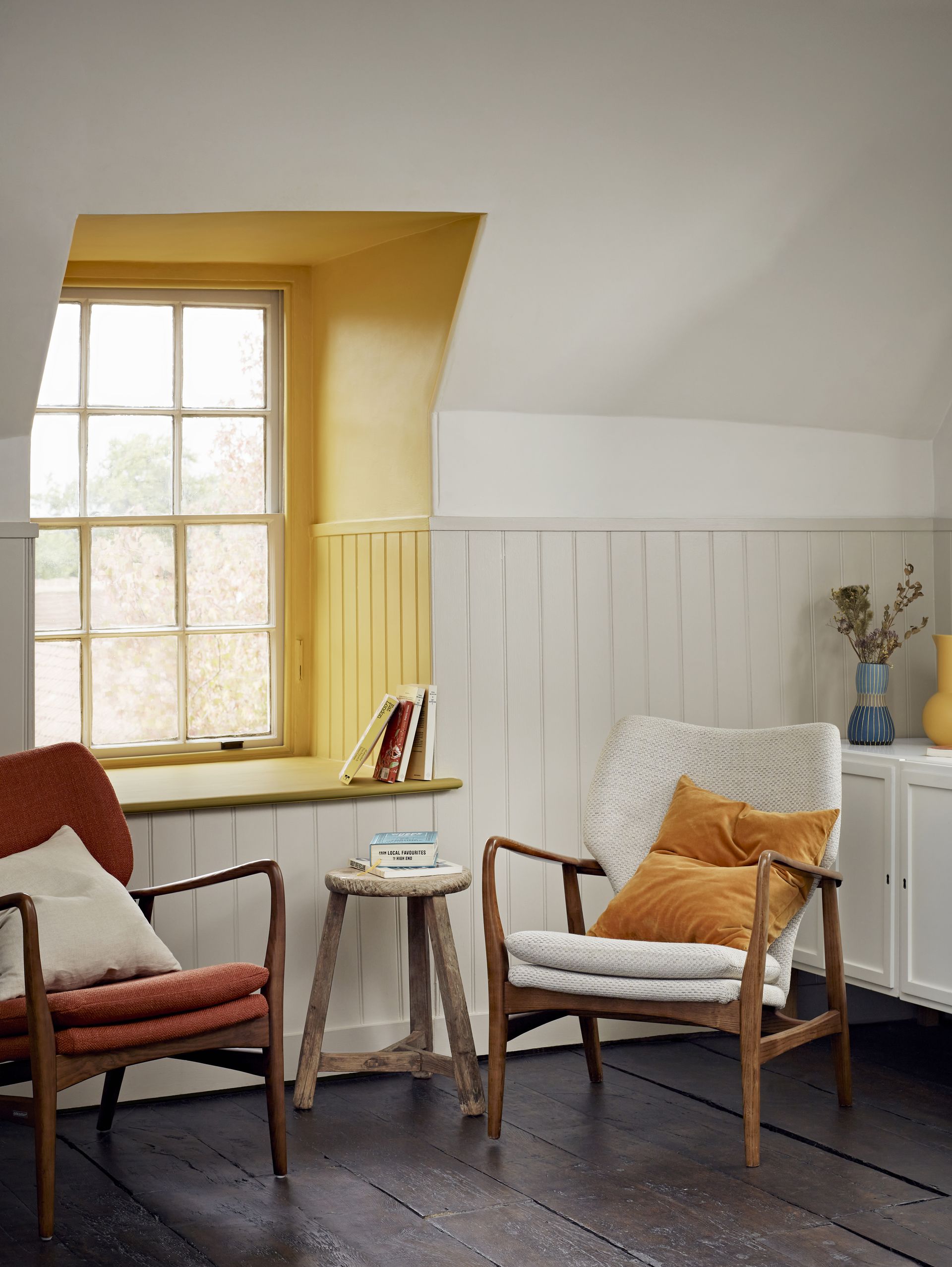 HOW TO USE YELLOW IN SMALL DOSES?
Of course, it has to be noted that yellow also works beautifully with a faithful white scheme - and if you opt for a warmer hue such as marigold, it will work wonders on taking out any harsh or stark tones within a cool white. Kathryn Lloyd, Colour Consultant at Crown, explains how to instantly refresh a white room with a small, but impactful use of yellow.
'Yellow will always work to reflect any available sunlight in a room, so for added depth, try a livelier shade of yellow on a wall that is at right angles to a window to bounce extra light into the rest of the space' she says. 'Alternatively, go straight to the light source itself, and paint the recess and window frame in a sunny colour. Keep your curtain ideas to a minimum to let in the maximum available light - perhaps opting for a streamlined blind instead of heavy curtains.'
This is particularly effective in spaces where you wish to feel uplifted; reading corners, offices and dressing rooms would all benefit from a sunny dose of yellow.
The Livingetc newsletter is your shortcut to the now and the next in home design. Subscribe today to receive a stunning free 200-page book of the best homes from around the world.
Interiors stylist and journalist Amy Neason was the Deputy Style and Interiors editor at House Beautiful for years. She is now a freelance props and set stylist, creating work for a range of national publications and brands such as Imogen Heath. She has previously worked at Established & Sons, and her skills include styling still life and interiors shots for editorial features and sourcing unique products to create inspirational imagery.

She is particularly respected for interpreting seasonal trends into feature ideas and style stories.