Do blue and green work together? Designers show why this questionable combo is now a trend
Blue and green should never be seen, right? These on-trend ideas are about to prove the theory wrong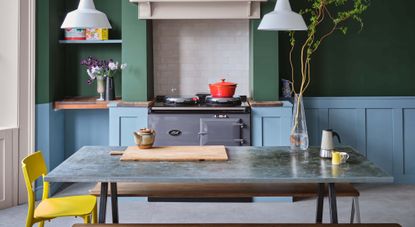 (Image credit: Farrow & Ball)
The Livingetc Newsletter
For style leaders and design lovers.
Thank you for signing up to LivingEtc. You will receive a verification email shortly.
There was a problem. Please refresh the page and try again.
A time not so long ago we were often warned (and often did the warning) against using color combinations that sat too close together on the color wheel in interior design. But then we saw what magic pairing pink and orange together could do and have been forced to rethink. So we are focusing our attention on the cooler side and see if any similar success can be had there. Can blue and green work together?
And not just do they work (because, no surprises, there are plenty of fabulous examples of them complimenting one another) but how can you make them work? What are the rules for bringing together blue and green in a room? What's the color theory saying about this duo? We asked some of our favorite designers and color experts how to bring this rising combo into your spaces.
Do blue and green work together?
'Yes, yes, and yes,' says Patrick O'Donnell of Farrow & Ball. 'There are lots of ways to balance the combination of blue and green together, at the bolder end of the spectrum play with colors of similar weight with the elegant greens for a rich combination that surprisingly doesn't feel remotely chilly. Or for a softer look, choose a pastel tone of eau de nil but team with a bold green woodwork color for a contemporary contrast.'
Tasha Bradley, color expert at paint brand Lick agrees, 'there's that saying blue and green should never be seen, ignore it. Blue and green is one of the most dreamy color combinations. When you are looking for color combinations that work, always look to nature – nature brings out the best color combinations. All those combinations you wouldn't normally put together but look wicked, like pink and red or pink and orange, or blue and green can be found in nature.'
When it comes to colors that go with green, blue is a near relation, that helps you build out an easy color palette. 'There's a theory behind why these similar color groups work together so well – they are called analogous color schemes. Any colors that sit closely together on the color wheel will work beautifully together.'
'Yes, greens and blues can complement each other and create harmonious color schemes as they are analogous colors or sisters' color families,' adds Erika Woelfel, Behr's VP of Color and Creative Services. 'They are popular color families as they relate to the natural world and enhance our overall sense of well-being. Greens and blues help establish a natural vibe in a home and bring in that connection with the outdoors. These accents add a note of sophistication and sense of stability.'
So it's established, blue and green work together. But there are of course rules to bringing these two cool-tone shades together...
7 blue and green color schemes that prove this combo is a classic
1. Pair dark greens with lighter blues (or vice versa)
With any two-toned color palette, it's all about creating balance. You want the colors to sit comfortably together, not compete for focus and that usually means picking one shade to be more dominant. Going for a 50/50 split, or picking two colors of the same intensity, can make a room harder to...understand. The eye isn't sure which color to focus on, and this can be even more confusing when the colors can be so similar. So pick either your blues or your greens to be the dominant color.
A bold blue or green is a brave choice for a room, but it can work if you balance it with softer, lighter colors as seen in this dining room. The green still takes front and center but is perfectly interrupted by the pale blue, softening the look and making it far more interesting than a single wall of block color.
And make sure you order plenty of swatches before committing to a blue or a green – they are both such shape-shifting colors, especially in their darker, bolder forms, so can look very different under different lights and at different times of day. 'Any 100% strength version of a color is going to be tricky to use, if you love emerald green, then get some swatches in various tints, tones, and shades and see what works in your space with your specific lighting and site conditions and don't be afraid to experiment. Design and interiors should be joyful,' says designer Nicholas Kaiko.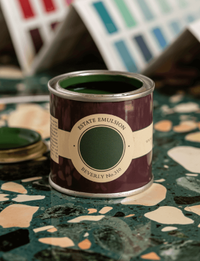 This green and blue dining room is painted in Farrow & Balls' Beverly.
2. Stick to the same tones and temperatures
Picking a blue and green that complement one another is all about getting the tones right. Choose two shades that have the same undertones and temperatures to avoid clashing colors. By its nature blue is a cool tone, so avoid paring it with warmer greens that have a lot of yellow within them – stick with greens that have a blue undertone and they will automatically be a good match.
'Green and blue, absolutely they work together – I don't know who started the rumor they don't, but they are definitely wrong,' says Nicholas. 'Just look outside, we see this combination everywhere in nature. But if you want to work with them in your own home my advice is to stick to a temperature – what I mean by that is to use cool blues and cool greens. If you want to use both in a space, take down the saturation and consider how much black or white is in the base: for example – light colors with similar light tints and vice versa.'
Dominic Myland, CEO at paint brand Mylands agrees that, 'Blue and green sit next to each other on the color wheel, and can pair beautifully in interiors schemes; as an easy rule, try and choose colors that are of similar tone as they will sit more harmoniously together. Paler, cooler shades can be used to create a scheme that feels calming and tranquil, while bolder shades can be used to create a punchier scheme that's energizing and contemporary. Look for nature for inspiration – there are some great pairings of blues and greens that you can replicate.' Think sky blue as one of the colors that go with sage green for a soft, natural palette.
3. Bring this color combo into a bathroom with tile
Tiles seem like more of a subtle approach to color than paint – something about the grout lines and the texture makes it far less solid and dramatic. And what better place to bring the watery combo of blue and green into than in a bathroom? We love this soft sage, grey/blue combo. It's fresh and modern and paired with all that light wood creates a dreamy, nature-inspired color palette.
'Blue and green is a color combo found all over nature. Like in the ocean with the shallow green water closer to the shore dips down and turns blue when it gets deeper. And it's a favorite clothing combo - blue jeans and an army jacket.' explains designer Max Humphrey.
'In decorating it's just as easy to pull off. I tend to like more contrasting tones (light sage green with navy blue, as used in this bathroom) but even a tone-on-tone look can work if you pick a blue with some green in it and vice versa. I like pairing blue and green with natural wood accents to keep things looking organic.'
4. Lift a room with accents of blue and green
'Yes, blue and green are wonderful together – they're a strong duo when paired! I love using blue and green more as accents in a neutral space. And I personally love going a bit bold with the colors, having fun, and making a statement!' says designer Crystal Sinclair.
And this living room is the perfect example of how you can use the blue and green combo to really lift a neutral room. Especially in a grey living room – a cool, slightly darker grey is perfect for pairing with true blue and green. The grey grounds the space and keeps it chic and sophisticated but flashes of those bold hues add a playful side to this very classic shade. Bring in some white too to really help those colors pop and create some statement contrasts.
5. Use blue and green almost like neutrals
The right tones of blue and green can almost work like a neutral – no bolder than a grey or beige. When used in a soft, pale form they seem so natural and easy on the eye. The point being, don't shy away from this color combo if you think it might be too bold – there are ways of really toning it down.
And it's not just about the paint colors you choose. Creating a softer blue and green scheme relies on layers too – use your furniture and accessories to add different shades so you get this lovely depth that takes the edge off a two-tone color palette.
'When looking at introducing blues and greens into your scheme look to nature for your inspiration. Think of all the tones of blues, teals, turquoises and green that appear together every day in the sea and the sky. These tones work harmoniously together to give a beautiful end result. Be playful with them and go for tones that complement each other as opposed to shouting at each other and look at layering these colors up in textures, different fabrics, and patterns combined together with lacquered finishes and touches of accent colors.' suggests Becky Russell of Kingston Lafferty Design.
6. Soften the combination with pattern and texture
Introducing pattern is an easy way to bring in the blue and green color combo in a more subtle way. Prints will break up those blocks of color so you don't get such dramatic clashes of color. 'Consider a wall mural which uses both colors for the walls and balances out with neutrals on the floor and ceiling. Add back in full-strength versions of blue and green in accessories etc.' suggests Nicholas Kaiko.
This dining room designed by Frampton Co., shows just how luxurious a blue and green color palette can be. The deep blues and greens of the wallpaper create a gorgeous backdrop for all the rich wooden tones, and the velvet green chair really pull the green tones out of the print so neither blue nor green dominates the space. The splashes of orange and the woods balance any of the cooler tones so the overall feel of the room is warm and comforting.
7. Add warmth with complimentary colors
By their nature, blue and green are cooler-toned hues, so if you are decorating a room that doesn't get too much natural light, or is north facing and therefore the light is cooler, you are going to want to introduce some colors from the other side of the color wheel.
Blush pink can look gorgeous when added to a green and blue color scheme – just be sure to pick one with a blue undertone, and it really warms up the space without interrupting the blue and green too much. That's the safe option.
However, for a bolder look, be inspired by this colorful kitchen designed by MKCA. We are seeing such a rise in decorating with primary colors, and we are here for this more playful switch. Bringing yellow and red into a blue and green color scheme will warm up a space and even in in small amounts will create this super on-trend retro vibe.
For style leaders and design lovers.
Hebe is the Digital Editor of Livingetc; she has a background in lifestyle and interior journalism and a passion for renovating small spaces. You'll usually find her attempting DIY, whether it's spray painting her whole kitchen, don't try that at home, or ever changing the wallpaper in her hallway. Livingetc has been such a huge inspiration and has influenced Hebe's style since she moved into her first rental and finally had a small amount of control over the decor and now loves being able to help others make decisions when decorating their own homes. Last year she moved from renting to owning her first teeny tiny Edwardian flat in London with her whippet Willow (who yes she chose to match her interiors...) and is already on the lookout for her next project.