20 teenage bedroom ideas to make decorating a teen's space simple
Let these teenage bedroom ideas help you and your kids come up with a look that both of you love (you can thank us later)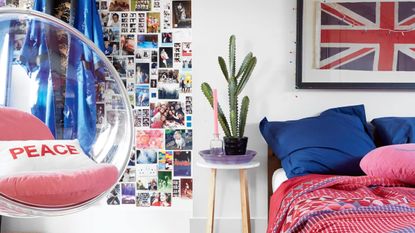 (Image credit: Paul Massey)
Coming up with stylish teenage bedroom ideas and designing a room that they love and you approve of can be... tricky. Anything to do with teenagers can be tricky. You want to create a space that reflects their tastes and interests, still is slightly in keeping with the rest of the house, and has longevity so you won't find yourself redecorating every year until they (hopefully) move out. It's a lot to ask of a room, and it's a lot to ask of you and your teen to make these design decisions without inspiration or guidance. But luckily, we have you covered with loads of cool spaces that can help you agree on colors, themes and furniture. And these can definitely be used as kid's room ideas too, for those who have 6 year old who are going on 16.
Just be sure to get them involved from the beginning. Create mood boards together and flick through magazines so you can get a sense of what their tastes are and how they would like their space to look and feel. Run any decisions by them to avoid meltdowns when the wrong shade of pink paint shows up or the bedding you ordered just isn't 'cool' enough. Use our gallery of teen room ideas as a jumping-off point...
Stylish teenage bedroom that both of you will love
1. Have fun with an unexpected color scheme
Whether you are decorating a teenage girl's bedroom or a teenage boy's bedroom, a good place to start is with the color scheme. Again, talk to them, ask them about what colors they like and, if they'll listen long enough, explain about color pairings and help them choose a couple of colors as the starting point for their color palette.
Personally, we are big fans of the pink and green combo at the moment. It's fun and fresh and yet if you pick the right tones it doesn't feel childish as the cool tones of the green balances out the saccharine quality of the pink. The pistachio green walls and blush pink decor of this teen bedroom feel quirky but also grown-up and sophisticated.
'Extra color can be added into a neutral teenage room in a myriad of ways – all of which can be changed quite easily as the years go by.' says Joa Studholme, Farrow & Ball Colour Curator. 'Upcycle an old chest of drawers by painting each drawer in a different color or in a sophisticated gradation of just one color. Start with Inchyra Blue at the bottom and graduates up through De Nimes and Oval Room Blue. Bear in mind that the legs of tables or chairs don't need to be the same color as the tabletop or chair seat. Bedheads can be personalized or painted directly onto the wall. Shelves cry out for contrasting colors, and the back of bookcases are enhanced with really bright tones, such as Rangwali or Vardo.'
2. Or keep it simple with neutrals
And if color doesn't seem to be an easy place to start, just play it safe and keep it neutral. White or greys walls, wooden floors, simple decor can all be a backdrop to whatever style your teen eventually brings into the space. Make it feel cozier with rugs and layers of bed linen, both of which can be switched out to change the look of the room as they grow up and their tastes begin to change. It's best to start with a versatile base that they themselves can build on over time – plus, a neutral bedroom is timeless so you won't find yourself having to redecorate with every trend.
'As teenagers develop, their styles and identities develop too meaning their bedroom could need several restyles from early teens through to later years.' says Debbie Leigh, Design Manager at ILIV.
'Starting with a blank canvas is not only manageable but encourages creativity. Keep it simple by painting the walls a neutral tone and experiment using a selection of colorful wall art. Adding coordinating pillows will liven the room whilst keeping costs at bay, an achievable makeover which can be frequently mixed up.'
3. Include a space for study
It may not be as exciting as picking colors or deciding on wallpapers, but having a private space to work is a really important aspect of a teen's bedroom. Even if they are a tween and serious study hasn't really entered their world yet, it will only be a few years before a desk is needed, so plan ahead and build onto into the layout of their bedroom.
Pick something that's practical of course, but make it stylish too and fit with the style of the room. And if space is tight, be inspired by this small bedroom and opt for something compact and narrow that's built in complete with a desk and storage.
'Define a desk area by painting it a different color to the rest of the room. Paint a section of the wall from floor to ceiling which is just a little wider than the desk or table used for homework.' advises Joa. 'This area should be stronger in tone than the rest of the room, and could even be in Railings or Downpipe, colors that many teenagers crave! For extra drama use Full Gloss on this section which will bounce some light around and act as a super durable surface for blue-tac etc.'
4. Get creative with a cork wall
Let them be in charge of what goes on the wall by turning one wall into a giant corkboard. They can then fill it up themselves with prints, posters, photos, and memorabilia. Not only does it look stylish, with a cool industrial edge, but it also allows your teens to have some creative control that they can switch up as regularly as they like. Plus, boring as it may sound, they are great for study and revision.
5. Make a focal point with a statement headboard
Chances are your teen will spend a lot of time in bed, so put some time into creating the ideal, cozy sleep space. Make the bed the focal point of the room with a statement headboard – this wooden headboard was actually DIYed from old planks and gives this pink bedroom such a coo, rustic edge, bringing in loads of lovely texture.
'A bed is the dominant feature of any bedroom, it is the focal point and acts as a base to center the rest of your scheme around. An upholstered headboard is an easy way of injecting color and texture into your bedroom.' advise Jen & Mar founders of Interior Fox.
'Introduce vibrant colors or earthy tones, these work well against a neutral backdrop while keeping the space light and airy. Add contemporary piping in a contrasting color to the edge of your headboard, this instantly adds a twist to any standard headboard and broadens the color scheme and it's also a great way for a teen to add personality to their space.'
6. Bring in quirky furniture
What teenager wouldn't want a swinging bubble chair in their bedroom? We want a swinging bubble chair in our bedroom! It's statement pieces like this that make a teenager's bedroom fun and playful because no matter how grown up they act, their space needn't totally lose its childish side.
Adding in some fun seating also gives your kids and their friends a place to hang out away from the main living rooms. So if you have the space, adding a couple of chairs or a loveseat for a laid-back chill-out area.
7. Think about storage
Much like in a kid's room, storage is key to designing a teen's bedroom that is functional and clutter-free. Save yourself the hassle and just make it as easy as possible for them to keep the room tidy. Add a mix of storage – wardrobes, drawers, bins, boxes, baskets and choose furniture that doubles up as storage too so you don't have to fill the room with too many storage pieces.
'Teenagers' bedrooms can soon become overwhelmed with clothes and other clutter, so it is important to think about helpful storage solutions when furnishing their room. Their bedrooms are often the smallest of the house, maximize available space by choosing furniture that has multi-uses.' says David Norman Director of Furl. 'A practical storage bed provides a surprising amount of extra space; perfect for tidying away sports equipment, luggage, out-of-season clothes and general bit and bobs.'
It's also a great idea to make use of bedroom organizers in a teenagers' bedroom, to help keep their abundance of things neat and tidy — and out of sight.
8. Make a statement with bold wallpaper
Wallpaper is a really easy, non-permanent way to add in some fun color and pattern to a teen's room. If you keep the rest of the room fairly neutral, you can just switch up the wallpaper every few years to give the room a totally new vibe without having to completely redecorate.
The bold black and white wallpaper used in this teen's bedroom has a distinctly rock and roll vibe to it that suits the eclectic style of the room. It's daring but has an edge of grown-up sophistication to it too, perfect for a teen who loves to experiment with styles.
9. Keep it simple in a shared bedroom
If you are looking for shared bedroom ideas for teens, this space is the perfect example of how to get it right. Keep the room cool and simple, with a minimal, neutral scheme and stylish but classic furniture that matches. The is the perfect base to start with, then each teen can get creative with their side of the room, putting their own stamp on with prints and decor. But because you have that clean base and matching furniture, it will still have that air of cohesion no matter what they throw at it.
10. Add a pop of neon lighting
Loving how sophisticated this teen's bedroom feels with the textured wallpaper, stylish furniture, and cozy bedding and yet all it takes is a pop of neon lighting to make it feel suitably teenager-esque. It's like a grown-up bedroom with a twist of something younger and what a cute slogan too – motivational without being too soppy.
11. Give a teen bedroom a cool industrial vibe
The industrial theme is always a winner in teen's bedrooms, it's cool it's on-trend and you can take it as far or go as subtle as you like. Some stylish wire locker storage could add an edge to a minimalist room, or go all out with a graffiti wall like in this space. You could cheat the look with a mural, or if your kid is into let them create their own artwork (just make sure to remove all the furniture and cover every single surface with sheets).
12. Think fun but sophisticated
Paint is a really easy way to play around with colors and you can easily paint over every few years if your teen wants a change, so don't be afraid to test out bolder shades. And as this bedroom proves bold and bright can still be sophisticated. The bubblegum pink and the stylish antique furniture and artwork blend together to create a bedroom that feels both young and polished.
13. Use their hobbies as displays
As your teen reaches the age they no longer want their toys out on display switch toys to something more grown-up and again be inspired by something they are interested in. In this bedroom skateboards adorn the walls to pay homage to the occupant's passion, but also adding loads of fun color to this otherwise quite neutral space.
'Decorating a teen room is a whole lot easier if you have a theme in mind, I'm not talking super cheesy especially if you take a passion they love as inspiration. Eg if they love surfing, a coastal vibe with a soft sandy palette with surfboards on the wall which look like an art installation.' advises Abigail Ahern. 'Add in youthful accessories, play with scale when it comes to lighting and pops of color always works. Accent walls add instant personality and depth and don't neglect textures. Teens spend a long time in their rooms so cozifying them up with faux sheepskins and large looped throws always works.'
14. Layer up soft textiles for a cozy space
Give a teen's space a cozy feel by layering up different textures and materials. This works particularly well in neutral spaces that have a limited color palette, so you still have plenty of interest and depth to the room. How inviting does this bedroom look? And the layers of greys and whites are classic, so perfect for ever-changing tastes.
15. Create a teen approved den
Who says dens are just for younger kids rooms? Got an awkward nook in your teen's space, an alcove? Or a space under the eaves? Turn it into a cool hang out space filled with textured cushions, throws, boho decor and fairy lights for an almost adult-approved cozy space to read, work and chill.
16. Add pattern on the ceiling
When it comes to decorating any room the ceiling is often ignored, painted some version of white, and not given a second thought. But this fifth wall can add so much to a room – color, pattern, texture, painted ceilings can make a room feel bigger and taller too. And in teen's bedrooms, when you can often be bolder with your decor, it's the perfect space to experiment with this trend.
In smaller rooms, matching the ceiling to walls can blur the dimension of space, making it appear larger and giving in a lovely cozy, cocooning feel. But if you're worried that an all-over color might feel too cave-like when filled with all your teen's stuff, opt for a bright splash of color on the ceiling, as can be seen with the flash of cobalt, to add an unexpected quirk.
17. Create a balance between bold and timeless
The key when decorating a teenager's bedroom is you want to strike a balance between letting their personal tastes come through clearly in the decor, but still, maintain a timeless base that can be built on and adapted as their tastes change. The simplest, and most argument-avoid way to do this is to stick to a neutral wall color and classic furniture and like them take the reins (to an extend) on the decor. Let them have more of a say on the more inexpensive and easily interchangeable parts of the room like the bedding, rugs, window treatments, and prints.
Take home tip: A lovely way to add character and timeless style to a teen's bedroom is to bring in antique and vintage finds. See the cabinet used in this space? You can imagine what it once looked like, probably a polished walnut or mahogany, probably not to the taste of most teens. But the classic shape and details are beautiful, and by painting it in a steely cool-toned grey to match the walls it feels fresher and more suited to a contemporary space.
18. Add a glamorous touch with metallics
If glitter is on the list of must-haves for your tween's bedroom, compromise on the glitter paint walls and instead opt for a more classic approach and cover the walls in a metallic wallpaper. You still get the glamorous look but hopefully, it's in a form that's going to last longer than their obsession with anything sparkly.
Bring in their favorite color too – we love how the turquoise really pops against the silver, it's a look that wouldn't look out of place in an adult's room. The turquoise painted door and woodwork just add an extra splash of that fun, vibrant color and tie the whole scheme together.
19. Give a rustic ( but practical) touch with painted floorboards
If decorating an older teen's room, chances are they'll want to create a space that feels grown up and on-trend. This simple, rustic style French vibes bedroom ticks both those boxes. The distressed walls, the cane bed, the mixture of deep blues and greys, it's a space that isn't going to date anytime soon. But it's a functional space too, as Joa Studholme says,' As well as feeling informal and relaxed, painted floors are extremely practical, coping with the inevitable spills of teenage life. A white will bounce light around a small space, while India Yellow or Green Smoke will ground the room and make it feel individual.'
'Have fun with colour on the floor, it is way below your eye line so wont overwhelm. Experiment with making and colouring classic diamond patterns or stripes in combinations like Peignoir and All White or Stone Blue and School House White.'
20. Update traditional pieces with bold hues
Who knew neon orange could look so chic? Just look how the cornicing pops against the dark grey, it almost looks like a neon light runs around the edge of the room. It's cool, and definitely approved, but still feels sophisticated and stylish. The beautiful wrought iron bed is the perfect example of how updating classic pieces with bolder hues can make them work in a teen's bedroom. And again, by keeping that neutral background and just going bold with a few accents, it means the room won't be too tricky to update with just paint and a change of decor.
What should be in a teenage bedroom?
A teen's bedroom should include plenty storage, you want it be a space that's easy to keep tidy and there are lots of different options for them to store away clutter. As well as wardrobes and drawers for clothes storage, include baskets and bins to make clean up straightforward.
A bed is of course an essential too. Try and pick something that has longevity, and is classic in style so will suit the space as they grow and their tastes change. When it comes to smaller things like decor and lighting, get inspired by the ideas above and work together with your teen to create a space you both love.
What are the best colors for a teenage bedroom?
The best colors for a teen's bedroom will depend on taste and the overall look you are going for. If you want to play it safe, you can't go wrong with a neutral scheme of whites, greys or creams. Then your teen can bring in pops of colors that they like with their own decor choices.
Also, consider the aspect and size of the room too. If the room is on the smaller side, you could go for the classic all-white, or why not go bold and choose a darker color? It's a myth that dark shades make small rooms feel smaller, they can actually blur the edges of the room and make it appear larger.
'Many teenagers are naturally drawn to strong colors which may make a room feel too dark. Consider using the color on the skirting and the bottom of the wall (up to 1.5m) and then take a lighter tone up the rest of the wall and over the ceiling.' advises Joa Studholme, Farrow & Ball Colour Curator. 'This will mean that it feels intimate when lying or sitting down without overpowering the room. Don't be intimidated by this method of decoration – paint the lighter color first and then use some masking tape to create a clean line to the stronger tone. For extra decorative effect use the stronger tone on the doors and windows too. Combining Hague Blue with Cornforth White is particularly successful as is using Sulking Room Pink with Skimming Stone.'
The Livingetc newsletter is your shortcut to the now and the next in home design. Subscribe today to receive a stunning free 200-page book of the best homes from around the world.
Hebe is the Digital Editor of Livingetc; she has a background in lifestyle and interior journalism and a passion for renovating small spaces. You'll usually find her attempting DIY, whether it's spray painting her whole kitchen, don't try that at home, or ever changing the wallpaper in her hallway. Livingetc has been such a huge inspiration and has influenced Hebe's style since she moved into her first rental and finally had a small amount of control over the decor and now loves being able to help others make decisions when decorating their own homes. Last year she moved from renting to owning her first teeny tiny Edwardian flat in London with her whippet Willow (who yes she chose to match her interiors...) and is already on the lookout for her next project.