Teenage boy bedroom ideas
Cool teenage boy bedroom ideas to inspire a fresh new look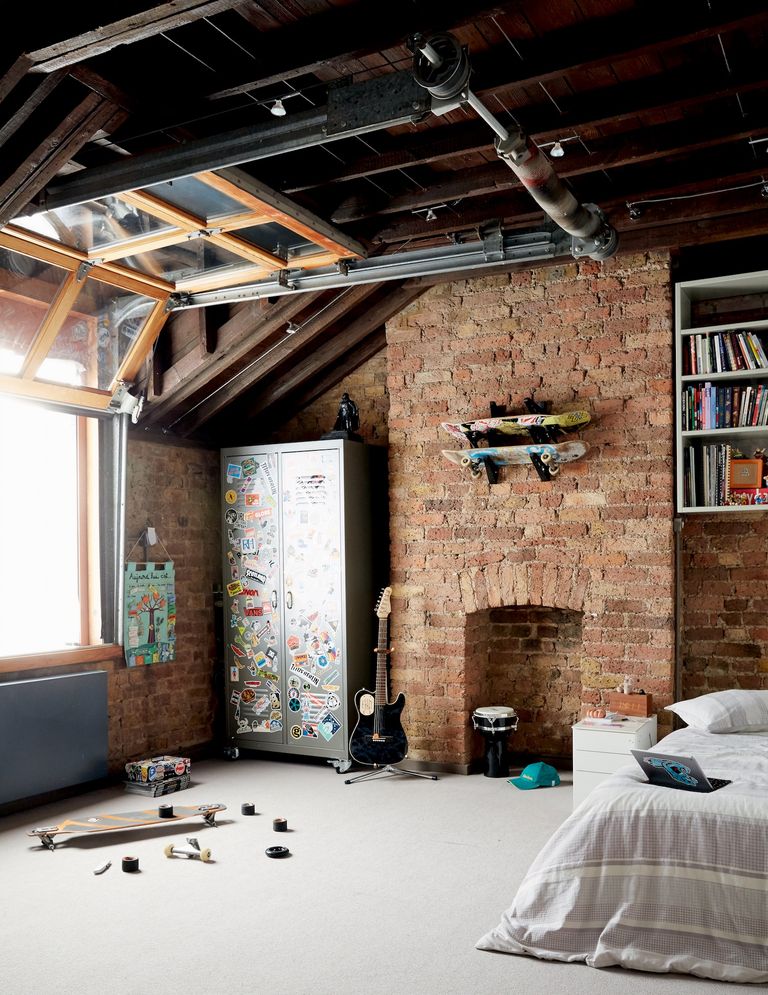 (Image credit: www.ti-mediacontent.com)
We've found 20 cool teenage boy bedroom ideas to create a stylish retreat they'll love you for.
Is your boy growing out of his boy bedroom scheme? Is his boyish wallpaper feeling dated, the toy storage no longer needed, and maybe his desk area could use a more grown up look too? We've sifted through our archives and pulled out some of the coolest teenage boy bedroom ideas to inspire a revamp.
For an urban look, think graffiti-inspired murals or accessorising with sports gear or music memorabilia. Groupings of anything, from skateboards to medals, make a brilliant display. Likewise, framed film and concert posters, or even album covers – after all, vinyl is back in a big way. Strong colours, sharp shapes and hints of hero worship are all a part of making this look work. It's bold, a bit brash, but it has bags of personality.
1. Street style
This teenage boy bedroom has a super cool, urban feel, thanks to the huge up-and-over window, skateboard racks on the walls and a school locker style wardrobe.
2. Surfs up
Make an eye-catching statement with a cool wall mural. Elaine Penhaul, director of home staging company Lemon and Lime Interiors advises: "Parents may shy away from giving a teenager free rein but try to remember that paint is temporary, and it can be changed as their tastes change or when they leave home. They will benefit from having the freedom to experiment and can learn to manage money if offered a budget."
This surf-mad teenager's bedroom features a hand-painted mural designed by Martyn Lawrence Bullard.
3. Colour scheme
Although the sporty wallpaper is playful, the rest of the room has a very chic look to it, owed to the cohesive colour scheme and chic furnishings. Monogrammed bedding and a statement chair complete the look.
See Also: Boy Bedroom Wallpaper Ideas
4. Boxing ring
Win some cool points with your teenager with a cool wall mural and a hanging boxing pillow.
See Also: Wonderfully Fun Kids Play Room Ideas
5. Go graphic
We love the Memphis design inspired graphic lines in this teenage boy bedroom, but we love the cool storage too – which is the key to keeping it tidy.
Elaine Penhaul of Lemon and Lime Interiors says: "Storage is incredibly important as teenagers tend to collect lots of belongings over the years. Helping them to find clever ways to organise clothes, books, shoes, and anything else they may own will help them to keep the space tidy with minimal effort."
The same designer, Jannat Vasi, also designed this teenage boy bedroom below, featuring bold colours, graphic lines, neon lighting and Star Wars themed pendant lights.
See Also: Cool Bedroom Lighting Ideas
6. Music stage
This drum kit sits on its own raised plinth, made from the bandsawn oak floorboards. We think it would look pretty cool in a teenage boy's bedroom!
See Also: Wonderfully Fun Kids Play Room Ideas
7. Sporty
Heavily into sports? Create a cool scheme with sport inspired art, and use open shelving to display any trophies or medals or collected paraphernalia like boxing gloves, ping pong bats, a baseball glove and ball, etc.
8. Off the wall
Mount their hobby or passion on the walls. Elaine Penhaul explains: "When it comes to teenagers, it's key to let them personalise their room so they feel like they have their own space. Allow them to incorporate any hobbies or interests they might have and create wall features by hanging weird and wonderful items – Pinterest offers loads of great ideas on how to do this."
See Also: Stylish Kids' Toy Storage Ideas
For example for a teenage boy obsessed with skateboarding, one mum looked online and chose 20 skateboards in a pink, purple, blue and green palette to decorate the walls of his room (below). She calls the result 'total sensory overload'. We've also seen skateboards wall-mounted and used as shelves – a fun way of displaying things.
9. Cool wallpaper
A cool, urban-inspired wallpaper like this one will instantly change the atmosphere and give it a cool look.
See Also: Boy Bedroom Wallpaper Ideas
10. Splatter walls
The walls of this teenage boy bedroom have a wild, splatter paint effect, but they are in fact wallpaper. If you're feeling brave, you could let your teen try and recreate this themselves. Then if it doesn't work out, you could always wallpaper over it.
See Also: Teenage girl bedroom ideas
11. Secret door
This 'secret door' to a teenage boy bedroom was surprisingly inexpensive to create, as the door is just covered with Trompe l'Oeil wallpaper. The wall and door were papered in one go, with a dark architrave and a fake skirting board completing the illusion.
12. Bookcase door
Take the look up a notch with a swinging bookcase door. Above it, a glow-in-the-dark constellation wallpaper by Ralph Lauren makes this a cool-looking book nook.
See Also: Man Cave Ideas and Cool Bedroom Ideas For Men
13. Grafitti art
The cool mural below was bought in Holland. It's a collaborative work by a group of Rotterdam graffiti artists.
Or you could go all out, and commission a graffiti artist to come and paint your teen's room in person. It could make for quite a fun experience, and your teen and his friends could all get involved.
See Also: Explore a wild, maximalist teenage den
14. Gaming king
A retro – but working – arcade game like this would make a fun display in any teen bedroom!
15. Hunting lodge
The teen's room has a distinctly grown-up feel to it, with a large upholstered headboard, a faux fur throw and taxidermy (faux antlers would achieve an equally cool look) on the wall.
16. Keep things fun
They might want a more grown up scheme, but you can balance out a grown up bed, sophisticated bedding and lighting with playful touches to keep the feel young and fresh. In this teenage boy bedroom, interior designer Katharine Pooley introduced a fun wallpaper, and displayed jars of sweets, giving this sophisticated room a more playful atmosphere.
17. Beetlejuice
This teenage boy's bedroom features cool framed beetle prints, and a cool mezzanine level with cosy seating area underneath.
18. Grown up desk
Upgrade their kids desk to a more grown up looking one – industrial style desks are a popular choice. A leather chair like this will also help give the room a cooler, edgier look.
See Also: Desk ideas for kids
19. Hipster
Open storage like this is perfect for displaying treasured books – and records, which have become popular again recently.
See Also: Sharing Kids Room Ideas and Seriously Cool Bunk Bed Ideas
20. Go dark
The drama of deep colour creates a fantastically cocooning effect. Interior designer Naomi Clarke advises: "Dark colours work wonders – navy, black, tan and cream are an excellent but neutral combo."
This room below is still dark but features a softer approach.
See Also: Dramatic Dark Bedroom Ideas and Bedroom colour ideas: 25 paint colours with impact