5 ways to make your kid's bedroom more fun - inexpensive design updates that make a big difference to your little ones
A kid's room should be a reflection of their personality and a space where they can grow, here are some foolproof ways to turn it into something way more fun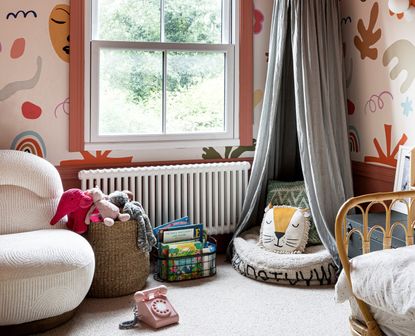 (Image credit: Leo Davut. Design: Merrett Houmøller Architects)
The Livingetc Newsletter
For style leaders and design lovers.
Thank you for signing up to LivingEtc. You will receive a verification email shortly.
There was a problem. Please refresh the page and try again.
It's important for your child that their bedroom is an escape, a place where they can explore, learn and discover their personality in a room where they feel comfortable. To make them feel at home, you want it to feel fun, but creating a playful space isn't just about buying a shedload of toys and hoping for the best.
Design can influence how your child feels and interacts with the space. So where to start? 'Children's rooms are a place to have fun with color, texture, and pattern,' says Jenny Wolf of Jenny Wolf Interiors. Here are five easy changes you can make to create a kid's room that your little one will love.
1. Make tidying fun
OK, I know this doesn't sound like the most fun, but tidying and decluttering is a necessary step to creating a playful space. Bedroom organization and getting savvy with storage only unleashes the power of your playroom or bedroom to become a space for fun. If you have a smaller room, it's even more important to helping a space feel less cluttered and stressful.
We suggest the first thing is a big spring clean that will organize the room with dedicated areas for things to be stored once not in use.
'Kids come with many toys, books, small collections, and gear,' says Keren Richter, co-founder and design principal at White Arrow. 'It can seem overwhelming if you let the mess take over.
'I like to simplify and gather like-with-like into boxes, bins, baskets, and zipper pouches. It's nice to have some items on display, but closed storage is your friend when dealing with all the logos and jarring colors'
Melisssa Warner Rothblum of interior design and decor firm Massucco Warner agrees that toy storage is essential. 'In my playroom at home, all the toys are neatly tucked away behind the cabinets and organized by time so they're easy to find.
'There's even more storage behind the curtains. The curtains go wall to wall and open in the center so it can double as a stage to put on shows and also space for storage behind. The window seat in between the tall cabinet towers serves as a reading nook with space for extra storage underneath – you can never have too much!'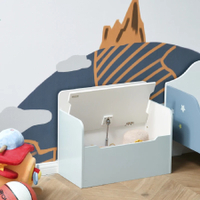 What child won't be thrilled to tidy up their bedroom with this cute storage box! A great place to store away toys when not in use, and when the lid is closed it transforms into a cute bench. Pop under the window with a few cushions and you've got yourself an easy window seat.
2. Go interactive
'Think interactive,' says Victoria Sass, founder of Prospect Refuge Studio. Essentially, turn the bedroom into a playroom. 'Brainstorm all the ways kids can affect and engage with their space within boundaries you feel good about too.'
A neon light sign provides lighting while adding some interest to their walls, or a chalkboard is another great idea and a space where your child can have fun drawing. 'Perhaps some whimsical seating that incorporates motion like a swing or a rocker. Don't go for all the ideas though, pick one impactful thing and let it have its space to be special,' says Victoria.
This bedroom was designed by Kate Gray of Hamilton Gray Studios and features a fun neon light. 'A young person's bedroom should always be adaptable, as their taste can change in an instant,' says Kate.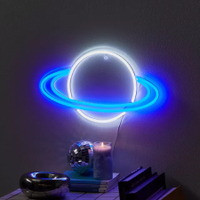 A bit of neon goes a long way to add a bit of interest to the walls that's different to standard wall art. It also works as a night light for reading after hours.
3. Create a reading nook with a canopy
Thinking about making your child's bedroom fun involves putting yourself in their shoes, and what a child actually might quite like might be a bit of privacy, or a secret corner for them to escape to.
I love these canopies that you can set up in the corner of the room. Transform it into a reading corner with a few floor cushions or a soft rug, and maybe a small bookshelf with their favorite reads. It will help them feel like they have their own special space, giving them the excitement of their own tent, and might encourage them into reading.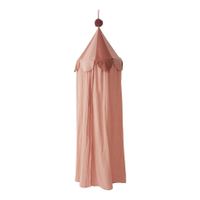 This pink canopy from Burke Decor has a circus feel with a typical circus top. I love the pinky pastel and pom pom on the top. You can close it at the front so your child will feel like they're in their own special hiding place.
4. Go for a mural
Pick a spare wall and invest in a sheet of wallpaper that has a wall mural on it. It can instantly bring a strong theme to the space, and giving your child a decision as to what they want gets them involved in the decision-making process.
'Our little client loves elephants and wanted a jungle-themed room,' says Kimberley Harrison of Kimberley Harrison Interiors worked with her to design a bedroom that she would love and also be timeless.
'We started with a colorful tent in the corner and anchored the room with an elegant elephant mural wallpaper that is an original Victorian etching. The wallpaper illustration is reminiscent of what the explorers would craft and take back to England, showing off their wondrous, never-before-seen sightings from their travels to far-off lands.' To complete the room, the designer added a study area and beautiful, wooden furniture pieces that allow her to grow into the room.
'Consider a color-within-the-lines wallpaper that your family can make their own,' adds Victoria.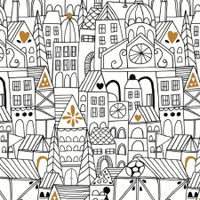 Little Village drawing wallpaper
A great way to involve your child with the decor of their own bedroom, and make the space feel a bit more fun, this color within-the-lines wallpaper.
5. Introduce color
Finally, keep things bright to help stimulate your child and make the space feel more fun. 'Dopamine decor is the idea of including colors, patterns and pieces in your home that make you feel happy and uplifted,' explains Athina Bluff, founder of Topology.

Primary pops are always a great addition to your little girl or boy's bedroom. Have your child choose their wall's paint color or the colors used throughout the room and maybe even include them in the process of painting them to bring them into the process. This doesn't always mean painting bedroom walls though. 'I want to see color and design in furniture, artwork, bedding, rugs, wallpaper, and textiles in a child's bedroom,' says Keren. 'I'd rather have the visual 'noise' be intentional and cohesive, with a defined and streamlined color story and artwork that can really set the tone of a room's mood.'
For style leaders and design lovers.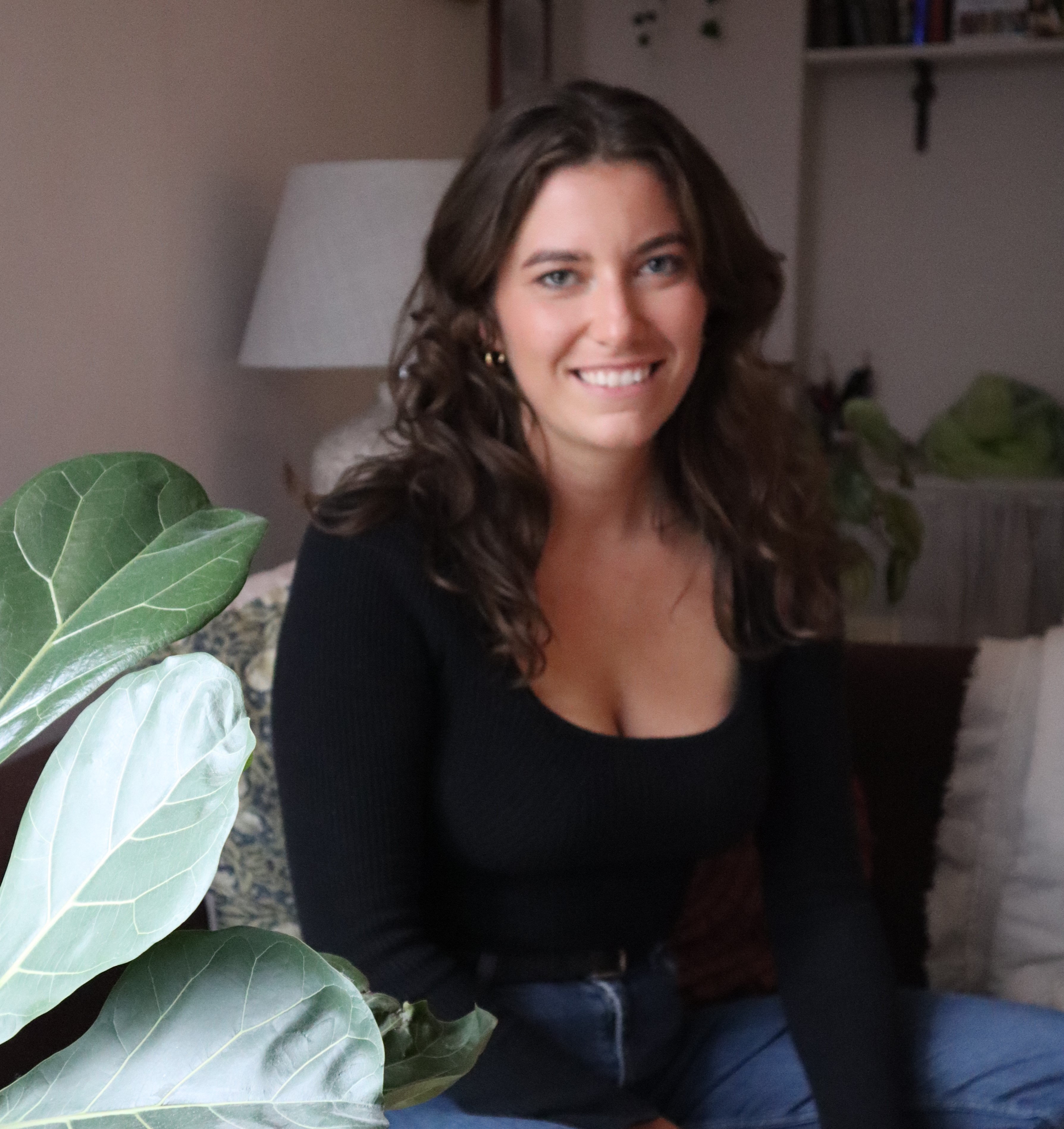 Livingetc content editor and design expert
Oonagh is a content editor at Livingetc.com. Previously, she worked on a London property title, producing long-read interiors features, style pages and conducting interviews with a range of famous faces from the UK interiors scene, from Kit Kemp to Robert Kime. In doing so, she has developed a keen interest in London's historical architecture and the city's distinct tastemakers paving the way in the world of interiors.