10 kids' closet ideas - decor experts provide the most stylish and simple ways to stay organised
Interiors experts offer the best kid's closet ideas, full of fun and future-proofed solutions to keep toys and clothes well organized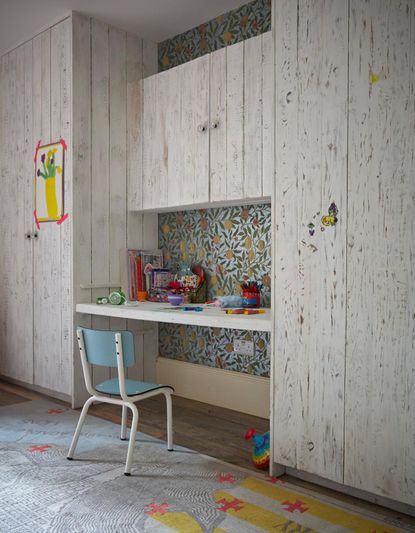 (Image credit: Future / Paul Massey)
Kid's closet ideas have undergone a style evolution of late. In fact, there's been a revolution in kids furniture generally, with cool and creative design now the norm. What this means is being able to combine practicality and playfulness is now as easy as your child is hopefully finding - or will find - ABC.
The best way to approach kids' room ideas is to try and get the balance right. This results in an inspiring scheme that can fire their developing imaginations, yet remains easy for you to organize.
'My number one tip to maximise storage in a child's bedroom is to commission a made-to-measure wardrobe,' says Irene Gunter, interior designer and founder of Gunter & Co. 'When it's tailored to the dimensions of your space, the wardrobe can be designed to address and work round any quirks, such as a sloping ceiling or an awkward corner.'
With the exterior of your child's wardrobe, you can go one of two ways. 'Pick something plain and neutral that will last them from the age of three to 23,' Irene says. 'Or go for a fun, child-friendly design in the knowledge that it'll spark creativity and all you need to do is replace the doors or paint the exterior when your child outgrows it.'
10 kid's closet ideas
1. Make the closet part of a mural
Bringing a dash of color to her boy's bedroom ideas, interior designer Ursula Wesselingh, founder of Room to Bloom has included the exterior of the closet in a charming mountain-scape wall mural.
It's something that's possible to create even if you're not an artist, according to Justyna Korczynska, senior graphic designer at Crown Paints. 'One of the simplest, yet most effective ideas is a mountain-scape,' says Justyna. 'To paint one, you need two paint colors and some masking tape. Create simple triangular mountain shapes for the bottom half of the wall and paint it in a contrasting shade.'
2. Utilize an awkward space
This pull out kid's closet cleverly utilizes an awkward space in this little girls bedroom in the eaves, also by Ursula at Room to Bloom.
It's not only a lesson in cool and clever spatial efficiency, it serves a practical purpose too. A ideal case study for the next time you're wondering how to design a kid's room.
'For little ones, using low hanging rails and storing essentials in easily accessible drawers or baskets on low shelves allows them to reach their things and encourages them to put them away,' says Ursula.
3. Jazz up the doors with pattern
'Building cupboards all the way to the ceiling makes the most of what would otherwise be dead space,' says Irene Gunter, founder, Gunter & Co. 'If the ceiling is particularly high, you could ask your designer to create space for cupboards at the very top.'
Use these to stash off-season clothing or items you use less regularly such as extra bedding and blankets. When wondering how to organize a kid's room, be sure to consider how you are going to access what you put away. 'Perhaps allow space to stash a small step ladder as part of the wardrobe's design,' Irene suggests.
A fun idea is to wrap the wardrobe doors in vinyl wallpaper. 'This is great way to inject color and pattern into your child's bedroom, but it is also a robust, durable solution,' Irene says. 'Plus, the vinyl wallpaper can be replaced over time.'
4. Blend freestanding furniture into the background
There's no doubt commissioning a made-to measure closet is the best way to maximize space and nail a cool design. However, there are other stylish solutions if your budget won't stretch to that with freestanding options.
'If your child's bedroom is small, painting a wardrobe to match the walls is a good trick to help make the space feel larger,' says Irene Gunter, founder, Gunter & Co.
A look that is equally at home in playroom ideas, this can be done whether you choose to paint the walls plain or prefer something more creative.
'A wall mural can be be a great feature,' says Justyna Korczynska, senior graphic designer at Crown. 'It can be kept simple, but if you want to add a pattern, stencils are a good tool for that, enabling you to create more complicated shapes easily.'
5. Customize a closet with open shelving
As kids grow up and their needs change, it may be possible to customise the closet they already have rather than replace it. In fact, many of the best teenage bedroom ideas are ones that have grown with them from infancy.
'Young children don't need long hanging space, but as they reach their teenage years, some longer hanging space will be useful, especially for girls,' says Ursula Wesselingh, founder, Room-to-Bloom. 'One way of approaching this is having removable or adjustable shelves, which can be swapped out for a rail at a later date.'
There's no need to cram everything inside the closet either, as this design by Ursula demonstrates. 'Dressing-up clothes are best kept in a box, trunk or on hooks outside of the wardrobe in a play area,' says Ursula Wesselingh, founder, Room to Bloom.
6. Wallpaper the inside
It's not just the closet exterior where you can be creative. At Zulufish, interior designer Caroline Milns combines fun and function. The owner of this wardrobe is greeted by pretty pink flamingos when they get dressed. And it's easy to update when she grows up and starts to consider teenage girl bedroom ideas, too.
Experts at maximizing space, every inch has been utilized effectively too, from the mirrors on the inside of the doors to the ceiling height cupboards above.
'We recommend drawers in kids' wardrobes rather than shelves,' says Caroline. 'They're more expensive because of the mechanisms however they are so much easier to keep tidy and see all their clothes laid out.'
Longevity is important here. 'To future proof expensive joinery we tend to not design for a specific child's age,' Caroline adds. 'We make sure there is plenty of hanging space and drawers that are not too deep where items can get lost. We love funky finishes to personalise the inside of wardrobes too.'
7. Think about flexibility
When kids are at an 'in between' age it's best to think about the flexibility of the furniture you buy. What appeals at age 10 is unlikely to warrant the same enthusiasm at 13.
'I'm a big fan of flexible storage in kids rooms,' says interior designer Nicki Bamford-Bowes, founder of @thentheywentwild. 'Consider using a locker style wardrobe on wheels. Not only do they look cool in teenage rooms, but moveable furniture is brilliant for small spaces as it can be easily rolled out of the way for sleepovers and gaming gatherings.'
The metal doors also double up providing a perfect magnetic display area, which kids can style up with photos and timetables. There is a practical joy here, too. 'It contains the paper paraphernalia in one place and prevents blue tak ruining the walls,' Nicki says. 'Win win!'
8. Add pretty handles
A simple way to add sparkle to your kid's closet ideas is by fitting pretty door knobs. It's a design style that's popular with Katie Glaister and Henry Miller-Robinson at K&H Design.
Combined with the delicate pink paint shade and the traditional glass panels on this floor-to-ceiling closet, the flowery handles add a whimsical touch to this space. A perfect execution of girl's bedroom ideas.
The design duo have incorporated toy cars and other fun themes in their kids bedroom schemes too.
9. Introduce character to classic joinery
Most kids love animals, so bring their favorite fauna to life as part of their bedroom storage solution.
These characters emerge from the closet and hang across the storage in a playful way that will delight little ones in this scheme from Ventura. At the same time the expensive joinery is in a classic color that will stay looking stylish for years to come.
'When designing wardrobes for children's bedrooms, it's important to create something that can grow with the child,' says Arlene McIntyre, Creative Director at Ventura Design. 'Always design a wardrobe with more space than you currently need so that in five years' time, there's no need to replace it for a larger one.'
When picking the hue, opting for a neutral, classic shade can not only allow you to play around with different bedroom color schemes, but it can also make the space easily adaptable as your child grows. 'Equally, if the child is very young, including a mural is a playful way of introducing colour and enhancing their imagination,' Arlene adds.
10. Include a desk
In a generously sized room where space is less of an issue it pays to think ahead. Instead of taking up the entire floor-to-ceiling wall space with a closet, include a desk area in between.
The amount of storage space for clothes is more than adequate, while small bedroom desk ideas will serve them well throughout their school life. Plan the inside of the closet well and it can adapt to their changing needs.
'The beauty of a bespoke wardrobe is that the interior can be designed according to your precise storage requirements,' says Irene Gunter, founder, Gunter & Co. 'Adjustable rails are an absolute must. They allow the wardrobe to adapt as your child grows and their needs change.'
Half-height rails are also a good idea, particularly when it comes to kids' clothes, which generally don't require full-height hanging. 'You can stack a second rail on top of the other for even more hanging space,' Irene says.
How do you organize a child's closet?
'I would aim for 50% hanging space and 50% drawer space,' says Caroline Milns, interior designer, Zulufish. 'With plenty of low hanging rails so they can reach things. themselves.
Hanging rails are often the best way to store clothes so you can see them well. Drawers are much easier to keep tidy and see all their clothes laid out than shelves. LED lighting on all rails or shelves helps too. If your storage is in shadow or poorly lit it's harder to keep tidy.'
Irene Gunter, Gunter & Co adds, 'LED lighting within the wardrobe makes it easy to see what you're looking for. It will also help when the interior – inevitably – gets muddled and needs a good sort out. Choose lights that turn on and off when the doors are opened and closed – then they can't be left on accidentally.
Children come with lots of paraphernalia, so including drawers within the wardrobe provides essential space for all the little extras, from nappies and baby grows to hats, socks and swimsuits – the list goes on!'.
How do you organize a small closet for two kids?
'Give each child their own side with shelves and drawers and use labels or colour coded baskets for each of them,' says Ursula Wesselingh, founder, Room to Bloom. 'If you're feeling creative, paint the wardrobe in two colours on the inside to delineate each child's storage space.'
Caroline Milns, interior designer, Zulufish adds, 'Make sure it's symmetrical and fairly distributed, so there are no arguments.'
How do you declutter a kid's closet?
Just like any closet, a kid's wardrobe often needs decluttering, and there is a technique to getting it right.
'I assess what needs storing and how much storage space is currently available, what works and doesn't work in the current set-up, what's on the wish list, and allow extra capacity for the future,' says interior designer Ursula Wesselingh.
'I like to organize kids clothes according to season and use. Swapping clothes out when the seasons change, and keeping sports kit and school uniforms separate. By making their clothing easily accessible, children can find what they want to wear and get dressed themselves from a young age.'
Jacky Parker is a London-based freelance journalist and content creator, specialising in interiors, travel and food. From buying guides and real home case studies to shopping and news pages, she produces a wide range of features for national magazines and SEO content for websites
A long-time contributor to Livingetc, as a member of the team, she regularly reports on the latest trends, speaking to experts and discovering the latest tips. Jacky has also written for other publications such as Homes and Gardens, Ideal Home, Red, Grand Designs, Sunday Times Style and AD, Country Homes and Interiors and ELLE Decoration.