Small bedroom desk ideas – what to do if you're short of space, but in need of a place to work
Make space to create your dream WFH set up with our stylish and practical small bedroom desk ideas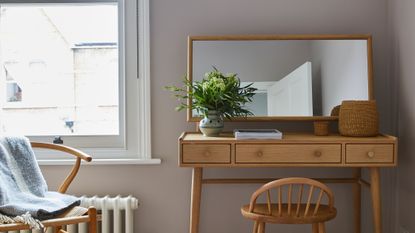 (Image credit: Chris Snook)
Not all of us have the luxury of a dedicated home office, and that's where these genius small bedroom desk ideas come in. Set to revolutionize the way you work when space is at a premium, these ideas also won't take over your bedroom or prevent it from feeling like a sanctuary. As Andrew Griffiths of A New Day studio notes, 'You want to avoid looking like you're sleeping in an office, so desk solutions need to be subtle and discreet.'
Whether you just want to make the best use of a tricky alcove, or design a built-in solution - we've enlisted the help of leading interior designers to reveal their expert tips and practical small bedroom ideas to get yourself out of, or into, a tight spot!
1. Make it feel seamless
When designing rooms with dual functions, it's crucial that one doesn't overpower the other. And in the case of a desk space within a bedroom, retaining a sense of serenity and calm should be high on the agenda. You don't want the room to feel bitty, and ensuring the two zones exist together in harmony is key. This calming set up by Andrew Griffiths, Founder of A New Day, offers the best of both worlds, while still feeling coherent.
'Designed to double up as a desk or dressing table, this bespoke wall-hung piece occupies a small and otherwise unused corner of a loft bedroom and transforms it into a usable space,' says Andrew. To make it feel truly seamless, Andrew used the same materials and even backed the space with smart wood paneling to really make it feel like a deliberate part of the design.
'A wall-hung design doesn't distract the eye from the rest of the room, and also ensures floor space is kept clear to help make the room feel more spacious,' he says. 'Painting the unit in the same color as the walls was the final design decision that helped achieve a really seamless look.'
2. Take advantage of awkward spaces
If you want to master a small bedroom layout, making the most of any tricky architecture is a must - and awkward spaces can be a great opportunity to introduce a desk. Designed by Marie Soliman, Founder and Creative Director of Bergman Interiors, this desk occupies a previously disregarded space.
'A narrow walkway that opened up into the bedroom, it had a window with gorgeous views beyond but the space didn't really have a purpose,' explains Marie. 'We decided it would be best utilized as an unconventional study, and built the desk into the alcove and chose for the unit to slightly wrap around the walls so that it felt really sleek and purposeful.'
Keeping surfaces clear will always help make a small bedroom feel more spacious, but Marie also suggests optimizing a desk space by building some tech management solutions into the design. 'A pop up computer screen is an excellent idea, and concealed cable tidies are a must,' she says. 'Planning these into the design of your desk early means that when you're not working at it, you can quickly hide away all your tech and transform it into a dressing table or console'.
3. Consider shapes and materials
If space is tight, every element of the design will need to work harder and bring something helpful to the room - so it makes sense to evaluate the size, shape, and material of everything you bring in. Keren Richter, Co-Founder of Brooklyn-based design studio White Arrow, talks through her favorite choices for a small bedroom desk space.
'You can make the most of a small space by providing dual functionality, celebrating light and views, as well as keeping the room feeling open,' she says. 'The desk in this space is curved which allows your eye to travel, uninterrupted by severe edges, and opting for a translucent desk chair by Kim Markel also means the view isn't obstructed which helps the room feel more spacious'.
Keren explains that by paying close attention to the way you introduce a desk, you can help the room to feel more cohesive, despite its dual purpose; 'Bringing in curves and materials like glass and light-toned woods will help the office space feel part of the conversation, rather than an afterthought to the rest of the room,' she says. 'We also like to store items in containers and boxes that are made from a uniform material to keep it all looking smart'.
4. Keep it simple
Sometimes for a small space, it's worth keeping things simple - this will prevent the room from feeling too busy and cluttered, which can actually reduce its feeling of spaciousness. This room by Imperfect Interiors is a shining example of simplicity done right, and founder Beth Dadswell talks through its creation.
'We chose a muted, dusky pink on the walls to soften the space, and make it feel serene and open. Vintage furniture with refined silhouettes help the room to feel calm, yet cozy - and patterned rug underfoot adds interest without taking up any valuable room'.
Beth also reveals what she looks for when choosing a desk for a small bedroom. 'Look for something that isn't too deep or imposing if you have limited space,' she says. 'A design that has drawers to hide your stationary and laptop is always a good idea. This means you can pack them away so they're not visible when you're trying to get to sleep - and ideally choose seating that can be pushed right underneath to free up the floor space.'
5. Double up
A recognizable footprint for many period properties, how to approach thin alcoves with a bricked up fireplace in between is a common design dilemma - especially for a bedroom. Some people use the alcoves for wardrobe space, but Jenna and Marina, founders of Interior Fox, spotted an opportunity to get creative with their home office ideas.
'Often, these kinds of spaces can feel awkward - especially in a bedroom - which is why we thought the perfect solution would be mini-desks that also act as bedside tables,' they explain. 'Each side has their own drawer as well as a nice workspace for a laptop or taking some notes.'
Of course, keeping clutter at bay is a top priority; 'Use small baskets to put papers or letters in and install floating shelves above if you can,' they advise. 'And in terms of lighting, best to opt for a clip on, or wall mounted design to keep the workspace clear.'
6. Hide it away
If you really want to switch off from the office at 5pm, closet office ideas are the solution. 'This design involves complex joinery to incorporate a discrete home office hidden in a secret cupboard, so it can be totally out of view when not in use,' explains Katie Lion, an Interior Designer at Kitesgrove.
Enhancing the luxury feel of this project even further, as well as increasing its practicality, Kitesgrove designed the bespoke chair to tuck neatly away so you can close the doors on the entire setup. 'It's versatile and comfortable, as well as being equally suitable for a day's work, or as an extra seat for entertaining,' says Katie.
7. Go for an antique bureau
As with so many things, you can often look to the past for pieces of design history that just really work. Bureau's and secretary desks are a case in point. Not only do they look beautiful, they're incredibly practical too.
For this project, Katie Glaister and Henry Miller-Robinson, the co-founders of K&H Design, knew that antique was the way to go. 'We had already chosen Edward Bulmer's Sky Blue paint as the base for this bedroom which is in a Georgian Grade II listed Rectory,' they explain. 'On an antique sourcing tip, we stumbled across this piece and knew it was perfect instantly.'
'Not only does it work exceptionally well with the palette - making the room feel more spacious by blending in with the blue hues - but bureaus are often compact and have much more storage than desks, making them a perfect choice for small bedrooms'.
Where's the best place to put a desk in a bedroom?
No matter the size of your room, placing a desk next to natural light was a resounding piece of advice from all of our experts. 'A desk next to a window will always be a more pleasant place to work,' says Andrew Griffiths, of A New Day studio. Marie Soliman, founder of Bergman Interiors agrees, 'because it will allow you to take maximum advantage of natural light for as long as possible'.
If this isn't doable in your room, Andrew suggests somewhere discreet; 'It's important to be able to switch off and relax in the space outside of working hours, so don't position a desk somewhere that dominates.'
Another idea that was popular with each of the interior designers was taking advantage of alcoves. 'Alcoves are often the best place for a small desk, as they will feel tucked away rather than becoming the main focal point of the room,' says Beth Dadswell of Imperfect Interiors.
What desk designs work best in a small bedroom?
Keren Ritcher, Co-founder of White Arrow shares K&H Design's love of bureaus and secretary desks, as they can be folded away at the end of the day and offer tons of storage space too.
The team at K&H Design also love a curved desk, 'We are asked to design a lot of bespoke desks for our clients, and curves are an amazing space saver while always looking very elegant'.
Another tip is to go for slim silhouettes with little to no footprint. 'Small desks with thin legs, or built-in floating desks work best for a small bedroom,' advise Jenna and Marina from Interior Fox. 'It's important not to add too much visual weight to a room when space is tight.'
How can a small desk still be functional?
Storage is going to be your best friend with any small desk situation, and planning it early into your room design will really pay off. Marie Soliman advises, 'Always buy or design a desk with built-in grommet strips to hide all your cables.'
Keren Ritcher also offers some great advice for managing your tech, 'We try to push for wireless printers in our projects, so they can be tucked away into cupboards. It's also a good idea to house charging stations within cupboards so the devices can be stored away and charged overnight,' she says. 'If a large monitor is crucial, try wall-mounting it on an adjustable arm so that the surface is kept free and the screen can swivel away in the evening.'
And of course, it's always crucial to keep on top of your clutter. Stylish storage boxes that feel cohesive and in keeping with your bedroom design are a great way to disguise paperwork and other work paraphernalia.
Interiors stylist and journalist Amy Neason was the Deputy Style and Interiors editor at House Beautiful for years. She is now a freelance props and set stylist, creating work for a range of national publications and brands such as Imogen Heath. She has previously worked at Established & Sons, and her skills include styling still life and interiors shots for editorial features and sourcing unique products to create inspirational imagery.

She is particularly respected for interpreting seasonal trends into feature ideas and style stories.