IKEA pegboard ideas – 10 ways to use the SKÅDIS pegboard around your home
With these functional IKEA pegboard ideas, you can make space to store almost anything in your home in style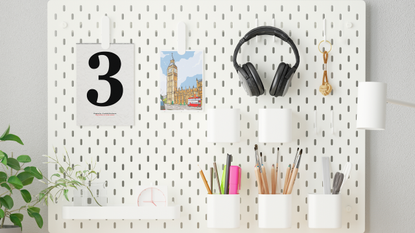 (Image credit: IKEA)
Utilize the space on your walls with these IKEA pegboard ideas to create not only another functional space, but also a unique, aesthetic piece of decor in your home. Organizers aren't just limited to boxes and containers for your drawers, after all.
The SKÅDIS pegboard is yet another of IKEA's versatile accessories to add to your home that can be adapted to any space. Easy to use and functional, you can style the pegboard to blend in seamlessly to your taste.
'SKÅDIS pegboards are super versatile and can be used to create great solutions in many different areas of the home,' says Grant Robertson, interior design leader at IKEA UK and Ireland. 'There is a wide range of accessories that makes it easy to store many different items which means that, no matter how you live, there is a SKÅDIS solution that will make your everyday life easier by keeping frequently used items close at hand.'
From plant shelving to jewelry organizers, here are ten of the best IKEA hacks to organize your home using the SKÅDIS pegboard.
1. Organize your office
One of the most popular and functional ways to use the SKÅDIS pegboard from IKEA in your home is in your office space. Whether this is a desk in your living room or bedroom, or an office area all to itself, this is one of the best IKEA desk hacks for your work-from-home space.
Placed above or next to your desk, the SKÅDIS pegboard will give you a perfect space to organize pens, cables and papers using IKEA's specially designed SKÅDIS accessories.
'My all-time favorite IKEA desk organizer is the SKÅDIS pegboard system,' says interior designer Jessica Welling. 'I use this over and over, and I even have two of them mounted above my own desk in my studio. I like to try and keep the desktop as clutter-free as possible, so storing supplies on the wall keeps them in sight and within easy reach.'
2. Get crafty with your pegboard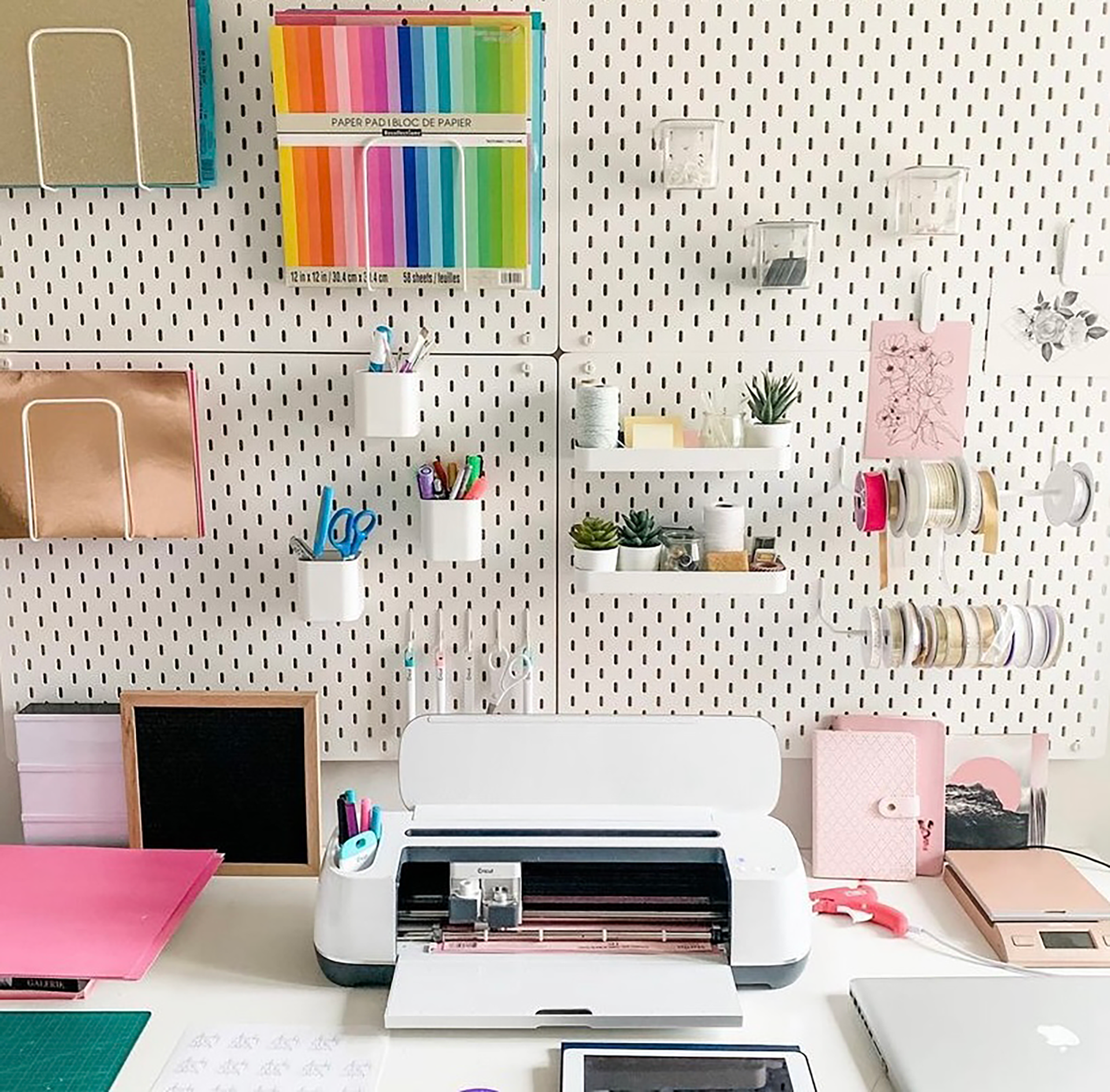 The SKÅDIS pegboard is also perfect for storing any craft supplies. Whether this be for sewing, knitting, painting, sketching, or even a packaging station for your own small business, the SKÅDIS pegboard is the perfect IKEA storage hack for any hobby.
IKEA offers the perfect three-pack of storage containers with lids that hook perfectly onto the pegboard, ideal for all small items such as needles or pins. These are also transparent so you can find exactly what you're looking for without having to rifle through different boxes. It also makes for a great aesthetic in your space, adding more color and texture to your display.
Connie Cutillo, owner of Dainty Little Details, uses the SKÅDIS pegboard for her craft room. She says: "It makes use of vertical space, allows me to have all my craft supplies at my fingertips, and gives the room a bright, clean, and organized feel. There are so many accessories to choose from to store all kinds of supplies and materials, and these can be removed, changed, or re-arranged over and over again."
3. Hang up your accessories
Why not take your closet storage ideas for accessories to the next level like Ashley Schlaefli at Lemon Kissed? The IKEA SKÅDIS pegboard is a great way to display your jewelry. Using the specially designed hooks that you can buy separately from the store, it's a simple way to keep your jewelry neat and free from tangles.
4. Store your bathroom essentials
If you're bored of mirrored medicine cabinets, but lacking storage in your bathroom, the SKÅDIS pegboard is a great IKEA bathroom hack. The must-have product will allow you to organize all your bathroom products even in the smallest and most awkward of spaces.
Why not try investing in the Pluggland hanging folder accessory that works perfectly with your pegboard? It's ideal for storing your hot tools like straighteners and hairdryers that will put them in easy reach of your mirror.
5. Set up a mini drinks bar
Cocktail making stations are becoming more and more popular. The SKÅDIS pegboard is a perfect addition to your mini home bar. Store all the utensils you need to make your favorite drinks – a perfect self-service idea for when you're hosting guests.
Place the pegboard above your drinks cart or table and use the SKÅDIS containers and shelves to store any ingredients or bottle openers that might otherwise overcrowd your mini bar.
6. Save space and replace your nightstand
Stuck for space in your bedroom? The SKÅDIS pegboard is a perfect replacement for a nightstand. Fastened to the wall, the slimline pegboard won't take up any space on your floor while still allowing you space to store any of your bedside essentials.
Try using the SKÅDIS letter holder accessory to hold your books or magazines. A great IKEA nightstand hack is to use the the SKÅDIS shelf attachment at the bottom of the pegboard for extra ledge space, recreating a functional yet space-efficient nightstand.
7. Streamline your kitchen space
If your drawers are too cluttered, or your countertop space too crowded, then the SKÅDIS pegboard is one of the most suitable IKEA kitchen hacks for you. The SKÅDIS five pack of hooks is an essential accessory for your kitchen pegboard, allowing you to hang up your utensils and even pans. With this IKEA pegboard idea, free up more space in your kitchen cabinets while keeping all your essential cooking tools to hand.
8. Create the perfect place for your plants
If you've got a green thumb, then you might enjoy this IKEA garden hack using the SKÅDIS pegboard. Store your gardening tools using the clips and hook accessories. Whether it's in your shed, your garage or utility room, you'll have the ideal organization station for all your planting needs.
You might even want to invest in the shelf accessories to make your pegboard the perfect plant to hold your houseplants that's both ideal for watering and can be positioned close to a source of light. The long SKÅDIS hooks are an ideal use for holding indoor hanging plants, too.
9. Store all your DIY tools
If you're tired of having your DIY tools and equipment shoved into cupboards or jumbled up in boxes in your garage, then the SKÅDIS pegboard is the ultimate IKEA shelving hack for you.
The containers with lids are a great way to store loose screws or wall plugs, while the hooks are perfect for hanging paintbrushes. You can even make use of the elastic cord accessories to store instruction manuals for any tools or appliances in your home.
10. Use as storage in your entryway
It's easy for entryways to get cluttered in any home, and the SKÅDIS pegboard is one of the many IKEA mudroom hacks that can solve this problem for you. The pegboard can be used with hooks to hold empty shopping bags, small purses or even dog leashes. The SKÅDIS magazine and letter holder attachments, or even the elastic cords, are a great solution for storing letters right as they come through your door.
Place the pegboard above your shoe rack, storage bench or console for the perfect furniture arrangement in your mudroom that won't just be practical, but will look good, too.
How do you attach the IKEA pegboard to the wall?
You don't always need to hang the SKÅDIS pegboard to make use of it. 'They also come with a bracket that can be used to attach them to a tabletop; meaning they don't have to be screwed to the wall – which is great for renters,' says IKEA interior design leader Grant Robertson. However, if you do wish to hang the SKÅDIS pegboard on the wall, it's a simple process, as long you have the right equipment.
You will need the following:
Screws and plugs (we recommend the IKEA FIXA 260-piece screw and plug set)
Drill
Screwdriver (flathead and Philips head)
Hammer
Level
Tape measure
Pencil
Take the mounting rail for the pegboard and hold it on the wall where you want your pegboard to hang.
Before installing, ensure there are no electrical wires or pipes running behind where you're going to hang it so that you don't drill into them. Light switches or electrical outlets on the wall will be an indication of whether there are cables. If you're not sure, you can use a cable, pipe and stud detecting device to locate where exactly they are. Otherwise, consult a qualified electrician or plumber before drilling, as drilling into wires or pipes is a dangerous and costly mistake. Avoid drilling near cables at all, but if you must, switch off the power first.
Using the level to ensure the rail is straight, mark on the wall where the inner two screw holes are on the rail using your pencil. Using your drill (ensure the drill bit is the correct size for the wall plugs you are using), drill holes into the wall where your markings are.
Take your plugs and push them into the holes. You may need to gently tap the plugs all the way into place using a hammer.
Place your rail back where the holes now are, and using the correct size screws for the wall plugs, fasten the mounting rail into place using the Philips head screwdriver.
Using two of the screws and both of the spacers that the SKÅDIS pegboard comes with, place each screw through a hole in the bottom righthand corner and bottom lefthand corner of the pegboard. Screw each spacer into the screws from the back side of the pegboard. This will allow your pegboard to hang evenly on the wall from top to bottom.
Take the pegboard and using the remaining two screws, place each one through a hole in the top righthand corner and top lefthand corner of the pegboard. Using the flathead screwdriver, screw them into the outer two holes on the mounting rail.
You have now installed your SKÅDIS pegboard. All that's left to do is attach your accessories to the board and get organizing.
The Livingetc newsletter is your shortcut to the now and the next in home design. Subscribe today to receive a stunning free 200-page book of the best homes from around the world.
Georgina Crothers is a trainee lifestyle journalist currently studying MA Magazine Journalism at City University of London, having written for Tesco Magazine and Crime Monthly. Aspiring to write home and interiors content once her degree is finished, and as a novice DIYer, you'll often find her bingeing home renovation and furniture flipping TikToks, searching YouTube for the perfect DIY tutorial to revamp her own living space.