6 amazing apartment entryway ideas, because anywhere can have a grand entrance
Experts share their entryway ideas for apartments which prove that good design can make any space impressive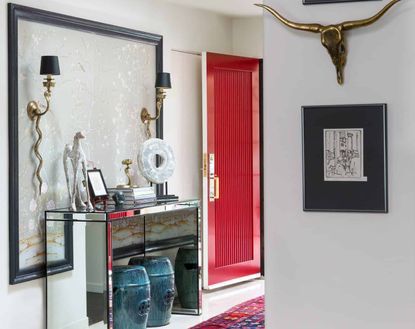 (Image credit: Andrea Schumacher)
Apartment entryway ideas can be hard to come by. By their very nature, apartment are tricky since they run the gamut size-wise, from almost non-existent to so large that it's difficult make use of the entire space (what a problem that must be!).
But no matter the size, there are some clear takeaways from decorators to keep in mind when conceiving these spaces, and so we've asked some of our favorite interior designers for their best apartment entryway ideas.
Entryway ideas for apartments are key to creating a good first impression
Much like meeting a person for the first time, that first glimpse of a home lingers, which is why it's so important to address the entry—even if it's small.
"The entry is the moment a home introduces itself," says designer Kevin Isbell. "When designing this space, think about which wall your eye first lands on when you walk into the apartment and start there. I like to anchor that wall with either a console table or a chest of drawers with a lamp on top and artwork above. Alternatively, you could place a cabinet there for extra storage."
Hallway paint ideas are key, and choosing how to decorate the entry is delicate balance, according to Melissa Warner Rothblum of the firm Massucco Warner. "You want the entry to support the rooms near it, but you also want it to hold its own," she says. In a recent penthouse project, Melanie Roy installed marble flooring to define the entry and chose large-scale artwork "to make the space feel grander."
Make function a priority
Just like in narrow hallway ideas, in an apartment, where space is often limited, the entry must serve as both a welcoming space as well as an important drop zone for everyday belongings.
"Think about the items you'll need to throw down when you walk in," suggests the designer Kati Curtis, who likes to use a table of some sort as well as a mirror for last looks on the way out the door. A bench is another a great addition.
"It's very practical to include a bench in the entry for people to sit down and take their shoes off," says designer Melanie Roy.
Designer Christina Nielsen's go-to is a console with storage underneath - her basket in the picture above is small and discreet but does the job. "You can even create a skirted table so the storage is hidden," she says. "That's a great way to add some personality, too, with a patterned fabric of your choice and maybe some cool trim."
Hallway lighting is key
Designers can't stress the importance of hallway lighting ideas enough, as it provides function, beauty, and atmosphere. "Lighting is the most crucial thing to consider in an entry," says Melanie Roy. "You can never have enough light, since a combination of either recessed and pendants or recessed and flush mounts creates depth. And they should always be on dimmers so you can adjust the mood."
Designer Betsy Wentz loves selecting a unique fixture that makes a statement, like the gold architectural ceiling lights you can just see, above. "I choose something fun and whimsical, even if the rest of the apartment is neutral," she says. "It's a nice way to introduce visitors to the apartment."
How do you decorate an apartment entryway?
Particularly when considering small hallway ideas, Melanie Roy uses wallpaper to create a jewel-box effect. "It lends an element of surprise and makes the space feel dramatic and luxurious," she says. "It's better to use a special wallpaper in a small space like this where it won't be as costly." In the event that the entry is open to the main living space, designer Betsy Wentz will sometimes choose one wall to paper, carrying it into the living space as an accent wall. In a recent project with the same issue, designer Andrea Schumacher framed a section of wallpaper like artwork and used it to anchor a vignette with a mirrored console, a pair of stools, sconces, and a vintage runner. As a result, the entry feels special and separate, and the cost is much less than covering an entire wall. Shumacher is also a fan of fun coat hooks and a cantilevered shelf in especially tight spaces.
How do I create a foyer for my apartment?
There are a few standard items that help create a beautiful, functional space to welcome guests. "I suggest a mirror, a place to sit, and a table with for flowers, a vessel for small everyday items such as keys, a purse, and a bin for mail," says designer Michelle Gerson.
Additional furnishings to consider include a lamp or sconces, a wall-mounted shelf, a center table, a tray for shoes, and a rug. "Just be sure the rug doesn't appear too precious," says Andrea Schumacher. "I sometimes use an outdoor rug in these areas."
In the end, though, the entry should be tailored to a homeowner's needs. For instance, when Warner Rothblum realized that a center table was too formal for a client with young children, she opted instead for a cozy yet elegant round banquette. "The kids can sit there and pop their shoes on, and it's a great place to wait," says the designer. "Plus, its brown velvet upholstery plays beautifully with the brown patterned wallpaper in the adjacent powder room."
How can I decorate the front door of my apartment?
Not all apartment buildings will allow painting the front door, but if you're able to, it makes a big statement. "Painting is a fun way to foreshadow what's inside," explains Betsy Wentz. "You definitely want to be cognizant of the interior palette when selecting a door color," adds Mariska Meyer. "A pop of color on the inside of the front door is also fun. In that case, consider choosing a paint shade that coordinates with furnishings in the entry, such as a patterned wallpaper."
Door hardware can also be changed out to better coordinate with the overall design scheme. "Front door hardware should match the hardware in the rest of the apartment," explains Melanie Roy. "Hardware can elevate a space and make it feel intentional and polished." When it comes to the hardware finish, Nielsen goes for antique brass. And don't forget the doorknocker: Schumacher, for instance, scored a cool Moroccan number for her own residence that lends a unique flair.
Alyssa Bird is a New York−based freelance writer and editor with experience covering architecture, interior design, travel, hospitality, and real estate. She has held editorial positions at Architectural Digest, Elle Decor, Hamptons Cottages & Gardens, and New York Cottages &Gardens. When she's not writing about dreamy spaces, you can find her tweaking the decor in her own Brooklyn home, honing her green thumb, testing out a new recipe, or scouring for antiques.