Small hallway ideas - stylish ways to make a big first impression even in tiny spaces
Small hallway ideas are here to help you decorate your little space in some very big ways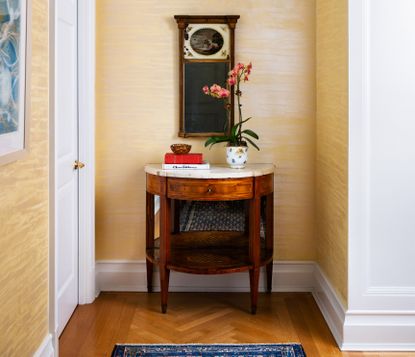 (Image credit: Kati Curtis)
The Livingetc Newsletter
For style leaders and design lovers.
Thank you for signing up to LivingEtc. You will receive a verification email shortly.
There was a problem. Please refresh the page and try again.
Small hallway ideas are an essential part of decorating a modern home. Tight spaces can be a challenge to know how to style, but it's important to make them feel intentional as opposed to overlooked. No matter how small the corridor, there's always room for hallway ideas, brimming with design elements that will pump up the style quotient. Here, a group of top designers share their go-to solutions.
Think of the hallway as its own dedicated space.
"I treat it like I would any other room of the house," says Melissa Warner Rothblum of the firm Massucco Warner. "It should match the caliber of the rest of the home, and maybe even feel a bit more dressed up.
Designer Kevin Isbell also subscribes to the idea of making a hallway—no matter how small—feel like its own room by incorporating interesting lighting, artwork, and a rug.
And speaking of rugs, designer Michelle Gerson suggests making it feel extra special with a custom border. "If there's room, I like to add at least one piece of small furniture as well as a plant," says Gerson. When space allows, Andrea Schumacher will create a vignette with a console table, a mirror, and either sconces or a table lamp. "You can also use a wall covering to frame the area," she says.
Experiment with wallpaper
A beautiful wall covering delivers a bang that's worth the buck — hallway wallpaper ideas are especially useful when the space is at a premium. "I like to wallpaper the ceiling in addition to the walls for maximum impact," explains desinger Christina Nielsen. "A textured neutral like a grass cloth is nice, or you can go bold and dramatic instead."
Designer Betsy Wentz prefers the dramatic route, favoring a large-scale floral or geometric pattern in a tight space. "It helps create a sense of place," she says.
Inject personality
Whether it be incorporating items that have special significance, favorite colors, or bold patterns, don't be afraid to take ownership of the space. "I love using a collection of personal objects and furnishings that have meaning to the homeowner," says Kati Curtis. "It's especially helpful when the item serves a function, such as a place to set keys." Isbell suggests using color and pattern to enliven a small area. "In a transitional space like a hallway, where you're in there for only a few seconds at a time, there's an opportunity to step outside one's comfort zone," he says. "Try colors or patterns that you're afraid to commit to elsewhere in the home." And for an unexpected twist, Marika Meyer often uses an inverse technique, painting the moldings and doors a fun color and leaving the walls neutral.
Incorporate artwork that speaks to you
Art packs a serious punch, especially in a small space where there isn't room for much else. "I love using an oversize work," says designer Melanie Roy. "You could even add special art lighting to make it feel more intentional. This will make someone stop and look rather than just passing through."
Indeed, Wentz suggests going all in and transforming the small space using gallery wall ideas —especially if the hallway is separate from other rooms. "A small hall is a great spot to cluster family photos as opposed to having frames scattered throughout the house," she explains. "You can either frame them alike or different, whatever you like. It's a fun idea that provides the space with some purpose."
Meyer also favors a collection of works. Case in point: For a recent project, she hung a series of nine framed watercolors in an otherwise subdued hallway where there was limited floor space.
What is a good color for a small hallway?
Designers agree that there isn't just one color that works in a small space, but there are certainly some design philosophies to consider. For example, Schumacher suggests treating a small hall the same way you would a powder room, since it's often a self-contained space that's separated from the rest of the home. This means you can really experiment in the space and perhaps choose a color or pattern that you wouldn't select for one of the larger, main living spaces.
According to Wentz, contrast is a great way to create excitement in a small space. "If a client wanted a hall with gallery-style artworks and a white backdrop, I might suggest lacquering the ceiling in a bright shade like citron," she explains. Gerson likes the idea of picking one theme and sticking to it. "I either try to keep it light and bright or do the complete opposite and go dark," she says. "Sometimes you just have to embrace a small space."
How do you make a small hallway look bigger?
Anytime you can bring additional light into a space it will help it feel a bit larger. That being said, the number one tactic that decorators use to trick the eye into believing a space is bigger is reflective surfaces.
"The mirror is our friend," jokes Meyer, whose other trick is to leave just a two-inch margin around the rug in an effort to further expand the space. If it's a hall with a very small wall, Schumacher will hide it with a massive full-length mirror and create a vignette in front of it using a console table.
"You won't see any wall, it just disappears," she says. Aside from mirrors, Curtis also uses artwork and dark colors to distract the eye. "Artwork opens up a portal to a world beyond the walls," she explains.
Wall treatments that reflect light are also popular among designers. "I often use a high-gloss paint in white or gray," says Gerson. "Or, I'll select a wall covering with a sheen—such as a metallic gold or silver—and apply it to the ceiling."
For style leaders and design lovers.
Alyssa Bird is a New York−based freelance writer and editor with experience covering architecture, interior design, travel, hospitality, and real estate. She has held editorial positions at Architectural Digest, Elle Decor, Hamptons Cottages & Gardens, and New York Cottages &Gardens. When she's not writing about dreamy spaces, you can find her tweaking the decor in her own Brooklyn home, honing her green thumb, testing out a new recipe, or scouring for antiques.