Hallway paint ideas – expert advice for giving your smallest room a big hit of style
Our hallway paint ideas from the experts will create a brilliant first impression in your home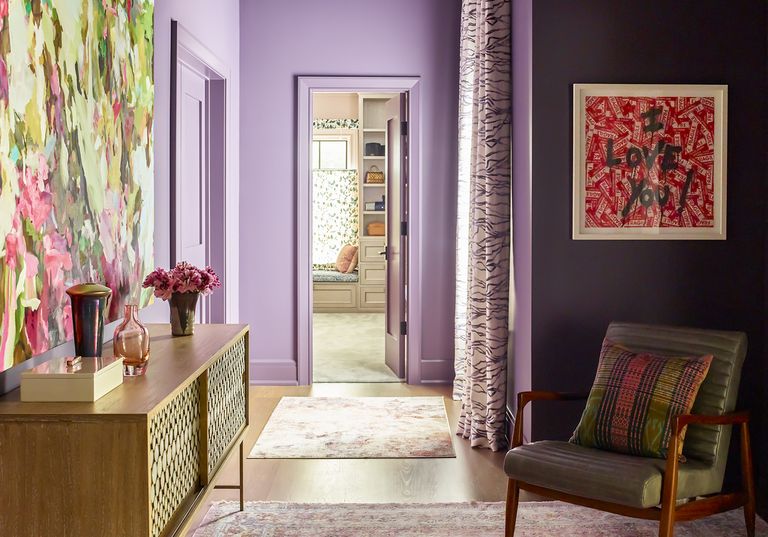 (Image credit: Kati Curtis)
Sifting through hallway paint ideas from the experts is the only way to decode the hundreds of options that are out there.
Luckily, a group of top designers are narrowing down the field, sharing their favorite shades and how to use them in these arrestingly brilliant hallway ideas. Read on for their tips and tricks, and be inspired to make a grand entrance, to wonderful first impression of your home for when guests arrive.
Hallway paint ideas
Because the hallway is the first place you see when you come home, or the first place your guests experience when they visit, setting the tone for the rest of the space is key. Perhaps its a vase in the sitting room that inspires the hallway, or the color you painted your bedroom. Find a through line somewhere and it will help connect the rest of the house to the hallway.
1. Choose a color that reflects your personality
'There are so many gorgeous paint colors to choose from, but whatever the shade, it should make sense in your home. Colors are very personal, so what's right for one person may not be right for you,' says interior designer Andrea Schumacher.
'My advice would be to look through your house and find something that speaks to you, like a vase, a favorite fabric or a piece of artwork, and pull a color out of that,' she adds.
2. Use color strategically
Designer Kevin Isbell loves experimenting with fun colors and hallway paint ideas, but he's also thoughtful about using paint for specific purposes. For a recent project with a long, narrow hallway, the designer painted the wall at the end of the hall in Benjamin Moore's Buttered Yam, a bold orange.
'It draws the eye to the end of the hall immediately and helps mitigate the length,' says Isbell. 'You want to keep the eye moving forward in a space like this, so it's important to create a strong focal point at the end.'
3. Don't overlook the ceiling and trim
There are so many interesting ways to incorporate paint outside of the walls, an we recommend experimenting with eco paint to make some sustainable choices here. Whether it's a pop of color on the ceiling in a lacquer finish or painted molding that coordinates with the adjacent wallpaper.
'For paneling and trim, I like Benjamin Moore Swiss Coffee in a semi-gloss finish,' says Andrea Schumacher. 'The walls would look nice in the same color, but in a flat finish.'
According to designer Betsy Wentz, contrast is a great way to create excitement. 'If a client wanted a hall with gallery-style artworks and a white backdrop, I might suggest lacquering the ceiling in a bright shade like citron,' she explains.
4. Try calming green for a restful scheme
Create a harmonious look by choosing paint colors that compete equally and don't outshine each other. If using more than one shade and space is tight, keep the lighter color toward the ceiling to create a feeling of spaciousness.
Kevin Isbell recommends choosing shades from the same family of colors. 'Basically, the colors should be distant cousins,' says Kevin. 'The wall color should be kept close to the trim color but unique enough that there's a distinction between the two shades. If you have a bigger room to work with, then a pop of bright color overhead will certainly make a difference to the hallway.'
5. Blur the boundaries with darker paint colors
While it might be tempting to paint a small hallway all-white to make it feel bigger, darker colors can have the same effect too. Painting a hallway in the same dusky tones throughout can soften the edges of the space and help blur the boundaries.
Melissa Warner Rothblum of the firm Massucco Warner suggests painting the walls, molding, and ceiling the same shade. 'When the eye doesn't sense any choppiness, it makes a space appear larger.'
6. Lend depth to a scheme with darker tones
Many designers agree that it's okay to either go light and bright or dark and moody. 'It's counterintuitive, but dark colors lend depth and make a space feel more expansive,' explains interior designer Kati Curtis.
Painting walls, trims and doors all the same shade will give the space an even color palette so you can choose which elements you want to stand out, such as a hallway mirror, artwork or a statement light pendant.
7. Lighten up with soothing paint colors
If you want to shift away from safe neutrals in your hallway, Marika Meyer warns against colors that are muddy, since they absorb light. 'Instead, choose a color with clarity, whether it be light blue, cool lilac, or even pale orange,' says Meyer.
Shades of lilac and lavender have a gentle, soothing effect and can help to calm down a busy space such as a hallway. The color is light enough to give walls interest, without overpowering the space and looks chic teamed with greys and neutrals.
8. Create the illusion of space with clever tricks
If space is tight, there are clever hallway paint ideas you can try to make it feel bigger. 'Painting the floor the same (or a similar) colour to the skirting boards will fool the eye into thinking the space is wider than it is,' says designer Kevin Isbell, a trick that often forms part of narrow hallway ideas.
9. Create a calm backdrop for artwork
Hanging artwork in a hallway is an easy way of transforming a humdrum space and choosing the right background color will make art pop. Flat paint is the best choice to show off colorful art work, there's no sheen so the light reflection will come from the art and not the wall.
For a paint color with personality, interior designer Christina Nielsen likes to pair artwork with Farrow & Ball's Stone Blue, which she describes as 'a light denim tone. I also like Farrow & Ball's India Yellow in a hallway.'
10. Use paint to create a focal point
For a hallway that is devoid of any architectural features, try faking it instead. Painting an arch in a standout shade will create a decorative feature in its own right and makes a stylish backdrop for a hallway console table. Position the console off-centre, rather than straight-on, for a more eye-catching effect and style it up with ceramics and art.
11. Calm a busy hallway with blush pink
Take account of the other rooms that lead off the hallway when you're deciding on a colour scheme. If you have views into lots or other rooms, try to keep hallway walls tonal so that the colour doesn't jar.
Warm, blush pink gives just a touch of oomph and makes a chic alternative to neutrals. When it comes to furniture, soft pink complements most tones of wood and makes a great foil for gilt mirrors, picture frames, vibrant tapestries and artwork.
What color is best for a small hallway?
For Kevin Isbell light colors aren't the only option. 'I'll often just embrace the small space and turn the negative into a positive by going dark. Benjamin Moore's Nantucket Fog is a nice, saturated blue that would work well.'
On the opposite end of the spectrum, a light shade—especially one in a high-gloss finish that allows light to bounce around the space—can create a sense of openness. 'I often use a high-gloss paint in white or gray,' says Gerson.
What color makes a hallway look wider?
Wentz suggests going light. 'A favorite white of mine is Benjamin Moore's Simply White,' she says. 'It's a bright white with a touch of green in it.' Another Benjamin Moore white, Super White, is a stark white 'that makes the ceiling feel taller and the hallway wider,' says Michell Gerson.
Isbell likes a pale blue such as Benjamin Moore's Constellation on the walls because 'it has a subtle hint of gray, but it's still light and crisp. I would paint the trim in either Benjamin Moore's White Dove or Dove Wing, another white with a little brown in it.'
What is the best color to paint a hallway?
'A nice neutral that isn't too cold or too warm is Benjamin Moore's Pale Oak,' says Warner Rothblum. Another popular neutral is Farrow & Ball's Wimborne White. 'It's creamy, soft, and warm,' says Gerson. 'I also like Benjamin Moore's Silver Half Dollar, a happy, bluish gray that has a brightness to it.'
'If the hallway has artwork, Meyer suggests Benjamin Moore's White Dove as a background. "It's light and bright, so it makes the art pop.'
For Curtis, blue is the winner. 'Farrow & Ball's Hague Blue is a chic navy shade, and it's the best color ever,' she says. 'I also love Farrow & Ball's Green Smoke, Inchyra Blue, and Pelt, a deep aubergine. And I've used both Benjamin Moore's Wild Mulberry and Pratt & Lambert's Dune Beige in hallways, too'
Alyssa Bird is a New York−based freelance writer and editor with experience covering architecture, interior design, travel, hospitality, and real estate. She has held editorial positions at Architectural Digest, Elle Decor, Hamptons Cottages & Gardens, and New York Cottages &Gardens. When she's not writing about dreamy spaces, you can find her tweaking the decor in her own Brooklyn home, honing her green thumb, testing out a new recipe, or scouring for antiques.