How can I make my staircase look better? 6 ways designers easily create a more beautiful home
Experts reveal exactly what you need to do to create a chic and upscale staircase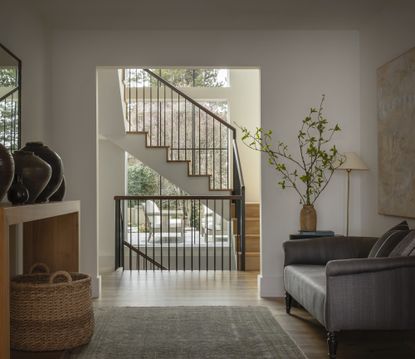 (Image credit: Lisa Staton Interior Design)
The Livingetc Newsletter
For style leaders and design lovers.
Thank you for signing up to LivingEtc. You will receive a verification email shortly.
There was a problem. Please refresh the page and try again.
Your staircase might not be the first thing you think of when approaching a home refresh, but it has the power to give your entire entryway an uplift.
The thing about staircases is that, despite being such a key part of the home, they often get overlooked. It seems too big a job to overhaul them, too difficult to make a difference. But actually there are some easy tweaks you can make that will elevate it entirely. Whether you prefer painted staircases to carpets, there's numerous ways to make your staircase look better that you can try now.
It can be as simple as a new lick of paint or a design statement like staircase paneling - whatever your budget or time restrictions, there's a stylish way to make your staircase look better that gets the approval from designers.
How can I make my staircase look better?
There are a multitude of ways to make your staircase look better, and what you choose will depend on personal preference. From adding a lick of paint to the steps or balustrade to putting a stair runner or wooden casings in place, these expert tips will get your creative juices flowing.
1. Add a chic stair runner
A stair runner can elevate a staircase in an instant - particularly if you buy the right materials and shades.
The elegant entryway above, for example, is given extra texture and depth with the addition of a stylish stair runner, not to mention comfort under foot.
'This entry staircase is flooded in light, from the alabaster sconces to the large custom windows, setting the stage for a grand entry,' for says Jennifer Sissom, Lead Interior Designer at Ryan Street Interiors.
'We added in a luxurious runner made from natural wool fibers, which not only adds elegance but ensures durability and longevity to the stairs themselves.
2. Inject color and pattern with tiles
Tiles can be used in a number of ways to elevate a staircase, whether it's tiling the entire stairway, adding tiles to the stair riser, or extending tiles along the wall.
The image above shows how you can use tiles on a small area of the staircase to inject a subtle splash of print while also making a design statement.
'Tiles added to the 'riser' of a stair add visual interest and contrast to an otherwise forgotten zone,' says Lisa Staton, Principal, Lisa Staton Interior Design, who created the look.
And Lee Thornley, founder of Bert & May, also suggests getting creative with tiling to make your staircase look better.
He says: 'To complement your staircase, tiling the surrounding area such as the walls, floor, or bannister is a great way to introduce color and pattern, and it is a practical option for these high traffic areas.
'For a more maximalist scheme, tile the floor and part of the wall surrounding the staircase to make a statement. We love using geometric patterns like these Split Shift tiles (below), which can be uniquely tessellated to create something bespoke that you won't tire of.'
3. Upgrade your balustrade
If your balustrade is looking a little tired, it will bring down the aesthetic of the staircase as a whole.
Try replacing traditional or old balustrades with a contemporary metal one for a look that's more modern.
Ryan Street Interiors' Jennifer Sissom says: 'In this stairwell, sunlight from clerestory windows above illuminate reclaimed barn wood paneling and a modern metal balustrade.
'Opting for this mix of rustic and modern creates an interesting dichotomy and elevates an otherwise unassuming stairwell.'
If replacing the entire balustrade isn't an option for you, try painting it for an instant update. A coat of fresh white paint is always a good idea for lifting the staircase as a whole, and you can also choose to paint the rail a contrasting color for a defining look, as seen below.
4. Introduce paneling
'Paneling is a great way to add design interest to a hallway or staircase,' says Ruth Mottershead, Creative Director, Little Greene.
'In high traffic areas such as hallways, paneling is also a very practical, low-maintenance option, which will protect your walls from every day wear and tear, but also add architectural detail.
What shades are good for an entryway staircase? 'If your stairs and floor are light in color, you may wish to choose stronger shades for the panelling to provide a contrast (as above),' Ruth suggests.
'However, if you have darker flooring and stairs, choosing lighter tones such as 'Wood Ash' will work better to brighten up your entryway and staircase, giving the illusion of space in an area which can often be quite narrow.'
5. Place wooden casings over the stairs
Wooden stair casings are one step you can take to making your staircase look more high-end.
Oak casings were used in the project by Lisa Staton Interior Design above to 'add warmth and interest to a modern staircase'.
Wood is an excellent choice for a staircase, being durable, robust, and easy to clean and gives a nod to the biophilic trend, helping to create an upscale yet organic-luxe look.
6. Paint the stairs
As well as painting a balustrade for an instant refresh, you can also, of course, paint the stairs themselves for a design update.
'Paint is a simple yet effective way to revitalize your interiors, particularly on a staircase where it can be used to add a pop of color and introduce a bright accent to your entryway,' says Dominic Myland, CEO at Mylands.
'Though monochrome colors are always a classic and timeless choice, using a bold color on your staircase can create a vibrant focal point. A bright staircase can also easily be re-painted to suit your changing tastes, so don't be afraid to be adventurous with color.'
For style leaders and design lovers.
Ruth Doherty is a lifestyle journalist based in London. An experienced freelance digital writer and editor, she is known for covering everything from travel and interiors to fashion and beauty. She regularly contributes to Livingetc, Ideal Home and Homes & Gardens, as well as titles like Prima and Red. Outside of work, her biggest loves are endless cups of tea, almond croissants, shopping for clothes she doesn't need, and booking holidays she does.