Under stairs ideas – 10 stylish ways to make use of this awkward space
Be inspired by these under stair ideas and transform that often overlooked nook into something that really adds to your home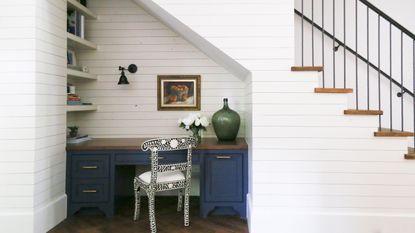 (Image credit: Marie Flanigan)
When it comes to under stair ideas, we often have a tendency to go straight to storage, transforming it into a cupboard for vacuums, mops, shoes, umbrellas and long-forgotten coat collections. And while this awkward nook does lend itself to a storage space, there are many more interesting ways to transform under the stairs, making it a really stylish and practical addition to your home.
So we've pulled together all our favorite under staircase ideas, yes there are storage solutions here, but there's also home bars, practical offices spaces, cozy reading nooks, luxurious wine rooms and more to inspire you to turn this humble, and often overlooked, part of your home into something far more beautiful than a stack of plastic containers and overcrowded shoe racks.
1. Build in book case
Didn't think you had room for a home library? Think again. Under stair spaces are perfect for turning book collections into beautiful displays and can work no matter what size you are dealing with. Keep it simple and wall mount shelves to fill the wall space or create something more unique to your space and design built-in shelving that will completely fill the nook.
We love how the colorful spines really pop against the black background in this under stair idea – it definitely makes a case for choosing dark colors for a staircase.
2. Incorporate sleek and discreet storage
Staircase needn't always been positioned in a hallway. In more contemporary homes you'll often find them in open-plan kitchens and living rooms. Since they then sit in such a lived-in space, opting for something sleek and discrete may work best so as not to make the room feel too visually busy and overcrowded. In this case, built-in storage is an easy option – simple, stylish and functional.
Pick a design that's going to suit the vibe of the rest of the room. In this minimalist, slightly modern rustic living room, the fuss-free, handles walnut cabinetry works perfectly. They actually conceal a TV too, as well as providing plenty of storage, a clever way to conceal your bulky tech.
3. Transform under stairs space into a home bar
Now, this is a stair idea we can really get behind. Home bars have only increased in popularity over the last few years (no surprised there) and are no longer just reserved for luxury homes with acres of space. You can squeeze a home bar in even when square footage might be tight, and what better space to use for this than under the stairs?
You could create a dry bar with lovely displays of your finest tipple and spaces to store glassware. Or take it a step further and have a sink and mini-fridge installed so you don't need to go between bar and kitchen. Again, this would be a great home bar idea if your staircase sits in a more lived-in room than the hall, but likewise, what better way to greet guests than taking them straight to your under stairs bar in the entryway?
4. Keep it open to emphasis the staircase design
If your staircase is a real feature in your home, whether it's a traditional design with curving wrought iron rails or something more contemporary like this exposed wood style, let the staircase be the focus by keeping the space underneath minimal.
That doesn't mean it can't still be practical, just rather than filling the area with a block of built-in cabinetry, keep it open and add hooks for coats or a bench for putting on shoes. See how in this staircase decorating idea the gap under the bench has been put to practical use too with a collection of stylish rattan baskets. They look chic and no one need know they are filled with muddy shoes and dog toys.
5. Add a powder room
It's one of the most popular under stair ideas for a reason, not only is adding a powder room a practical addition, adding an extra bathroom (no matter how small) can add value to your home too. Just be sure to check it's not going to be too tricky to get plumbing to the space, there's enough space to easily move around, and that there's a comfortable amount of headroom too.
In terms of space-expanding powder room ideas, we'd always go bold with prints in these tight spaces. Wallpaper on all four walls, and the ceiling if you dare, is great for blurring the edges and the room and creating the illusion it's larger.
6. Turn an awkward space into the perfect home office
We are all looking for clever home office ideas because despite a lot of us now working from home, not all have a room to call our own in which to work from. So be inspired by this gorgeous space designed by Marie Flanigan, and turn that dead space into an office.
Make it a space you want to spend your working day, so decorate it as you would a full-sized office. Add some narrow shelving (picture rails work perfectly) for decoration, hang prints, and pick an uplifting color scheme. And be sure to light the space well too with a few different sources. Adding in spotlights will ensure plenty of light and take up zero room – important in such a right space. And for more focused lighting add a desk lamp or wall-mounted downlight too.
'When beauty meets function, magic happens. The space below a stairway is often unused square footage and presents the perfect opportunity to create something special for our clients.' says Marie. 'With so many people working from home, we are presented with the unique challenge of needing multiple work zones and a nook under the stairs is the perfect solution.'
7. Store your wine collection under the stairs
Wine collection gone way past fitting neatly into a wine rack? Consider storing it under the stairs. It's the perfect place as it's usually away from direct sunlight and the temperatures won't vary too much.
And rather than hide away those bottles gathering dust, get them out and on display behind by building a glass-fronted cabinet. There's so much wine storing tech out there too, so rather than just being a cupboard, you can turn the space into a climate-controlled wine room that not only looks lovely but is a practical way to preserve your collection.
8. Use under the stairs as extra closet space
When deciding on what to do with your under stairs space, consider where the staircase is positioned and what you need more of in that space. This under stair storage was designed by Simpson Studio to double up closet space for the nearby bedrooms, adding extra drawers rather than the more common cupboards.
'Under stairs is an often underutilized part of the home. These sometimes odd, always charming, leftover spaces are the perfect opportunity to create practical and hidden storage.' says Joanna Simpson founder of Simpson Studio. 'We always try to utilize these spaces with versatile drawers and cupboards, from shoe racks, cloakrooms to hidden utility spaces. A bespoke piece of joinery here can provide vital storage and free up clutter from the rest of the home. Finished with elegant detailing, under stairs storage creates a perfect and practical use for an otherwise un-programmed space.'
9. Keep it simple with a console table
If you don't need the space for something really functional just keep it chic and simple with a stylish console table. Opting for freestanding furniture, rather than something built in, offers a more minimalist, cleaner look that's ideal for small or narrow hallways. Choose a piece that has a bit of height so you can clearly see the floor space underneath and it doesn't add visual bulk or block the light from flowing around the space.
10. Create a cozy reading nook
By its very nature the area under the stairs is cozy, so lean into that and create a cocooning reading nook. Add a padded bench or squishy armchair with plenty of throw cushions and some low task lighting with a warm glowy floor lamp to create the perfect spot to escape to with a book in hand.
How can you maximize storage under the stairs?
If you want to use the space under your stairs solely for storage, the best way to maximize that is to go for a built-in design. This will mean you can make the most of every inch of space no matter how awkward it might be. And when planning your storage think about what it's needed for. Will you be storing coats so will need long cupboards with plenty of hooks? Do you want to plan in cubby holes and racks for shoes? Or will this space be used as a pantry or somewhere to store cleaning and DIY supplies? Once you have a plan of exactly what you want to keep under the stairs you can create a design to suit those needs.
The key thing to consider when planning storage is that sloping ceiling, you want to make sure you store everything that needs height at the tallest end of the space, and then you can work your way down in size order to ensure everything will fit.
How can you style under stairs?
How you style under stair spaces will depend on what you want out of it. Assess the size of the space and think feasibly about what can be done with it, then consider what your home might lack.
Is the space large enough to become a home office? Could you add plumbing and turn it into a powder room? If space is tight and you need the extra storage, considering adding smart built-in cabinets. And if you simply want it to be a striking space guests notice as they entering your home, curate a gallery wall, hang picture rails to add decor, or add a slimline bench to create a cozy nook.
The Livingetc newsletter is your shortcut to the now and the next in home design. Subscribe today to receive a stunning free 200-page book of the best homes from around the world.
Hebe is the Digital Editor of Livingetc; she has a background in lifestyle and interior journalism and a passion for renovating small spaces. You'll usually find her attempting DIY, whether it's spray painting her whole kitchen, don't try that at home, or ever changing the wallpaper in her hallway. Livingetc has been such a huge inspiration and has influenced Hebe's style since she moved into her first rental and finally had a small amount of control over the decor and now loves being able to help others make decisions when decorating their own homes. Last year she moved from renting to owning her first teeny tiny Edwardian flat in London with her whippet Willow (who yes she chose to match her interiors...) and is already on the lookout for her next project.