14 grey bathroom ideas – modern ways to style this versatile shade
Our gorgeous grey bathroom ideas prove why everyone's favorite neutral is perfect in bathrooms of all shapes, sizes and styles...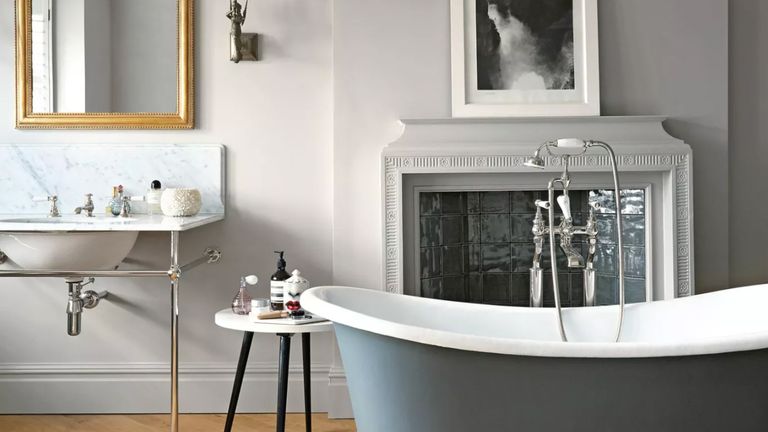 (Image credit: Paul Massey)
Grey bathroom ideas are classic and have been up there with all the most popular bathroom trends for decades. And it makes sense, grey is so versatile and comes in so many different forms it a shade that can suit all styles and all sizes of bathroom. Love light and airy modern bathroom ideas? Pick a barely-there grey and pair with crisp whites. After something more moody and dramatic? Charcoal walls in a contemporary space works a treat. 
As with any room, there is the potential for the wrong shade of grey to totally wash out a bathroom, making it feel dull. But that's easily avoided if you choose the right shade for your space and pair it with the right colors and textures...
1. Add texture with raw concrete walls
Thought these grey bathroom ideas would be all about paint? While paint is a really simple option, we are all about concrete walls, bringing in loads more texture and interest. Plus adding an industrial vibe to whatever space you throw at it. 
2. Or fake the look with painted plaster
In fact, you can recreate a very similar look with paint if cladding a wall with concrete isn't an option for your space. Done right, you can barely tell the difference. It's a look you can DIY too, just use different shades of matte grey, applying the paint with a mix of brushes, damp sponges and crumpled newspapers – remember it's meant to look rustic and unfinished so don't be too neat with it. 
3. Add panelling for a classic feel
Paneling can look great with any style of bathroom modern or traditional, it just adds some nice texture and is an alternative to bathroom tiles. If you like a more traditional look, copy this grey bathroom idea and opt for a soft light shade, paired with off whites and weathered copper. For something more dramatic we'd go really dark, almost black with the wall panels and pair with some equally bold patterned floor tiles. 
4. Go classic with grey metro tiles
Grey metro tiles are a classic. You can go floor to ceiling with them and they never look too fussy or overbearing. If you are concerned about them looking too flat, pick a gloss option that will give them more texture and they just feel more luxurious. Think about your grouting color too, it's something that often doesn't get much thought but makes a huge difference. If you want the tiles to pop individually, opt for a contrasting grout like white or even black, for a more minimalist look, match the grout to the tiles. 
And if you are wondering what colors go with grey – note how well the bright pink goes with the cool greys in this bathroom.
5. Layer shades and textures
Loving the layers of grey going on in this bathroom, it feels so simple and serene. If you are sticking to solely grey, make sure you add interest not only by bringing in a few different shades but by adding plenty of texture too. Easiest way to do that? A lovely natural grey toned stone floor. 
6. Create a grey scheme with mismatching tiles
When choosing tiles for a grey bathroom a lovely way to make the space feel exciting, despite it being monochrome, is to mismatch patterns and textures. Case in point with this gorgeous space. 
The color scheme is really simple, just whites, light greys and charcoals, but there are lots of lovely textures going on with the marble tiles in a chevron pattern, the concrete sink, the geometric floor tiles, even the terracotta pot and wooden stool throw in extra depth  – lots of really inspiring grey bathroom ideas going on here. 
7. Choose a darker grey for dramatic feel
Loving all the soft hues, but after some grey bathroom ideas that offer something more... dramatic? Be inspired by this stunning space. Deep, velvety grey walls match the statement bathtub, the true white used of the ceiling and fireplace keep it feel cool-toned, even the wooden bathroom flooring has a tinge of dark grey. It all feels very cocooning, in an oh-so-glamourous way. 
Word of warning though, these bold dark shades won't work in every bathroom. In the wrong space they can come off gloomy and shrink a room. What you ideally want is a room that gets a lot of natural light, so south-facing. The cool light of a north-facing room might just tip this over into dull grey territory. Just be sure to order swatches, test out your colors in your space before you commit. 
8. Go halfies with grey wall tiles 
This is a great little hack if you are after grey bathroom ideas for a small space. Tiling halfway up the walls with a deeper grey, and painting the rest with a lighter shade really adds height to a small bathroom. Plus, it's of course a practical choice in any size of bathroom. 
9. Warm things up with warm metallics
There's a reason grey and gold are everyone's favorite color duo. They obviously look so elegant together, but gold or brass is perfect for warming up an all-grey space, preventing it from becoming cold and un-inviting, which is always a risk with grey rooms. See in this marble bathroom, adding accents of gold brings out the warmer tones of the grey walls and looks beautiful with the grey veined marble. 
10. Create a modern look with poured floors
Poured concrete flooring is a huge bathroom trend right now. Simple, chic, and more often than not, grey, this new alternative to tiles gives a bathroom an industrial edge. It works perfectly with the simple white sanitaryware and black details in the grey bathroom. And we love how all the clean lines going on here are contrasting with the fabulous, towering banana tree. 
11. Pair grey walls with blues 
Another match made in interior design heaven, blue and grey go together in pretty much every shade. It's usually quite a cool combination and blue normally instantly brings out the coolest of any grey shade you pair it with, but this bathroom is breaking the rules. The deep petrol blue of the skirting and the soft light blue in the tiles, paired with the light grey in fact creates an overall warmth to this space. 
12. Pick out a statement grey bath tub
If you want to add a darker shade of grey to a lighter scheme to create some depth, rather than go with the obvious feature wall, opt for a deep grey freestanding bath. It really grounds all the softer hues going on in this grey bathroom and adds a focal point too. When layering greys like this, just be sure to pick shades that have a similar undertone so they work harmoniously together.  
13. Paint the bathroom ceiling
It's a bold look, but it definitely works in this grey bathroom. Painted ceilings are an emerging trend and they work particularly well in bathrooms if you don't want to add bold color on the walls. Plus bathroom walls are usually at least partially tiled so taking paint to the ceiling makes sense. 
Be brave and opt for a velvety dark shade like the blue-grey going on here. It creates a really cocooning feeling, especially when paired with matching floor tiles and lots of greenery. 
14. Go for a monochrome scheme
Create a very modern, minimalist look by going for a monochrome scheme – one tone of grey all over. That needn't mean something as boring as just painting your whole bathroom the same shade of grey, take notes from this grey bathroom idea and instead match a grey paint to the grey of marble tiles. Stop the room from looking too flat by adding plenty of well-curated decor, as can be seen with all the dreamy pottery here, a gorgeous contrast with the modernity of the bathroom.