What's the most relaxing color for a bathroom? These 10 ideas will strike the right mood
Choose these relaxing colors for bathrooms for a look that's tranquil, sophisticated and wonderfully soothing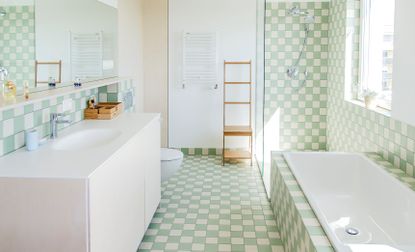 (Image credit: Atelier Starzak Strebicki)
The Livingetc Newsletter
For style leaders and design lovers.
Thank you for signing up to LivingEtc. You will receive a verification email shortly.
There was a problem. Please refresh the page and try again.
The right color scheme can make a bathroom feel like a retreat – a place where, even for a few minutes, you can unwind and enjoy some alone time. The color you choose for your bathroom might depend on your own taste, but certain hues are known for their calming effect.
Some of them are exactly what you'd expect - natural tones that evoke the great outdoors and help you feel like you're bathing in a forest - but others are more unexpected. Dark, deep shades that envelope a space, or more energetic tones that brings a warmth and sunny outlook to this often stark space.
Take a look at these 10 bathroom color ideas, each designed to bring serenity to a space, and set the stage for a peaceful retreat.
Aditi is a homes writer and editor with several years of experience. Her articles, backed by expert insights, offer suggestions aimed at helping readers make the best home design choices.
10 relaxing colors for bathrooms
1. Dark grey
If you want a space that's perfect to drift off into thought in, dark shades of grey are ideal. This near-black is a color of depth and introspection, while not as unforgiving as black. The hue creates a perception of endlessness like there is more than what meets the eye. It can add a sleek touch, put the focus on a view, and create a strong contrast for other materials used in your space.
'While white is mostly the go-to color for bathrooms, I have been enjoying charcoal or black bathrooms with matching walls for a while, mainly if they are small spaces,' says New York interior designer Jarret Yoshida. 'Black feels enveloping and cozy when you are most vulnerable,' the designer adds.
'Using dark and moody hues in a bathroom is a very effective way of creating a designated space for relaxation and privacy,' agrees Nina Etnier and Brad Sherman, co-founders of Float Studio. 'This is especially effective in a design scheme that is otherwise very light and airy. In shared bathrooms, such as a powder room, it's also a great way of hiding the wear and tear in high-traffic areas.'
The magic trick to making a dark wall color work in a bathroom comes to the lighting, specifically choosing between cool light vs warm light. 'When well-lit in a warm 2700 Kelvin lighting, the room feels luxurious and creates a high-end spa experience,' Jarret explains.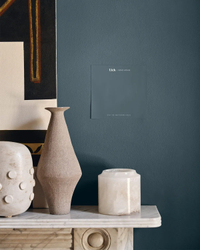 Grey 08 Amsterdam House Matt, Lick Paints
This charcoal grey with cooling undertones and a smooth matt finish has an inherent smart, eye-catching appeal. It can work brilliantly in both interior and exterior spaces.
2. Soft green
If you'd like to create a restful bathroom that stands out, consider a green bathroom – from seafoam to moss or sage green, these shades make for a fantastic choice.
Green hues are as uplifting as they are relaxing. Plus, universally, green is known to be a calming color, reminscent of the outdoors. While green has almost become a new neutral in 2023, it is still a more unexpected choice for a bathroom than blue or white.
Want to evoke a feeling of calm island seas? Consider sea green as it looks great with most shades of wood and creamy palettes. Lime green on the other hand is best when featured sparingly. Use it perhaps on an accent wall, and pair this color with bright accessories. A silver-green can seem like a nice, spa-like pale shade that simultaneously feels like a grey, and looks best and suitably cool next to warm or even dark wood tones.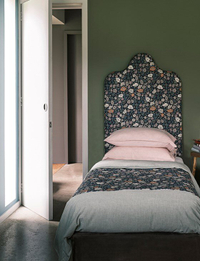 This very earthy green is suited to darker spaces, where the richness of this color really comes into its own. Pair this color with neutral to white skirtings.
3. Teal
Teal is a deep, pensive color that has an inherent warmth to it, making it a relaxing alternative to blue. A nice, dark bathroom color, it pops with bright white and is even a good match with coral, navy, and especially gold and brown tones. Nothing looks quite so good as a gold-framed mirror against a teal wall.
The hue is a classic, and works in any style of interior, from eclectic to traditional.
'When it comes to designing a relaxing bathroom, colors from nature are always good to look at for inspiration,' says Megan Prime, co-founder, and principal of JAM. 'Blues and teals feel natural in a bathroom, but we try to use them in key areas so they don't overwhelm the space, especially in a smaller bathroom.'
4. Grey
Grey is a popular neutral, that doesn't look too overbearing, nor does it make a bathroom feel sterile. The color largely looks charming on the warmer end of the spectrum, though if you live in a hot climate, a predominantly cool grey bathroom will feel soothing.
'For me relaxing bathrooms have a calm and consistent palette,' says Roisin Lafferty, founder of Kingston Lafferty Design. 'Joinery, mirror, stone, and tile lines are also clean and minimal. Calm neutral tones and bringing in green or grey tones from nature with elegant white veined marbles give a serene finish.'
5. Blue
Blue is a hue that evokes the sea and the sky, and the positive associations many of us have with it. Interestingly, there are several fetching blues to choose from, each as relaxing as the other. Soft blue bathrooms offer a stress-reducing ambiance, while the darkest ones lend drama and elegance.
'While I do believe that colors are a personal choice, I find blue my go-to relaxing color,' says Jennifer Morris, founder of JMorris Design. 'Blue works great in bathrooms because of the water connotation. I find blue to be a great neutral so it can go with silver, yellow, green, or pink.'
Aqua has an uplifting and rejuvenating quality that reminds one of vacations in warm, exotic locations. A soft sky blue with a touch of grey can conjure a warm, cocooning interior. Inky blues are elegant and dramatic and work especially well in powder rooms.
6. Earth tones
Earth tones or natural tones are rich, warm colors, and comfortable to be around. Rugged materials such as wood, concrete, plaster, or, stone have their own, natural tones and have the potential to be just as lively and interesting as other colors when used in modern bathrooms.
Think of the hues of sand, clay, pampas grass, cane, and more, that look serene and also work well with brighter hues.
'Overall, I would suggest incorporating natural tones and textures, including wood, limestone, marble, and clay, and complementing them with biophilic elements for an overall sense of peace,' say designers Nina and Brad from Float Studio. 'Fixtures made of or finished in natural textures are not only more substantial, adding weight and texture to a space, but they are also incredibly long-lasting and timeless.'
7. Pink
Pink is timeless, and it's a color that never goes out of style. A pink with grey or brown undertones will bring a more relaxing feel to a bathroom, so keep your shade muted for a calming space like this small powder room designed by New York design studio Le Whit.
'We like the idea of corals or pinks in bathrooms,' say Alice Arterberry and Barrett Cooke, founders of Arterberry Cooke. 'This hue looks particularly nice when paired with natural materials like terracotta or terrazzo, and against the richness of oak cabinetry and furniture. Also consider pairing it with crisp whites, for a fresh and perky pink bathroom.'
8. Orange
A bright orange is probably a little too energetic for a bathroom, but a softer orange can have a calming effect. For a calming, small bathroom color idea, consider peach, rust, or terracotta, to create an enveloping feeling and a moment of surprise. A color like this can convert even the most compact space into a jewel box.
Still unsure how to use this bold color? Consider an accent wall, or simply use it on bathroom accessories.
9. Ochre
Yellow ochre ranges from golden to light brown and is a classic tint with its origins in nature. It's what you see on the plaster walls of Tuscany; it also reminds one of the wheat fields and the sunset. Consider bringing this golden glow to your master bathroom.
This tone is warm and earthy and can range from pale or dark, to golden or almost brown. When paired with teal, burgundy red, cool grey, or purple, it can create the most uplifting scheme. And it goes well with terracotta; it's equally earthy cousin.
A great way to play up this hue's natural allure is by using it via textured paints, perhaps limewash paint finishes.
10. Off-white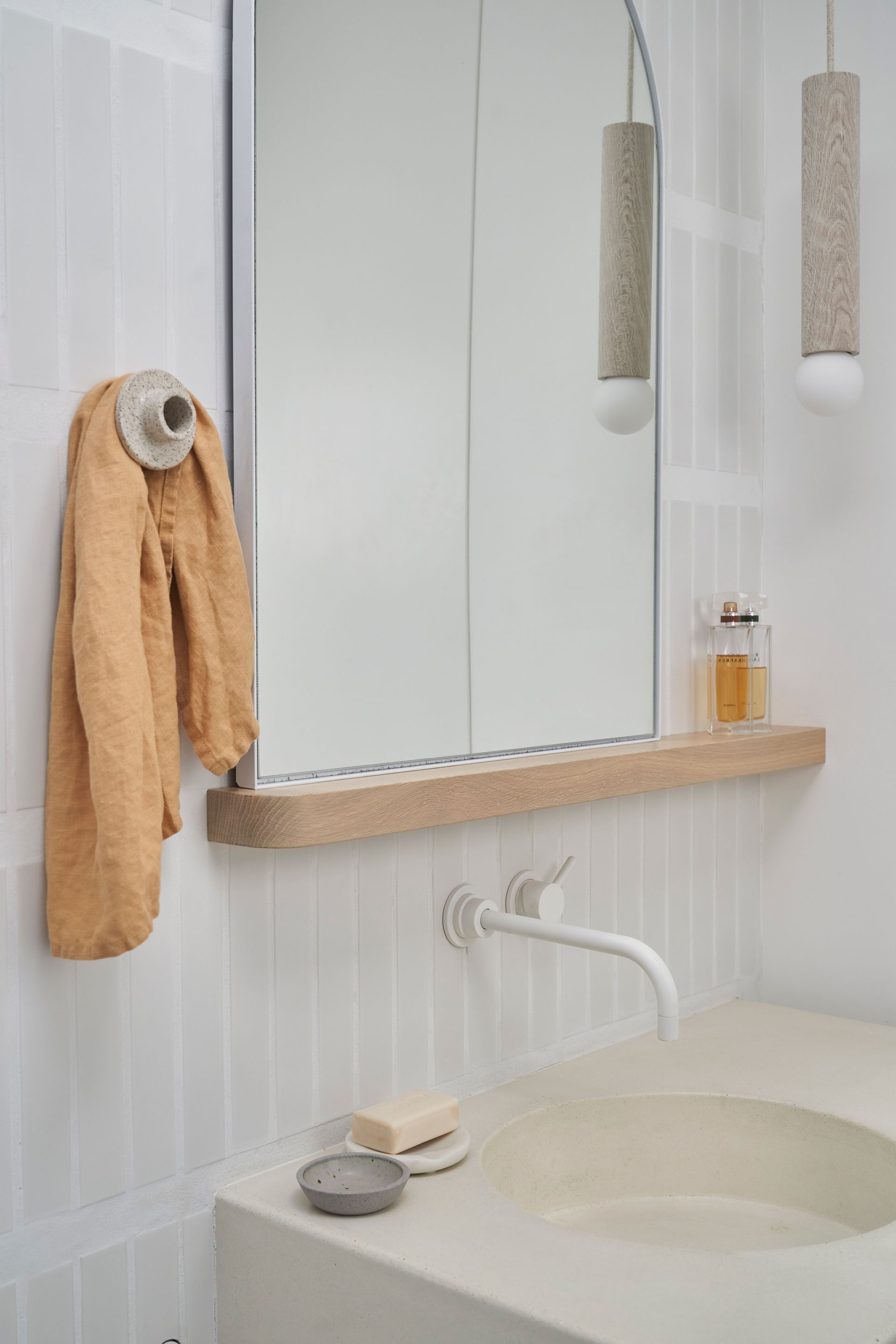 The simplest color ideas are often the best, and for a really relaxing bathroom, you can't go wrong with white. However, hold off from choosing stark, blue-toned brilliant white for your bathroom as standard, as it's a space that can feel a little clinical when a colder hue is used.
Instead, pick a white with a warm undertones, whether that's yellows, reds or even a soft pink. This will help your bathroom feel like a more comfortable, welcoming space, rather than a purely functional one.
For style leaders and design lovers.
Aditi Sharma Maheshwari is an architecture and design journalist with over 10 years of experience. She's worked at some of the leading media houses in India such as Elle Decor, Houzz and Architectural Digest (Condé Nast). Till recently, she was a freelance writer for publications such as Architectural Digest US, House Beautiful, Stir World, Beautiful Homes India among others. In her spare time, she volunteers at animal shelters and other rescue organizations.