Blue bathroom ideas – 10 azure hued spaces designed to make a splash
From deep and dramatic navies to uplifting sky shades, blue bathroom ideas are by far the most popular shade for creating a serene space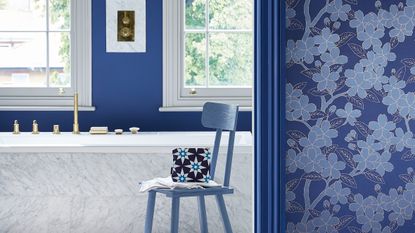 (Image credit: Little Greene)
The Livingetc Newsletter
For style leaders and design lovers.
Thank you for signing up to LivingEtc. You will receive a verification email shortly.
There was a problem. Please refresh the page and try again.
Blue bathroom ideas have been a perennial favorite in this space designed for daily relaxation. A color that is naturally associated with water it promotes calmness and cleanliness making it a natural fit for both a contemporary bathroom and a traditional bathroom.
From rich royal blues to luxe azure, to bright aqua, the broadness of the blue color chart runs the gamut from pale blue that is close to a white - all the way to a dark navy blue that is almost black. Gold accents work especially well with the hue emulating a sumptuous feel that can be seen in high-end hotels, pale mineral blues can create a real feeling of peace and serenity in a bathroom, and the classic blue and white pairing is iconically nautical!
The most classic color choice for bathrooms, be inspired by our edit on how best to use blue and tips from experts on blue bathroom color ideas.
10 calming blue bathroom schemes to inspire
1. Stun with ombre blue walls
Featuring an incredible ombre statement wall – this blue bathroom is an underwater sanctuary personified. Created by blending three hues of chalky paint the palette cleverly moves from stormy blue at ceiling height to an aqua blue in the middle and then a light joyous beachy blue at the level of the bath which is painted the same color adding a fairytale feel to the space. This technique of painting also adds an illusion of space to a small room.
'Blue is the best color for making small bathrooms appear bigger,' says Dulux's Creative Director, Marianne Shillingford. 'Which makes it a firm favorite for bathrooms. If you love to feel invigorated, and raring to go after a dip in the bath or splash in the shower, opt for soft sky blues like First Dawn or Coastal Grey and team with pure white (including fluffy towels). If however, you prefer a nice long soak in the bath and a proper drench under the shower, opt for dreamy dark blues and teals like DH Oxford Blue and Midnight Teal and get them mixed in a Dulux Easycare Bathroom paint.'
2. Pair blue and burgundy for a cozy cocoon
This space is as far from a bathroom as you can imagine. No clinical sanitary ware or practical cold bathroom tiles, the charming dark blue bathroom feels like any other room of the house furnished with textiles and a cocooning color pairing of dusky blue and burgundy. The walls and in-built units painted in a matte blue hue cozy up the large room and the red-hued bath and wine-colored Persian rugs create a perfect contrast.

'Blues are probably the most popular color family for a bathroom,' explains Patrick O'Donnell, Farrow and Ball Brand Ambassador 'With its resonance of water, it lends itself perfectly to its environment. Gentle cooler blues such as Skylight make for a wonderful coastal scheme, whilst a more nuanced blue such as Stone Blue adds a complicated edge. This blue will work in both a contemporary space and a more traditional environment and even add warmth when lit with candles for an early evening soak.'
3. Tie an eclectic space together with blue
The right blue can work well to both modernize period spaces and also stay in keeping with classic details. This blue powder room idea is full of characterful elements in a small space. Paneling, vintage lights, mirrors, pattern tiles and ornate ironwork, do risk making the space feel cluttered, however, sticking to one calming blue color palette ties the space together.

'Blues have been a bathroom favorite for as long as most of us can remember,' says Rob Abrahams, Co-Founder of COAT paints. 'Brighter, watery tones are great for reminding us of the room's purpose and provide subtle contrast to clean bright whites of sanitaryware. Deeper blues are reassuring and offer a feeling of safety, which is really important in spaces where we are most vulnerable.'
4. Go for diagonal stripes in a small wet room
Diagonal stripes are the ideal small bathroom tile idea, as they draw the eye and make spaces look wider than they are. This look is striking as the use of color is bold but can be achieved on a budget by mixing lower-priced plain tiles to create a really show-stopping effect.

'With its associations with water, blue is a natural choice for bathrooms. From aquamarine to delicate duck egg and navy, pretty-much any shade of blue will be at home in the bathroom,' says Fired Earth's Creative Director Colin Roby-Welford. 'Blue and white is a particularly timeless and clean-looking combination, so it's perfect for bathrooms. It's incredibly versatile too and there are countless takes on blue and white tiling, from vibrant Mexican and Spanish-inspired decorative tiles to delicate Delft designs and simple but eye-catching tiled stripes and geometrics.'
5. Create a sanctuary with botanical prints
The transformative power of bathroom wallpaper is undeniable – instantly turning a functional space into an indulgent sanctuary with just a single wall of pattern. Bringing nature indoors with botanical patterns and pairing it with blue is a spectacular way to cultivate a space for restoration. The rich blue wallpaper 'Restore Midnight' from Graham and Brown is a celebration of nature, self-care and optimism for the future, bursting with beautiful, botanical trails sitting on a tranquil midnight blue backdrop.
'Blue is an obvious choice for bathrooms, effortlessly working with the white shades already existing in most bathrooms,' says James Greenwood, Graham & Brown's Brand and Interiors Expert. 'Our calming Wallpaper of the Year 2022 Restore in the Midnight colorway works perfectly for a simple but effective makeover especially when paired with our perfectly partnered shade Breathe.'
6. Color block in a blue bathroom to add energy
There's no rule to say your bathroom should only contain one hue, so be playful and think about hues that complement and bring out your main color choice. Think about color blocking like in this traditional blue and pink bathroom that features a nostalgic sky blue with a powdery pale pink window trim. Both these shades exude tranquillity and serenity but still make the space feel energized.
'Color blocking is a simple, contemporary paint idea to introduce color pairings such as pink and blue to a small space such as a bathroom without it being overwhelming,' says Ruth Mottershead, Creative Director at Little Greene.
'Consider experimenting with the proportions of your bathroom by painting the ceiling using a bolder shade, such as 'Deep Space Blue', to draw focus to the height of the room. Alternatively, use 'Royal Navy' in an all-over scheme for an encompassing finish. Opt for warmer tones for a bathroom scheme, such as 'Cordoba' alongside the muted pink 'Blush' for a serene, comforting space to relax in.
7. Make a statement with blue marble
This incredible all-over blue marble bathroom is brimming with character and creativity, the veined marble being the perfect embodiment of watery patterns. Designed by interior designer Steven Gambrel it aims to recreate the glamorous look and feel of the hotel lobbies typical of mid-twentieth-century London. If you want to recreate this look on a budget we think a carefully chosen blue marbled wallpaper would work just as well.
'When creating this space, interior designer Steven Gambrel wanted to recreate the glamorous look and feel of the hotel lobbies typical of mid-twentieth-century London,' explains James Lentaigne, Creative Director at Drummonds. 'There is a strong focus on materials, color, and texture; the walls are adorned with swirling Verde Luana and Verde St Denis green marble, bringing a sense of opulence and grandeur to the space'
8. Add a little detail with a blue backsplash
Many associate incorporating tiles into any space with a big budget but using a small number of tiles can make a big impact without breaking the bank. Backsplashes are a smart idea to include in your bathroom design serving to catch any spray from the tap as you wash your hands or brush your teeth and protect the wallboard from being damaged by water. They also offer plenty of room for creativity.
This small vintage-style space features characterful bathroom wall tile ideas of bright blue zig-zag metro tiles by Bert and May. Paired with the antique washbasin, wooden mirrors, and industrial light - the space takes on a cheery Mediterranean feel.
9. Pair panelling and wallpaper
Adding wood paneling and wallpaper to a bathroom is a great way of adding texture and color, which in turn can add warmth to what otherwise can be quite a clinical and cold room. This pretty two-tone effect by Paint & Paper Library ticks all the boxes in creating a homely space using both.

The top half of the wall is covered in an unusual tropical print 'Hardy Palm'pattern featuring bamboo stems covered in blue-grey palm leaves. The paneling underneath matches the hue of the leaves in a pretty pale hue that leaves the space feeling both traditional and exotic.
10. Create an all over tiled spa
This blue toned spa bathroom is encased in handcrafted pale blue and navy pencil tiles in an array of watery hues and cleverly incorporates a trendy two-tone effect by creating a division using darker tiles close to 'the water line' and lighter tile above. A fully-tiled bathroom like this makes a space look more elegant and luxurious and makes a small bathroom feel more spacious.
A practical technique having darker tiles on the bottom of the space is more forging in a high-use area. We also love the unusual square bath which makes the most of the space available and the wooden ceiling which lends a spa effect
What colors go with a blue bathroom?
Blue is one of the most versatile colors It's super versatile and goes well with other shades of blue, crisp white, blush, and neutrals like taupe, olive, ivory, and vanilla. Or, you can mix and match other shades of blue together.
Blue and white are a classic color combination – and ideal if you want a bathroom that stands the test of time. If you're going with a white contrast then crisp white tiles and fixtures look smart against brighter and deeper shades of blue. A blue and white bathroom works well for country, cottage, coastal or shabby-chic decorating themes.
Are blue bathrooms out of style?
Blues have been a bathroom favorite for as long as most of us can remember. Brighter, watery tones are great for reminding us of the room's purpose and provide a subtle contrast to the clean bright whites of the sanitaryware.

The right blue can work well to both modernize period spaces and also stay in keeping with classic details. There's no rule to say your bathroom should only contain one hue - be playful and think about hues that complement and bring out your main color choice and blue can be brought up to date as your home evolves.
For style leaders and design lovers.
Rohini Wahi is Content Editor for Livingetc Online. With a decade-long career in the interiors and design industry working as a journalist for premium lifestyle publications then delving deeper into the business as a trend forecaster, Rohini has amassed a wealth of global design knowledge that informs her work. She loves a period drama and keeps a tidy home.