Colors that go with dark grey – 10 modern palette ideas that will elevate this tried and trusted shade
Choose these colors that go with dark grey to have a home that is timeless, calm and full of personality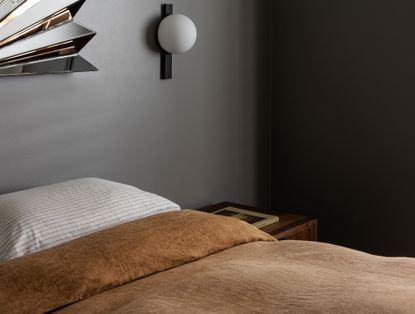 (Image credit: Timothy Kaye. Studio credit Manna Made and RD Architecture)
Dark grey, charcoal, anthracite - whatever you call it, this shade is a timeless neutral that provides a wonderful base for all other tones to shine. It's a bolder, more modern hue; a lot more dramatic than other neutrals such as cream, beige and light grey, but softer and less harsh than black. Versatile and easy to use, there's a growing color trend to use dark grey in contemporary interiors.
For a crisp, statement-making, smart, and forever on-trend interior, we asked interior designers and color experts for the best colors that go with grey in these darker, moodier shades to create amazing modern palettes.
10 colors that go with dark grey
While decorating with neutrals is relatively easy, when choosing a dark neutral, you may want to keep a few things in mind.
'The amount of natural light affects the success of using dark colors more than room size but room size and ceiling height do have bearing on the outcome,' says Amy Krane, architectural color consultant and founder of Amy Krane Color. 'If the room has a lot of natural light, or better yet, southern exposure with all day light, any size room should be successful using a dark wall color like dark grey. Keep in mind the color of the floor, the trim, and the ceiling greatly affect how it will look as well as the color and value (lightness/darkness) of the furnishings.'
'Dark greys can harken from the warm or cool side of the spectrum so that affects what looks best with each,' says Amy. 'Cool dark greys look great with mid-toned colors like yellow-based greens as well as medium or light blues and of, course red. Dark warm greys look great with mustard, aqua, and coral.'
1. Pink
While grey and pink isn't always considered the most sophisticated pairing, deeper tones of both and strategic ways of pairing them can make the combo feel more modern.
A moody pink with brown or grey undertones will pair particularly well with a charcoal grey, and give the interior a rooted feel. Plus many colors go with pink and can help create a wonderful palette. Consider bringing in reclaimed or walnut-wood finishes to further warm up this subtle color duo.
'Small narrow rooms carry darker colors well, much better than white,' says Sophie Dries, founder of Sophie Dries Architect. 'This 'piece boite' room, painted from floor to ceiling is a great example. The graphite grey valchromat cabinetry contrasts well with concrete for an eye-catching interior.'
2. Teal
Dark grey is incredibly versatile, and when layered with other deeper tones, textures, and finishes, can look gloriously sophisticated. Many colors go with teal, and a dark grey is a winning combination. It can make a room feel calm and coordinated, but also full of detail, texture, and warmth.
'If the room is dark and it's a calculated decision to embrace its lack of light, then paint it a dark tone,' says Amy. 'I endorse this approach on occasion. I'd add a lot of other colors to the decor to keep it lively. A large room with dark grey walls and matching dark grey trim can look great as long as you've got a lot of light. Smaller rooms painted dark can feel cave-like but can also feel like a jewel box. How you perceive it is more about you. I wouldn't paint those ceilings the same dark color in a small room either. It could become oppressive.'
3. Brown
Individually, grey and brown make an appearance in interiors, but did you know that a combination of the two together in a space can create balance, earthiness, and a feeling of rest? The two deep tones have an inherent feeling of coziness, and when used in varying degrees in a room, can help create an effortlessly stylish space that also feels restful.
Many colors go with brown – add a dash of chocolate or beige to your best grey-drenched space. You can even consider styling your scheme with nature-derived materials such as a light brown jute rug, rattan furniture, and cane details. Consider this dark lead grey tone, which has definite blue undertones to make a space feel warm and inviting. This color pairs especially well with brown and other wood tones.
4. Turquoise
Turquoise is one of the cheeriest colors and evokes Caribbean water and Tiffany boxes visuals. It is at once soothing, yet effortlessly stylish. A mixture of light blue and green, it makes for a wonderful contrast to darker, grounded hues.
This standout color comes in a nearly infinite range of tones and hues, but no matter which version you choose, it can easily pair with a dark grey that works like a neutral, for the best, pick-me-up palette, especially effective in a living room color scheme. If the hue seems too overwhelming, especially for a small space, use it on accent features such as lighting or chairs.
5. Yellow
Many colors go with yellow, and a great companion to the hue is dark grey. The former being a color of sunshine, sustenance and rejuvenation can add a slice of cheerfulness to a grey room that may sometimes seem too somber. If drenching entire rooms in yellow may seem a bit much, consider adding splashes of yellow through paint, furniture, artwork, and accessories, with a lovely grey as a backdrop to pull a mature scheme together.
'When painting your walls grey be sure to pay attention to how warm or cool the shade of grey is, as you'll want contrast in the room to play against the other elements,' says Liz Goldberg, founder of CAROLYNLEONA. This charcoal grey with cooling undertones and a smooth matt finish is ideal for modern interiors that need a lot of depth.
6. Cream
'The more light-colored components in the room (and the higher the ceiling) the more the dark grey won't make you feel like the walls are closing in on you,' says Amy. 'I would steer away from the dark ceiling too unless you're decorating a restaurant or a bar. But if you want a light ceiling stay clear of bright white as the contrast will be too much. Tone that white down somewhat or choose another lighter color, or, trending now, wallpaper.'
For the perfect light and dark, yin and yan scheme, cream and dark grey are a great pairing. Both the tones aren't on the extreme ends of the color scheme, which means that, unlike a pure white and black combo which could look clinical, a cream and a grey can make a room seem warmer and more welcoming.
To add more life to a grey and cream living room or bedroom, consider adding a third hue to bring in a slice of drama. Most tones from the color wheel would work since both cream and grey are essentially neutrals.
7. Wood tones
The natural color of wood adds warmth to a dark grey scheme, but also layers in texture. The color, when paired with another deep tone such as dark grey, can help add coziness to the scheme.
In general, if you're aiming for an earth tone living room or bedroom, it's safest to stick to a maximum of just three wood tones in space, to make the area distinct and enveloping. Perhaps think of a pale tone for the floor, a dark tone for major furnishings (chairs, tables), and a mid-tone wood tone for accents. Drench the walls in a dark grey for a truly evoking interior.
Another approach to using wood tones is to stick to one approximate tone and enjoy the beauty of the subtle differences between them in terms of their grains. Think raw wood, with teak wood and engineered wood. To add a little touch of modernity to the largely dark scheme, consider a pop of color through lighting or decor pieces.
8. Gold
Believe it or not, gold is a wonderful modern interior color. And no, we don't mean the gaudy tones of bright yellow gold, but the subdued, understated yet wonderfully elegant antique, matt gold. A great way to use this color is by anchoring it with a deep tone. One of the colors that go with gold is a dark grey; not too ostentatious or cold as black, not too weak or subtle as a mid-tone or light-tone grey.
Consider accenting a room with gold that mainly plays host to grey. The neutral tone of grey will allow gold to fill the room with glam but with restraint. Another nice way of using gold is by gold leafing. The rich, deep hue of gold leaf is a far cry from the shiny brass of the '70s, and together with grey will fill the room with earthy metallic tones.
9. Tan
Tans offer many design opportunities, and lovely color combination opportunities to make an interior appear warmer on the coldest days. The tone has an inherent texture and form to it and can look lovely with a deep, soulful tone like dark grey.
A great color that goes with tan is gold and brown, close companions to the tones and perfect suspects for layering. You may want to go with a softer grey to make a room feel airy. Many colors go with light grey or a mid-tone grey, or even blue-greys if a deep one isn't for you. If you're choosing this palette for a small room, consider a white ceiling so the overall vibe isn't too overwhelming.
10. Red
Want to add some drama to your interiors or even exteriors? Choose colors that go with red, like dark grey, so you have the perfect sober and surprising tones together, creating a wonderful balance.
The architecture of this modern home is a great example of how arresting this color palette can be. 'We chose the metal siding body color first: it needed to be neutral and mute to serve as a background for the garden,' says Daniel Stettler, lead designer of Stettler Design. 'Initially, we conceived of all of the windows as being a natural wood finish as a continuation of the wood siding infill, which was a soft complement to the dark grey. But the frequent maintenance on naturally finished wood windows in our climate proved too much, so we settled on a warm, wood-like red, which provided a dramatic pop of color in the landscape.'
The Livingetc newsletter is your shortcut to the now and the next in home design. Subscribe today to receive a stunning free 200-page book of the best homes from around the world.
Aditi Sharma Maheshwari is an architecture and design journalist with over 10 years of experience. She's worked at some of the leading media houses in India such as Elle Decor, Houzz and Architectural Digest (Condé Nast). Till recently, she was a freelance writer for publications such as Architectural Digest US, House Beautiful, Stir World, Beautiful Homes India among others. In her spare time, she volunteers at animal shelters and other rescue organizations.