Colors that go with teal - find out what the experts pair with this rich, yet refreshing hue
Looking for colors that go with teal? Sitting beautifully between green and blue, if used correctly, teal makes for a modern and sophisticated scheme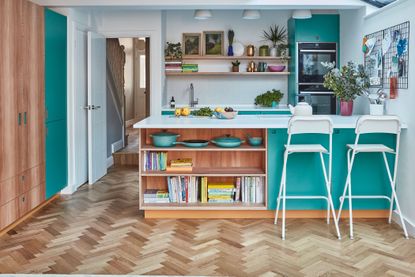 (Image credit: Pluck)
Striking a balance between serene and stimulating, working out colors go with teal is key to harnessing its full potential in a decorating scheme. 'Teal is a middle point between blue and green which are the two colors which require our eyes to do little, to no, adjusting,' explains Helen Shaw, UK Director at Benjamin Moore. 'While this instantly creates a sense of restfulness and harmony in the home, teal is also gently vibrant and makes for a striking look'.
Strong enough to perk up a room of neutrals, while also being the perfect partner to a range of bolder tones, we asked the experts to reveal the very best ways to decorate with this emerging color trend.
What colors go with teal?
Sitting within the cooler sphere of the color wheel, teal is in its simplest form a combination of blue and green - which can be useful to note when considering what to combine it with. Blue's complementary color is orange, and teal works beautifully with earthy terracotta or warming paprika. Green's complementary hue is red, so just as leafy shades partner perfectly with pink, teal also sits pretty with blush.
If you'd rather keep the scheme simple, Helen Shaw, UK Director at Benjamin Moore advises which neutrals to pick. 'Choose neutral shades with similar cool undertones of blue and green, this will help to keep the scheme feeling tonal and cohesive,' says Helen. 'Chalky shades work well with the saturated tone while maintaining the tranquillity and natural feel of the color.' 
Teal is particularly responsive to light, as Helen explains, 'Whether you use teal in a north or south facing room will alter the look and feel of the shade. South-facing light will warm it up and increase its depth for a more opulent look, while cool north facing light can make it feel more calm and tranquil.'
For more advice on colors that go with orange check out our guide.
What colors go with grey and teal?
In terms of colors that go with grey, teal is an easy pairing as they can both be quite cool in tone. However, adding a third color into the mix can change the look and feel of an entire room. George Millar, Home Designer at Neptune, explains. 'For a sultry and moody look, team grey and teal with another cool neutral such as slate and charcoal, or a slightly lavender tone'.
'On the other hand, it works really well with brassy tones and warm browns,' he says. 'Try caramel, coffee or taupe for a restful look, or go for brighter tones of rust and sienna across luxe materials such as velvet with tan leather chairs to create a more vibrant and contemporary, yet super cozy feel.'
Does teal go with pink?
Absolutely! In fact, pink is one of the most pleasing partners for teal. Dylan O'Shea, co-founder of A Rum Fellow, talks through the appeal.
'Teal is a rich blue with a delicious element of green that adds a beautiful twist, and conjures a connection to a tropical mood of majestic birds and exotic seas,' he says. 'It's inherently lavish quality is beautifully balanced by the introduction of a muted pink, which has a softening effect within a room scheme.'
Avoid using stark white with this combination - instead, when choosing colors to go with pink and teal, opt for soft and chalky hues. These will feed into creating a tranquil and sophisticated look. If you're wanting to add in a little more energy, introduce small accents of orange or mustard yellow to boost the mood.
What colors go with a teal sofa?
Wanting to break free from the monotony of a neutral sofa? Teal is a solid option that will stand the test of time. It's a pleasing hit of color in a room, but doesn't dominate, and sits beautifully with warm and cozy neutrals that are perfect for a living space. Teal always looks particularly ravishing in velvet, but for a more informal and bohemian feel you can opt for linen upholstery.
If you want to add some color into the scheme, tones of ochre and mustard make for a dynamic combination. While teal can sometimes feel quite heavy and rich, yellow shades bring light and energy into the look.
What colors go with a teal wall?
'Teal represents the calming qualities of blue paired with the regeneration properties of green – it's an intuitive and introverted color,' muses Justyna Korczynska, Colour Consultant at Crown. It's a great choice for walls, and gives rooms a deeply grounding, yet lively feel.
'Sparking creativity, teal is a color that works brilliantly in all spaces of a home,' says Justyna. 'For those seeking an eye-catching feature wall, teal works wonderfully with gold, creating a sophisticated look. Teal also makes for a great accent with more neutral shades, such as white or beige, to really bring a room to life.'
But how about a teal-on-teal look? Not all shades work well layered up, but teal looks particularly gorgeous in a tonal scheme. 'Teal is able to create an impactful look, particularly when used on more than one feature in the room,' says Justyna. 'When used on the walls, skirting boards, door frames, and window frames, it creates an unexpected, thoughtful and sophisticated look that brings a contemporary and enveloping feel to the space.'
Is teal a good choice for cabinetry?
If you're convinced and feel ready to make a long-term commitment, consider teal kitchen cabinets. Leila Touwen, Co-founder at Pluck Kitchens, has noticed a big uptake in the trend, 'Teal is an increasingly popular choice, as more and more people are now feeling confident to explore color in their homes,' she says. 'There's also a greater understanding of how color can be used to evoke emotion, and teal encourages feelings of joy and fun - perfect for lively spaces such as kitchens.'
As with any bold tones, Leila advises treading carefully. 'It is definitely a vivid color, and will really pop in an interior scheme, so could potentially be too intense if it's not balanced with other materials and colors.' Kitchens are a particularly perfect room to play around with teal, thanks to the combination of materials and surfaces. Leila explains, 'It works well across kitchen cabinetry, as the design can be carefully tailored to get the balance right,' she says. 'Teal looks beautiful with woods that have warm undertones - not only for the color but also the texture of the wood looks great with the intensity and richness of the teal.'
Interiors stylist and journalist Amy Neason was the Deputy Style and Interiors editor at House Beautiful for years. She is now a freelance props and set stylist, creating work for a range of national publications and brands such as Imogen Heath. She has previously worked at Established & Sons, and her skills include styling still life and interiors shots for editorial features and sourcing unique products to create inspirational imagery.

She is particularly respected for interpreting seasonal trends into feature ideas and style stories.