10 bathroom window treatments to elevate your space and give it the sense of a spa
10 bathroom window treatments that are more than just for privacy - they'll elevate your decor, too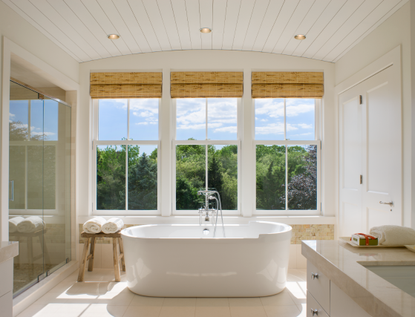 (Image credit: Gale Goff Architect)
The Livingetc Newsletter
For style leaders and design lovers.
Thank you for signing up to LivingEtc. You will receive a verification email shortly.
There was a problem. Please refresh the page and try again.
Not only do bathroom window treatments lend privacy to the most personal space in the house, but they also add an important layer of style and softness to the room. Plus, window treatments allow you to regulate light, insulate the space and even curb outside noise.
To help you find the right type and even material of window treatments, we reached out to the top designers in the world. From shades, coverings, blinds to films, curtains and more, here's how to add an overarching style to your modern bathroom ideas.
'When it comes to the most effective bathroom window treatment that can last a long time without getting damaged, the ideal candidates are roller shades made of synthetic material, or plantation shutters for privacy proposes,' says Sabrina MacLean, founder of Hino Studio. 'Roman shades or sheers are a great alternative when space is not an issue.'
Aditi is an experienced homes writer and editor. She has written hundreds of articles for various international titles helping readers make the best home design choices, and spends her days interviewing interiors industry experts to bring the latest ideas to her readers. For this piece she spoke to the world's best designers to find out interesting window treatment ideas for the bathroom.
10 bathroom window treatments for any style of interior
1. Consider stained glass windows
Add to the bathroom color ideas with stained glass. This is a great addition to any bathroom or powder room as it not only provides adequate privacy but also doubles as a wonderful work of art in the space.
The stained glass adds a filter to natural light, throwing inside charming colored illumination that can change the vibe of the space. You could customize interesting window inserts to match the theme of your bathroom or have one that mimics a famous painting. What's more, stained glass is moisture and mildew resistant, so ideal for any wet corner of the bathroom.
'A restored stained-glass window might seem a surprising choice for a modern bathroom, but the contrast makes it look more vibrant,' says Jeffrey Sherman, principal at Delson Or Sherman Architects PC. 'We reinforced the fragile stained glass with an insulated panel of laminated safety glass. The latter adds strength and thermal performance, while the former provides privacy.'
2. Add subtle privacy with half curtains
Have a small corner window or one by the vanity? Consider a half-length or sil-length bathroom curtain idea for privacy; especially useful if you live close to your neighbors. Consider cotton or linen fabrics that cover up window panes just enough so light can still peer in, but not your nosy neighbor.
Want a more farmhouse-style look to the space? Hang the curtains on iron rings and pleat them up for a charming vignette.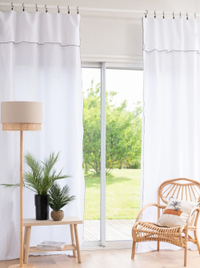 Linen curtain from Maisons Du Monde
Have a nice corner window in your bathroom and want to make it a focal point? Consider hanging these white, linen curtains that come equipped with black clips so you can adjust the length.
3. Or whimsy with more traditional cafe-style curtains
A popular way to dress bathroom windows is to hang curtains or mini blinds halfway up, leaving the top part of the window exposed. Cafe curtains, through a little traditional in look, can be a great way to add whimsy to the space. Plus, they look especially good in small spaces and powder rooms. These are slightly more practical and less expensive in the material than traditional long-panel curtains.
The best way to hang these is with rods specially designed for this purpose. You can find ones with brackets that attach to the window molding.
If you like the look of cafe curtains, but feel you need a little more privacy, consider adding roman shades too, to the window.
4. Install lightweight shades for filtered light
'Natural fiber shades are a wonderful solution when you would like privacy, but desire filtered light,' says Emilie Munroe, founder of Studio Munroe. 'These also add a lovely, nuanced texture to the room.'
These white shades have long, vertical line patterns that add a hint of visual texture to the space but still feel incredibly minimalist and unassuming, almost like a spa bathroom.
Keep in mind that window treatments used behind tubs may be hard to reach, so it's best to hardwire a roller shade so that you can conveniently manipulate it with a remote.
5. or woven matchstick shades
Woven shades can fit snugly into small windows or even inside large, luxury bathrooms. These can create a wonderful juxtaposition with high-end, showstopping elements like a designer tub or a chandelier. While the larger-than-life elements add a sophisticated touch to the room, the matchstick blinds add complementary natural texture but don't compete for attention.
'The woven matchstick roll-up shades are a good solution for bathrooms because it eliminates fabric getting wet at the tub,' says Gale Goff, founder of Gale Goff Architect. 'The woven rattan holds up very well to the humidity in the bathroom.'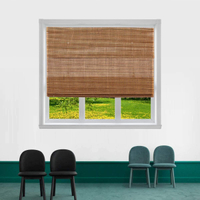 Bamboo window blind from Amazon
Add an organic touch to your bathroom with these roman bamboo blinds that are easy to fold up and down making them stylish and convenient.
6. Opt for wooden slats
Wood slats are a popular choice in contemporary architecture and homes. The spaced-out wood allows light and air to easily pass through while also creating a wonderful, cocoon-like enclosure within the home.
Wooden slats add warmth to bathroom walls and interiors and allow complete privacy from sounds, views, and light when needed. These also function as guardrails if your bathroom windows are low and you have kids and pets in the house.
7. Consider frosted glass
When it comes to modern window treatments, frosted glass is especially useful. This is the ideal candidate next to the shower area, which rules out most fabric curtains and shades. These windows reduce the intensity of light pouring in without sacrificing privacy. If your bathroom offers wonderful views of open fields or mountains and you don't want to give up on them, consider installing the frosting only on half window.
Frosted glass can also be energy efficient, as the market has several varieties that can help maintain an ideal indoor temperature. It can help you conserve energy and save a significant amount every month on your energy bill.
What's even better, frosted glass is easy to clean as it does not rust, streak, or corrode. Soap and oil stains can be cleaned off with a damp cloth.
8. Bring in shutters
To give your bathroom a more exciting look, consider custom-ordered shutters that fold open and can be mounted over the window opening. Not only do they offer complete privacy, but they also add architectural interest to the space.
'A roman shade or a shutter is often a better idea than using curtains behind a tub to prevent the floor from getting wet, especially if children will be using the tub and water will be splashing,' says Lauren Lerner, principal of Living with Lolo. 'If you have a window in a shower, you would ideally not want to use drapery there.'
If you're wondering how to remodel your bathroom effectively, do pay attention to the window treatments as well. Consider painting the shutters for high impact, but if you want a more toned-down look, paint them the same color as your walls and watch them disappear.
9. Sheer curtains can lend softness to the room
When privacy is needed but not at the cost of natural light, a light, sheer curtain can be drawn across the window. This type of curtain can work well in an ensuite bathroom where the windows are far away from the bathing area, but when it is next to the bathtub, in which the window treatment might be exposed to water, choose an all-weather fabric like polyester.
'Largely, we don't recommend fabrics inside the bathroom as the space is constantly exposed to humidity, and over time fabrics tend to change their shape, or start smelling,' says Sabrina. 'If you need to use them, place them far away from the wet areas.'
If you have the space, consider installing bay windows to frame a soaking tub and choose simple curtains to let the most natural light come through.
10. Go for double window treatments
If you want to create a bathroom that has a hotel-like look – a big bathroom trend – and if you do like to live indulgently, then a floor-grazing curtain is a great way to create an elegant and elevated bathroom that feels instantly high end. These long and cascading beauties with pinch pleats can help to open up your bathroom and make it appear even larger than it is.
Of course, there are certain limitations to curtains as they might not be able to completely close off views, noise, and street lights. In that case, consider a double window treatment with blinds. These can be rolled down to cut off the outside world. Plus, the two treatments together will make the window a focal point of the room.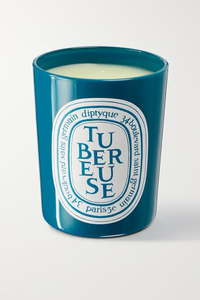 Diptyque candle from Net-a-Porter
Want to complete the look of a hotel-style bathroom? Consider this candle packaged in a blue, hand-blown glass vessel, that gives off a heady floral musk and has a burn time of up to 75 hours.
For style leaders and design lovers.
Aditi Sharma Maheshwari is an architecture and design journalist with over 10 years of experience. She's worked at some of the leading media houses in India such as Elle Decor, Houzz and Architectural Digest (Condé Nast). Till recently, she was a freelance writer for publications such as Architectural Digest US, House Beautiful, Stir World, Beautiful Homes India among others. In her spare time, she volunteers at animal shelters and other rescue organizations.