10 shower tile ideas - designers explain how to play with color, pattern, texture and scale
Shower tile ideas are the best way to totally elevate your bathroom, adding personality, flair and style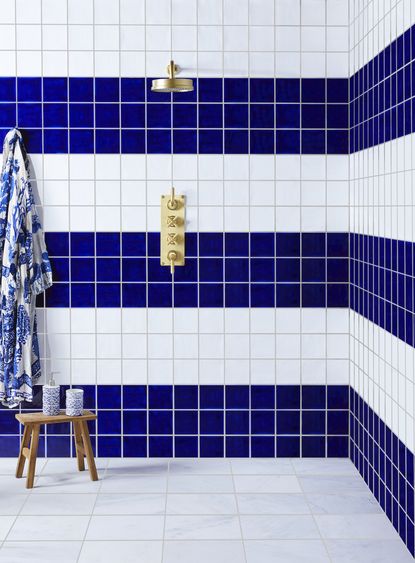 (Image credit: Fired Earth)
When it comes to shower tile ideas, there's never been so much choice. Current trends for shapes alone include hexagonal and fish scale, elongated rectangles and classic squares.
Then it's an extravaganza of encaustic, porcelain, marble and stone-look surfaces, spectacular patterns, terrazzo - even wood-effect and fluted textures. As well as different laying styles, and sizes from large-scale to the tiniest mosaics.
Then of course there are so many beautiful colors to consider for your walk-in shower ideas.
'In keeping with the general trend towards creating bathrooms that are as eclectic and as full of character as other rooms in the home, shower tiling is becoming increasingly decorative, colourful and eye-catching,' says Colin Roby-Welford, Fired Earth's Creative Director.
'Bold geometrics, vibrant colour and unusual layouts or tile formats – including hexagons, chevrons and penny round mosaics – are ideal for ensuring that a shower has plenty of visual appeal rather than being a purely functional space.'
To hone a selection of shower tile ideas that will add impact to your interior, here's what the experts suggest.
SHOWER TILE IDEAS
1. Go bold with diagonal stripes
These shower tile ideas score ten out of ten for impact in our view. Who wouldn't start the day full of zing after stepping out of this walk-in shower? The graphic diagonal lines look confident, while the pale green feels fresh and invigorating. A peppy way to elevate small bathroom shower ideas.
'Bold geometric designs are really popular and they're ideal for creating an invigorating backdrop for those early-morning showers,' says Colin Roby-Welford, Fired Earth's Creative Director.
'Using the same tiles across walls and floors will create a seamless, wet room-effect and a really cohesive scheme. This can work particularly well in a small shower room since it will have the effect of opening up the space and making it appear larger.'
2. Lay tiles in a herringbone pattern
Rose pink may be a gentle shade, but it's given a bold modern overhaul here. Teamed with black brassware, grey geometric tiles and laid in a herringbone weave balances the soft pink bathroom ideas with punchier graphic lines.
'Laying metro or subway tiles, in a brick-bond or off-set way has been the go-to aspiration for some time,' says Rob Whitaker, Creative Director at Claybrook. 'Trends in tiling tend to span decades rather than seasons, but we have seen a move to using longer and slimmer brick shapes tiled vertically in a more linear way in recent months.
Herringbone and chevron designs, particularly using classic marble tiles with their natural variation of tone and veining, has also proved popular with many of our clients.'
3. Find your own style
Tiling a shower or bathroom is an investment, so it's important to make the right choice. After all, tiles need to last longer than the latest paint shade, so take the time to work out what you really like.
'When it comes to fashion and bathroom tile trends - make sure you're choosing a pattern or colour because you like it, not because it is a fad. Remember you will have to live with this for years,' says Damla Turgut, founder, Otto Tiles & Design.
'Choosing a popular pattern or something 'on trend' can be a costly mistake. Who wants a bathroom that looks the same as everyone else's, or one that will be out of fashion next season? Be creative, find your own tile style by playing with the colours and materials and stay true to your personality.'
4. Make simple tiles look spectacular
Simple white square tiles have been given a spectacular style overhaul by pairing them with their cobalt blue equivalents. Laying the two colors in these dramatic wide striped blocks has resulted in a striking shower room. A stylish take on blue bathroom ideas.
'An imaginative layout can transform the look of shower walls, ensuring plenty of visual interest and a sense of texture in even the most pared-back scheme,' says Colin Roby-Welford, Fired Earth's Creative Director. 'The choice of grout can have a surprising impact too, with a contrasting grout – say dark grey against white tiles, or vice versa - becoming part of the design.'
We also love the effect that comes with mixing matt and gloss tiles together - a simple yet impactful tile idea.
5. Ooze opulence with a precious-stone effect
Marble and marble-effect tiles are still key bathroom trends, but other stones are available. At Ca' Pietra they have replicated the look of onyx with the California Dreaming collection.
Although made with porcelain, the large format tiles replicate the opulent appearance of a semi-precious stone.
'You can create amazing decorative effects with tiles,' says Charu Gandhi, founder and director at Elicyon. 'We've used ombré tiles in a child's bathroom in South Kensington to create a fabulous fading effect. In some instances a strong, consistent colour is appropriate. These days you don't have to splash out on expensive slabs of stone.
In terms of tonality, we're working across a gamut of colour tones but almost all of them are soft. They can range from a gentle green or pink – like a rose quartz or a soft orange, such as a honey onyx.'
6. Lay tiles in an irregular pattern
Hexagonal tiles are great if you want to step up your shower tile ideas with an irregular wall pattern.
Instead of laying tiles in classic symmetrical sections or across an entire wall, this staggered effect makes an interesting feature, ideal for small bathroom color ideas. Although modern, it's reminiscent of beautiful ancient buildings where sections of tiling have worn away.
'When it comes to tile design, angular and repetitive patterns are having a huge resurgence, with hexagons being a particular favourite,' says Amanda Telford, Tile Consultant, CTD Tiles. 'This tile shape is ideal for creating different looks on the walls of your bathroom or shower and can be achieved through choosing one colour throughout or by mix and matching different shades.'
Of course like anything, this laid-back look takes precision planning. So lay the tiles. out on the floor first to get the pattern right before they are fixed to the wall.
7. Mix shapes and sizes
Mixing tiles of different shapes and sizes yet with the same surface colour and texture looks highly effective. This works for bold statements, like in black and white bathroom ideas.
'If we're using a small format tile, we like to contrast with a larger sized tile to exaggerate the scale of small and large,' says Hayley Robson, creative director and co-founder, Day True. 'Smaller tiles tend to have more impact on the wall as there are more grout lines. Using a larger format tile on the floor means less grout and it's easier to maintain and clean.'
Louisa Swannell, head of creative design at Walls and Floors adds, 'We recommend a resistance rating of R13 for tiles in wet areas such as shower floors.'
8. Introduce artisanal style with handcrafted tiles
'The strongest trends we are seeing with tiles is the introduction of pattern and color,' says Hayley Robson, creative director, Day True. 'The results ooze individuality and can make your bathroom completely unique.'
Hayley goes on to say that other trends for modern bathroom ideas are interesting shapes. 'Hexagons for example, and uneven surfaces, which give the impression of craftsmanship and have a 'handmade' quality, which is a move away from clean simple minimal lines.'
9. Go for a rich wood-effect
'We're also seeing natural materials; introducing wood into a room that tends to have hard surfaces helps to balance the feel of the space,' says Hayley.
'When choosing tiles, consider the size of your bathroom,' says Colin Lincoln-Evans, Buyer at Tile Mountain. 'If it's small then larger tiles with fewer grout lines can help to create an illusion of space. If you wish to zone your shower area, select a smaller or contrasting coloured tile for the area. Colour and finish is also a consideration, paler colours will help in bathroom where there is no natural light, and gloss finishes help reflect light.'
10. Add another dimension
Fluted kitchen islands are a brand new trend, and we're seeing ridges in showers, too. As ever, it starts at the high end and trickles through to the high street. So we were delighted to see these beauties at Topps Tiles.
Mixing the textured fluted tiles with smooth versions in the same color has given this shower room an extra dimension.
'Another strong trend we are seeing is texture,' says Hayley Robson, creative director, Day True. 'Fluted or ribbed surfaces that add interest and create a 3D element, whereas most tiles are flat and 2 dimensional. Adding lighting with textured tiles can really enhance the ambiance of the space.'
What is the most popular shower for tiles?
'Glazed tiles, be it smaller brick sized or larger format, are always fantastic for showers because they are designed to repel water and are super easy to wipe clean; in fact, many rarely need wiping down as shampoo and gels drain right off,' says Rob Whitaker, Creative Director, Claybrook.
'Many of our clients gravitate to tiles in shades that feel refreshing, inspired by the tones seen in water. Blues, creams and whites predominate as the go-to palette, in materials as diverse as marble, porcelain and glass.'
Are matt or glossy tiles better for showers?
The general advice is glossy (glazed) tiles are better for shower walls and matt (non-slip) tiles are better for floors.
Damla Turgut, founder, Otto Tiles & Design says, ' As a guide; cement, ceramic, porcelain, zellige, cement, marble and terrazzo are all suitable for walls. Avoid ceramic and polished marble for floors as they would be very slippery when wet.'
Porcelain and natural stone tiles including cement and terrazzo are the most durable and versatile for flooring. 'Their matt, smooth finish provides good anti slip resistance whilst still offering a contemporary finish and they also hide everyday dirt and dust well,' Damla adds.
Jacky Parker is a London-based freelance journalist and content creator, specialising in interiors, travel and food. From buying guides and real home case studies to shopping and news pages, she produces a wide range of features for national magazines and SEO content for websites
A long-time contributor to Livingetc, as a member of the team, she regularly reports on the latest trends, speaking to experts and discovering the latest tips. Jacky has also written for other publications such as Homes and Gardens, Ideal Home, Red, Grand Designs, Sunday Times Style and AD, Country Homes and Interiors and ELLE Decoration.