Fluted kitchen islands are the chicest new trend according to designers – here's how to get the look
Undulating fluted kitchen islands are all we can think about right now – full of texture, the effect of a simple vertical repeat pattern has us hooked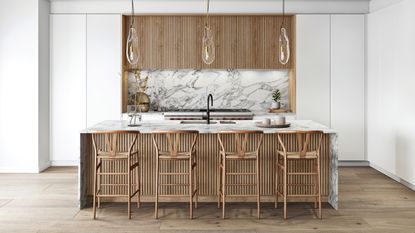 (Image credit: Sola Kitchens)
Ribbed? Fluted? Scalloped? Ridged? Whatever you call fluted kitchen islands, there's something so pleasing about the gentle ripples that are adorning kitchens up and down the country at the minute. Kitchen islands have been popular for years now and there's no sign of them disappearing any time soon. But just when you think you're a little bit over a certain look, something like a ribbed kitchen island design comes along and makes you rethink everything.
Fluting has graced things like architectural columns since the Egyptian times, so it's not a new idea. But in terms of the standard kitchen island and the latest kitchen trends, it's a very current concept where the decorative grooves add a layer of texture and help elevate an ordinary part of the kitchen into something spectacular.
Whether marble, wood, stone, or a painted design, adding curves to your island will bring character and charm to your kitchen, regardless of whether you have a modern or traditional space. Beyond texture, the decorative detailing also creates an elegant interplay of light and shadow, making it a far more interesting option than a plain, flat design. Here are seven stylish kitchen island ideas to get you started...
1. Try a timber-clad fluted kitchen island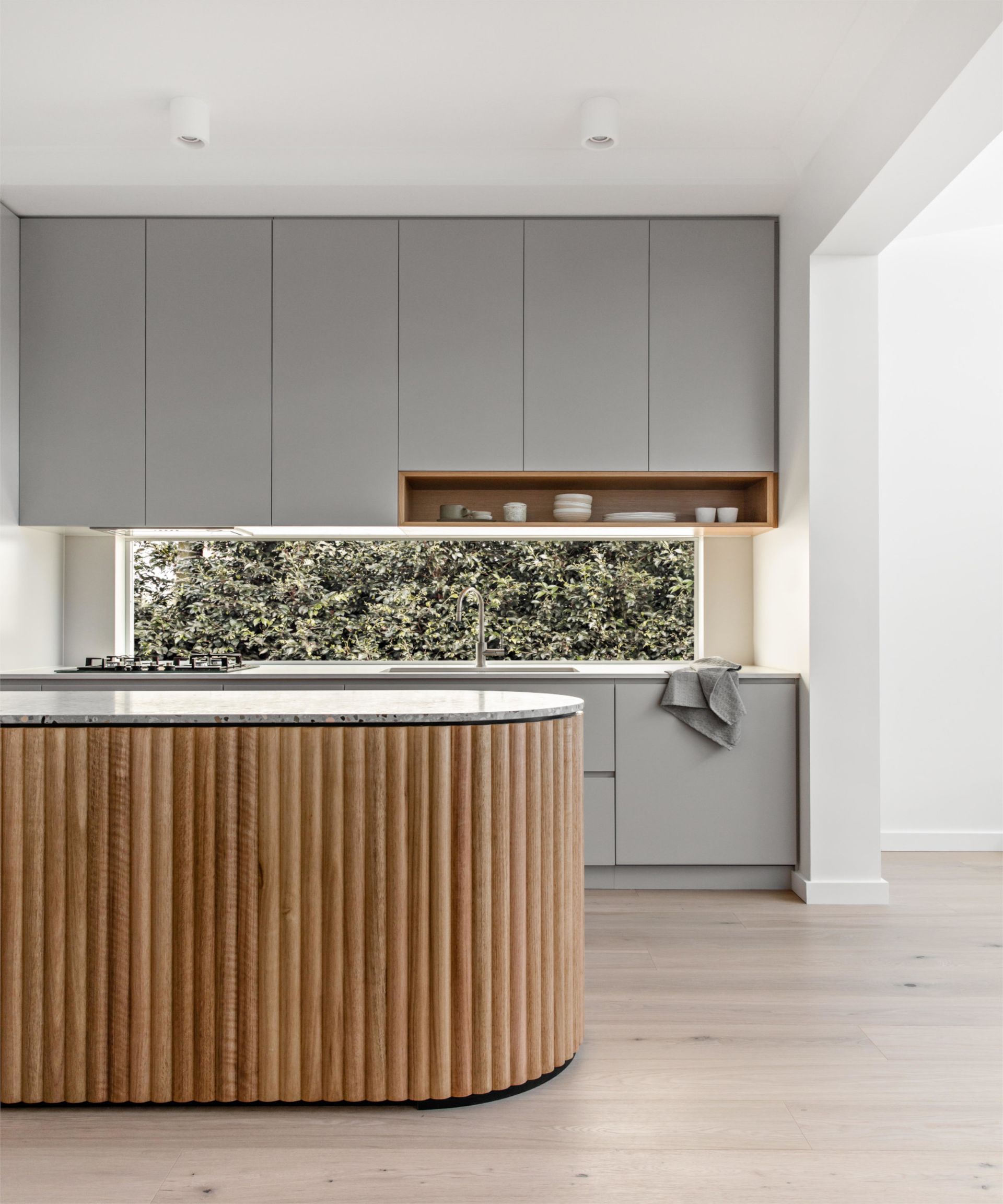 Wood in a kitchen never fails to look warm and inviting. Team wood kitchen ideas with sexy curves via fluted kitchen islands and you've got a look that's both cozy and contemporary.
'Kitchen islands are a natural focal point in contemporary kitchens and provide the perfect opportunity to create a feature,' says Kitty Lee, founder of Kitty Lee Architecture. 'In this particular kitchen where space was limited, a curved island bench was designed to facilitate smooth circulation around the room. The timber ribbing adds warmth, texture, and visual interest to the kitchen whilst the versatility of the material allows it to be applied around the curved form.'
2. Explore slatted veneer batons
Slatted veneer batons encase this modern fluted kitchen island that's also part bench, and turns it into something rather special. The fluted wood cladding of the island seating rises above the work surface to conceal food preparation mess while the banquette seating is a space saving solution.
'I hesitate to call fluting a kitchen trend, as it has been a staple in architecture for centuries,' says Irene Gunter, founder and creative director of design studio Gunter & Co. 'That said, it has only recently crossed over the threshold into the home, appearing primarily on glass before moving onto all manner of materials. In this Chelsea townhouse, I wrapped the island in fluted timber. This adds warmth and texture to the space, bringing it to life, and creating a point of interest which a flat-fronted surface would have failed to do.'
3. Coordinate with the rest of the kitchen
Take the fluted kitchen island trend a step further and splash those ripples over your kitchen cabinets too. This island and the cabinet fronts are crafted from a real wood veneer in a slatted texture, part of the Lausanne silver oiled oak range from Eggersmann and they seriously pack a punch.
'Ribbed or slatted wood is a simple vertical repeat pattern that adds another layer of sophistication and texture to the modern kitchen. This is especially true of the kitchen island,' says Daniel Bowler, Director for Eggersmann UK.
'Already the focal point of the room, a slatted texture will create a very striking visual feature that is also wonderfully tactile, adding depth and interest to kitchens that are otherwise quite minimal without creating fuss. Combine ribbed surfaces with smooth finishes elsewhere for a mix and match look that is really unique and highly contemporary.'
4. Mix marble with wooden textures
Everything looks enhanced when teamed with marble, especially fluted kitchen islands. Marble kitchen ideas are softened with the warmth and tone of wood.
'This architectural design is named 'Skog', meaning 'forest' in Swedish, due to the slim wooden slats, which create texture and depth, resembling tree trunks!' say the experts at Sola Kitchens. 'This version of the 'Skog' is in oak however it can be created in a variety of different materials and colors. The Skog is also extremely versatile as the paneling can be used as part of an island, an extractor hood, or as a top box cabinet.'
5. Create dramatic shapes with a curve fluted kitchen island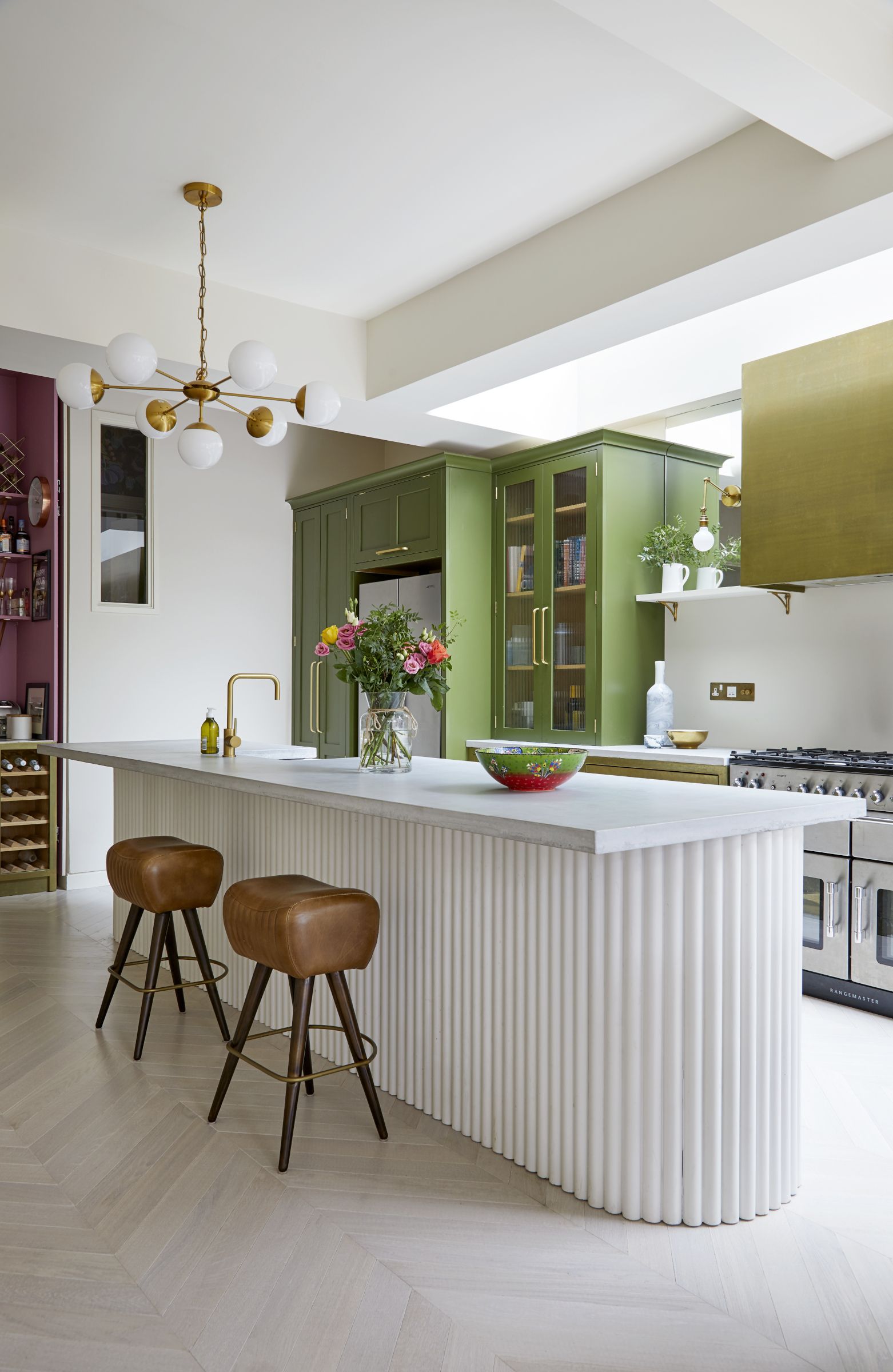 We love curves at Livingetc, from arched doors and fluted kitchen islands to curved sofas, they're wonderful at adding softness to the often harsh lines of a modern space.
'The Edwardian arch over the front door in this property is represented in the design of this island,' explains Kate Clare, founder of Loud Architects. 'The ribbed design is sculptural and beautiful. Each piece adds interest. The fluted island makes the rear of a long Island less boring; more like a sculpture in the room.'
'The piece is from Mortis concrete and it was bespoke; we drew it all out for them to make to our specifications and each piece was glued on individually.'
6. Finish with statement hardware
Texture is a key interior design trend this season, and designers are drawn to ridge details to inspire their interiors. From fluted kitchen islands and paneled cabinets to ribbed glass and freestanding furniture referencing the aesthetic, there's no denying ridges are everywhere right now.
'An effortless way to get the ridged look is to update the smaller details like your hardware,' suggests Richard McGrail, Commercial Director at Armac Martin. Our new Digbeth collection embraces the trend perfectly with statement hand-finished linear ridged details, yielding a distinctive look and feel.'
7. Go bold with color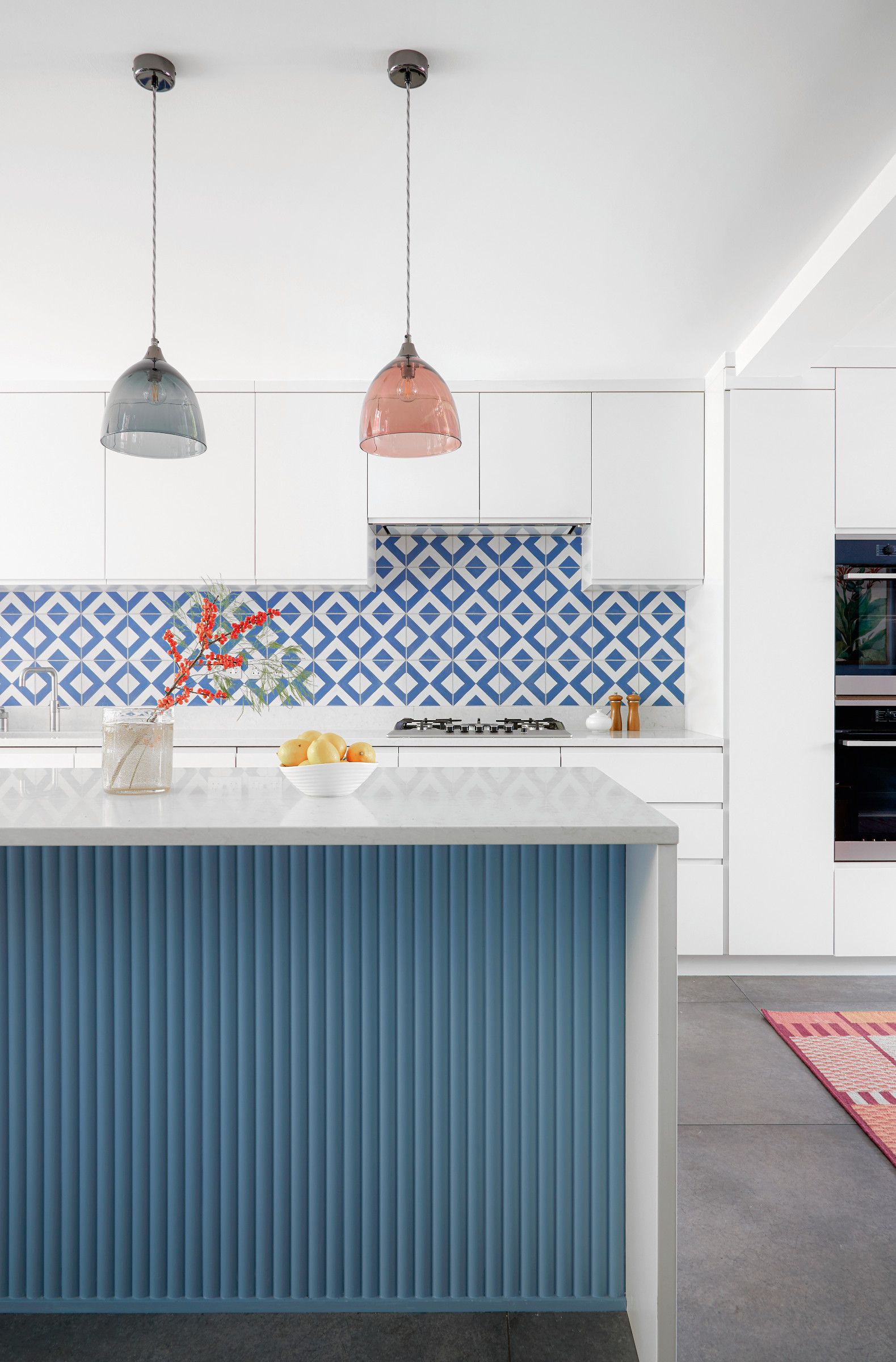 If you're stuck on how to add some interest to your space, be brave with your kitchen color ideas and pick your favorite hue on a fluted kitchen island.
'I love a fluted detail - so simple but so effective! With this kitchen our client wanted to keep the existing kitchen and work surface, so our brief was to give the room a color facelift without making any costly structural changes,' says Brooke Copp-Barton, founder of interior design practice Brooke Copp-Barton.
'I knew changing the fascia to the island breakfast bar would make a difference - because you see it as you come into the kitchen. So we added a fluted Orac 3D Wall covering and painted it in a contrasting color to match the newly tiled backsplash.'
'The 3D fluting adds depth and helps to build layers, which are subtly reflected in other elements of the scheme,' she adds. 'And I like how the curves also help to soften the look of what can often be very hard squared off surfaces in kitchens. Super cost effective too and so easy to apply - a small change with big impact.'
What is a fluted kitchen Island?
Fluting is the vertical ridges on architectural columns, as seen throughout architecture since the Egyptian times. It has become a seriously hot look, especially on the fronts and backs of kitchen islands, creating the much-coveted fluted kitchen island.
There are several different styles of fluting you can go for on your kitchen island, from individually applied curved pieces made from plaster and stone to simple wooden slats and even clever fluted paint effects. Go for the style that you love best and you'll have a kitchen centrepiece you won't be able to resist showing off.
Are kitchen islands going out of style?
Kitchen islands surged in popularity a decade or so ago as the focal points and the hub of the kitchen. Not only do they serve multiple uses, like extra cupboard space (useful since we are seeing less wall cabinets in kitchen design nowadays), a spot for the sink or hob, and even masses of worktop space for cooking, socializing or homework.
Kitchen islands may not be hot news, but they're certainly not going out of style and fluted kitchen islands are here to stay.
The Livingetc newsletter is your shortcut to the now and the next in home design. Subscribe today to receive a stunning free 200-page book of the best homes from around the world.
As the Houses Editor on Livingetc, Rachel has been obsessed with property ever since she was a kid. With a diploma in interior design and more than a decade working on interior magazines under her belt, she feels very at home sourcing the best contemporary houses the world has to offer for Livingetc. It's not just the day job either, she admits she's spent a scary amount of her own time researching schemes for her own renovations - scrolling Instagram, stalking Rightmove and Modern House, flicking through magazines and snooping in other peoples' windows - so she really does live and breathe houses on a daily, if not hourly, basis. Before Livingetc, Rachel had a stint finding homes for Ikea Family magazine where she was lucky enough to gallivant around the world on shoots meeting and interviewing interesting people, all with a very keen eye for blending high-end design with everyday items from Ikea. It inspired her to not be afraid of mixing new and old, expensive and affordable, vintage and modern and so Rachel's current Victorian terrace in north London is very much an updated, contemporary take on a period property; think open-plan modern kitchen with concrete floors, feature fireplaces and her grandmother's paintings on the walls. Rachel is currently crushing on reeded glass, large gingham prints, squishy curved furniture; like Buchanan Studio's Studio chair, and vintage wall sconces; she especially adores Retrouvius for sourcing antique finds and feels inspired by Lonika Chande, Beata Heuman and Matilda Goad and already can't wait to start planning her next home, wherever that might be.