Pool ideas - everything you need to know about design that makes a splash
From size to shape to the best material, pool ideas explained by top landscape architects who have designed the best backyard swimming spots around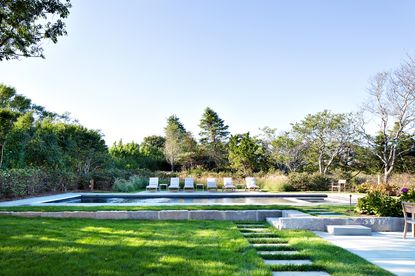 (Image credit: Donna Dotan)
Pool ideas have never been more needed, sought after, even demanded. Over the last year, the backyard has become an oasis. Many people are investing in improving their outdoor spaces, and pools are always at the center of the action. But with so many sizes and shapes—not to mention materials and the technology involved—it can be overwhelming for the average homeowner to know what's what. Here, landscape architects break it down and share their expert advice.
When thinking about pool ideas, what's the best shape to choose?
When it comes to pool ideas, it's no surprise that rectangular is the clear favorite. According to landscape architect Janice Parker of Janice Parker Landscape Architects, the classic, simple rectangle is hard to beat because the shape "agrees with people's sense of symmetry."
Landscape architect Edmund Hollander of Hollander Design Landscape Architects notes that about 8 out of 10 pools his firm designs are rectangular, although he has experimented with everything from squares and circles to more complicated trapezoidal and raised, cantilevered designs. "It's important to allow the site and architecture to dictate the pool," explains Hollander. "The closer the pool's proximity to the house, the more likely a rectangle will work. When the pool is farther away, there's more opportunity to get creative."
A favorite pool of landscape architect Chris LaGuardia of LaGuardia Design Group is actually a perfect circle, which he says is "quite lovely to look at and works well for socializing." Chris LaGuardia has also had clients request more complex shapes, such as a resort-style pool comprised of interlocking rectangles. "These complex designs tend to make a pool feel larger since you can't see the entire perimeter from any one spot," says LaGuardia. "It creates interest and allows for various spaces to hang out."
But aesthetics aside, there's a very practical reason peoples' pool ideas tend to be rectangular: safety. Most automatic pool covers are rectangular, and safety regulations dictate that all pools must either have an automatic pool cover or be enclosed by a continuous four-foot fence with a latching system.
What's the best size for an outdoor pool?
The standard 20'x40' pool isn't quite cutting it these days, as most landscape architects (and their clients) are craving something a bit more dramatic.
"I love playing with proportion and creating a long, skinny pool," says landscape designer Miroslava Ahern of Miroslava Ahern Landscape Design Studio. "A pool that is 16'x44' seems much more elegant than one measuring 20'x40'."
Janice Parker agrees, likening a thinner pool to a ballet dancer on pointe shoes. "A large width can actually detract from the design," she says.
Pools have also gotten longer in recent years, largely due to the fact that more homeowners are wanting the option to swim laps, so a lap pool is more desired than simply something to splash about in. "Most of the pools we design are between 50 and 75 feet in length and 16 or 18 feet wide," notes Chris LaGuardia.
Edmund Hollander even designed a cantilevered pool that was a whopping 168 feet. "We've had instances where we've pushed the engineering as far as it could go and had to scale back," says Edmund Hollander. "It's always critical to keep practicality in mind."
What materials are best to use for a backyard pool?
From the cement base to the interior finish to the surround, there are a bevy of decisions involved in creating a cohesive scheme that looks beautiful and functions well. In the luxury sector, the majority of pools are Gunite, which is a type of concrete on steel reinforcing. But after that, there could be plaster or a variety of other materials that line the interior, including quartz, pebble, and polished marble.
"Pool finishes have come a long way over the past decade," says Chris LaGuardia. "We now have a choice of some highly processed durable materials that come in a multitude of colors. The most common one we use is Hydrazzo, a polished marble that's very smooth and resilient." (This non-slip finish is also low-maintenance and stain-resistant.)
Janice Parker likes an aggregate finish that includes mica for a bit of sheen. "It looks gorgeous, especially in the shallow areas where people are entering or exiting the pool," she says. According to Edmund Hollander, the most important thing is that the color of the pool corresponds to the adjacent landscape. "For example, if the pool is near a body of water, the pool color should match that particular shade of blue," says Hollander.
Meanwhile, the surround is a major design element and can set the tone for a pool. Options include natural stone, wood, porcelain, and grass. Ahern favors granite for its durability and rich look, as well as reclaimed wood. Just remember, cautions Hollander, that the material needs to function in the sun, so avoiding dark colors is preferable. Bluestone, for example, tends to get very hot. "If a client is married to the idea of bluestone, we will actually install radiant tubing underneath and use irrigation water to cool it down," explains Edmund Hollander. Parker is a fan of light-colored granite such as Cedar Lake or Phoenician Buff. "They both have a warmth to them, which looks natural with the grass and other surroundings," she explains.
The technology to consider when designing a backyard pool
Perhaps the most profound pool ideas improvement in recent years is the filtration systems. Over-chlorinated water and red eyes are a thing of the past, as alternative filtration systems such as saline, ozone, and mineral purifiers are proving to be effective and much healthier.
"Most of my clients are asking for salt chlorine generators," notes Chris LaGuardia. These systems naturally sanitize pool water by transforming salt into chlorine. "Switching from traditional chlorine to saline is a transformational experience," adds Edmund Hollander. Other technological improvements include advances in underwater speakers, fiber optic lighting, and remote-controlled smart systems that track temperature and water quality.
The latest trends in pool design
People have been spending more time in their own backyards, and the pool is at the center of the action. From resort-style amenities to fitness options, here are what these landscape architects' clients are asking for:
"Infinity edge has been around for a while, and it's still going strong," says Janice Parker. "There's also what's known as a Lautner edge (below), which is a rimless pool where the water is level with the terrace." Edmund Hollander is also a big fan of the Lautner style, saying that the water "appears like a sheet of glass, reflecting the landscape, sky, and changing light." Furthermore, notes Chris LaGuardia, "Swimming in a Lautner-edge pool is a great experience because there's no wave reverberation off the pool walls. The ripples vanish over the edge and into a small drain slot around the perimeter."
Hollander has been getting requests for resort-like features such as larger spas, sun shelves with chaise longues, and shallow areas for children. "People are wanting the same details they've seen while on vacation in their own backyard."
Janice Parker has been designing more pools with adjoining fire pits, above. "I like to place a fire pit at the deep end of a pool, since many people never even walk to the far end of their pools. The reflection of the fire on the water feels so magical at night." The landscape architect has also designed a few glass-bottom pools. "It can be really fun to cantilever a glass-bottom pool over another pool so they feel connected."
"I'm currently designing a pool with a spa at one end that will have a moveable deck that slides over the spa portion," says Ahern. Pool house ideas seem to be getting bigger and bigger. "This is a great way to maximize space in a small yard because the deck can be used for activities such as yoga or lounging." Ahern has also had requests for hydrobikes and lap pools. "People have been looking to their pools more for fitness, especially in the last year." Parker adds that for athletic clients, cold plunge pools can be therapeutic.
How much space do you need to fit a pool into your yard?
"No yard is too small to have some sort of water vessel, whether it be a hot tub, a spa, or a small pool," says Chris LaGuardia. For small properties, Miroslava Ahern often installs oversize spas or plunge pools, saying, "There's always something that can be done to give the client what they want."
"I personally have a tiny backyard with a 16'x32' pool, which is as big as I could go per zoning requirements," explains Edmund Hollander. "Of course, you don't want nothing but water in the yard, so you need to look at the overall picture and how the pool ties in with other areas of the property."
Janice Parker also has some experience working with tight space: "We once snuck in a 12'x22' pool on a site that wouldn't even accommodate a concrete truck," she says. "Instead, we had to pipe the concrete over the house! As long as zoning codes allow for one it can be done."
How much clearance do you need around your pool?
When it comes to pool deck ideas, you more space you can get, the better - but it doesn't need to be infinite. "There should be at least four feet of clearance around the edges—unless it's an infinity pool, since no one will be walking on the infinity-edge side," says Edmund Hollander.
"If you have lounge furniture," notes Janice Parker, "you might want as much as 12 feet of surround to accommodate a chaise longue."
Chris LaGuardia, who often designs pools set into the lawn, prefers between 18 and 24 inches of surround. Miroslava Ahern says that it "really depends on the design, because sometimes you only need access to one or two sides. With little kids, though, you'll want a wider surround just to be safe.
What is the best type of in-ground swimming pool?
Edmund Hollander, Chris LaGuardia, and Janice Parker agree that Gunite is the best option for luxury properties. To produce Gunite, dry concrete mix and water are shot out of a nozzle at a high velocity and combine in the air, right before being sprayed onto steel reinforcing. "Gunite can be refurbished, so it basically lasts forever," says Parker.
On the other hand, Miroslava Ahern prefers Shotcrete, which is premixed in a cement truck and then sprayed. "They look very similar to the average eye," she admits, "but I think Shotcrete is a bit cleaner and smoother than Gunite, which can sometimes appear sandy and porous."
Alyssa Bird is a New York−based freelance writer and editor with experience covering architecture, interior design, travel, hospitality, and real estate. She has held editorial positions at Architectural Digest, Elle Decor, Hamptons Cottages & Gardens, and New York Cottages &Gardens. When she's not writing about dreamy spaces, you can find her tweaking the decor in her own Brooklyn home, honing her green thumb, testing out a new recipe, or scouring for antiques.