10 pool deck ideas to create the perfect spot for summer lounging
Design your dream escape to bask in the sun or relax in the shade with these stylish pool deck ideas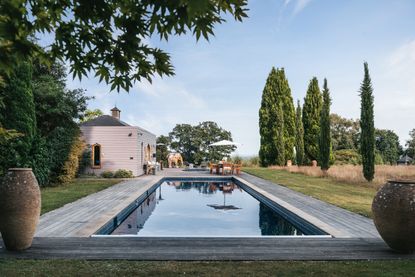 (Image credit: Unique Home Stays)
The Livingetc Newsletter
For style leaders and design lovers.
Thank you for signing up to LivingEtc. You will receive a verification email shortly.
There was a problem. Please refresh the page and try again.
On the hunt for some seriously stylish pool deck ideas? Maybe you are finally taking the plunge (apologies, had to be done) and investing in your own swimming pool, want to upgrade your current setup to make it more beautiful and practical, or do you just want to scroll through some gorgeous homes with equally gorgeous pool decking ideas? Whatever your reasoning for finding yourself here, we have you covered with plenty of inspiring ideas and expert advice to get your poolside looking lovely.
What's the best material for pool decking?
Before we dive in (again, sorry) to all our inspiring pool deck ideas, first you need to think practically. Unfortunately, when it comes to choosing the best material for your pool decking it's not just about going for the most stylish option. As well as looks, you need to also consider safety, climate, surrounding gardens and costs when picking the best material for your decking.
When opting for a wooden pool decking, think carefully about what wood you choose. Timber decking is a relatively inexpensive option but to have it around a pool you will need to seal it regularly to prevent any irreversible water damage. Plus from a safety perspective, timber is less slippery when wet compared to glazed tiles or concrete.
The main downside of timber decking is that it's not the most durable, so if you have more of a budget opting for harder, more exotic woods like teak, cedar, redwood, or ipe. These woods are more hardwearing and naturally repel water so as less likely to warp.
Artificial wood or wood composites are also a good choice. It will cost you more than a solid wood deck but will last longer, needs less maintenance, and won't splinter or rot.
Toby Allen from composite decking specialist NeoTimber says, 'No one can doubt the aesthetic merits of timber, but when considering what deck material to choose for your pool project, a high-performing composite deck board can be just as stylish and attractive as well as benefit you and your wallet in the long run.'
'Timber boards are prone to suffer from rot and moisture build up which can leave them weakened, unstable, full of splinters, and if they develop excessive moss and algae growth, your deck can turn into a slippery surface which is highly dangerous; not what you want around a pool for families. Composite decking requires less maintenance, less upkeep and doesn't splinter or rot, making it the perfect timber alternative. There are also so many different styles of composite boards nowadays you don't have to substitute at all when it comes to style!'
Remember, it's likely that your decking is going to be in the sun and could potentially get very hot. So avoid having to hop from house to pool by picking a material and color that's not going to scorch any feet by absorbing lots of heat. Make sure the material you choose won't be slippery when wet either so choose something with texture or grooves.
1. Create a lounging deck at one end of the pool
There's just something so lovely about lying on a deck, warm wood underneath your back with your feet dangling in the water. But if you have a large pool or want a really spacious area for sitting around the edge, sometimes going all over with a wooden deck can look a bit intense. So copy this pool deck idea and add a stretch of decking at just one end and stick with tiles around the rest of the space.
In this gorgeous holiday home in Devon the wooden planks sit across the end of the pool and are slightly raised above the stone slabs to better distinguish the space. Plus, it extends the square footage of the poolhouse too, making it feel bigger and more connected to the pool.
2. Pick a cool-toned wood for a contemporary feel
Going all round with wooden decking can work and can look really stylish. Case in point with this beautiful Moroccan-style pool house. For the most natural look, opt for a cool-toned wood with a light grey stain which will still feel contemporary but has a slightly rustic feel. Contrast all the wood by blending the edges with grass or planting. Note here how the decking around the pool is continued onto the patio area to create a really seamless design and creates that seamless flow between house and pool too.
3. Blend water with wood
Taking decking right up to the water's edge creates a very sleek, minimalist look as nothing breaks up the line of vision. Plus, laying thin planks of uninterrupted wooden decking makes this space and the pool itself feel much bigger. The planting at the opposite end of the pool contrasts all the clean lines and adds natural texture as well as extra privacy.
4. Think about the aspect of your decking
When planning your pool deck, think about the aspect of the area and whether you want your decking to be in full sun for most of the day (ideal if you like to bask) or if you'd rather it be a shady spot to cool down on hot days.
If your garden is south facing you might find that there are in fact very few shady spots for decking, so take inspiration from this beautiful eco-home and plant trees along the side of your deck to create your own shade.
5. Mix materials
Create different zones around your pool by mixing a decking with stone patio ideas. This is a great option if you don't want the maintenance of having wooden decking around the pool but still want the lovely textures.
In this modern rustic home, doors open out straight onto a light stained wooden patio where there's an outdoor living space. The wooden decking seamlessly blends into classic Cotswold stone which provides a more practical material for the edge of the pool. And don't those yellow tones really pop against the shimmering pool of the water?
6. Blend inside and out
Who says your pool deck has to be outside? Check out this architectural gem in Beverly Hills where sliding doors surround the master bedroom, and when open transform it into an extension of the pool decking.
7. Match flooring indoors to your pool decking
While we would love to hop out of bed and straight into the pool you could also create a similar effect by copying this pool decking idea and run wooden flooring from your inside space through to the pool area. This will create that real indoor/outdoor feel, plus it means you can borrow space from inside as extra lounging space around the pool.
8. Layer wooden decking with stone tiles
Add beautiful textures to a pool area by layering wooden decking with other materials like stone or concrete. It creates a much more relaxed look and feels much more natural rather than just an expanse of wood and water. This mix of materials would be ideal if you want your pool area to blend in with the nature that surrounds it, as it's less structured it doesn't look odd when greenery overflows onto the decked areas.
Plus it zones spaces too so you can dedicate different areas to different things – a shady patio for al fresco dinners or a sunny wooden deck for sunbathing.
9. Distinguish a seating area with an elevated deck
To further distinguish a sitting area from the rest of the pool deck, elevate it slightly. Even having just a couple of steps up to the deck gives a separate feeling, creating a more formal space that would be ideal for hosting dinner parties and you still have the lovely view out over the pool but aren't at eye level with it.
10. Soften the edges
Oh, what we would do to escape to this rural Spanish retreat right now! The Brazilian teak wood decking has unusual curved edges that soften the edges of the pool and the warm hues blend perfectly with the sandy hued stone. This decking was actually placed on top of the existing concrete slabs that surrounded the pool, so it could be a straightforward update for any pool area.
For style leaders and design lovers.
Hebe is the Digital Editor of Livingetc; she has a background in lifestyle and interior journalism and a passion for renovating small spaces. You'll usually find her attempting DIY, whether it's spray painting her whole kitchen, don't try that at home, or ever changing the wallpaper in her hallway. Livingetc has been such a huge inspiration and has influenced Hebe's style since she moved into her first rental and finally had a small amount of control over the decor and now loves being able to help others make decisions when decorating their own homes. Last year she moved from renting to owning her first teeny tiny Edwardian flat in London with her whippet Willow (who yes she chose to match her interiors...) and is already on the lookout for her next project.