Small backyard pool ideas – how to squeeze a swimming pool into a tiny space
These stylish small backyard pool ideas prove that you don't need unlimited square footage to make your dream of having a swimming pool come true...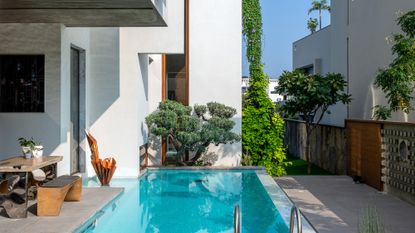 (Image credit: Boca do Lobo)
Looking for small back pool ideas? Well, we have you covered. Installing a pool when square footage is limited might seem like an impossible task. If you are dealing with a small, narrow or just awkwardly shaped backyard, how and where do you squeeze in a swimming pool? It just takes some creativity.
And if you are clever about it, you shouldn't have to sacrifice all your outdoor space to add a pool. A small pool is usually considered to be around 12 feet, and can even go smaller if you just want a plunge pool to cool off in.
'If you have a small garden, there are various options for adding a water leisure product to your garden, and the plus is that even if you need to opt for a small pool, it doesn't mean you are restricted to using it as a plunge pool.' advises SPATA (the Swimming Pool and Allied Trades Association).
'There is no rule, for instance, to say that a pool needs to be rectangular. Nor one that requires it to be symmetrical. If you have got an awkward garden space, a pool can be created to fit within it. If your garden is long but not especially wide, it is possible to have a pool designed to act as a swimming lane effectively. A lap pool can fit into surprisingly tight spaces while still being a lovely addition to your home.'
So shapes can make all the difference too. Long narrow pools are very on-trend right now, giving a very modern Med vibe to any size garden. Circular pools can work well in small backyards too and are perfect for corners, plus look beautiful when tiled and can almost be built into the landscaping of the garden for a very natural, rustic look.
So if you are tempted to add even the tiniest of pools to your small backyard, let these gorgeous gardens (plus expert advice) inspire you to get started on a new project.
What do you need to consider before add a pool to a small backyard?
'The first thing that you need to consider is where your property lines are, what are your property line setbacks to a pool or spa, and whether the pool equipment must be within the setbacks or can sit on the property line.' advises landscape architects Janice Parker (opens in new tab).
'This seems like a small detail but can make a big difference in your design. With every pool small or large comes pool equipment and zoning restrictions! Once you know the 'buildable' envelope on your property for a pool, you can start to consider what kind of a pool will fit and look right in that space. Do not forget to consider that your pool needs to be fenced according to state and federal law. Think about this carefully, as it will affect your space in a small yard.'
Now you should consider the orientation of the pool and sitting areas. There is nothing nicer than evening sun on the pool – so a western orientation is optimal. I always look to have reflections in a pool – so siting a pool where a large tree will create reflections is important for the best 'Monet' effect.'
1. Go long and narrow
If you have been blessed with a narrow small backyard, it actually couldn't be easier to add a pool. It's important to think that swimming pools, especially in a smaller space needn't be tucked away, out of sight, they should be a key feature of the garden, working with the surrounding hardscaping and landscaping.
See how in this small backyard, the pool in front and center, it sits so naturally with the very architectural design of this modern garden as well as echoing the shapes and style of the house. Plus, rather than just being a simple rectangle, the pool flows into the gaps in the garden again, blending it even more with the patio.
2. Double up a pool as decoration
In a small backyard, a pool needs to work hard. You're going to be able to see it from all angles so it needs to be decorative as well as functional. By avoiding the blue tiles that are usually synonymous with swimming pools, this tiny pool almost looks like a water feature, with its still waters reflecting the garden that surrounds it. It actually makes this small garden seem bigger as it doesn't break up the patio and bounces more light around the space.
3. Blend a plunge pool into the landscaping
Plunge pools are a great option in small back yards, sure you won't be able to do many laps, but they provide the perfect space to cool off and provide a lovely feature too. Plus, if you add in fountains you add that instantly relaxing sound to your garden.
In this 1950s L.A villa, a plunge pool sits subtly amongst pale stone raised beds and Mediterranean style planting which adds texture to the surrounding area giving in a more natural appearance.
4. Make a small pool a water feature
Be inspired by this small backyard pool idea and double up your pool as a subtle water feature. 'The best gardens all start with an internal and external simple focus. This is what creates the ease and the elegance of a design layout. I love adding a water feature in the pool– something to draw your attention and make the space inviting and relaxing.' says Janice Parker.
5. Make it moody with dark tiles
Ditch the traditional blue and opt for dramatic dark tiles. This is ideal for smaller pools as much like in small rooms, using a dark color can expand the space and make it look bigger and deeper. And isn't there just something so glamorous about a black pool? It looks wonderful contrasted with the pale sandstone patio of this fabulous Australian home design by CplusC architects (opens in new tab).
6. Embrace minimalist industrial style
Surrounded by concrete walls and stone slabs, this small urban garden has a very paired-back industrial feel and a simple rectangular pool fits perfectly in with the minimalist style.
And look at the positioning too. The positioning of a small pool can make all the difference when square footage is limited. Floating a pool in the center of your garden will only work if you have enough space to them be able to comfortably move around the pool, so having a pool closer to the house, as can be seen here, leaves plenty of room on one side for loungers.
7. Opt for a raised pool
In this small backyard, a small pool fits seamlessly into the raised decking, adding a small plunge pool while still allowing plenty of space for loungers, day beds, swing chairs, and even a lawn. Instead of tiles this small pool is white-painted plaster, very chic, and mirrors the white cladding of the house too.
When deciding on pool deck ideas make sure you think practically as well as considering the overall look. You want to pick an option that's safe, suitable for the climate of your home, and is durable.
8. Go right up to the edges
When space is tight, don't waste it on a pointless edge around your pool, make the most of unused corners, and go right up to the edge of the yard's boundaries. Be sure to soften the walls using climbing plants so the pool feels less small and boxy, and plants just make for a nicer view than a solid wall when you are in the water. And see how the wall has been painted white to blend with the white interior or the pool, again making the boundaries feel less solid and creating the allusion of a larger space.
9. Choose a circular design
If your backyard has a more natural, rustic feel to it, sticking a blue square in the middle of it just won't work, so instead of going for a softer approach with a circular plunge pool.
Be inspired by this Cotswold farmhouse (opens in new tab), and surround a pool with stones to create a secluded spot for a dip. Not only will this add some privacy but blends the pool area in with the surrounding landscape.
10. Think about hardscaping
In a small backyard, the hardscaping and choice of paving or decking around your pool are key, as chances are whatever your choice it's going to take up the majority of your space. This gorgeous garden makes a strong case for crazy paving, it has a lovely natural look to it that works both with the style of the property and the simple, planting of the dry garden.
Again, see how the use of a narrow pool elongates the garden and tricks the eye into thinking the space is larger.
What size should a pool be in a small backyard?
'There is no minimum size for a small swimming pool.' says Janice Parker. 'For a small swimming pool, I would recommend 20-15 feet long by 8-6 feet wide – you want to be able to fully extend an adult body comfortably. There are variations – a pool that will fit 8 people on benches – comfortably, is 8' x 8'. This can be versatile and yet fit well into tight spaces. Plunge pools that can be heated or be chilled can be 5'x 10'. It is all a question of how you want to use the space. If you want to swim, 20 -30' long will be comfortable.'
How much does a small pool cost?
'A small gunite in ground pool will generally add a minimum of $40,000 to your budget. Even if the pool is small, and using less resources than a large pool, you will still need the full set of equipment, plumbing and electrical scopes of work. You will be required to have pool safety fencing and most likely some masonry work near the pool.' advises Janice Parker.
Hebe is the Digital Editor of Livingetc; she has a background in lifestyle and interior journalism and a passion for renovating small spaces. You'll usually find her attempting DIY, whether it's spray painting her whole kitchen, don't try that at home, or ever changing the wallpaper in her hallway. Livingetc has been such a huge inspiration and has influenced Hebe's style since she moved into her first rental and finally had a small amount of control over the decor and now loves being able to help others make decisions when decorating their own homes. Last year she moved from renting to owning her first teeny tiny Edwardian flat in London with her whippet Willow (who yes she chose to match her interiors...) and is already on the lookout for her next project.