What is a Lanai? The lessons you can learn from this Hawaiian architecture idea for better outdoor living
If you're planning to upgrade your patio or porch with a cozy, lounging space, then there is no better idea than a lanai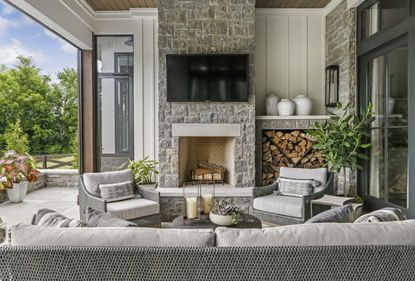 (Image credit: Paige Rumore Photography. Studio credit Brad Ramsey Interiors)
The Livingetc Newsletter
For style leaders and design lovers.
Thank you for signing up to LivingEtc. You will receive a verification email shortly.
There was a problem. Please refresh the page and try again.
There's no better time than now to expand on your home's outdoor potential with a lanai. The term comes from Hawaii and is a room or larger space built outside the house. A lanai is often connected to an entrance and covered by a roof. Culturally, this is the space that is used at the beginning and end of the day, and an area that encourages a sense of relaxation and peace with the natural world.
If you are keen to bring in a lanai's charm and added functionality outdoors, these expert suggestions, tips, and knowledge will be extremely useful. Take a look and find out how to make your backyard the ultimate sanctuary.
What is a lanai?
'A lanai is a regional term most commonly used in Hawaii to describe a large sunroom with a roof and either screens or windows,' says Julia Mack, founder of Julia Mack Design. 'These are typically fully covered and provide protection from the sun, heat, and insects and are built as an extension to a home and can oftentimes include a swimming pool or other warm weather water features. These are used year-round and serve as a large gathering place for lots of fun with friends and family.'
'One of the remarkable features of a lanai is its covered structure, which offers invaluable protection from the sun, rain, wind, and other weather conditions,' says Emma Putrimas of Teak Warehouse. 'This means that regardless of the weather, homeowners can utilize the lanai all year round, creating a versatile and cozy outdoor living room environment that is perfect for any occasion. Privacy and seclusion are also key advantages. With the option to enclose them using walls, screens, or other forms of barriers, homeowners can enjoy a serene retreat where they can unwind, enjoy personal time, or host intimate gatherings.'
While this concept originates from a tropical country, even if you don't live in a tropical climate, the year-round quality of a lanai means you can use it for many months out of the year. Also, while typically a lanai is a fully covered space from all sides, in more modern interpretations, at least one side, or even two can be opened to the elements (or can be opened when the weather is pleasant).
What's the difference between a lanai, patio and porch?
More often than not, a lanai, patio, and porch are terms that are used interchangeably, since all these have very common design traits. Many-a-times, patio furniture, decor, and shades too can be used in a lanai.
'While patios are open-air spaces, lanais are screened in or enclosed for an insect repellent, a weather-safe extension of your home,' says Dan Mazzarini, principal and creative director at BHDM Design + ARCHIVE by Dan Mazzarni.
'A patio and a lanai both offer wonderful outdoor living spaces, yet they exhibit noteworthy distinctions in terms of design, structure, and usage,' says Emma. 'A patio embodies an open outdoor area typically situated at ground level. It captures the essence of an inner courtyard or a beautifully paved space. On the other hand, a lanai, of Hawaiian influence, represents a covered outdoor space that is commonly attached to a house or building. It encompasses the concept of a sheltered porch, veranda, or balcony.'
'The key disparity between a patio and a lanai lies in their characteristics,' says Emma. 'Patios generally present an uncovered expanse, harmoniously bridging the gap between indoor and outdoor. They embrace openness on all sides, creating a seamless connection with nature while remaining connected to the interior of the house. Conversely, a lanai offers a covered sanctuary that shields from the elements. Its design often incorporates a roof or overhead structure, lending shade, and the possibility of walls or screens to enclose one or more sides, adding an element of privacy.'
'A porch is typically found in the front or side of an older home, with a roof and columns and serves as a front welcoming space, oftentimes with a swing, rocker, and series of club chairs,' says Julia.
Wicker outdoor lounge chair
Material: Wicker
Price: $275
Complete your outdoor seating with this 2-piece set of chairs. Each piece is crafted with an iron frame and features curved backs, sloped arms, and saddle-style seats.
What is the significance of a lanai in modern homes?
The lanai adds a big dose of functionality to your pre-existing home. Being an additional room, it can be used for several purposes and also increases the home's curb appeal. It is the perfect area for those who have limited abilities to be outdoors, like the elderly.
'A lanai is a terrific addition to any home because it creates an outdoor 'room' to enjoy a morning coffee, afternoon nap, or an evening dinner party,' says Julia. 'It is the perfect solution for increasing your enjoyment of the seasons, by giving you a respite from daily life plus added financial value to your investment in your home.'
'It extends the living area of a home into the outdoors, creating an additional functional space that is perfect for relaxation and entertainment,' says Emma. 'It is also a beautiful bridge between indoor and outdoor spaces. The lanai can be transformed into the perfect outdoor dining area, a luxurious lounge, a tranquil home office, or even an extension of existing indoor rooms like a family room or kitchen. The presence of a well-designed and well-maintained lanai can significantly enhance the overall value of a home. It becomes an attractive feature that appeals to potential buyers, offering not only additional living space but also abundant opportunities for outdoor enjoyment and relaxation.'
How do you design a lanai interior?
Before setting up the furniture in your lanai, you should establish the focal viewing point in this room. It could be your tropical garden, a swimming pool, a pond, or even a golf course. All the seating should be placed facing this spot.
Bring in lightweight, movable outdoor furniture so that you can rearrange the layout, and add or reduce the number of pieces in this room to make it more flexible. Shiftable furniture makes accommodating any size group on your lanai, a breeze. Plus you can change the layout to redirect the traffic in this area.
If you want a fun outdoor gathering to last into the evening, you need to bring in both task and decorative lighting. A nice pendant lamp or in the case of outdoor dining, a chandelier will work. Wall sconces will add ambient lighting, and candles will inject an atmospheric allure. Try a tabletop arrangement with glass hurricane shades.
An outdoor rug could cozy up the room, and a fireplace will ensure that this room can be used well into the chilly winters. Although the space sits outside of the walls of the main house, you can use enclose it with framing, columns, curtains, or even hedges.
For style leaders and design lovers.
Aditi Sharma Maheshwari is an architecture and design journalist with over 10 years of experience. She's worked at some of the leading media houses in India such as Elle Decor, Houzz and Architectural Digest (Condé Nast). Till recently, she was a freelance writer for publications such as Architectural Digest US, House Beautiful, Stir World, Beautiful Homes India among others. In her spare time, she volunteers at animal shelters and other rescue organizations.