19 vertical garden ideas - landscape experts show how plants thrive in small spaces inside and outside the home
Vertical garden ideas from the experts that will turn your home into a lush oasis from the inside out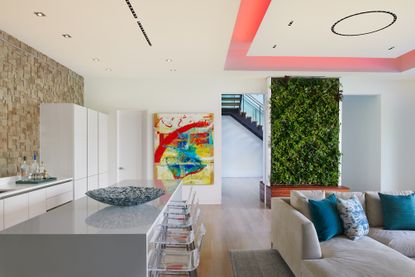 (Image credit: Anice Hoachlander)
If you're a plant enthusiast who has run out of room for potted plants, you're in luck: vertical garden ideas will bring your home up a notch without taking up another inch of floor space.
Vertical gardens, which invert a typical horizontal bed thanks to crafty support systems, can take many forms. Anything from actual vertical gardens (think herbs and flowers) to tiered arrangements (perfect for trailing plants) and living walls (lush walls covered in greenery) are popular examples. But it's the latter that made a splash over the past decade – inside and outside the home, revitalizing small gardens.
Especially for city dwellers, vertically oriented gardens rise to the occasion. "Living walls are perfect for cities because they provide additional garden space while allowing for more usable space for terraces and patios," says Chris Bribach, CEO of Plants On Walls. "They provide fresh air and a place to grow fresh greens and herbs and peaceful healing views to reduce stress."
Of course, the power of nature is nothing new. But giving homeowners the power to erect these vertical gardens with ease is increasingly within reach thanks to a new crop of products. "Vertical gardening has become even more popular today due to innovation and design advancement of green wall systems," says Bribach. "Architects and builders can quickly implement modular systems into their designs. Homeowners can simply mount lightweight living wall panels and explore the art of gardening."
Now that it's easy, are you up for the challenge? We spoke with designers to explore a range of vertical garden ideas for inside and outside your home.
Maximize your space with these vertical garden ideas
1. Make living walls easy with prefabricated kits
While vertical foliage is among the top-tier container gardening methods, building one in the past was a laborious process that required a mess of material (anything from plywood and cork to bitumen and mesh), not to mention a fancy irrigation system. All in all, it wasn't exactly an afternoon's DIY project. Luckily, kits and premade systems are now widely available to give novice gardeners a leg up, while an industry of expert gardeners who specialize in building (and most importantly, maintaining) vertical gardens are up for grabs.
One popular example is the Florafelt system, which delivers a prefabricated board of felt 'pockets' in which plants nestle in tidy rows. "Florafelt pockets are made from recycled PET plastic water bottles and the soft folded patented design supports plants while providing a perfect growing medium," says Chris Bribach of Plants On Walls, the maker of Florafelt. "The root wrapping system lets you change plants at will."
2. Liven up boring outdoor walls
Not unlike a classic wall of ivy, a modern living wall is one of the best ways to spruce up a courtyard garden which is enclosed by walls. Lush designs can turn boring, blank exteriors into showstoppers while also creating space for nature in tight patios with little room for potted plants.
"Living green walls make a big impact without taking up much space, so they are a great option for spaces where you may not have a lot of room for potted plants," says Heather Hilliard of Heather Hilliard Design, who incorporated a colorful living wall over the outdoor kitchen above. "Depending on the plants you choose, they're relatively low maintenance and pretty much take care of themselves. From a visual perspective, living walls look impressive - a conversation piece for sure!"
3. Plant up a yardless patio
A proper backyard is pure luxury for city dwellers – a scarce natural resource. But if your unit happens to feature even a tiny outdoor landing, vertical gardens are among the best modern small patio ideas that create natural backdrops out of thin air.
In the design above, designers created a large living wall as a scenic solution to a small outdoor patio void of nature. "In this project there was no lateral garden to look out on, so we went vertical," says Sam McNally of London's architecture studio Echlin. When seen through wall-to-wall glass doors from the living room, the entire view is engulfed in greenery – who needs a backyard, anyway?
4. Add texture to clean-lined interiors
Like adding a tactile wallpaper or hanging a woven textile, living walls bring visual interest and a great trick to have up your sleeve when wondering how to design a small garden. In the above interior, a tall living wall commands the floor (or wall, if you will) just like a statement piece of art.
"A variation of plant materials and texture makes this a visual success," explains the room's designer, Martha Vicas of Washington DC's MS Interiors. But you don't need to go overboard with layers upon layers of texture via a range of needy plants – even a simple scheme of hearty plantings will do. "The original design needed more maintenance than the clients realized and the plants did not thrive," adds Vicas. "They replaced them with lower maintenance varietals and signed up for a monthly maintenance contract. That did the trick and it's been smooth sailing ever since."
5. Install your vertical garden in panels
If you prefer nature in small doses, building a massive living wall might not be ideal. Instead, installing your vertical garden in panels will maintain a lush aesthetic while creating a manicured setting that can even match your interior.
In the backyard above, the exterior was inspired by the interior, while paneled patches of greenery keep the entire space tidy. "Extending the interior colour and material palette, as well as using rhythm, and varying the textures helped this space become more alive," says landscape architecture firm Hay Designs, which worked with The Gardenists to build the wall. "A place to enjoy, embraced by simple greens and minimalist planting."
6. Complement a man-made water feature
The same juxtaposition that enhances natural water features (think small ponds and streams) can work for man-made fixtures like pools, hot tubs, and outdoor spas – it creates a natural connection for artificial elements. And, for one of the most luxurious applications, a vertical garden makes for a perfectly over-the-top outdoor shower idea.
In the San Francisco home above, a lush outdoor shower gets a splash of nature thanks to a wall constructed with Florafelt Pockets' living wall system. This specific area had shade exposure, so designers chose "mostly ferns to provide small maintenance foliage," according to Chris Bribach of Plants On Walls. While the environment is artificial, the living wall embeds this space in nature.
7. Give your natural landscape a vertical boost
If you're a lucky soul with space to spare, adding a vertical garden is a lovely landscaping idea that enhances nature itself. In the above garden, a living wall climbs up the side of a house, rising from flowing water as if nature intended it.
The idea is to let nature grow tall and wild, bringing your horizontal landscape above the horizon. "Using the local fauna as reference for the local environment, gardeners can blend existing fauna up and onto walls," says Chris Bribach of Plants On Walls. "Seeds and cuttings can be used to propagate plants into a vertical garden design for a seamless blend of the existing context of native species. Water features can also blend the surrounding landscape design into the experience."
8. If your living wall is outdoors, light it up
Your vertical garden is almost guaranteed to look good in the sun, but don't forget to consider how it looks when the sun goes down, too. You can position landscape lighting in ways that will bring your living walls to life, even in the dark.
In the backyard design above, vertical lights allow the garden to shine in more ways than one. "Star Jasmine climbers, ferns and evergreens were selected for the green wall feature, which runs both internally and externally with dimmable lighting to create a warm glow to the planting at night," says landscape architecture firm Hay Designs, which worked with The Gardenists to build the wall.
9. For less fuss, overflowing shelves work just fine
An inverted flower bed in the living room? We can't blame you if you're hoping for something more down to earth. An arrangement of tiered shelves with leafy plants (most houseplants for beginners can work, especially trailing plants with tendrils that cascade down the wall) will do the trick.

In the above interior, an overflowing wall of floating shelves and hanging propagation vessels brings life to the modern living room. According to the designer, Kate Ballou of Washington DC's Hendrick Interiors, it's all about the arrangement's ability to adapt: "Having something that's flexible and that can change over time as the plants grow, or if the homeowner decides to swap things out," she says. "The design needs to provide flexibility for customization and to grow over time."
10. Give your vertical grid some breathing room
While most vertical gardens are composed of densely arranged plants to create a uniform wall, spacing out your plants has its perks. Placing individual planters in a grid pattern across the wall is not only orderly, it's an opportunity to show off your chosen vessel.
In the above interior, an array of Wallygrow wall planters – an easy-to-use wall system complete with inner drainage – creates a lively accent wall with pops of color from the individual vessels. "With vertical gardening, we see a variety of install methods consisting of very tight spacing grids, to spaced out grids and everything in between," says Elise Grosdidier, the ​​vice president of Wallygrow. "The spaced out look accomplishes a few things. First, it completely maximizes the real estate space of the wall. This is especially good if you want to fill out a wall on a budget. Second, the spaced out look shows off the colors and plants!"
11. Believe it or not, fake living walls will look the part
When all is said and done, all vertical gardens require plenty of TLC – there is no such thing as set and forget. But as faux florals and fauna continue to rise in popularity and quality, the same goes for artificial living walls. Chief among them is Vistafolia, with operations in Florida and the UK, which creates rather convincing artificial living walls; each panel features 72 artificial plants with 16 different varieties with varying heights to mimic nature and, unlike nature, are UV-stabilized.
Is it the real thing? Not at all, and that's certainly the point. "Vistafolia offers the perfect solution for busy city dwellers, who want the look of a real living wall, without the maintenance and upkeep," says Paul Alder, the founder and lead horticulturist at Vistafolia. "Artificial green walls can be used inside and outside the home, it is a great solution for areas with little to no light. We install our living wall panels in many gardens and lightwells across London, where real plants don't have the environment to flourish."
12. Grow your own vertically
Sustainable living is on the rise. You only have to look at the world around you and the top garden trends of 2022 to know this. So why not weave two trends into one and grow your own veg, vertically?
'Explore a variety of techniques to find what works for you,' Gail Pabst from the National Gardening Bureau says. 'From cages to trellises to bamboo tent structures, there are lots of different systems to grow just about any crop you could imagine in the garden or containers.'
If you've can sacrifice some space, a bamboo tepee is a sustainable way of encouraging your plants to grow upwards. While a wooden trellis structure, like the one above, not only looks good, but it can be placed just about anywhere.
13. Grow a living wall on a panel
Installing a living wall can be a super effective idea when looking at how to design a garden, so breathe some life into your outdoor space by taking your plants to new heights (quite literally) with these wonderful designs.
But as well as looking aesthetically pleasing, living walls can 'contribute to a biophilic experience in indoor and outdoor spaces that provides the opportunity for people to connect with nature,' David Brenner from Habitat Horticulture explains. 'This can enhance your mental wellbeing, reduce stress, improve your mood and even improve cognitive performance, as studies have shown.'
14. Get creative with your living wall foliage
Talking of living walls, there are hundreds, if not thousands, of different ways to add a suitable design to your small space.
'The limiting factor is typically the light levels, but also the cold and heat tolerances of the plants,' David says. 'Most plants used in a vertical garden are herbaceous perennials, but sometimes small shrubs and even small trees depending on the design intent.'
Just remember, like most garden plants, there is some maintenance involved to keep the vertical plants thriving. So make sure you can easily access your design to keep your plants well-watered and looked after. Consider how the size of your garden may affect light levels and more. There are, typically, some plants to avoid in a small garden that should be left out of a living wall.
15. Make your living wall a work of art
Take the design of your living wall one step further by adding a sculptural element, as seen in this creative design by Amir Schlezinger from MyLandscapes.
Spanning across a 5-meter back wall, this green plant wall can be viewed from every floor.
'We centered the design around the living wall,' Amir explains. 'We designed the previous garden for the same client in the same house. The garden size was reduced recently to a depth of 3 meters because the clients added an extension and a basement. A living wall was a space-saving solution.
'In turn, it is visible from the ground floor at eye level and upper levels at a birds-eye view. I planted plants suitable for shade as the space is north-facing, many are native plants: ferns, sedges, grasses and flowering perennials. The plants have an irrigation system. I added a tile motif to create a sculptural element and visual interest. Then added LED strip garden lighting ideas behind the tile edges to create a stunning nighttime effect.'
16. Put your pergola to good use
Plants can be hung just about anywhere. Just take this pergola as an example which has been covered in a blanket of green.
In its own right, a pergola can be an attraction in itself. But along with adding some shade and style to your space, a pergola can also become the proud houser of plants – particularly climbing plants including favorites such as honeysuckle and jasmine. 'For a pergola, I am an eternal fan of Trachelospermum jasminoides for its evergreen leaves and jasmine-scented blooms,' suggests garden designer Alexandra Noble.
You could also try adding some hanging baskets to your structure to really make the most of your outdoor oasis. So add some drama with this outdoor living space idea of giving your pergola a green glow-up.
17. Go big on hanging baskets
Hanging baskets are one of the quickest – and most affordable ways – of incorporating more gardening space to just about... anywhere.
But while they might be one of the simplest tools to get a vertical garden blooming, they can also inject some serious style into your space.
Decide on some flowers, an assortment of herbs or even use it as a small vegetable garden idea, making use of walls, fences, balcony railings or windowsills.
18. Make use of a trellis
As well as decorating your small outdoor space, a trellis can add privacy, structure and become a natural way to zone your garden. Nowadays, trellis' come in a range of shapes and sizes.
A curved archway, like in this example above, can help you make an entrance to remember. While in a compact urban garden, a typical rectangular-shaped trellis might suit better. It can be placed on walls and fences, helping to soften boundaries and make a small garden look bigger, while doubling up as another surface for your green shrubs to grow on.
19. Use raised beds to add height
Want a space for entertaining as well as growing your own flowers? As seen with this flourishing outside area, you can have the best of both worlds, even in small spaces.
So get creative with raised beds. They will work to keep critters out, help with drainage and even your back will thank you later.
This form of vertical gardening can also add an architectural feel to your space while making way for greenery. It's a win-win, especially for gardens on gradients which may need retaining walls, or for courtyard garden ideas that don't have ground-level flower beds.
What plants grow well in a vertical garden?
'Choose vining cultivars and varieties instead of bush types,' says Gail Pabst from the National Gardening Bureau. 'While bush-type crops such as cucumbers are more petite, they actually take up more horizontal space on the ground.
'Growing a vining variety lets you grow it up on a trellis, using less horizontal space.
'This is also true for tomatoes, even though the effect isn't as dramatic. Growing indeterminate tomatoes vertically on trellises, wire, etc. can increase yield and use a little bit less garden space than bushy determinate types.'
Are vertical gardens hard to maintain?
Like most gardens, vertical gardens need some TLC. Along with tending to your plants and watering them well, it's important to think about the different types of plants you use to help your vertical garden bloom.
'There can be extra labor to train the crop to grow vertically and often you will need more watering depending on what you are using for growing vertically like green walls, growing pockets, hanging containers, and vertical hydroponic systems,' Gail says.
'Like any garden, there is some maintenance involved to keep the plants thriving,' add David Brenner from Habitat Horticulture. 'This will depend on the types of plants used and how difficult it might be to access them. This can be especially challenging when dealing with gravity!'
'My team specializes in working from heights using ladders, scissor lifts, and swing stages that you typically see window washers using to clean the facades of high-rises. All of which equates to long-term time and cost, which some might call a disadvantage.'
The Livingetc newsletter is your shortcut to the now and the next in home design. Subscribe today to receive a stunning free 200-page book of the best homes from around the world.
Keith Flanagan is a New York based journalist specialising in design, food and travel. He has been an editor at Time Out New York, and has written for such publications as Architectural Digest, Conde Nast Traveller, Food 52 and USA Today. He regularly contributes to Livingetc, reporting on design trends and offering insight from the biggest names in the US. His intelligent approach to interiors also sees him as an expert in explaining the different disciplines in design.