How to position landscape lighting - the expert guide to bringing your outdoor space to life
By knowing how to position landscape lighting you can get the most out of your backyard garden all night - or all winter - long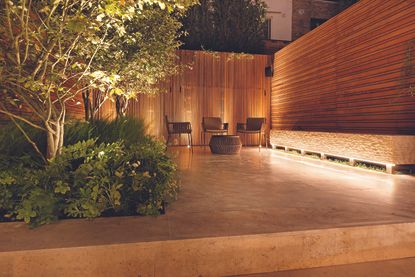 (Image credit: Stefano Marinaz)
The Livingetc Newsletter
For style leaders and design lovers.
Thank you for signing up to LivingEtc. You will receive a verification email shortly.
There was a problem. Please refresh the page and try again.
Knowing how to position landscape lighting can completely transform the garden. From inexpensive candles and solar-powered festoons to a whole garden lighting system controlled remotely from your phone, all it takes to create beautiful effects is a few well-considered buys and clever placement.
'Lighting invites you to look at your garden in a whole new way,' says Jeremy Abington of smart garden company Bright Earth. 'Especially in winter when you may otherwise be staring at a black, unwelcoming window.'
When it comes to modern garden ideas, you're not looking to place lights in every single corner to illuminate like a sports field, but to pick out the best spots. Getting it right can create a subtly dazzling, and wonderful effect.
How to position landscape lighting
1. Illuminate paths
The main focus for modern garden lighting ideas is to make sure you can actually see your way around the space.
Pictured above, this long narrow passageway joining the house to a roof terrace has cross lighting set into the timber walls to light the way. Uplights set into the plinth illuminate the urn and 'starry, starry night' fibre optics in timber wall create a focal point at the end.
Lighting paths and steps can create mystery, offering a tantalising route through the dark garden to seating or a feature of interest. Lighting expert David Haslehurst of Moonlight Design recommends installing lights in the retaining walls on either side of a flight of steps, so that only the treads are lit.
"If you have no walls, set them into planting," he says. "And remember to light the top step, or you may miss it and trip."
David prefers a gentle wash of light over pathways, too. "Install border lights such as those by Hunza into planting beside a path, or recess LuxR path lights into the paving itself to achieve this effect."
2. Choose the right number of garden lights
The effect you're going for when deciding how to plan a modern garden is to aim for a beautifully lit space, not an overpoweringly bright arena. In fact, when working out how to position landscape lighting, the less-is-more approach will yield better results.
'Always keep outdoor lighting at a minimum,' says garden designer Stefano Marinaz. 'One light per tree is more than enough.' This approach will create pin pricks of light throughout your backyard, shining like jewels rather than taking over.
3. Illuminate trees correctly
Enhancing trees and plants can produce magical effects. Jeremy Abington of Bright Earth knows how to bring the best modern garden border ideas to life. He recommends uplighting open-structured deciduous trees from the base to create a sculptural effect.
"Set the angle of light to illuminate the whole tree, if it's a small one, or use lights among the branches of a larger tree and angle them down to create a dappled effect on a patio or lawn," he says. Jeremy uses mini floodlights with diffused lenses, which produce a soft, broad glow, and also suggests playing with shadows by shining a light through flowers and grasses onto a wall or fence.
4. Use the right temperature of light
It's not just enough to know how to position landscape lighting. Getting the right bulbs hue is key, too. All the latest garden trends focus on warm glows.
Garden designers tend not to use colored lights in gardens as they can fight with the natural colours of a garden. "Colored lighting can look a bit Las Vegas, but it can work if used sparingly and in water features,' says garden designer Charlotte Rowe.
'However, we always recommend that all lighting fittings are 'warm white' – which is much softer than neutral white,' Charlotte adds. 'Then, unify the design by using the same brand and company for all the lighting in a garden to avoid mismatches, which can jump out if they're next to each other."
For style leaders and design lovers.
Zia Allaway is an author, editor, and journalist. She writes a regular column on gardeners for Homes & Gardens magazine, and has written a range of titles for DK. These include RHS Practical House Plant Book, RHS Practical Cactus & Succulent Book, Indoor Edible Garden, RHS What Plant Where. An absolute authority on gardens, Zia has also contributed to RHS Encyclopedia of Plants and Flowers.