Portable kitchen island ideas – stylish ways to create a flexible space
Flexibility in a kitchen can be a game-changer and these portable kitchen island ideas are ideal for creating a layout that can move with you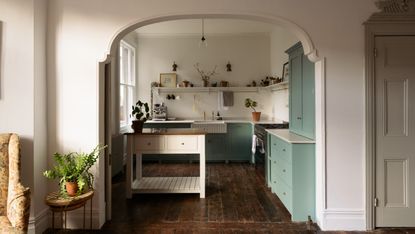 (Image credit: deVOL)
If you're a bit of a commitment-phobe when it comes to anything built in then portable kitchen island ideas might just be the ideal solution if you're thinking about incorporating an extra prep area into your kitchen.
And there is an abundance of creative choices – if you can imagine it as an island then you can have it as an island! From portable carts or vintage tables, islands with legs or wheels to rustic butcher-blocks and luxurious marble designs, there is something to suit all styles and all shapes of kitchen too.
Moveable kitchen islands are ideal to give you extra food prep space as well as give your kitchen a little more design flair. The variety of portable kitchen islands means you can have fun and add your own personal style to your kitchen space without having to totally remodel or change your layout. Take a look at our edit of inspiring portable kitchen island ideas to see what you can do in your space.
1. Go for a small island that works hard
This narrow small kitchen island idea is smart and efficient, containing everything you need in a portable prep table. Marble topped, the small table incorporates chopping boards that slide out from its sides, two drawers that contain tools close at hand, and a handy storage shelf below. The island is freestanding too, so can be moved when needed or transformed into a peninsular to switch up the kitchen layout. And whilst it might be small, it packs a punch with its dark plum hue.

'Islands have always been a focal point of a kitchen,' says Katy Daun, Sales Designer at Tom Howley 'But adding a statement paint color can add so much more to the space, and allows you to add more color into the kitchen with your accessories and styling.'
2. Double up a portable kitchen island as a dining table
This bijou and extremely comfortable kitchen island with seating ticks all the boxes despite being tiny. The wooden island incorporates that all-important extra storage and manages to double up as a dining space with luxuriously padded bar stools, making the space an inviting and sociable area to spend time eating and even working in.

'Even a small kitchen really should be the heart of the home,' says Naomi Dean, Furniture and Showroom Designer at Harvey Jones 'In order to make the most of your kitchen space, invest in an island that will play an essential part in creating a sociable hub for family and friends.'
'When preparing food for a party, a centrally located island allows you to prepare food and entertain guests simultaneously. An island can also be used as a breakfast bar that will encourage families to eat together in an informal and relaxed setting. The addition of comfy bar stools will add to this relaxed atmosphere, providing a space for kids to do their homework whilst grown-ups prepare meals. Consider the height and design of your bar stools as flatter stools can be hidden under your kitchen island creating a streamlined kitchen space.'
3. Add some reclaimed charm
This smart traditional space is given a touch of industrial kitchen incorporates a reclaimed sewing table that has been up-cycled with a new wooden top to fit in with the classic style of the kitchen. The kitchen is grand but narrow so the long and slim island is a perfect fit and infuses the space with tonnes of character.

'Your kitchen island can be any size or shape, we often design islands with curved ends where people can sit and socialize with the cook/host,' says Sam Hart, Designer at Roundhouse. 'It just depends on the size of the overall space and how much room you can afford around it. Try to make it as large as you can comfortably fit into the space, if it's too mean in size you won't get the benefits that an island brings to the kitchen.'
4. Create a modern farmhouse look
This transportive kitchen and scullery benefits from the openness of this layout featuring brightly painted shelving and tall cupboards and incorporates a rustic worktable that lends a rustic kitchen vibe.
The kitchen color is resplendent in red – hand-painted in Plain English's 'Rusty Nail', creating a unique and characterful corner. Modern appliances are concealed within the kitchen cabinets and the worktops are oiled Oak. Raw linen, textured walls, and a glint of burnished copper add depth to this cheerful design.
5. Create a nostalgic scullery
This delightfully small kitchen and scullery designed by deVOL is a little nostalgic and incorporates a freestanding island that lends a casual feel to the room. The kitchen furniture is painted and arranged in a modest way with not too many cupboards and a little butcher's block table in the middle which allows for flexibility of layout in the small space.

'Group your tall cupboards together on the end of a run for an uncomplicated look,' says Helen Parker, Creative Director at deVOL 'This includes integrated or freestanding appliances and add kitchen shelving, wall cupboards or hanging rails if you need extra storage. If your kitchen is big you can add an island or prep table. This will create a galley-style workspace when parallel to the main run, as well as a place for people to sit up and be part of the action. A table works just as beautifully or even a little butcher's block.'
6. Choose a bright white and crafted combination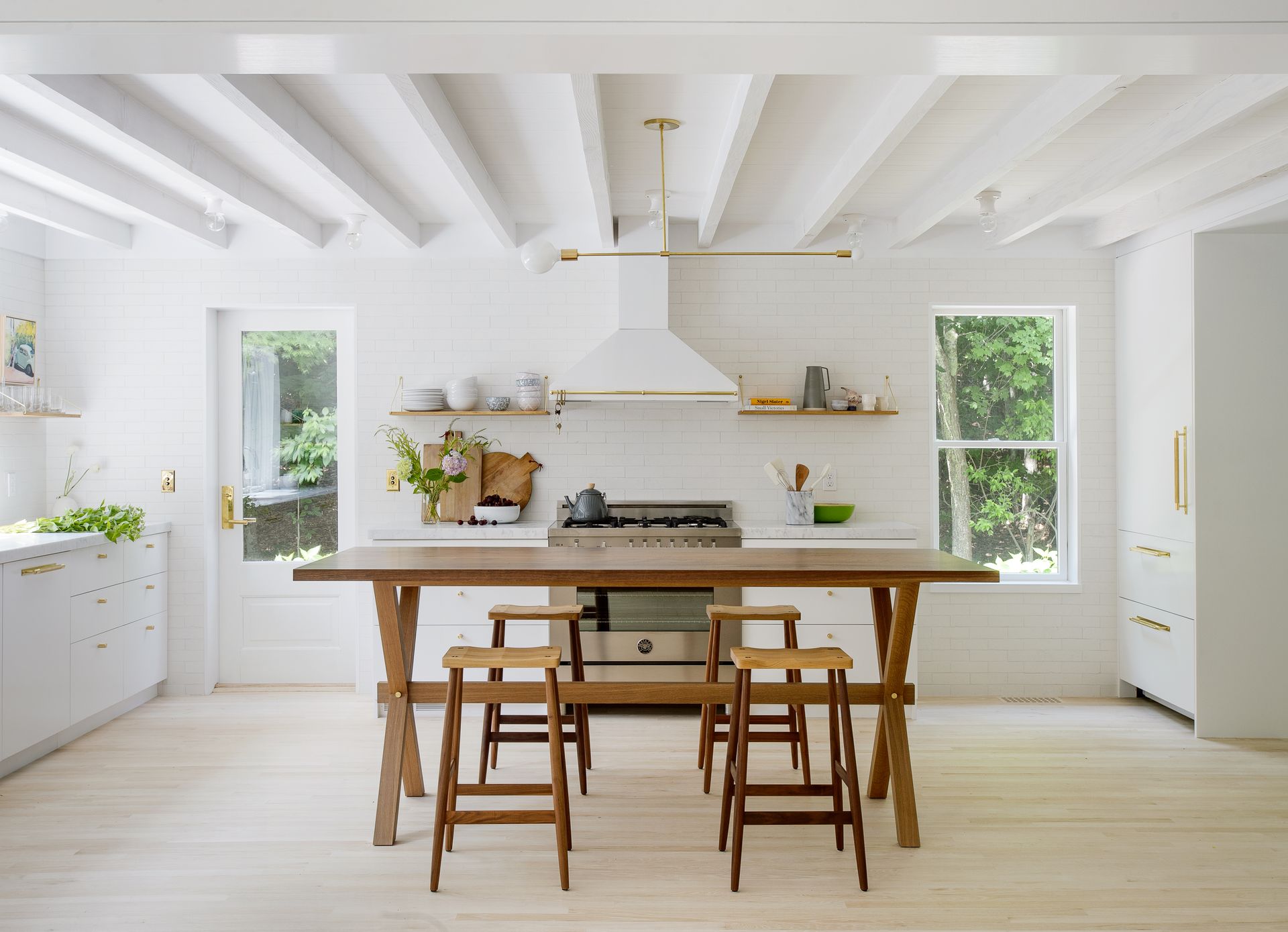 This huge modern farmhouse kitchen gives us Cali vibes and incorporates a huge oak prep table that feels achingly both achingly modern and wholesome. The rich honey hue of the crafted wood table is set off by the all white kitchen which features hints of brass detailing and wood accessories.
The table is generous but also delicate so can be moved around easily with matching stools that can effortlessly be moved around the kitchen or placed around the table for socializing.
7. Grand ambitions in a small space
Contemporary kitchens with a wholesome, farmhouse twist are everywhere we turn. Think humble and cheerful vibes, a mix of old and modern. Why shouldn't they also bring joy to cute city apartments?
This bright yellow kitchen brings a transportive feel to a small apartment and is not afraid to go big with grand kitchen cabinetry in a small space and features a generous butler sink. A vintage kitchen table doubles as an island and also replicates the feel of a mini farmhouse table.
8. Consider a fold down peninsular island
With this one we are focusing more on the 'flexible' aspect of an island than the portable - because we just love how much value this unit by Magnet brings to a small kitchen.

The Table Plus is a kitchen storage cabinet that incorporates a fold-down table and prep area that not only provides extra space but allows you to alter the size and layout of your kitchen in a simple step. Mounted on the kitchen wall – a pull down mechanism reveals a table that unfolds and can be used as an extra kitchen countertop.
This is particularly useful in small homes where a dining room is a luxury that simply isn't an option. An added benefit of Table Plus is the extra storage it provides. The space inside the cupboard is perfect for storing items you use every day such as crockery and glassware while the storage pockets are great for recipes and utensils.
9. Create a layered look with an industrial storage unit
This kitchen has cleverly made use of an industrial-style storage system which doubles as a beautiful and dramatic prep area. The multifunctional island is filled with tableware and cookware with plenty of additional storage for cookbooks and other essential items. The unit also becomes a characterful display unit as part of an eclectic and layered kitchen.

'Islands are usually used in conjunction with an L-shaped kitchen layout or single run of floor cupboards,' says Stephanie Nix, Kitchen designer at Neptune Fulham In either case the island serves as a 'defensive barrier' between chef and guests while providing storage and an extremely useful work surface.'
10. Create a layout with socialising in mind
We love the idea of this striking space because the interior is more island than kitchen! The space has been utilized with socializing and people in mind rather than the traditional elements of a kitchen. It would have been easy to fill this huge space with a fixed large island.
Incorporating two large matching wooden tables – one for dining and one for prep with storage underneath – the tables can be moved and joined to create a larger dining area. Designed to fit more people and more surface area for food, ensuring long languorous meal times but also plenty of room for food prep when needed.
'It's a brave move to step beyond classic kitchen island design but the pay-off can be huge in terms of visual impact,' says Jane Powell, Designer at Roundhouse. ' In one of our projects we designed the island to look like a beautiful piece of furniture. It reflects the owners' adventurous personality, while also helping to zone the open-plan room'
How much does a portable kitchen island cost?
Portable island prices vary and are entirely flexible according to your budget. An average cost is $2000 and a higher-end island can set you back over $6000. Low-cost options can vary from $200 to $400 if you have a keen eye for upcycling and re-purposing. They are most commonly available in two different materials-stainless steel and wood, but other options such as granite and marble are also available.
What do you do if you don't have a kitchen island?
Think creatively and repurpose items into makeshift kitchen islands. Items to consider are an architect's filing cabinet, a dresser, a sideboard, a table, a desk, bookshelves, or wood pallets.
For example, a bar cart can house appliances while small central table functions as both a gathering spot for dining and kitchen prep. A long, narrow console table can stand in as a kitchen island and double as an extra dining spot if it's the right height
The Livingetc newsletter is your shortcut to the now and the next in home design. Subscribe today to receive a stunning free 200-page book of the best homes from around the world.
Rohini Wahi is Content Editor for Livingetc Online. With a decade-long career in the interiors and design industry working as a journalist for premium lifestyle publications then delving deeper into the business as a trend forecaster, Rohini has amassed a wealth of global design knowledge that informs her work. She loves a period drama and keeps a tidy home.