13 garden bar ideas perfect for alfresco entertaining
These stylish garden bar ideas will make your garden the go-to for entertaining, no reservation needed.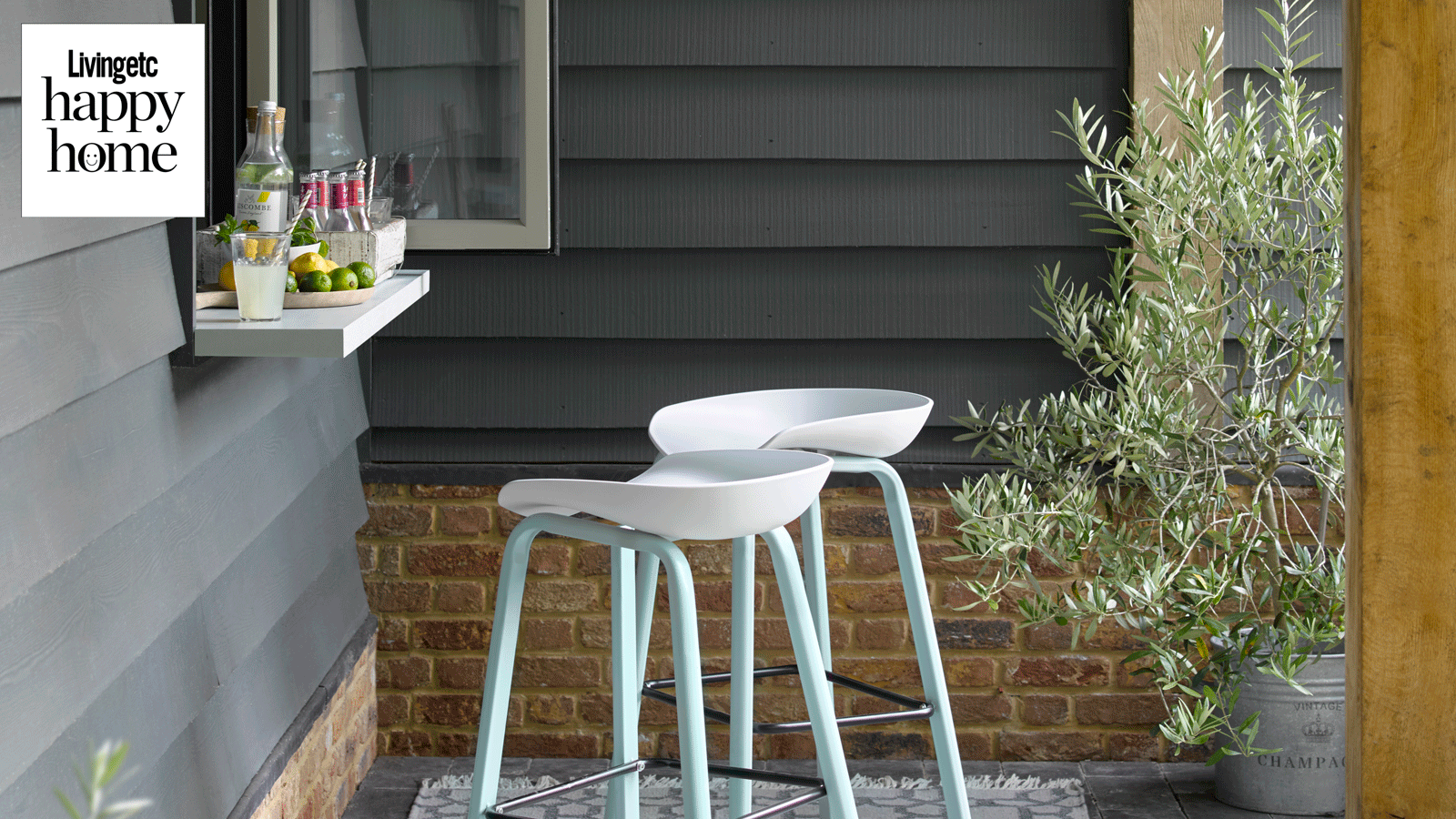 (Image credit: Future)
Looking for garden bar ideas to really make the most of the dwindling summer days? We've never enjoyed (or endured) outdoor entertaining quite like this past year, our gardens have become our go-to for hosting, the new place we meet up with friends, cook al fresco dinner, and of course attempt to mix a medley of cocktails. So adding an outdoor bar just makes sense right? Sure we might have more options further from home but we've got pretty used to this never leaving our garden thing, and we aren't mad about it...
'The only thing better than happy hour at home is happy hour in the garden with the sun shining! As our outdoor spaces have become the center of entertaining, the garden is the perfect place to sit, relax and enjoy a couple of cocktails.' explains Jane Rockett, Co-founder of Rockett St George.
'With this in mind, every outdoor space needs an alfresco drinks trolley, from dedicated rattan designs for the garden, to those borrowed from indoors. Remember to have fun with your display and introduce gorgeous glassware, bottles of booze, and perhaps even a few plants to help your bar blend into the garden. The final touch for any garden bar has to be lighting, with candles and twinkling fairy lights perfect for any occasion, from after-work drinks to full entertaining. These soft accent lights also help introduce atmosphere and create a magical focal point that comes alive as the sun sets.'
Feeling inspired? We have plenty of fabulous outdoor bars and garden ideas, whether you are after a rustic DIY or something more permanent that you can use all year round, there are options to suit all styles.
1. First think practically about your garden bar design
If you want your garden bar to be more than a trestle table and an ice bucket, you're going to need to do some planning and think practically before your mind gets carried away with images of you mastering the perfect margarita.
As Ben Stokes, Founder & Interior Designer for KAGU Interiors explains 'a garden bar doesn't require ample amounts of room, just a little planning. Whether you're transforming the garden shed or calling in the professionals, choose materials that can withstand year-round exposure such as treated wood and well-sealed natural stone.'
'Next, you'll want to ensure you have access to the essentials, a shelving unit to keep glassware and drinks at easy reach will ensure you are able to enjoy your evening without the need to go indoors. Finally, consider how you and your guests will interact with the space, a cocktail-bar style with stools is an interactive, comfortable, and social setup that you can enjoy well into the evening.'
2. Open up a shed with a hatch
Open up the kitchen with a serving hatch, and add a ledge/bar top for an instant garden bar area. If your kitchen isn't positioned next to the garden then consider transforming your shed instead – a hatch and a ledge is the first step into turning your shed into a garden bar. Then just add some bar stools and serve drinks from the other side.
3. Install a Tiki themed bar
If a staycation is on the cards, bring some of those beach vibes into your own home with an iconic tiki bar. With their finger on the pulse, Habitat have revealed their affordable outdoor bar option, which they call the Beach bar Gazebo . Inspired by beach bars, the Tiki style bar features a straw roof, natural finishes plus handy internal shelves for the server to store drinks. Piña colada anyone?
4. Upgrade your outdoor kitchen
Already got yourself an outdoor kitchen set up? Upgrade it with a peninsula island or extended countertop to create a bar at which guests can sit, then install a mini-fridge underneath to keep drinks cool.
'Creating an outdoor bar area is the perfect way of entertaining in style within the comfort and intimate setting of your own garden. Your bar should be a practical and relaxed zone that allows you to host barbecues for family and friends with ease.' advises Francesca Birch, Designer at Danetti. 'When configuring your bar area, consider shelf space so you can stock drinks and keep glasses and crockery to hand. Hidden storage is also great for hiding away those less glamorous-looking essentials such as your gas canister or coal. Create a cozy corner set up on the patio or have the whole system set against a wall for that outdoor kitchen look.'
5. Go all out with an outdoor cocktail bar
Take a leaf out of Carly Madhvani's book and entertain in style with an outdoor cocktail bar. Her team at NW3 interiors installed a striking cocktail bar area for this Grade II listed Victorian home in Hampstead's Belsize Park.
When it comes to throwing garden parties, you could either do the cocktail shaking yourself or hire someone to put on a cocktail making show or masterclass. There's plenty of room at the bar to seat a group of guests, making it a destination in its own right (rather than just a ledge to collect a drink and leave).
Think about key components first, such as an outdoor wine fridge or sink, then build the bar around these. You'll want to choose materials that can withstand year-round exposure, like a well-sealed natural stone top and treated wood cladding.
6. Upcycle a potting table
Upcycle and repurpose an old potting table or even a small French dresser and turn it into a bar area. Treat the wood with a weatherproof coating and weatherproof paint, then use storage for plastic glassware, drinks dispensers, and cocktail tools.
7. Just roll a drinks trolley outside
Looking for a really quick and easy outdoor bar idea that you can achieve in time for the weekend? Simply move your drinks trolley outside and really style it up with your best-looking bottle, cute glasses and all the stylish cocktail-making accessories you can find. Fill an aesthetically pleasing ice bucket (steel troughs work well) with drinks to to make it feel more like a drinks station, and then guests can just help themselves.
8. Opt for a wall-mounted option to save space in small gardens
As the weather can be pretty unpredictable, you may choose to create a bar that's a little less permanent, or doesn't take up too much space. You'll find lots of wall-mounted options online, like the below bar from Etsy, or you could try your hand at making one yourself. They are perfect for small gardens too as take up zero floor space and can be folded away when not in use.
9. Get yourself a tall bar table and bar stools for a fuss-free approach
To keep things easy and simple, store drinks and glassware in the house and only bring them out when you have company. Instead, focus on creating an outdoor seating area that has a bar feel – like Olympic skier Gus Kenworthy did in the roof garden of his Hollywood bachelor pad penthouse.
10. Find outdoor furniture with a built-in wine cooler
Invest in modern outdoor furniture that can serve drinks and keep them cool, as well as provide enough surface area for plates and glassware.
11. Can't decide on a look? Play it safe with greys
Opt for cool greys or earthy tones for a timeless look that's also on-trend. You can always add pops of colour with your glassware and accessories.
12. Build a simple tall table structure then fit in seating underneath
Set up a bar and bar stools close to your kitchen (or outdoor kitchen) to create a relaxed, informal socializing space for family and friends. This means you can also easily entertain while you cook, too.
13. Create a covered area to get more use out of it
The English weather is nothing if reliable (yes, we know there'll always be rain) and getting drenched while you're cooking is no fun. Invest in a roof to shelter your garden bar area, so you can get the most out of this space.
What should you put in a garden bar?
Well without stating the obvious that you should generously stock your garden bar with drink, there are a few other essentials that can make the experience. Lovely glassware for example, although you may want to consider bringing some pretty plastic cups over too and keep the actual glasses for best or just for show. Stylish cocktails accessories like a shaker, stirrers, a jigger, and a crusher not only look lovely sat behind the bar but they make all the difference when mixing drinks.
If you have the space, you might want to consider adding a fridge if you think you'll use the bar enough that an ice bucket won't surface. And a surface for chopping garnishing would make it a more practical space too.
Then you've got the decor. This can really elevate a garden bar. Choose lighting that's going to add some ambiance and suit the vibe of your garden – whether that means neon lighting or soft glowy LED candles. Decorate shelves with nice bottles, and mix in some small house plants and stylish decorations too to make the space feel more like an extension of your home.
How wide should a garden bar be?
You want a garden bar to be wide enough so that you can comfortably mix drinks and store what you need in order to mix said drinks. So the perfect width will really depend on how many people you plan to host for. We'd recommend going no smaller than 39 inches wide and nine-foot long. But if you plan for it to be a place to where people will perch on bar stools while they drink you may want to go bigger – use the number of bar stools you want to fit in to help you decide on the right size.
Can you DIY a garden bar?
If you have the time and the skills (or the time to learn the skills) you can easily DIY a garden bar. There are so many great tutorials out there that can help and there are projects to suit all levels too – we've seen some great garden bar ideas using old palettes that you could create in just a weekend.
Lotte is the Digital Editor for Livingetc, and has been with the website since its launch. She has a background in online journalism and writing for SEO, with previous editor roles at Good Living, Good Housekeeping, Country & Townhouse, and BBC Good Food among others, as well as her own successful interiors blog. When she's not busy writing or tracking analytics, she's doing up houses, two of which have features in interior design magazines. She's just finished doing up her house in Wimbledon, and is eyeing up Bath for her next project.