10 built-in outdoor grill ideas that will elevate your backyard cooking
These built-in outdoor grills will up the ante of your outdoor areas, and add oodles of fun and functionality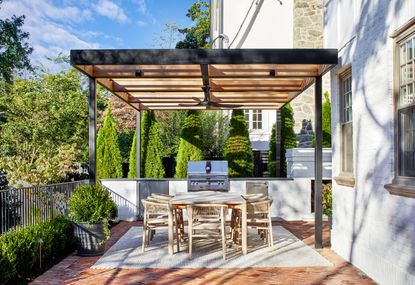 (Image credit: Richardson & Associates Landscape Architecture)
The Livingetc Newsletter
For style leaders and design lovers.
Thank you for signing up to LivingEtc. You will receive a verification email shortly.
There was a problem. Please refresh the page and try again.
Spring is nearly here and if you take your al fresco cooking seriously, it might be the perfect time to consider an built-in outdoor grill. Whether you enjoy a slow-cooked barbecue on a Sunday afternoon or love firing up the grill for long evening soirees, having a properly equipped space and well-maintained grill can truly add to your garden or backyard joy.
Built-in grills can make hosting, cooking, and serving so much easier. It also allows you to truly make the most of your outdoors, by encouraging you to set up seating areas, and adding beautiful chairs and loungers, and lights to cozy up the exteriors.
If you're ready to enjoy the aroma of delectable dishes sizzling over the fire and want to add to your backyard, take a look at these outdoor kitchen ideas with built-in grills and how to incorporate them smartly.
Aditi is an experienced homes writer and editor. She has written hundreds of articles for various international titles helping readers make the best home design choices, and spends her days interviewing interiors industry experts to bring the latest ideas to her readers. For this piece she spoke to the world's best designers to find out ways to design a built-in grill in the outdoors.
10 built-in outdoor grill ideas that will suit your patio or yard
When it comes to choosing the best grills, keep in mind that they are defined by the fuel they use, with gas and charcoal grills as the two main options.
The former is the most commonly used one, and it wins when it comes to grilling ease and flexibility. The latter is a more traditional style, and it takes longer to master the intricacies of temperature regulation, especially if you want to cook something beyond hot dogs and hamburgers. These are also available in a wider range of sizes.
Also, there are the pellet grills, which are cleaner burning than charcoal, and electric grills, but these need a power point to pull electricity from.
1. Install your grill poolside
If you have a small backyard pool and want to make it the heart of your outdoor space, consider adding seating and an outdoor kitchen to this space, along with a built-in gas grill. While it may take a little more effort to locate your grill and eating area away from the house, it can make an al fresco setup feel like a getaway.
'I think the key to making an outdoor kitchen enjoyable to use is placing it in an area that can be congregated around,' says Kathryn Prideaux, landscape designer and founder of Prideaux Designs. 'I have had clients tell me that there is nothing worse than slaving over a grill alone, away from the party listening to the fun at a distance. This project clearly puts the outdoor kitchen at a location where the cook remains in the center of the action.'
2. Create a full outdoor kitchen layout
Grilling can involve a lot of back-and-forths between the kitchen and the grill to pick up utensils and ingredients and, then deliver the cooked food. Instead, consider setting up a fully functional kitchen here to make outdoor BBQ and dining a breeze. Add a counter with tall stools, place loungers, and make the space inviting and easy to spend time in.
'Consider including raised bars along the front of the island with decorative stools for a more relaxed eating vibe while having a backyard hang or pool,' say Kate Anne Gross and Ryan Gross, founders of Kate Anne Designs.
'Try to keep the grill at least a few feet from the home exterior, so the smoke doesn't collect near the door,' say Kate and Ryan. 'Similarly, keep hedging away from the back of the grill so that the heat doesn't harm the hedges. Choice of material for the counters is very important as there is always a balance between using natural materials which are beautiful but inherently stain-prone, and man-made materials such as porcelain slabs which can be more elegant and stain resistant yet pricier.'
'We always recommend that clients order stainless steel sleeves along with their appliances for a cleaner look,' say Kate and Ryan. 'If you live anywhere near the coast we recommend marine-grade appliances.'
3. Give a formal touch to BBQs with a grill and outdoor dining
If grilling is your passion, you may want to go all the way and make it a feature in your home. Most of the time, grilling is all about sitting around and waiting for the food to prepare and roast. Why not create outdoor dining to formalize the entire process?
Before setting up the grill, take note of the wind, sun, shade, and access to amenities (such as a pool or a lawn) into consideration before choosing the perfect place. If you live in a region that receives a lot of sun, consider adding outdoor shade.
'Outdoor kitchens and dinings are especially nice during the warmer months for entertaining family and friends, but in some cases, they go unused,' says Joseph Richardson of the DC-based Richardson & Associates Landscape Architecture. 'So when a client voices interest in designing one, we like to have a conversation to understand their goals: How do they currently cook outdoors? How do they expect that to change with a new outdoor kitchen space, and who do they intend to cook for? '
'Clients often overestimate how often and to what extent they will use their outdoor kitchen, and given the cost of appliances, utilities, and surrounding hardscaping, it's important for homeowners to have these conversations early to ensure that what is ultimately designed and built is a perfect match for their lifestyle,' says Joseph.
4. Design an island for the outdoor grill
'I think grill islands are great depending on the space,' says Linda Hayslett of LH Designs. 'It helps with smaller spaces to incorporate a cooking area while having a place for people to sit and hang-out while people are barbequing.'
'An outdoor kitchen does not need to be elaborate to be functional,' adds Lauren Lerner, principal, and founder of Living with Lolo. 'This outdoor kitchen is one I designed in my last home where we had a large island and only a grill. It was a great space to cook and entertain. We always recommend adding lighting around the grill so you can cook after the sun goes down and still see what you are doing.'
5. Add more functionality to outdoors with a grill and wet kitchen
Looking for outdoor kitchen planning tips? Having a well-positioned prep and cleaning area will transform just a grill into a true outdoor kitchen. Consider adding an outdoor sink along with a platform to make cooking easier. Be sure to include an easy-clean work surface and some storage for frequently used tools.
'Before installing an outdoor grill, keep in mind where all the entertaining will be,' says Linda Hayslett, founder of LH.Designs. 'Most people tend to want the grill away from the outdoor spaces where all the activities are because of the smoke, but it's never fun not being a part of the conversation while baking out in the sun over grilling food. These days you can get an outdoor hood to soak up all those fumes, so you don't have to be solo BBQ'ing.'
6. Consider an in-built outdoor grill in the courtyard
There's something inherently cozy about courtyard gardens. These outdoor spaces usually encased within the home encourage family time and intimate socials. To make the most of this space, add a grill for light meals while you're sitting outside, sharing a private chat.
Do remember to invest in quality appliances, and also ones that are necessary. It would be fun to get a rotisserie, warming drawer, and a pizza oven – but do you need them all? In compact spaces, you can do with just a grill, and nothing more.
7. Design a minimalistic outdoor set up with a sleek grill
If you are interested in designing a minimalistic backyard and want to it be inviting without looking too busy, consider flexible seating and a built-in grill.
The advantage of choosing lightweight chairs and stools is that these can be moved around, inside and outside the house. Place the grill along a wall, and landscape the area such that it doesn't stick out like a sore thumb in your clean, sleek, and minimal outdoor space.
8. Consider positioning a grill out of the line of sight
'You always want to be mindful of local regulations concerning clearances from the grill to the home and property line,' say Kate and Ryan. 'We like to locate the grill area adjacent to the outdoor dining space and, if possible, ideally near the interior dining room as well.'
'We prefer to locate the islands off to the side and not intrude too much on the visual line out of the windows of the home as we like to have yards feel open with an unobstructed flow from the inside to the outside.'
9. Complement the grill with a mini bar
Install all the necessities needed to ring in a good time outdoors. While a built-in grill will ensure that there's always hot and sizzling food ready, a minibar or a fridge will help set up a lovely F&B station.
Utilize a long wall to set up a small backyard bar and allow the center to be used for seating. If you don't want to get into the technicalities of designing an outdoor bar, you could always purchase a prefab one. Complement the space with a grill and make the outdoors a self-sufficient space.
10. Unify multiple socializing areas with a grill
If you like entertaining outdoors, you will be using your outdoor kitchen for a lot more than just the occasional barbecue. When you're planning the outdoor space, consider all the must-haves and think about how you'll be serving your friends (or yourself). Have a space that has pretty much everything: dining table, lounge area in front of the fire, television, and garden bar.
Unify all of it with a grill – after all, food truly brings everyone together!
For style leaders and design lovers.
Aditi Sharma Maheshwari is an architecture and design journalist with over 10 years of experience. She's worked at some of the leading media houses in India such as Elle Decor, Houzz and Architectural Digest (Condé Nast). Till recently, she was a freelance writer for publications such as Architectural Digest US, House Beautiful, Stir World, Beautiful Homes India among others. In her spare time, she volunteers at animal shelters and other rescue organizations.