9 ways to fit an outdoor bar into a small backyard - sundowner spots no matter how tiny your space
Expert design advice for how to fit an outdoor bar into a small backyard and create a perfect sundowner spot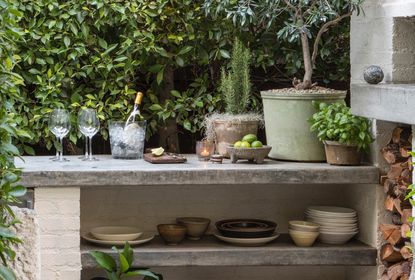 (Image credit: Scott Shrader)
The Livingetc Newsletter
For style leaders and design lovers.
Thank you for signing up to LivingEtc. You will receive a verification email shortly.
There was a problem. Please refresh the page and try again.
There's arguably no better way to enjoy a warm evening than with drinks in your backyard with friends and family. But having plenty of outdoor space can be a luxury, especially if you live in a city. Luckily, landscape designers have developed a number of ingenious ways to add an outdoor bar to a small backyard, from custom built options to garden furniture that gets your backyard cocktail-ready.
"An outdoor bar instantly makes a space feel more lively and ready for entertaining," says New York-based rooftop garden designer, Amber Freda. "Whether you want to go modern and sleek, or for a rustic old cabin bar feel, the possibilities are practically endless and limited only by your own imagination."
So from literal bars to the mood and essence of one, here top landscape designers from across the US share their tips for creating the perfect place for sundowners in even the smallest spaces.
9 ways to fit an outdoor bar into a small backyard
1. Work to the L configuration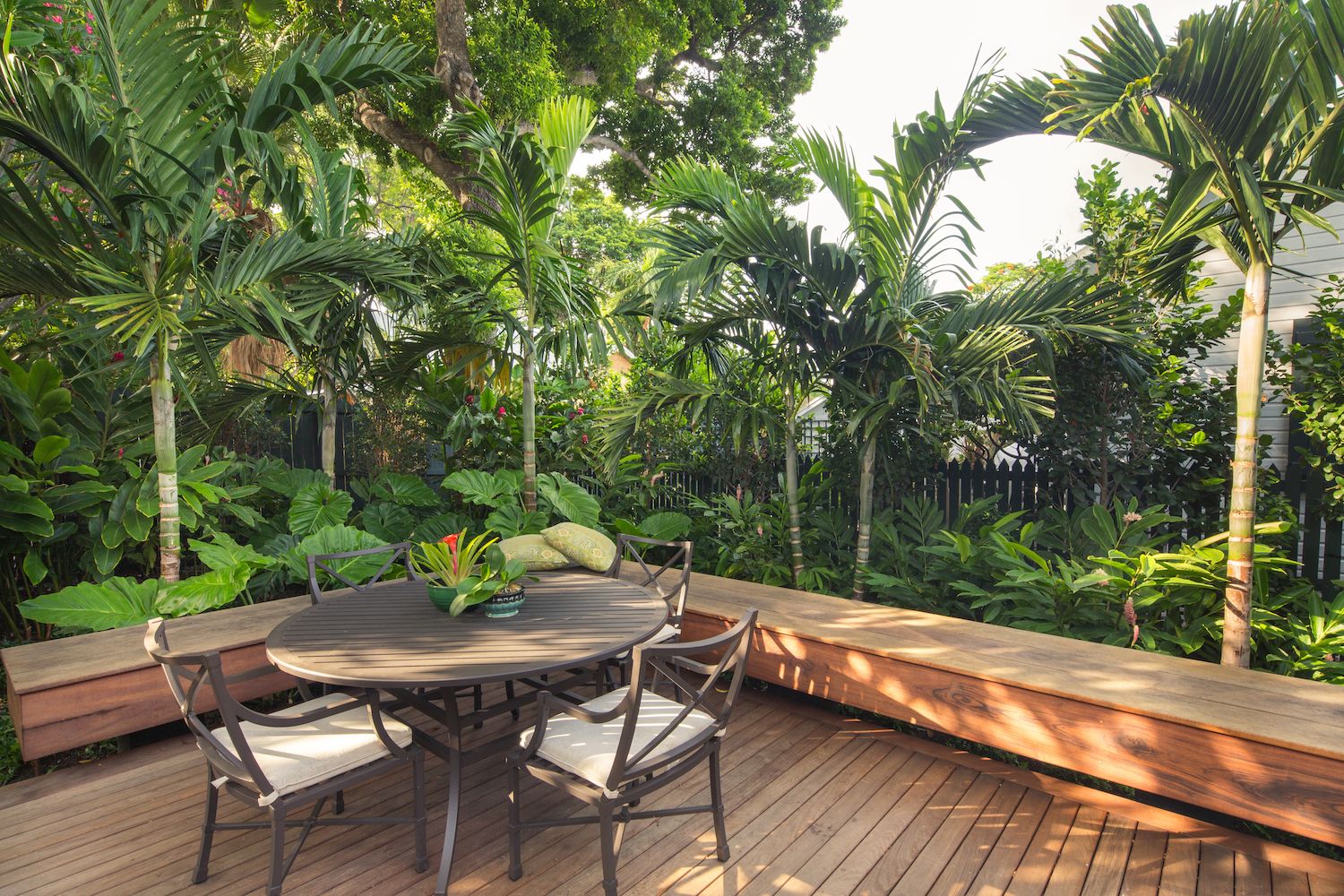 Good advice for any small backyard - try arranging your seating area in an L-shape. This takes up minimal space, but creates a sociable setup where you and your guests can face each other.
In the example above by Florida-based landscape architect Craig Reynolds, photographed by Tamara Alvarez, the L-shaped wooden bench blends with the wooden patio. By using sympathetic materials and following the angles of the backyard, the bench creates ample seating without dominating the space.
This set up illustrates what leading online landscape design service Yardzen describe as a "conversation cove".
Yardzen's Design Director Kevin Lenhart explains: "A conversation cove, including L-shaped bench seating, can pair well with a small outdoor bar with stools. Choose stools that are more lightweight and not cumbersome to move, so that your guests can even face away from the bar and towards the bench seating. Or, in a very tight space, include a bar counter or shelf adjacent to an l-shaped conversation cove. You can use the bar top simply for preparing drinks, and with the ample space bench seating provides, you won't need extra stools (which tend to take up a lot of space when pulled out from the bar)."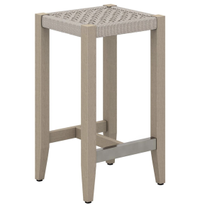 2. Tuck your bar to the side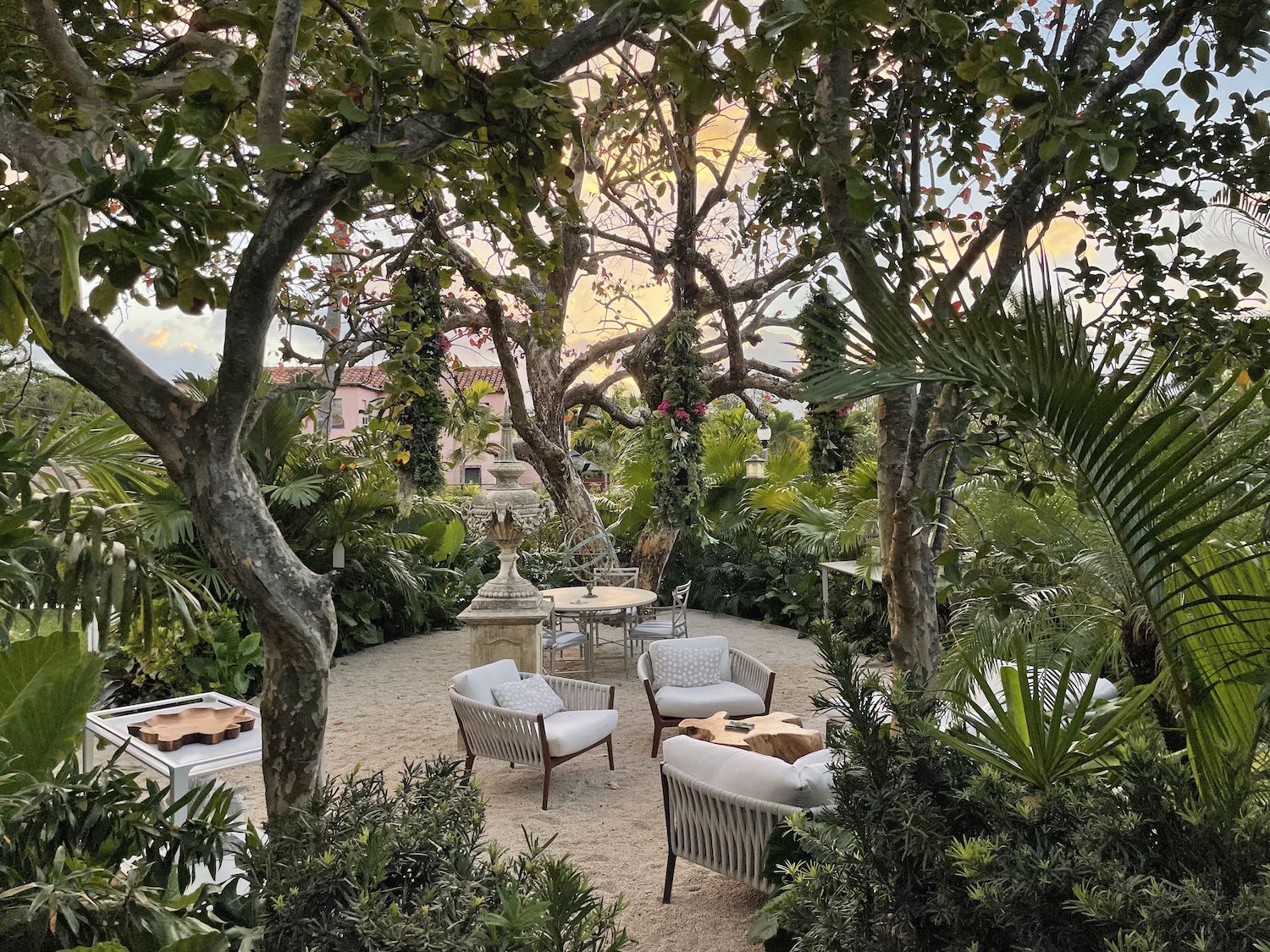 To create a feeling of spaciousness in your backyard, it's important to maintain a long view. This means outdoor bars are best placed to one side of your space, like in the design above, where they won't obstruct the overall layout. Bell explains: "Generally, a linear placement along the back or side is preferable to maximize the usability and visual perception of the yard's openness."
One trick, recommended by Florida-based landscape architect Craig Reynolds, is to position a mirror on the wall or fence behind your bar to create the illusion of more space. He adds: "Analyze the entire garden and decide how the space is going to be used and how everything flows together. Then visualize where a bar would best be located given the flow, the sun, the sunset (if any) and views off site and internally."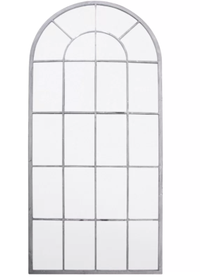 Wycombe art wall mirror, Wayfair
This arched mirror has the slightly faded old-world appeal that works so well in a backyard. Place on a back wall to reflect light into the space.
3. Make your space multifunctional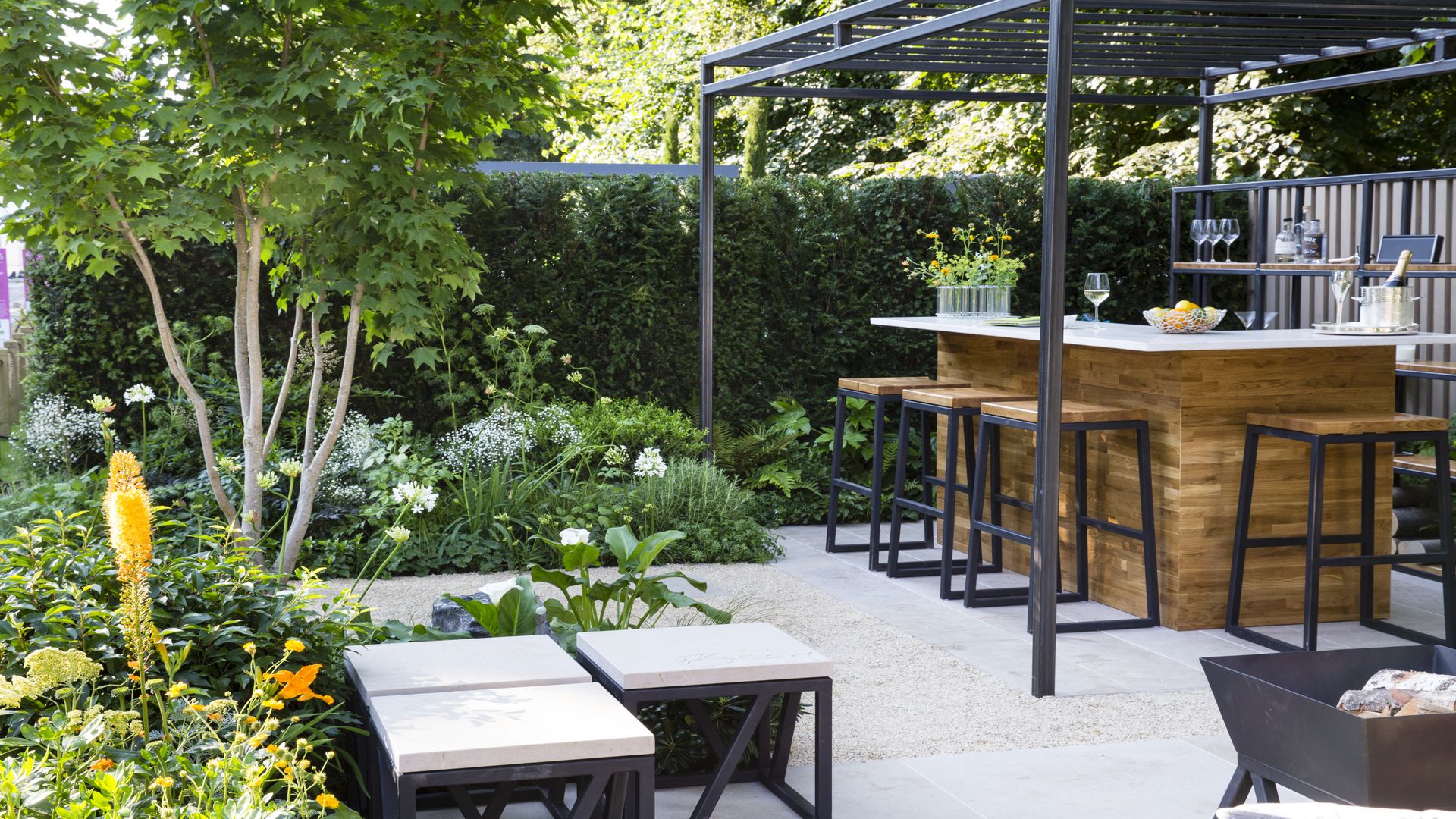 Before you design your bar, landscape architect Robert Bell says to consider how you will entertain. "Will it be for drinks? Will you need ice? Will it also act as a buffet table?" says the Washington, D.C.-based designer. "Flexibility is key, so thinking through the options a bar can have is important. The larger the bar, the more complexity is possible – a small wine cooler refrigerator or icemaker comes in handy if space allows."
Once you know how you want your bar to function, be economical with your space by choosing a multifunctional design. In the design above, the countertop doubles as a bar and an outdoor kitchen top on the other - its close proximity to a gas grill, peeking into shot, helps. "I love it when things are multifunctional, so when an outdoor bar can serve more than one purpose, it helps to maximizes the space, which translates to more bang for your buck all around," says Freda.
4. Only use up to a fifth of your backyard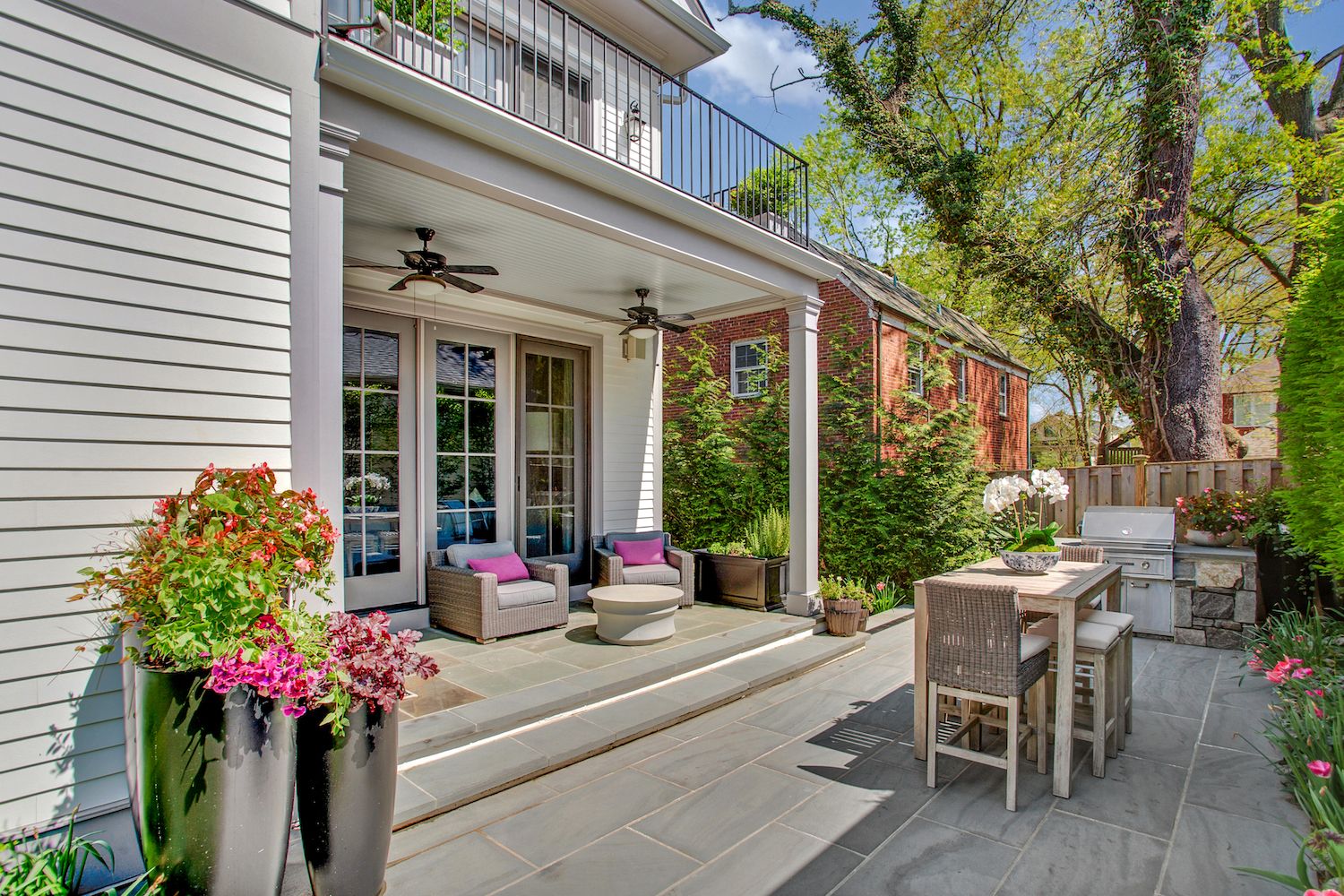 The proportions of your outdoor bar are just as important as the position you choose. In Bell's design above, for example, the designer has chosen a relatively compact outdoor furniture arrangement of a central bar table and stools to avoid overwhelming the space.
"Consider the amount of space you have and design the new garden bar with the proportions of the entire garden in mind," says Bell. "A good rule of thumb is not to make the bar space bigger than a fifth of the total space to allow room to move around and prevent the bar from pulling too much focus."
5. Buy a pre-fab bar with storage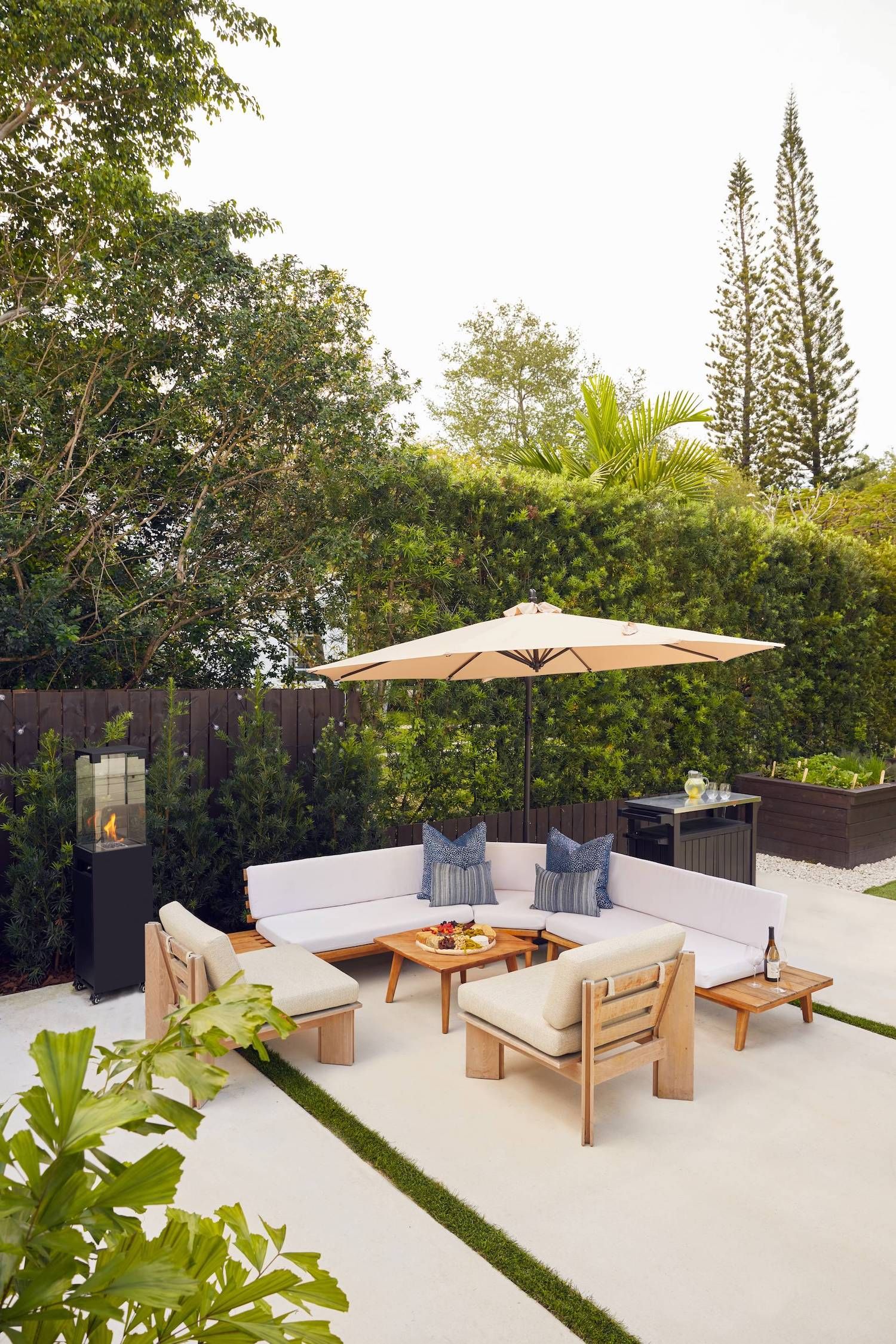 The best thing about an outdoor bar is it need only be as big as a large bedside table and it still does the job, like this one behind the seating area. Look out for ready-to-install outdoor bar designs that include storage space. Having shelves or cupboards for your glasses, dishes, drinks and bar food will help keep your backyard tidy and free-up space in your kitchen.
"Custom bars can be really gorgeous and definitely work well when trying to fit a space to a tee, but they can be cost-prohibitive for some people," says Freda. "There are plenty of pre-fab bars available that are quick and easy to install and cost a lot less than custom work. Most of these will include some storage space under the counter. Just don't forget to bring the snacks indoors when you're done, or you may find the local wildlife like the bar just as much as your friends and family!"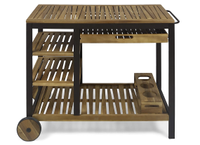 6. Set up two high chairs and a table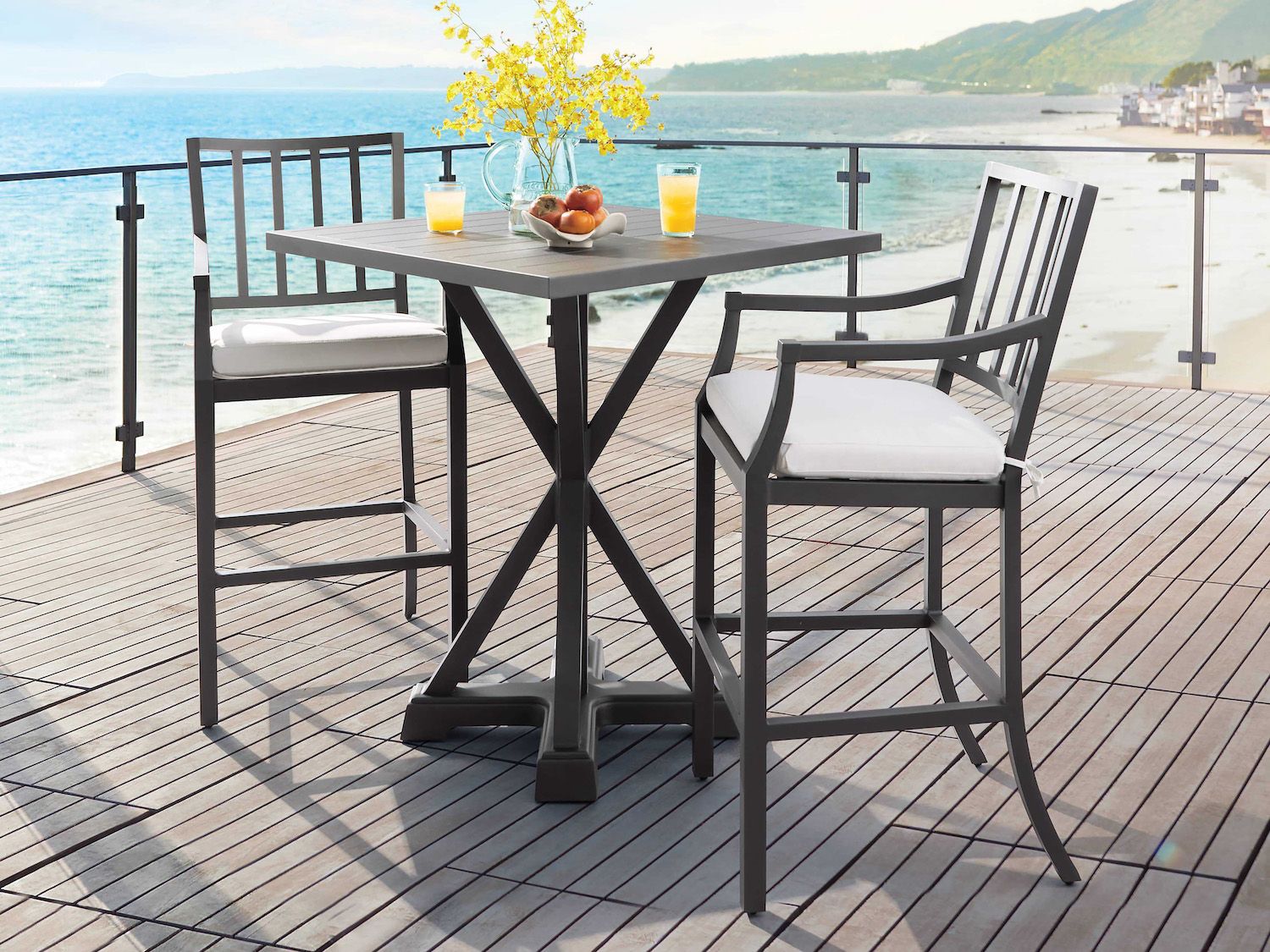 If you don't have enough room for a bar countertop, a couple of high chairs and a round table – like the set above from Arhaus – will make an elegant addition to any small backyard. This setup tends to be less bulky than traditional dining sets, and is ideal for more intimate catchups with friends or al fresco date nights.
"Bistro sets typically consist of a small table and two chairs, making them a great option for small spaces," says Todd Haiman, a landscape designer in New York city. "They are also often lightweight and easy to move around. Folding tables and chairs can also be easily stored when not in use, helping to save space in a small backyard."
Maggie Gienger, Director of Interior Design at Arhaus, adds: "For a larger gathering, you can tuck the barstools to the side for more standing room and use the table for a creative cocktail station with fun garnishes – you'll make hosting look easy!"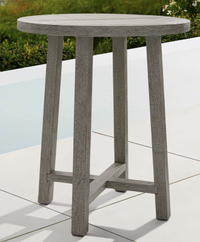 Adones outdoor bar table, Arhaus
Clean lined and made from pale wood this simple bar table is perfect for a small space. It creates the feeling of an outdoor bar without having to get the architects in to actually build you one.
7. Use plants to help your bar blend in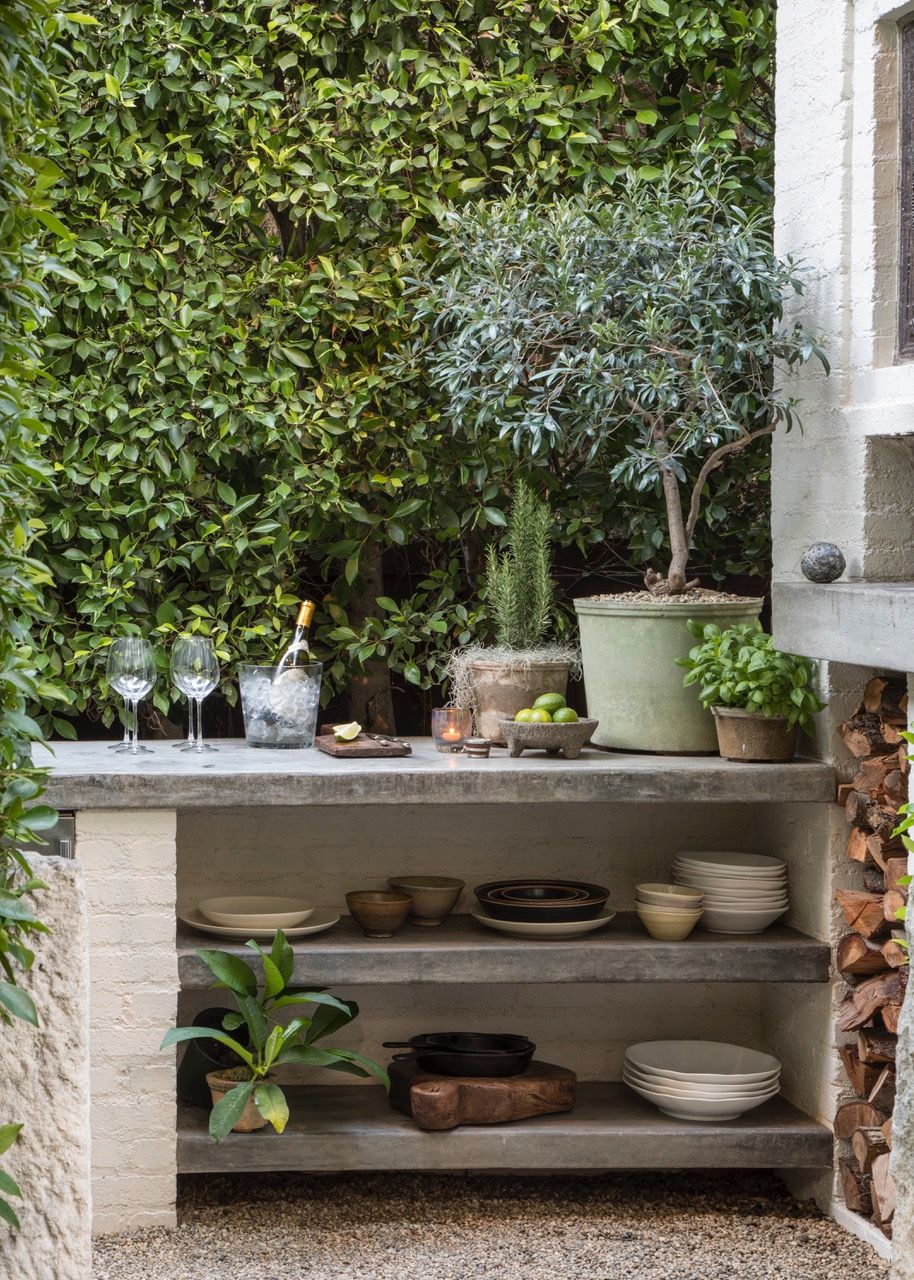 Chunkier bars can work in small backyards if you use nature to your advantage. By nestling the bar into surrounding bushes and trees, like in the design by Hollywood-based exterior designer Scott Shrader above, it will become less domineering.
"Incorporating plants and other natural elements around the bar can help it blend in with the rest of the garden and make it feel like a cohesive part of the overall design," says Haiman. "Establishing a color palette and using natural materials such as wood or stone for the bar can also help it blend in with the surrounding environment."
Even better if your plants can be added to your refreshments. Haiman adds: "Herbs like rosemary, thyme, sage and mint are all low-growing and fragrant options that can be used in cooking and cocktails. I do highly recommend the inclusion of plant material that adds a sensory component."
We're sure the potted basil growing on the bar pictured would be a welcome addition to any gin-based cocktail, or even a martini.
8. Opt for a moveable bar cart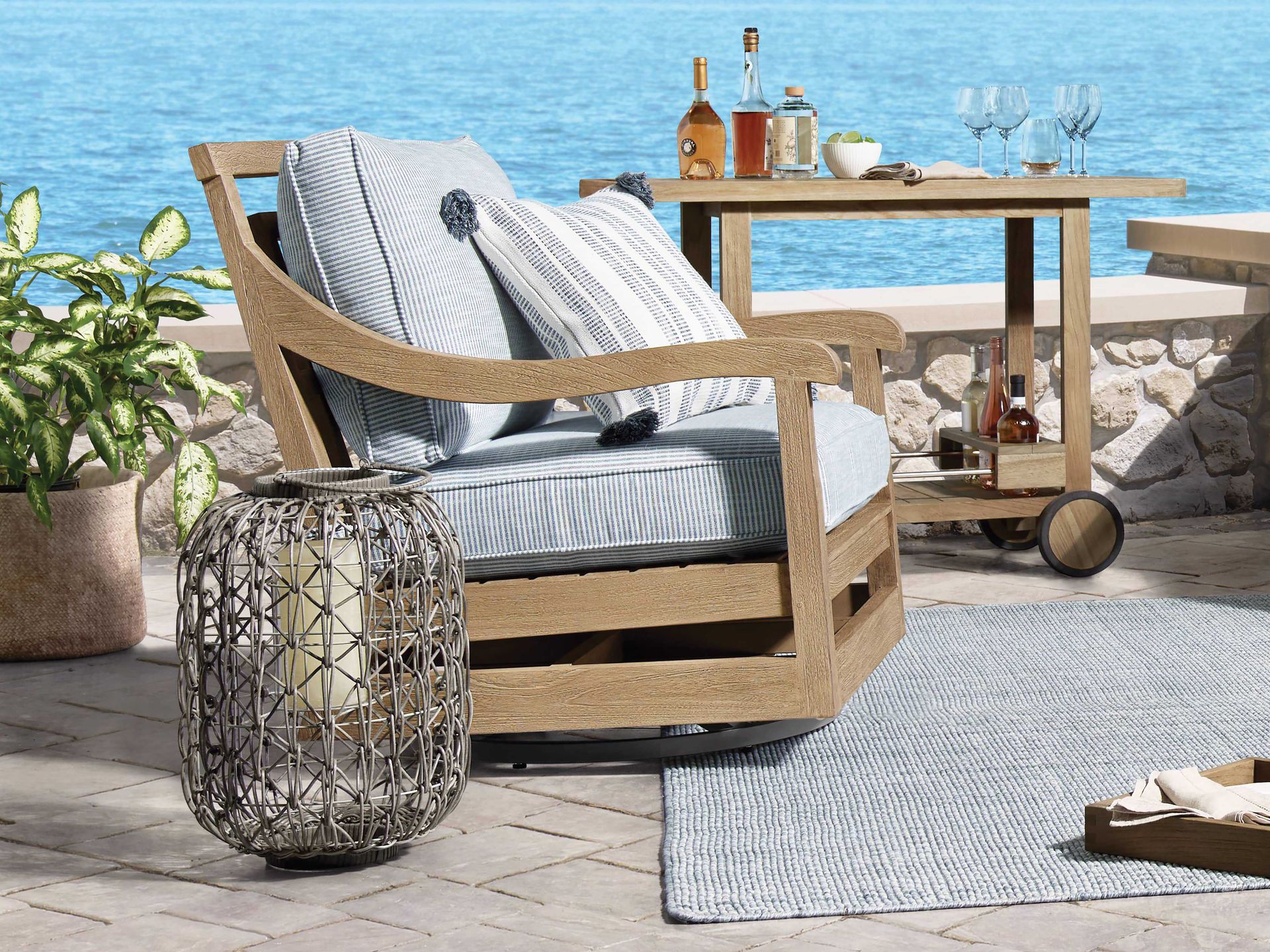 An outdoor spin on a traditional drinks trolley, a bar cart gives you the benefits of an outdoor bar without taking up permanent residence in your backyard. It's the perfect option if you want to be able to flex your space for different purposes – from a party spot one day to an outdoor yoga studio the next, for example. Easily wheeled in and outside, a bar cart can make a lovely addition to a veranda, hallway or even a living room. Dressing one with houseplants can be a great way to maintain that indoor/outdoor look throughout the seasons.
"You can style out a creative cocktail station with mixers, colorful garnishes, and an ice bucket on a wicker serving tray – or prebatch something fun in a pitcher or beverage dispenser with glasses on the side," says Maggie Gienger, Director of Interior Design at Arhaus.
There's a variety of chic and affordable designs out there, including the Arhaus Hamptons Outdoor Bar Cart pictured, or this sweet wicker number, the Edith Bar Cart, from Anthropologie, below.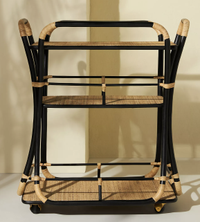 This easy-to-maneuver bar cart speaks of days in the tropics, its wicker frame evoking a sense of the Caribbean. And it's all you need in order to set up your own small backyard bar.
9. Keep things even simpler with a bench and tray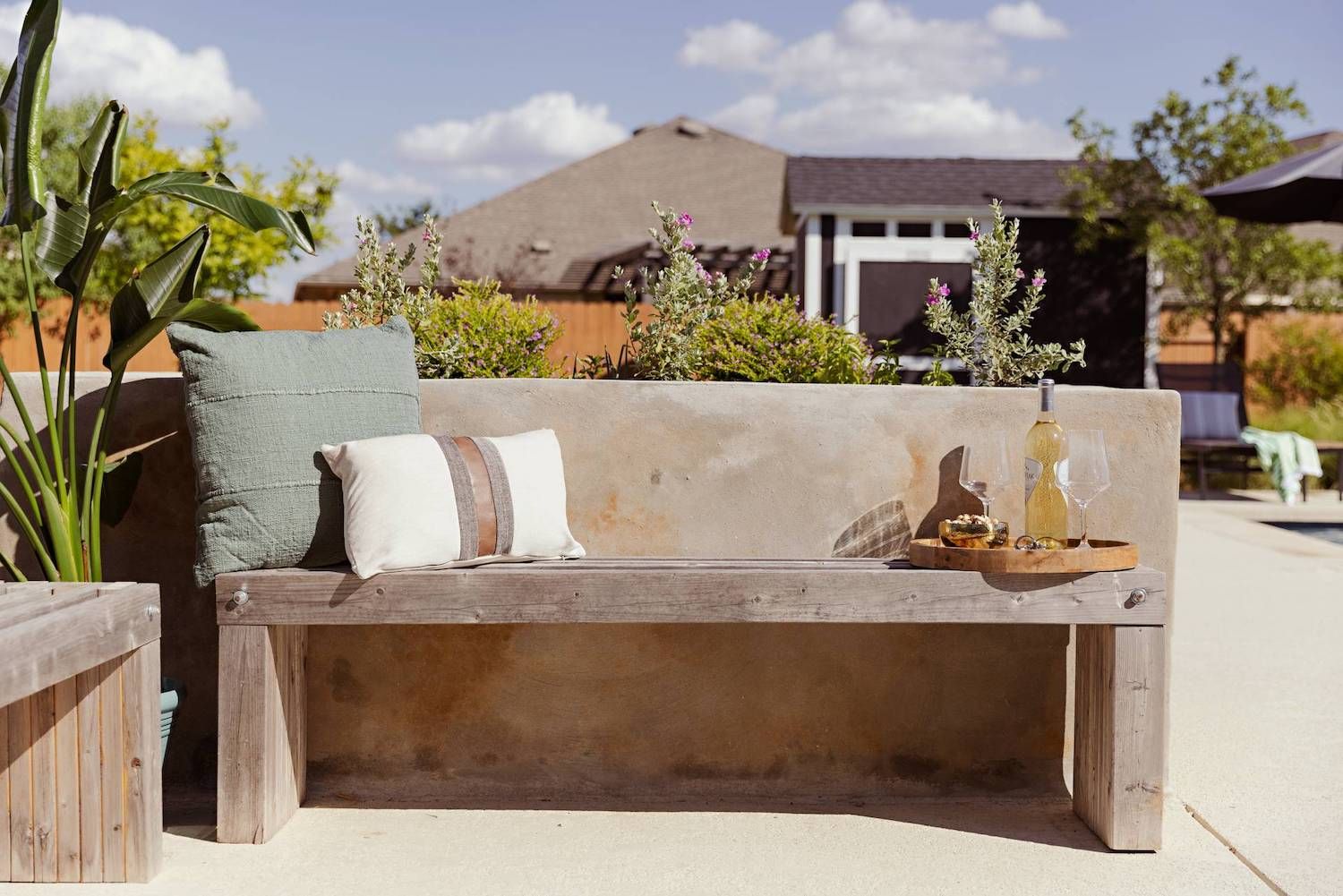 If you're super tight on space, a backyard bench and a beautiful serving tray can be all you need for a sociable evening under the stars. Arhaus have a number of stunning tray designs to check out, like the woven Malawi Round Tray in Natural.
You could also consider adding extra twinkle with a string of outdoor lights. "Fairy or string lights can add ambiance and warmth to your outdoor bar," says Yardzen's Lenhart. "Just go easy on them and consider stringing along a structure like a pergola or a fence instead of criss-crossing the space, as they can look like power lines during the day."
For style leaders and design lovers.
Kate Hollowood is a freelance journalist who writes about a range of topics for Marie Claire UK, from current affairs to features on health, careers and relationships. She is a regular contributor to Livingetc, specializing in reporting on American designers and global interiors trends. Based in London, Kate has also written for titles like the i paper, Refinery29, Cosmopolitan and It's Nice That.