Outdoor kitchen countertop ideas - the materials, designs and expert advice you need
Outdoor kitchen countertop ideas to truly take your alfresco kitchen over the top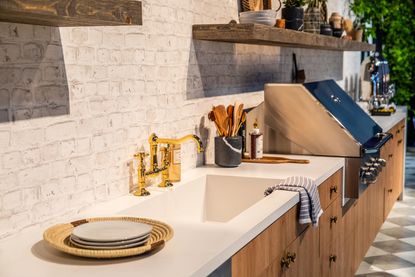 (Image credit: Caesarstone)
Outdoor kitchen countertop ideas are a world of smooth finishes, clever materials, and luxe colors to choose from. An outdoor kitchen is a luxury, plain and simple—but plain and simple is just the beginning of today's kitted out outdoor spaces. Looking for ways to take your outdoor kitchen ideas over the top? Start by picking the right outdoor countertop.
Just like your indoor countertops, aesthetics are key. But at the end of the day think hard about functionality, too. "Fundamentally we are talking about the outdoors so there is no shying away from the fact anything we have out there is going to get dirty, dusty and hit with falling leaves, inclement weather and creepy crawlies," says Alex Saint of the UK's Kitchen Architecture.
You want a stunning work surface that is durable, easy to maintain, and suited to your particular climate—luckily, there are plenty of outdoor kitchen countertops that'll roll with the punches (and look good in the process).
WITH QUARTZ, INTERIOR VIBES LAND OUTSIDE
The sheer durability of quartz has made it a smash hit throughout indoor kitchens for decades. Until now, however, the engineered stone couldn't break outdoors due to one main reason: quartz is prone to fading beneath direct sunlight.
That may well have changed with the launch of Caesarstone's outdoor collection, which cracks the code with a special resin finish that's weather and UV-resistant, promising to keep its color intact for years (the ten-year warranty doesn't hurt). As with other quartz countertops, the material is non-porous, resistant to scratches and stains, and easy to clean. So far, three colorways are up for grabs, but it's the 515 Palm Shade, shown at the top of the page, that's truly eye-catching: a milky white marble finish with subtle charcoal veins, which could form a great backdrop to all your outdoor bbq ideas.
THE HOTTEST STONE TO STAY COOL
Sintered stone, another new kid on the block, is made by intensely heating and compacting raw materials (it's often categorized as an 'ultra-compact' countertop). "We call them 'bomb proof' materials that are incredibly resistant to scratching and staining, and don't get hot under direct sunlight," says Daniel Thorp of New York's LaGuardia Design Group.
Hot is the operative word: many natural stones, once polished and finished, absorb heat and become blazing hot to the touch (upwards of 150°F/65°C, says Thorp). Brands like Italy's Lapitec, which Thorp sources through NYC's ABC Stone, is a sintered stone available in a wide range of natural colors and textures available in massive slabs that allow less joints (you can build a pretty substantial outdoor kitchen using just two slabs, in fact). Another brand to look at is Dekton, another top choice if you're matching other materials in the space (it also comes in slabs for flooring and siding, and is ideal for your garden bar ideas).
WHEN IN DOUBT, STICK TO NATURAL STONE
Perhaps the safest bet for most outdoor kitchen countertop ideas, in any climate, is 100% natural stone. Real stone is UV resistant, has low porosity (it won't absorb things like acids, red wine, or even water), and holds up to scratches and stains.
If you're wondering how to build an outdoor kitchen and looking for a true showstopper, the most elevated yet low-maintenance material is larvikite, one of the strongest materials in the world and quarried by the Norwegian brand Lundhs Real Stone. "My experience is that most materials other than stone are destroyed over time, even composite boards and concrete," says Linda Steen of Oslo's Scenario Interior Architects, who used Lundhs Real Stone in a recent outdoor kitchen that needed to withstand all kinds of weather and temperatures—considering that it was just 15 meters from the sea.
ADD NATURAL CONTRAST WITH SOAPSTONE
If dark and handsome is your type, consider soapstone. The natural stone is a popular low-maintenance choice for outdoor kitchen countertop ideas and is generally available in grays, greens, and black-leaning tones with lighter veining. It's also nonporous and easy to clean without needing to be sealed, and naturally handles big fluctuations in moisture and temperature for years on end (go ahead and place a hot pan directly onto a soapstone countertop: it won't leave a mark).
It's the go-to material for Katherine Aul Cervoni, the owner of Staghorn NYC. "I think it's absolutely beautiful and compliments a lot of preferred materials for outdoor kitchens such as ipe, field stone, and stainless steel," says Aul Cervoni. She notes three downsides to keep in mind: it's costly (but a worthy investment), softer than other natural stones (prone to dinging if heavy items are dropped onto the surface), and will get darker with age (which isn't always a bad thing).
THE SMOOTH LOOK OF POURED CONCRETE
No other outdoor countertop is trending harder than concrete—its smooth strength and contemporary look is hard to beat. Often poured directly in place by professionals (a DIY project for the fearless, too), it's perfectly complementary to a range of finishes from warm wooden cabinetry to stainless steel appliances.
"Folks are still loving the minimalist, modern look to [concrete] and it's definitely more economical than high-end stones like soapstone or granite," says Staghorn NYC's Katherine Aul Cervoni, explaining why it forms such a key part of so many modern garden ideas. Just don't forget that concrete countertops aren't as low-maintenance as they look, and absolutely must be sealed regularly. "The homeowner needs to accept that concrete will absorb grease, and will respond to environmental conditions," says Dana Webber, owner of Seattle's Dana Webber Design Group. "The concrete countertops for outdoor kitchens are sealed and need to be maintained throughout the year; despite sealing, it develops a patina induced by cooking and the environment."
GO FOR GRANITE, THE NATURAL FIT
If there's one quality every outdoor kitchen requires, it's durability, and granite stands the test of time. It's a natural fit, stone sourced from nature for an outdoor space, and can withstand heat, rain, scratches, stains (when it's properly sealed), and UV rays. It's also available in an endless variety of colors, which makes it popular for clients looking for something one-of-a-kind. But that doesn't mean it's entirely carefree: it gets hot to the touch, and needs the occasional TLC. "It does require the maintenance of regular sealing, can crack under extreme temperature fluctuations—or any shifting of the kitchen framing—and can also incur sun damage if it gets a lot of direct exposure," says Staghorn NYC's Katherine Aul Cervoni, noting that it doesn't always fit the bill for clients who want an absolutely low-maintenance countertop.
A great tip for choosing the best granite countertop based on aesthetics? "Get as big of a sample as you can because natural stones vary over the whole surface," says Daniel Thorp of LaGuardia Design Group, who often uses a smooth grey variety of granite called Jet Mist, which has soft white veining. "Ask your vendor for a 12x12 inch tile to bring home to see how it looks in the sun—instead of the fluorescent light of the showroom."
MAKE IT SLEEK WITH STAINLESS STEEL
The reason stainless steel is the default on professional kitchens, appliances and modern kitchen ideas (just think of your grill cover) is the same reason it's ideal for an outdoor countertop: it's durable, corrosion-free, easy to keep clean, and handles high temperatures (although it does get hot in the sun). It's also rather sleek, and the latest designs are getting sleeker.
Brands like Sweden's Röshults, which fabricates outdoor kitchen modules out of stainless steel, are the clean-lined favorite of the UK's Kitchen Architecture. "The simplicity of the steel and anthracite finishes offered by Röshults do this with a timeless elegance and engineered quality which enhance the nature around them; wood, plants, stone, water, etc.," says designer Alex Saint of the UK's Kitchen Architecture.
EMBRACE THE ALL IN ONE KITCHEN KIT
If low-maintenance outdoor kitchen countertop ideas are your top properties, the easiest innovation is the abundance of modular outdoor kitchen units—think of it like an outdoor kitchen kit.
Sweden's Röshults is among the most popular, but there are plenty of other new compact options, like The Norma kitchen collection, recently introduced by Italy's Roda with freestanding modules on wheels that take the ache out of picking, choosing, and construction. Other outdoor living brands, like Talenti, introduced Tikal, a collection of modular units with cement-like countertops and modules that feature anything from integrated gas burners to sinks and grills.
SPRING FOR THE WATERFALL EFFECT
One modern take on the outdoor kitchen surface is the waterfall style countertop, which simply involves running the countertop material down the sides of the kitchen, as if spilling over the edge straight down to the ground. "I'm a big fan of the modern, clean lines of this look and love the drama it can add to a space," says Staghorn NYC's Katherine Aul Cervoni. It creates a solid, almost monolithic effect that has become popular for indoor kitchen islands, and has officially landed outdoors.
MAKE ROOM FOR CONVERSATION BY ADDING A BAR
The latest trend in outdoor kitchen countertops goes beyond the kitchen itself: you're already building a countertop for cooking and chopping, so why not add another counter for chatting and sipping? Just like your indoor kitchen, guests tend to gather around the cook, so adding a simple bar with stools will create a convivial, dynamic vibe.
"Entertaining in general and getting to show off your outdoor space is definitely a huge contributing factor to these trends," says Sean Kernan of New York's Landscape Details, who's noticed an uptick of requests for bars in recent outdoor kitchens. Kernan isn't alone: "We're doing a lot of side tables, or credenza-style banquettes for serving drinks and serving food, which are not connected to the outdoor kitchen," agrees Daniel Thorp of New York's LaGuardia Design Group.
WHAT'S THE BEST COUNTERTOP FOR AN OUTDOOR KITCHEN
The best countertop may be the most functional. More than ever, clients are asking landscape designers to use materials that are as durable and low-maintenance as possible. It's why some designers are partial to natural stone materials, like soapstone, which tend to handle the outdoors, well, naturally.
But the best outdoor countertop for you truly depends on your particular climate: consider the weather. "The countertop, if it is in an extreme climate, needs to be able to expand and contract with temperature differences," says Dana Webber of Seattle's Dana Webber Design Group, noting that engineered materials like quartz can work in temperate climates but not extremely hot or cold climates. Granite, on the other hand, is well suited for broad temperature swings, but is porous and prone to staining without proper sealing.
HOW TO MAKE AN OUTDOOR KITCHEN ISLAND
If you have the space, an outdoor kitchen island is the ultimate wow factor. "First and foremost, you should be clear about how you want to use your island," says Staghorn NYC's Katherine Aul Cervoni. "Is it mostly space for prepping meals, or maybe extra appliance storage, or are you wanting it to be more of a gathering and dining area? Your primary need should guide its overall design."
To that end, Aul Cervoni recommends keeping it proportional to other existing features so it doesn't become an eyesore. Make sure you allow plenty of space to move around the kitchen island, too—if it's too big or too close to other cabinets, it can cause major traffic flow problems. And, even if you're opting for open shelves in a kitchen island, always include a drawer or cabinet where you can stash things that don't need to be so curated.
HOW TO CARE FOR AN OUTDOOR KITCHEN COUNTERTOP
Outdoor kitchen countertops don't get the same level of attention and regular cleaning as indoor countertops, which is why low-maintenance materials often reign supreme. All materials have their own preferred cleaning agents, so be careful to check with your vendor about recommended cleaners (when in doubt, a soft sponge and a mild natural detergent will do). But the primary maintenance of your outdoor countertop depends on one main question: does it need to be sealed, and if so, how often? Natural materials like concrete and granite do require regular sealing, while carefree materials like sintered stone may not.
And if you covet it, consider covering it up—a simple pergola or retractable shade will do wonders for the longevity of any outdoor material.
The Livingetc newsletter is your shortcut to the now and the next in home design. Subscribe today to receive a stunning free 200-page book of the best homes from around the world.
Keith Flanagan is a New York based journalist specialising in design, food and travel. He has been an editor at Time Out New York, and has written for such publications as Architectural Digest, Conde Nast Traveller, Food 52 and USA Today. He regularly contributes to Livingetc, reporting on design trends and offering insight from the biggest names in the US. His intelligent approach to interiors also sees him as an expert in explaining the different disciplines in design.