Kitchen color schemes - designers share the very best palettes to use
Picking the perfect kitchen color schemes can totally transform your home, helping you create the mood you want in the most important space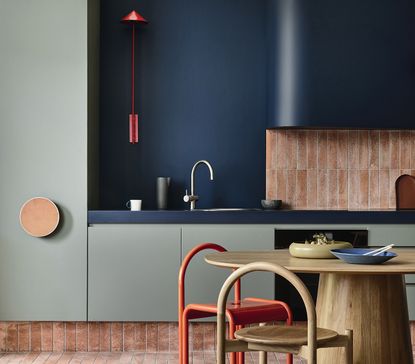 (Image credit: Kennedy Nolan/Laminex)
The Livingetc Newsletter
For style leaders and design lovers.
Thank you for signing up to LivingEtc. You will receive a verification email shortly.
There was a problem. Please refresh the page and try again.
Kitchen color schemes are easier for some of us to decide on than others. And when it comes to investing in a new or remodeled kitchen, it can be tempting to play it safe. However, there are plenty of ways to ensure your newly decorated space won't look tired a few years down the line. For example, choosing neutral units and a statement shade for walls or tiles. Or, take inspiration from Caroline and Sarah Stemp of Sascal Studio, and update your existing cabinetry with a lick of paint. 'Sanding and repainting your units is a cost-effective way to inject personality into the space,' says the design duo.
Shunning trends in favor of timeless design is another way to achieve enduring style, as advocated by Stilleben Architects, who believe a kitchen should last for generations. 'We wanted to make a kitchen that can handle changing times,' say the studio's founders on their enduring kitchen color ideas. 'Something classic in design but contemporary in color that can be repainted at any time.'
If bright or bold hues seem a little daunting, consider a muted version of your favorite color, or shades at the paler end of the spectrum. A palette drawn from nature rarely fails, nor do the tonal colors that defined areas of mid-century design, such as rust-red, burnt orange, muddy green and marine blue.
Whatever colors you decide on, texture and materiality are a key factor in how they will play out in a space. For example, a matte finish might be less overpowering than a gloss surface. Or, the light-reflecting properties of a glazed tile could take the edge off a strong color choice, which can be particularly helpful when it comes to small kitchen ideas.
Whether you're simply seeking paint inspiration or researching a whole redesign, we've compiled a selection of spaces that use color in a variety of inspiring and accessible ways below.
Kitchen color schemes
1. Pale pink and grey
Nude-pink cabinets and bespoke terrazzo flooring breathed new life into the kitchen of this Arts and Crafts property in North London, which recently underwent a full renovation at the hands of Studio Duggan. 'Bauwerk lime paint was applied throughout the open-plan space to add an element of earthiness,' says founder Tiffany Duggan, who chose dark timber for the wall cabinets to create contrast and add drama. 'A tactile cement worktop and backsplash unites the wall and base units whilst balancing the soft-pink cupboards with a more industrial vibe.' The pink adds a real softness to these grey kitchen ideas.
2. Bronze with aquamarine
Designed to complement the sea views from this home, this Roundhouse kitchen features a palette of hand-polished bronze, deepest grey-green and accents of teal. Created in collaboration with Pfeiffer Design, the scheme is a sophisticated nod to the coastal setting, taking green kitchen ideas to their most grown up. 'This Urbo kitchen in patinated bronze lacquer was a central part of the renovation project, which created an open-plan living, kitchen and dining area,' says Roundhouse senior design consultant, Lauren Wright. 'Farrow & Ball's rich dark 'Studio Green' works so well with the bronze, particularly when teamed with a fresh white concrete-effect worktop.'
3. Copper and blush pink
Clean-lined timber cabinetry meets textural tiles in this restful space, which features a backdrop of rugged marble, courtesy of Mandarin Stone. 'The wall tiles are made from Rosa Perlino tumbled marble, offering the softest of pink shades and a rustic feel thanks to the antiqued, tumbled edges,' says Mandarin Stone's creative director, Louisa Morgan, proving that pink kitchen ideas can include neutrals, too. A floor in pale porcelain lifts and lightens the scheme, while finishing touches – such as the copper tap from The French House and Nick Fraser's terracotta pendant light – contribute to its overarching feeling of warmth.
4. Terracotta and off-white
Terrcotta continues to be one of the biggest kitchen trends. When Stilleben Architects' Ditlev Rahbek, Ditte Reckweg and Jelena Nordentoft launched their kitchen line in 2017, they wanted to wanted to simplify the process of designing a new kitchen so that 'only the well-thought-out and durable solutions remained.' To this end, the studio offers two different models in a choice of six signature colors, one of which is a rich and resplendent terracotta. 'It comes from the world of ceramics and strikes a balance between red and brown tones,' say Stilleben's founders. 'It is brave yet timeless, and the natural elements of the color adjusts to the other tones and the light in any room.'
5. Sage green and warm whites
When sisters and interior designers Sarah and Caroline Stemp of Sascal Studio, moved into their London flat, they revamped the existing grey-gloss kitchen with a lick of paint. 'We had the cabinets sanded down and painted in Farrow & Ball's 'Mizzle' say the pair, who love the combination of pink and green, and so chose soft and powdery 'Calamine' for the walls, also by Farrow & Ball. Bamboo shelves, an antique clock and a sisal carpet completes the look, adding a hint of vintage to this pretty palette, proof that if you know how to paint kitchen cabinets then the scheme can be totally overhauled.
6. Violet and white
Two tone kitchen ideas don't come much softer than this. 'One of the first design decisions we made for this kitchen was selecting the very special Arabescato Violet stone for the worktop and wall shelf,' say Tor Sauder and Sheena Murphy of Nune Design. 'It has purple and golden tones, which add so much warmth and character.' The duo wanted the stone to be a focal point, and so kept the other finishes 'quiet and neutral', implementing a tonal and textural material palette to create interest. This includes a backsplash of hand-hewn terracotta tiles and millwork bronze cabinet handles that will age beautifully over time.
7. Forest green and olive
We love the dramatic dark-green hue used on both walls and cabinetry in the kitchen of this historic home. Plain English design director Merlin Wright describes paint application as a 'color drench', explaining that the technique has the effect of unifying the various elements in the space. 'The rich greens also complement the warm tones of the oak floor and island countertop,' he says of the color choice, which is the brand's own 'Army Camp Green'. When it came to the kitchen island ideas, the work table is painted in 'Drab Colour' by Papers and Paints to create subtle contrast.
8. Blue and green
'The color palette in this kitchen was quite a spontaneous choice,' says Anna Białobrzewska of Warsaw-based architecture practice In Architecki. 'The clients presented shades that made them feel good and we created a combination of pastel green, blue and pink.' The units were fronted with veneered panels to channel a 1950s aesthetic, and feature powder-blue fronts with pops of pale pink and a stack of mint-colored cabinets running from floor to ceiling. Blue kitchen ideas never looked so good.
9. Black and calamine
When it comes to combining colors, it's all about the undertones. Farrow & Ball's 'Paean Black' is a timeless and cocooning red-based black paint that creates warmth and intimacy as well as drama, not a package you might expect from black kitchen ideas. 'The charred aubergine tones work perfectly with the smoky nuances of 'Sulking Room Pink',' says brand ambassador and color consultant Patrick O'Donnell. 'Using the black shade on the low units helps to 'ground' the kitchen, while taking the faded rose hue over the ceiling creates the illusion height as there's no sharp contrast where wall meets the ceiling.'
10. Dark blue with sage green and red
This richly colored kitchen is the result of a collaboration Australian brand Laminex and Melbourne-based architecture studio Kennedy Nolan. Working with a modern, ultra-matte laminate, the studio opted to focus on sage green kitchen ideas for the cabinetry and a strong French navy for the worktop, backsplash and rangehood cover. Rustic terracotta tiles create further contrast while adding warmth, and pops of brilliant red complete the look. 'We wanted it to feel quite abstract,' says Rachel Nolan, founding director of Kennedy Nolan. 'The result is a really memorable little kitchen.'
What are the new colors for kitchens in 2022?
2022 has something for everyone in terms of kitchen color trends. Choose earthy neutrals, deep tans and green of any shade for a nature-inspired palette, or opt for stronger colors such as saffron yellow and bold blue hues to make a statement.
How do I choose a color scheme for my kitchen?
When choosing your kitchen color schemes, consider the lighting as well as the material selection and how you want your kitchen to feel. Warm, dark shades can be cozy and cocooning with the right application, while a paler palette will capitalize on natural light and instantly brighten your space for that glorious sun-filled kitchen feel, one of the loveliest kitchen updates.
For style leaders and design lovers.
Tessa Pearson is an interiors and architecture journalist, formerly Homes Director at ELLE Decoration and Editor of ELLE Decoration Country. When she's not covering design and decorative trends for Livingetc, Tessa contributes to publications such as The Observer and Table Magazine, and has recently written a book on forest architecture. Based in Sussex, Tessa has a keen interest in rural and coastal life, and spends as much time as possible by the sea.