Green kitchen ideas - 10 designer spaces that prove this is the very best color for your home
Green kitchen ideas help bring your home bang up to date, playing around with this truly versatile color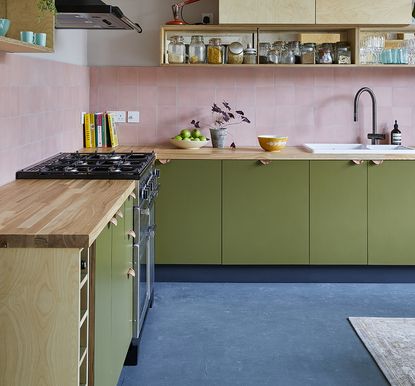 (Image credit: Chris Snook)
Green kitchen ideas cover a whole range of colors, shades, textures and aesthetics. From pale pistachio to the darkest khaki, green is perhaps one of the most versatile colors to work with when decorating a space. 'Green can be calming but also uplifting, which is why I think it's is such a great color for kitchens,' says interior designer and Livingetc columnist Rebecca Wakefield of Studio Fortnum, who had a sleek bank of units painted in Farrow & Ball's earthy 'Treron' for a recent project.
A greyish green hue such as this is both restful and grounding, and an easy way to inject color into a monochrome scheme. If bolder kitchen color ideas hold more appeal, look to timeless forest or emerald tones, which add a little drama and work wonderfully in both traditional and contemporary kitchens.
Or, brave a bright and verdant green to bring the outside in and energize your space. A stronger shade is also a sensible paint choice for high-traffic areas: 'Hand-painted kitchens can be less durable than other finishes,' says Christian Ducker of Gundry + Ducker architects. 'So, it's a more practical option than a lighter color.'
Whether statement or subtle, there are a myriad of ways to work with green in a kitchen, from wall-to-wall color to jewel-toned tiles and stained timber kitchen cabinet ideas. The experts behind the designs to tell us more.
Green kitchen ideas
1. Two-Tone Aquamarine
We love the pale blue-green palette used in this space. For a contemporary take on a tonal kitchen palette, Ruth Mottershead of Little Greene recommend that once you know how to paint kitchen cabinets you can combine different shades from the same color family. 'Adding one color to the lower cabinets and contrasting colors for walls and upper cabinets creates a dynamic scheme', says the brand's creative director. Here, Little Greene's 'Aquamarine Mid' has been paired with 'Aquamarine Pale', both of which are a perfect fit with 'Livid', the darker highlight color, and show how effective two toned kitchens can be.
2. Sea-Green Timber
Green-stained timber defines this kitchen on the Belgian coast, designed by architects Thomas Geldof and Carmine Van der Linden. Inspired by the home's surroundings, the pair devised a palette drawn from nature, enlisting Belgian joinery experts Deco-Lust for the custom birch cabinets. 'They did a great job achieving the color we wanted and allowing the flame of the wood to shine through. The execution is perfect,' says Thomas. White stone with a green marble veining complements the joinery and the walls, which are painted in a lime finish to complete the tranquil aesthetic.
3. A Wall of Emerald Tiles
When London architecture studio Emil Eve set about transforming this Clerkenwell warehouse into a two-bedroom home, they used kitchen tile ideas as a focal point, installing a wall of glazed green. 'These were chosen as a reference to the Victorian glazed tiles that can be found throughout the local area,' says practice co-founder Emma Perkin. The tiles, in shades of jade and emerald, form a striking feature within the lime-washed birch-ply cabinets, and serve to soften the architecture's industrial feel with an injection of timeless color.
4. Pair dark green and light pink
Taking modern backsplash ideas to their most beautiful, here a wraparound of chalky pink Spanish tiles is flanked by timber shelving and muted-green base units in this inviting kitchen. 'We love how our rose-pink tiles have been used here,' says Bert & May's Victoria Lunn of the colorway, which was inspired by the pink hues of early evening. 'The warmth of the dusky pink pairs perfectly with the olive-toned cabinets, wooden elements and copper accents,' she adds. A cool-toned concrete floor provides a little contrast, while walls painted in a barely there shade of pink complete the palette.
5. Wall-to-Wall Forest Green
'In this large farmhouse kitchen, the tonal color scheme helps disguise the irregular beams and windows and the rich greens complement the warm tones of the oak floor and island worktop,' says Merlin Wright, design director at Plain English. 'Using one shade on both walls and joinery is sometimes called a 'color drench', and has the effect of unifying the disparate elements of a room', he explains. The brand's 'Army Camp Green' paint color was used for these cocooning green kitchen ideas, which is perfectly suited its rural surroundings. Because of its muted pigment, it fits in with less daring grey kitchen ideas, an area we also turn to for this style of space.
6. Choose a subtle earthy green
'I wanted to create a sense of calm and to connect the kitchen with the home's small urban garden, which was a very important part of the project,' says Rebecca Wakefield of Studio Fortnum, who chose Farrow & Ball's earthy 'Treron' paint for the base units in this sleek and pared-back space, showing why sage green kitchen ideas are always popular. Rebecca also recommends a mid-toned color for use in kitchens due to its practicality. 'Paler shades can quickly get covered in dirty marks, while very dark units will often look dusty.'
7. Pale and soothing sage
Soft sage walls and units provide the perfect contrast to dark timber ceiling beams in the characterful modern-country kitchen, which was designed and built by Neptune. 'Matching the walls with the cabinetry creates a restful space,' says Stephanie Nix, kitchen designer at Neptune. 'Something like our 'Sage' or 'Powder Blue' is the perfect cool neutral.' The pale palette gives the shaker-style kitchen a more contemporary edge, while light wood kitchen countertop ideas work with a white porcelain butler's sink adds to the room's light, bright feel.
8. Highlight with a punchy green
A punchy shade of leaf green was chosen as a highlight color in the renovation of this London home. 'It's picked up in areas such as the hallway, windows and skirting boards, and helps to pull the different elements together,' says architect Christian Ducker of Gundry + Ducker, the studio behind the kitchen's bold design. 'Where possible, we always build the room and the joinery before choosing colors. We tried a range of green shades, ranging from dark to light, and decided this one was the most impactful. I think, if we had picked a lighter color, you might miss the visual link to the other parts of the house.'
9. Match your lighting to your island
If going for a two tone kitchen, add an accent of the shade used on the lower half of the room to the top. This creates a space that feels curated, rather than of two halves, and is a smart way to think about kitchen island lighting ideas.

'It's always a good idea to pick one color that can carry through the scheme,' says Livingetc's editor Pip Rich. 'Just a dash of it on your lighting that connects to your island will feel so much more cohesive.'
10. Use wood slats for texture
One of the biggest kitchen trends at the moment is for wood, used as slats on walls or to frame cabinets, adding a feeling of textured. When paired with green, it instantly evokes nature, the same sense you get of being in a forest, and as such creates an utterly calming space.
Is green a good color for a kitchen?
Green is good color for a kitchen because there are so many shades to choose from. Try grey-toned greens for soft color, pale sage to lighten a small space or dark forest green for a moody and cocooning palette. 'With my own green kitchen, I found it a very soft, liveable color,' says Livingetc editor Pip Rich. 'It helped create a space I felt really relaxed, just the vibe you want for a kitchen.'
What color goes with a green kitchen?
Green complements a host of different shades, from lustrous metallics to soft pastels. Inject green into a white-and-wood scheme for a hit of subtle color, or combine with muted versions of primary colors, such a as rust red, mustard yellow and inky blue - there are so many colors that go with green that it makes it a perfect shade to decorate with.
Does grey go with green in a kitchen?
Whether warm or cool in tone, grey and green are an ideal color combination in a kitchen design. For example, a grey-veined marble or terrazzo countertop looks beautiful with cabinetry in any shade of green, as does a polished concrete floor.
Tessa Pearson is an interiors and architecture journalist, formerly Homes Director at ELLE Decoration and Editor of ELLE Decoration Country. When she's not covering design and decorative trends for Livingetc, Tessa contributes to publications such as The Observer and Table Magazine, and has recently written a book on forest architecture. Based in Sussex, Tessa has a keen interest in rural and coastal life, and spends as much time as possible by the sea.