On the House: Sophie Heawood's Property Binge. This week, leafy green homes for sale
Sophie Heawood would like to live in a house, a very big house in the country (or one that feels like it)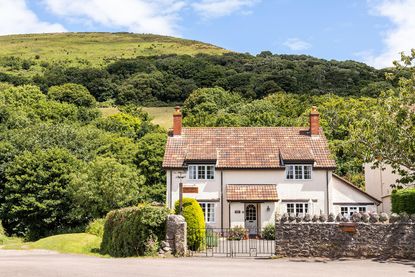 (Image credit: Alamy)
This week we are looking at leafy, verdant bowers. Houses surrounded by luscious trees and greenery, whether they're deep in a rural forest or on a popular London street, hidden by ivy. And then we are going to glance at the news and find out the latest about Matt Hancock and that woman on the CCTV, and then think about his name, and his job, and the world, and then we are shutting down our brains and going back to Rightmove, where it is safe, for the rest of eternity.
Fitzroy Park, Hampstead Heath, £3.65m, The Modern House
If we must start in London - and I'm afraid we must, because I still live here, week after week, year after year, poring over photographs of houses in Devon and Wiltshire and California, wondering when I will leave, sometimes understanding I will never leave, and then sometimes, in my head, leaving again - then Hampstead Heath is the leafiest place there is. It is a kingdom of leaves, and a few lucky buggers get to live right inside the leaves.
Fitzroy Park! Have you seen Fitzroy Park? It's a secret world of houses nuzzled right up into the Heath itself, and which you can follow away from there up to Highgate Village and come out near Kate Moss's house. I once walked up Fitzroy Park as the twilight took over the lane and there were bats flying around. Bats! In the middle of London! Be still my beating real estate heart!
This particular property, Apex Lodge, is one I've spied on many times when heading to the women's pond or walking the dog along the leafy green lane beside it. I'm sure I'm not the only Londoner who has tried to peer over its walls and imagine myself living there, sitting in my garden which is actually the Heath, and then tried to decide whether I would be cross or not about the presence of people like me, spying on me, once the house belonged to me.
Alright so I might be somewhat alone in the convoluted thought process of the last bit, but the essence is universal. All of us sad, tragic Londoners moved here because of all the built, constructed, human-made, exciting things that were happening in the big city, and then we spent the next twenty years trying to live inside the only part of the big city that wasn't any of those things. Perhaps this is the English "eccentricity" we've heard so much about. Or perhaps we're just chundering pissfools. Either or.
Anyway, would you take a look inside this house, now that we have the rare and exciting opportunity, and imagine sitting on your old stone patio that literally overlooks the Heath, and imagine waving down at the mere mortal passers-by, like the Queen.
We shall not discuss the black marble worktops in the kitchen or really any of the flooring in this house at all [because, even though it all looks a bit wrong to my eyes, who am I to insult the owners when they still might consider taking over £3m off the asking price when they find out how much I long to live here.] Never give up on your dreams. Give this house to me.
See the rest of this property here.
Priory Grove, Stockwell, South London, £1.25m, Hamptons
Alright we're still in London - we're leaving soon I swear - but have you ever seen a leafier façade than this one? The front door and most of the windows are entirely obscured by a living, breathing adventure of ivy, fir and wisteria. The back garden is an absolute riot of verdancy too. And then there is - well have you seen the photos? Then there is the house itself. The inside of the house.
Yes. Yes it is. It is very, very full of very pretty and very colourful things. And I cannot decide if I would love or loathe to live in a house this crowded out by this many pretty and colourful things. Would you wake up in the morning feeling surrounded by joy and excitement, or would your brain ache the minute you tried to concentrate on anything? The sensory overload is real but there's a part of me that craves it, wants to be wombed in by all of it.
At the same time, I'm convinced that this house would pass the Marie Kondo test with flying colours - because she never said how many items you could have, only that you had to love each and every one of them. And the feeling I get from this house is that the owner loves each and every single thing in it, and has chosen all of them, and wants all of them, and - what's that painting in the blue and red loo? Above the toilet? Is it Peter and the Wolf? It's bloody gorgeous.
The sitting room does gives me a slight feeling that I'm about to be eaten by the Wolf, however, or at least pecked to death by a puppet version of a bird of prey. Or pounced upon by a marionette who is two inches tall and dripping with blood made from the crushed petals of pot pourri. You know, just those standard anxieties that everyone has.
Cannot decide about this house. My inner jury is out.
See more of this house here.
Jesmond Dene, Newcastle, POA, Rare! From Sanderson Young
It's high time this column made its inaugural visit to Newcastle, a busy, interesting city with a lot of affordable terraced houses and flats but also a remarkably posh side of town called Jesmond Dene. The Dene is actually a park, a swooping, dramatic valley of a place, with the river Ouseburn going through it. It has crags and waterfalls and pools and a glorious old bridge - honestly you wouldn't think you were in a big city at all - and then there are the posh houses that line the surrounding hidden leafy slopes.
Such as this intriguing art deco villa, in which I would pay good money to see them shoot the remake of Abigail's Party, preferably with Alison Steadman having remarried into money and pontificating at length on her stained glass doors and those four massive topiary balls that line her garden like testicles.
It's listed for sale as POA (Price on Application), presumably meaning someone is too embarrassed to tell you how much it is. Or they don't want their mum to know. Or their burglars. Or they can't decide until you make an offer and they squeeze their eyes really tight and pray.
There isn't even a floorplan! Suggesting that that sort of splodged oval hallway proved too hard for the estate agent to draw! Perhaps the laser measuring device couldn't cope with the big curved windows either, or the sheer amount of glass everywhere just overwhelmed them. Or Alison Steadman was there, in full power as her character Beverly, menacing them with her come-to-bed-in-my-topiary-balls eyes until they fled.
See more of this house here.
The Old Manor, The Mendips, Somerset, £995k, Inigo
Under a million pounds! Look at this mini manor house, achingly beautiful and surrounded by drooping trees and a babbling brook in Somerset. Oh those limewashed walls with their lumps and their bumps that scream authenticity into the estate agent's marketing materials. Oh those "verdant mature gardens" and "secluded love seats" and "local dragonflies and newts," as described in the listing by someone who did the commercial option in their Creative Writing module. Oh the fireplaces! The pargetry on the ceiling! The darkened sitting room with the slouching piano and the faint smell of death!
I am weak for it, for all of it. I would throw myself under a passing carriage for this house. It is a vibe.
See more of this house here.
The Old Sawmills recording studio, Fowey, Cornwall, £2.25m, MJQ
This is a "truly unique waterside property" alright, but also hidden in a forest. Set of its own private creek off the River Fowey in Cornwall, you get 32 acres of private woodland when you buy this place - oh and did I mention you can only really get to the house by foot or by boat? And it's now used as a recording studio. Imagine the arguments that all the bands that used it must have had. Imagine.
Not only did The Old Sawmills, back in its residential house days, inspire Kenneth Grahame to write the Wind in the Willows, but it also became the place where Oasis recorded some of Definitely Maybe, Supergrass made In It For The Money and Muse did Origin of Symmetry. And it hasn't been on the open market in 48 years, so now's your chance.
Just think, you too could feel the vibes of Liam Gallagher poncing around your floorboards and telling his brother Noel to get to fuck, before Noel in turn told him to get to fuck, before - repeat ad infinitum. And then you could read the chapter in Wind in the Willows about Ratty and Mole going for a picnic in front of a mill, which was this house, and boasting at each other about who was the more important waterside creature - and not really be able to tell the difference between the two events tbh.
See more of this house here.
And see more of Sophie's Property Binges here:
houses that are great for hosting parties
quirky houses for quirky people
town houses that feel like country homes,
homes to make you happy, artists' homes,
bohemian homes and
The Livingetc newsletter is your shortcut to the now and the next in home design. Subscribe today to receive a stunning free 200-page book of the best homes from around the world.
Sophie Heawood is a journalist and author, who writes regularly for The Guardian, Evening Standard and The Observer. She lives in London, and also contributes to titles such as Red. Her book, The Hungover Games, was published in 2020. As well as being brilliant on her own instagram, she runs the left field interiors instagram account @propertyjazz