On the House: Sophie Heawood's Property Binge. This week, artists' homes
Foxtons fangirl Sophie Heawood trawls the property sites to find artist's homes with brilliantly bonkers decor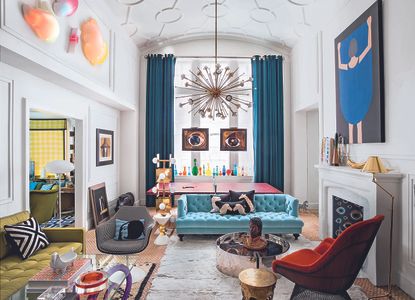 (Image credit: Jonathan Adler)
Welcome to On the House 4: this one is about artists' houses, or houses so colourful that only an artist would enjoy them. Bright, wild homes with living room ideas which unleash the spirit into the perfect conditions for creativity, or at least to make a vivid sort of mess followed by some vivid drinking around the back of the bins, which is much the same thing. Just ask Francis Bacon. You can't, he's dead.
"An artist cannot fail;" wrote Charles Cooley, "it is a success to be one." And if one cannot be one, one can at least have the house of one, or at least dream of having the house of one, which is also a success, as far as we're concerned, for it has been a long year, and it is only March, forsooth, let us live.
The glorious technicolour dreamcoat of a house in Hoxton, £2,850,000, The Modern House
Would you just bloody look at that. I mean, not for too long, if your eyes are going funny.
Can you imagine owning this house? Would you change a single thing or would you live right inside another artist's psychedelic vision? Stick your head in that rainbow fireplace, waiting for the psychotropics to wear off? Fight the polar bears with a lightsaber while on a vision quest remembering the days of the Klaxons and Nu-Rave? And will Metronomy be djing later?
The real owner is the artist Morag Myerscough, whose mantra, according to her website, is to "Make happy those who are near and those who are far will come." A very sweet and welcoming thought from someone who also has the word BASTARD written across her kitchen cupboards. And a home that is somehow reminiscent of Charleston, the farmhouse in Sussex where the Bloomsbury set painted all over the walls. Only this is the deconstructed urban version, where the colours have been fed through a nuclear reactor and a geometric stencil. Sort of Charleston meets Chernobyl. I'm so sorry. But look at that roof! Killer spot to throw a party. Less ideal to recover from a migraine. You can see why she painted the bedroom black and hid the bathtub in the dark.
See more of this property here.
The budget version of the same thing, £849,999, Victorstone
Look at this, it's the same sort of multicolored warehouse artist job in Hoxton, but for less than a third of the price. It's only just up the road from the last place and yes it's smaller, but it's in a friendly cluster of studio houses right on the canal, which is better, if you like sitting outside and watching the barges and canoes and muggings going past. And some random rusty bicycles that sometimes appear when they do a dredging. Sometimes there are even ducks. And police. And the occasional floating kebab. Come to East London! It's a bucolic idyll in the industrial heart of an overpriced capital city built mainly on fumes and surprisingly patchy broadband.
See more of this property here.
Sheer artistic glamour in Stepney, £2,000,000, Foxtons
Ok we're still in East London but what can we do if the artistes simply insist on flocking here? Or in this case, simply insist on putting up flocking here. Because flocking is a kind of furry, patterned wallpaper you see. There is also, in this exquisite establishment of unusual refinement, a chandelier of pompoms, a parlour of Chinoiserie, a bathroom of dreams and a corridor of nightmares. Where does the posing end and the living begin? Is that a picture of Lady Gaga? Why is the stag in the garden judging me? Answers to the usual address on a copy of 'Pretentiousness: Why it Matters' by Dan Fox, please.
See more of this property here.
Boho chapel conversion in Somerset, £500,000, Hunter French
Ok here's the real deal: in a lovely little Somerset village called Upton Noble, an artist's retreat in a converted chapel where God himself can inspire you. There's even a separate artist's workshop down the garden, for when inspiration strikes you that you don't want God to see. The fireplace is magical, the windows are adorable, the garden is wild and the Aga only listens to Radio 4. It's all too precious, too sweet, too much! If I lived here I would paint swirly mystical mandalas and talk about Rudolf Steiner's theories of anthroposophy to my 27 cats. But how could anyone resist those little wooden steps to take you "up to Bedfordshire," as my friend's husband says to her? Well, as he used to say to her. They're divorced now.
See more of this property here.
And for under £500k, the bargain of the week, £415,000, John Bray
And so to Hastings, a coastal seat once memorably described as "a drinking town with a fishing problem." This cottage is in the Old Town, a thriving network of olde worlde streets very popular with artists. Full of independent arty shops and people who like to celebrate England's historic pagan rituals on some very drunk days of the year. And live in colourful little cottages like this! I cannot actually be sure that this house belongs to an artist, but it DOES have a rusty old boot for a door-knocker. As well as ochre parlours for living rooms, where your friends can fall into straight from the pub after banging on your boot. Before lugging themselves up your rope staircase and pretending that they're a real fisherman in a real storm in days of yore, and not just some pissed-up numptie who's moved here because it's so much cheaper than Hoxton.
See more of this property here.
See Sophie Heawood's previous Property Binges: mansions for under a million, bohemian homes and houses with pools.
The Livingetc newsletter is your shortcut to the now and the next in home design. Subscribe today to receive a stunning free 200-page book of the best homes from around the world.
Sophie Heawood is a journalist and author, who writes regularly for The Guardian, Evening Standard and The Observer. She lives in London, and also contributes to titles such as Red. Her book, The Hungover Games, was published in 2020. As well as being brilliant on her own instagram, she runs the left field interiors instagram account @propertyjazz