On The House: Sophie Heawood's Property Binge. This week, bohemian homes
House sales website fanatic Sophie Heawood finds the most charmingly bohemian properties on the market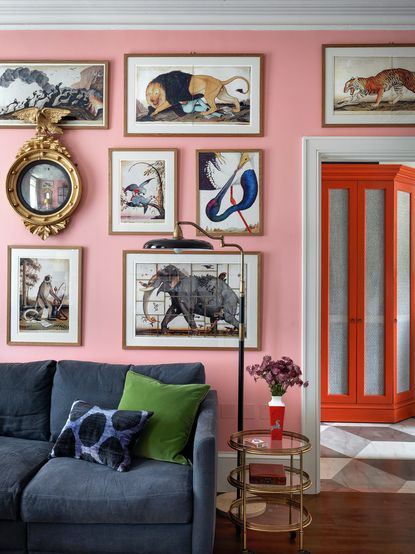 (Image credit: Beata Heuman)
The Livingetc Newsletter
For style leaders and design lovers.
Thank you for signing up to LivingEtc. You will receive a verification email shortly.
There was a problem. Please refresh the page and try again.
The artist David Hockney once said, when asked if it was hard to be himself in 1960s London, "Well I lived in Bohemia, and Bohemia is a tolerant place." So it's just as well that Bohemia still exists as far as we're concerned, and not a place but a state of mind that welcomes free love, poetry parties and lounging on purple sofas muttering incoherently about jazz. Full of character, four poster beds, gallery wall ideas, cluttered bookshelves and boats in gardens, here are five delightfully overpriced houses in which you too can build your own personal Bohemia.
1) Bloomsbury, but in Holland Park, £2,450,000, Inigo
The Bloomsbury set, perhaps our finest Bohemians of all, "lived in squares and loved in triangles." Well this house isn't actually in Bloomsbury, it's a bit further west across London, and Queensdale Road sadly goes in a straight line, and we can't actually promise any love triangles whatsoever due to social distancing requirements. But come on - you're not going to find a finer example of artful clutter and literary lounging than this house. They've even chucked a pink silk robe on the back of the bedroom door to help you imagine the sort of sexy Sunday intellectualism you'll be perfecting once you live here. Bookish boudoirs and sultry salons - you'll be amazed what can happen in rooms lined with a muted shade of green patterned wallpaper.
To see more of this property on Inigo, click here.
2) Britton Street, Clerkenwell, £3,250,000, Winkworth
Oh look, this one's a bit nearer yer actual Bloomsbury and it's even got an attic bedroom that closely resembles a humble poet's garret. Look, there's even a little desk in it! Where you can sit and muse on the existential angst of owning a three million pound property in central London while still not being able to afford a wardrobe. Then you can go and look at the view out the back, which appears to be an overgrown graveyard. Death and longing and a heap of clothes and a windowless bathroom. This one's got it all!
See more of this property at Winkworth here.
3) Chipping Norton, Oxfordshire, £3,000,000, Savills
I know, I know, you're about to say "Chipping Norton, isn't that the part of the Cotswolds where former Tory prime minister David Cameron writes his memoirs in overpriced shepherds huts and hangs out on former pop star Alex James' cheese farm sniffing his Little Wallop?" Yes my dears it is! Which is why your louche living in this palace of impropriety is going to be the talk of the town. It's only natural that the Chipping Norton set will soon tire of wheels of brie and hanker after wild parties at yours so they can snigger at your mural of golden wheat fields and mutter about Theresa May. Swing from your timber beams. Get carried away in your four-poster bed before sneaking outside to gossip about Piers Morgan amidst the busts hidden in your shrubbery. Then come back inside to jump up and down on your Chesterfields, wailing that nanny never let them do this.
See more of this property at Savills here.
4) "Affordable" Bohemia in East London, £585,000, Foxtons
For something a little cheaper, here's up-and-coming Forest Gate where the foodies are creating all sorts of pop-up restaurants in old railway arches and walking their labradoodles on Wanstead Flats. And the locals are just sort of staring at them. And you could live in a weird, detached coach house with double-height white ceilings and light flooding in everywhere. It's so nice! You can work from home beside a blackboard! And that's quite enough exclamation marks for today! Stop it! No really just stop it! Stop.
See more of this property at Foxtons here.
5) Bohemian wreck of the week in Devon, £399,950, Woods Homes
Look, here's an absolute classic of the Wreck of the Week genre because 1, there are no photos of the inside (does this make you even more intrigued or convinced of almost total structural collapse?) and 2, there is a boat in the garden. Of course there is a boat in the garden, of course there is. It seems awfully well parked. Also this sweet pink house of possibility is in the middle of Totnes, a town once memorably described in a newspaper article as having "cannabis growing in every window box," which is just as Bohemian as you like. And could also explain why the boat is in the garden.
To see more of this property - but not the inside - at Woods Homes here.
See Sophie Heawood's previous Property Binge: Homes with Pools here.
For style leaders and design lovers.
Sophie Heawood is a journalist and author, who writes regularly for The Guardian, Evening Standard and The Observer. She lives in London, and also contributes to titles such as Red. Her book, The Hungover Games, was published in 2020. As well as being brilliant on her own instagram, she runs the left field interiors instagram account @propertyjazz