On the House: Sophie Heawood's Property Binge. This week, houses with pools
Rightmove fanatic Sophie Heawood dives into her favourite houses with pools for sale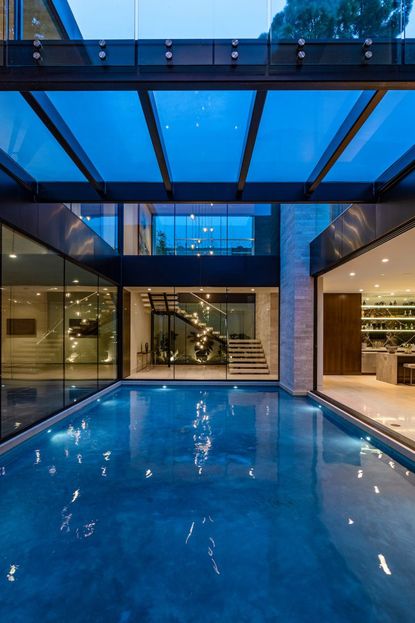 (Image credit: Future)
Oh it's easy to find a house with a swimming pool - just go to the listings and type in 'Surrey' or 'Cheshire' and 'min price £2.5m'. There you go - an array of footballers' palaces. But what if you wanted one with a bit less fake marble and a liddle more history? Here are the five pool houses that I'm salivating over this week.
1) Village country house in Hampshire, £2,250,000, Savills
One thing that newcomers to Britain never understand is that, if you're truly posh in this country, you are legally obliged to have a supremely crap kitchen. Alright, so you'll have an Aga that uses the annual GDP of Belgium in fuel bills, but apart from that, the kitchen cupboards will be made from soggy beige cardboard from 1972, the towel rail will fall off the back of the door every single day without fail, and the centrepiece of the room will be a £9.99 white plastic kettle from Argos. (Before you ask why, the answer is easy: servants.) You'll also have a creepy portrait of two of your ancestors in the dining room and a lovely little swimming pool just perched in your garden, feeling rather shy about it all.
To see more of this property, visit the Savills website, here.
2) Three bed flat in Highpoint, Highgate, £2,100,00 Goldschmidt & Howland
To live this high up in London, overlooking the whole world, and also having a swimming pool, is a killer combo, and a couple of blocks of flats in Highgate offer it. My favorite is this one, the modernist masterpiece that is Highpoint, designed by Lubetkin and Tecton and Grade 1 listed. You do have to share the swimming pool and the tennis courts with all the other residents, and you might be limited in the sort of wild parties you can throw, but let's be honest, those of your neighbours who aren't yet dead in the nearby cemetry will probably have lived there since it was built. Which means their radios will be turned up louder than your Sonos will even go and they'll have started on the gin at lunchtime.
To see more of this property, visit the Goldschmidt & Howland page on Rightmove, here.
3) Los Feliz, Los Angeles, CA, USA, $2,595,000, Compass
We've all seen grotesque megamansions in Beverly Hills with pools that nobody swims in, sold by those blonde necromancers from Selling Sunset. (Grotesque, she says, while poring over every episode, weeping.) Anyway, here's a much NICER version of the same thing, also in the LA hills but in the far cooler area of Los Feliz. You can imagine actually living in this one - splashing the neighbours as you take a little dive into your pool, doing the dishes while gazing at police helicopters patrolling the skies. And if anyone asks which part of Los Feliz you live in, you get to say "oh it's north of the Boulevard" which is frankly a big deal if you're that way inclined. (Tosser.)
To see more of this property, visit the Compass website, here.
4) Queen Anne style country house with two acres in Buckinghamshire, £3,200,000, Savills
Cor, look at all that shrubbery and topiary concealing the private swimming feature - does anyone know exactly when the waxing salons are opening again? Sorry, I digress, but this delicious pool nook is just asking for a 20th century drama about a horny Tory MP to be filmed in it. Someone will overhear something sordid in that lovely glass conservatory, someone else will dramatically stub a cigarette out in the car parking area, before the MP's wife poses in the gateway for a lovely photo opp about the strength of their marriage. Shortly before she files for divorce.
To see more of this house, visit the Savills website, here.
5) Cornwall wreck of the week, £700,000, Savills
I know, I know, it's pretty murderous when someone says "wreck of the week!" and the house turns out not only to be massive, but also structurally sounder than your flat in Leytonstone. But still, this Cornwall property is our wreck of the week, principally because it costs under a million pounds and has a swimming pool that hasn't been photographed. Why not, we wonder - surely because it's overgrown with leaves and algae and the urine of barn owls, which only makes us want it even more. Alright, so we'd never encounter another living human ever again, if we lived here, but the pictures would look so authentic on Instagram.
See more of the house on the Savills website, here.
The Livingetc newsletter is your shortcut to the now and the next in home design. Subscribe today to receive a stunning free 200-page book of the best homes from around the world.
Sophie Heawood is a journalist and author, who writes regularly for The Guardian, Evening Standard and The Observer. She lives in London, and also contributes to titles such as Red. Her book, The Hungover Games, was published in 2020. As well as being brilliant on her own instagram, she runs the left field interiors instagram account @propertyjazz