On the House: Sophie Heawood's Property Binge. This week, mansions for under a million
The property website bookmarking fiend Sophie Heawood on how to live like a lord for less than a mil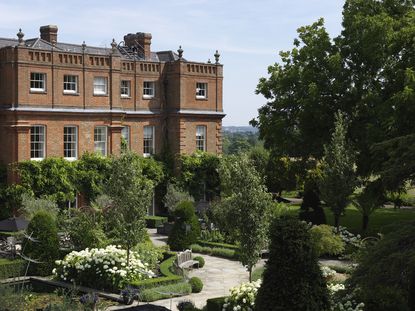 (Image credit: The Grove)
Did you see someone on Twitter unearthed an article about a 13-year-old boy who turned his garden shed into a neo-classical stately home? I applaud this effort unreservedly and will be encouraging my own child to copy it asap. However, if you lack the strength to convert your shed, or indeed your child, then I can help. And if you have more money than a child, but less than a Lord, here's how to get your own bit of stately home action for under a million pounds. I mean, only just under a million pounds - well apart from the Wreck of the Week of course…
Getting baroque in one wing of this estate in Rattery, £995,000, Stags
Now look, just ignore the word Rattery and any rodent associations - it's a lovely Devon village, very close to all the excitements of Dartington Hall. Although why would you need any external excitements when you've got those strong, erect columns to plan your special parties around? There's a saucy trompe l'oeil in the bathroom if you're new at this and need some inspo, there are chandeliers and a stag's head to swing from. And then rolling hills for a bit of tobogganing the morning after. And if you don't have any friends to invite to your shenanigans, well, that's the joy of living in only one wing of this manor house. Surely there will be some other swingers, I mean wing-ers, hanging around.
See more of this property here
A rotunda in Bromley, £900,000, City & Country
When the prestigious architect John Nash and landscaper Humphrey Repton began work on Sundridge Park in 1796, they probably didn't foresee it turning into luxury apartments for swaggering ponces with delusions of grandeur *checks 18th century notes* oh wait that's exactly what they built it for. Anyway, it is pretty damn swanky now. There are various apartments for sale, with this being the cheapest at under a million, and - can you believe it - this is the one that is actually inside the top of the rotunda! The dome! You can stand on your very own circular balcony with views across your golf course, and raise your arms towards the heavens and cry out to the elements, at the top of your voice, "Look on my works, ye mighty, AND DESPAIR!" I mean, that's what I would do if I owned this apartment. The behaviour of others may vary.
See more of this property here
Wing of a Cotswolds manor, £950,000, Savills
Oh my heart is breaking with the prettiness of it all. And the cleanness. And the peace, and the quiet, and the pruned lines and the manicured feelings, and the knowledge that if if I were to move in I would make an absolute mess of all of that. So let's not imagine it. But you, dear reader! You would treat this Grade II listed wing of a Cotswolds manor house with the dignity and tenderness that it respects! You would enjoy the extensive grounds, which have been divvied up between the different owners of the manor, so you'd have your own land, and enjoy some amazing views. You would sit on your front patio and imagine that there is nothing left in the world to think about. You would forget Twitter. You would forget Piers Morgan. You would die happy, in every neutral paint shade known to man.
See more of this property here
WRECK OF THE WEEK! £995,000, Savills
Actually extremely clean and has all mod cons, but look, it's pretty cheap and basic for a flat in a manor house. It's up in the rafters, which means you don't quite get the sweeping views in every room unless you crane your neck up towards the skylight, and it's in a place called Wormelow, which sounds almost as bad as Rattery. (What it is with these small wriggly animal names? They need to stop now.) But Wormelow is in the Wye Valley of Herefordshire, near the Welsh borders, which is a truly beautiful part of the world! If you could only see it from those skylights. Maybe stand on a chair?
See more of this property here
The piece de resistance! A WHOLE HALL! £995,000, Savills
Oh I really did save the best one til last this week. Would you just look at this. Not a flat, not a wing, not a part of the whole. It is the whole. It's the whole entire Hall, and the coach house, and all the acres of land, and they've even thrown in a random brown bungalow for kicks. For under one million pounds! You could club together with your friends, buy this, and live like lords in Lincolnshire. Of course with lordship comes great responsibility and you might find running a whole estate to cost rather more than the mortgage, but so what when you have that little bridge to walk back and forth over every day. And that little turquoise chapel thingie up the hill. And the ballroom, and the lakes. And when it all gets too much, and you start to wonder if you've lost touch with the common people since you took control of your own fiefdom, you can take early retirement in the random brown bungalow.
See more of this property here
Read Sophie Heawood's previous Property Binges: bohemian houses, and houses with pools
The Livingetc newsletter is your shortcut to the now and the next in home design. Subscribe today to receive a stunning free 200-page book of the best homes from around the world.
Sophie Heawood is a journalist and author, who writes regularly for The Guardian, Evening Standard and The Observer. She lives in London, and also contributes to titles such as Red. Her book, The Hungover Games, was published in 2020. As well as being brilliant on her own instagram, she runs the left field interiors instagram account @propertyjazz