On the House: Sophie Heawood's Property Binge. This week, quirky houses for quirky people
Who lives in a house like this? Sophie Heawood can only boggle at these quirky homes for sale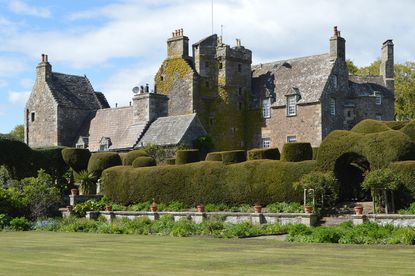 (Image credit: Alamy)
These are quirky houses for quirky people, or perhaps just people who like reading, or being alone, or dead. Or high. Or doing things to stuffed animals. I'm not sure. Make no mistake, these are beautiful structures and I would like to live in all of them but - well. Some questions remain. Read on and, no peeking but, wait til you get to the end. The last one. Oh my gosh. JUST YOU WAIT.
Hampstead, £8.6m, Savills
What I love about London property prices is when they say, "Needs a bit of work, eight million pounds please." Although what I also love about this house, The Garden House on Frognal Lane in Hampstead, is that it doesn't need any work whatsoever, if you ask me. Yes it's dusty and yellowing and tired, but so am I, so is everything that is good.
This place looks like some of the Hampstead literati lived in it, it has that dying whiff of intelligentsia about it. The death rattle of the BBC in its 1960s or perhaps 70s heyday, of the Play for Today, of bookishness as sex appeal, of sitting in a hardbacked chair beside the fire and discussing the problem with Harold Wilson. There are shelves full of wonky old box files, from back when guilt lurked on pieces of paper and not the screen you are currently staring at. Back when the guilty things played a longer game of haunting you.
Judging by the sitting room ceiling, someone spent 40 years smoking in there and the last eight years only wanting to, after the doctor told them to stop. It is a room the colour of tobacco and a second divorce; it speaks of the quiet impossibility of marriage in a world that also contains philosophical argument. And perhaps breasts. This is a room that watched Joan Bakewell interviewing Harold Pinter on the telly and knew full well they were having an affair.
Although, if you find this to be a sexless house, look, just look, at that wild conservatory! Personally, this is the way I want to go out. With the vibe of this mad conservatory room. With swathes of silken parachute fabric billowing down from the ceiling, to remind me that sex is not dead, even if I am.
See more of this property here.
Houseboat, £140,000, Water Side Residential
Let us get off the land, this cursed land! Let us take to the waters and float, my beauties!
Firstly I want to get down to brass tacks here: this houseboat is a full working boat, as far as I can see, but it is parked on a residential mooring for which the owner pays £925 pcm. And yes, that does feel like a lot of monthly rent after you've bought the actual boat, but that rent gets you access to FOUR ACRES of "beautifully maintained private gated grounds shared with 8 other houseboats, also a residents' communal vegetable garden and secure private parking for two cars with keyfob entry." If those acres and acres of beautiful land and communal veg garden didn't moisten your eyes I can only pray that the last bit about the keyfob broke you. For the keyfob has broken me. It's the little things.
These acres and vegetables and key fobs (and the private parking for two cars, lest we forget) are all in Shepperton, an area where the suburbs of London turn into their own places, or perhaps non-places, as local author JG Ballard sometimes hinted. In his novel 'The Unlimited Dream Company' his main character steals a light aircraft and crashes it into the river at Shepperton then gets rescued from drowning by the townsfolk. Only to develop magic powers including being able to fly, and turn into an animal, but not outside of the boundaries of Shepperton! He can never leave Shepperton! He becomes a randy beast and starts trying to shag everything and everyone! He leads the townsfolk on a journey into the sun!
Ok so maybe the safest way to live in Shepperton is actually on a fully functioning boat.
See more of this boat here.
Castle in Scotland, POA, Savills
Why do I feel like I've already seen a Tim Burton film set in this garden, with Johnny Depp popping out from behind the topiary? Actually some of that topiary looks somewhat real, like people might be hiding inside it, dressed in leaves. Do these hedges conceal men? Is this where Johnny Depp's been hiding?
Anyway would you get a look at this castle, which is not far from St Andrews, if your kink is thinking about Prince William getting the horn for Kate Middleton when she walked in her undies at a student fashion show. (And if that is your kink, poor you, help is available.) There's no point looking at the floorpan because I can tell you now how far that dining room stretches and it's not 50 feet, it's right into eternity. Then there's the sitting room with swords on the wall, ready to do battle with the candelabra. Then there's the bedrooms! The colours! The old old beds! The spirits of all the dead trees used to make all of that wood, so much wood! And all of my dead heart! I sigh for this castle. I wish it well in its journey into my dreamlands. Maybe a few nightmares too. Depends if the topiary stops moving when I look at it.
See more of this castle here.
Dilapidated farmhouse in Suffolk, £900K, Sworders
What I like about this dilapidated half-timber farmhouse, which is painted in a shade of pink you see a lot of in this part of the Suffolk/ Essex borders, is that its front porch looks like a face. Like the face of a panda. No, wait, it's the head and body of a raccoon, gripping on with its little paws. That's it! Keep gripping, little guy! You've made it this far, you can survive! It is good having an emoji for a porch.
Everything else in here is very old and dusty, really quite the dustiest we've seen yet. Let us applaud the colour choices of whoever lived out their dusty days here, though. That red velvet sofa is just fantastic. There you are, living in a field with a bunch of ancient farming equipment and you do a day's work and then you plonk your bum down on a fabulous velvet settee every night, in front of your red velvet curtains and your pinky-red walls. We see you, we salute you.
When it comes to the bedroom, however, we have questions. More serious questions. Namely: who is that with their head under the pillow and their legs sticking out of it, and what has been done to them? Did they consent? Was this their only way of achieving a promotion from being an outdoor farm animal to living inside the house? Is this the master's house?
Speaking of which, we're now taking another look at the fabulous red velvet settee and wondering what that sort of dark, rubbery blob at the top is . Is that - could that be - The Gimp coming out from behind it? Is this village twinned with Royston Vasey?
So many questions, so few police officers to pursue the enquiries.
See more of this house here.
MAD BASTARD BARGAIN SITUATION OF THE WEEK: Eco Project, Todmorden, £475,000K, Peter David Properties
Dear God. Dear God. WHAT IS HAPPENING HERE AND HOW MANY PSYCHEDELICS WERE CONSUMED? I love this rambling collection of West Yorkshire fantasy mushroom chalets more than I love my own family. And I've tried googling but nope, no idea whatsoever who did this, what their purpose was, or which spirit voices were guiding them.
The listing says that it's an off-grid, eco-project, so you won't find any electricity interfering with your ride down your slide once all of this is yours. Once you are the proud owner of the red chalet with a doorway that opens up in a friendly fashion only slightly reminiscent of the mouth of Hell. Or once you go inside the chalet that has an internal garden that looks a bit like my dad's model railway set, but with decidedly more drug-taking involved. Well unless you count his Panadol habit.
Or the one with the blue interior and the red balcony where you will be able to act out the crucial scenes from Romeo and Juliet to all of your friends. Who are pixies. Who crept in during the night while you were stirring the special tea.
Or the tiled room that is like a big Turkish sauna. Worryingly so. My breathing feels odd just looking at it. Or the huge room with the big green window frames and the log-burning stove in the corner that actually feels quite - actually wait that is a really, truly lovely room. I'd live there. I'd happily live there. I'm GOING to live there. That's it, goodbye stupid London, I'm off.
See more of this property here.
And see some of Sophie's other Property Binges here:
town houses that feel like country homes,
homes to make you happy, artists' homes,
bohemian homes and
The Livingetc newsletter is your shortcut to the now and the next in home design. Subscribe today to receive a stunning free 200-page book of the best homes from around the world.
Sophie Heawood is a journalist and author, who writes regularly for The Guardian, Evening Standard and The Observer. She lives in London, and also contributes to titles such as Red. Her book, The Hungover Games, was published in 2020. As well as being brilliant on her own instagram, she runs the left field interiors instagram account @propertyjazz