On the House: Sophie Heawood's Property Binge. This week, houses that promise happiness
Writer and Rightmove ninja Sophie Heawood unearths the five best properties for sale that could make their buyers happy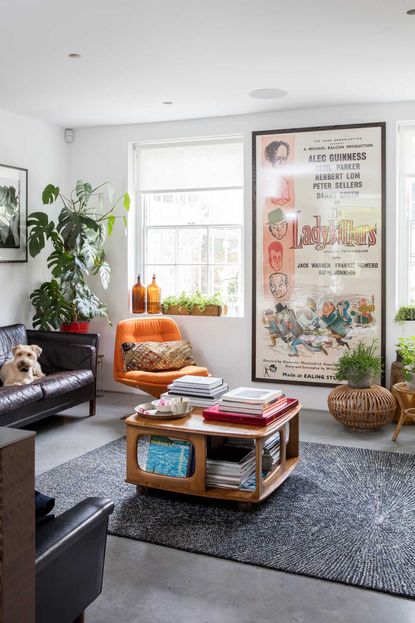 (Image credit: Rei Moon)
Livingetc is all about happy homes this week, celebrating things like reading corner ideas and other mood-boosting home designs, and so it is that I have found you five houses, currently for sale in Britain, hand-picked for special happiness factors.
Actually, if I'm going to be accurate with numbers - and my grandmother always said that it was vulgar to be accurate with numbers, so I'm not wildly keen - I've only found four houses, because the fifth property is a big old scary red boat. But what has the big old scary red boat to do with happiness, I hear you ask ? Well, as a wise person once said: "Money can't buy you happiness, but it can buy you a bloody big yacht to pull up in while you wait." So, even if I been a little generous with my definition of a yacht, it's the ideal property to wait for happiness in.
Cottage on the beach, St Ives, Cornwall, £675k
Everyone is dreaming of holidays, or as I like to call them, to ensure I spend mine entirely alone, holibobs. Well this house is slap bang on the loveliest Cornish beach, St Ives, so it's a holibobs in itself, although the chances of solitude are minimal with 500 other people sitting in your front garden of sand. And then there's the cricked neck you'll get from those ceiling beams. As celebrated St Ives sculptor Barbara Hepworth used to say,"I am the form and I am the hollow, the thrust and the contour," which tells you everything you need to know about this house, especially the floorplan.
Still, you wouldn't even have to bother booking anything if you lived here - just fall out of your front door to go to the shop for a bag of Wotsits and whoops, you've accidentally gone on holibobs. Take the dog out for a quick stroll and there you go, another accidental holibobs scored. What do you mean it's an overpriced holiday cottage the size of a crab sandwich and nobody is expecting you to actually live in it? Please - the sun, the sea, the sky, the off-season closures, the regional poverty, the insane property prices - this could all be yours!
See more of this property here.
Eco-house in North Yorkshire, £500k
I look at this solar-powered house with its gorgeous big windows overlooking the valley and find myself muttering joyfully, "the sun, the sun," like Osvald does at the end of Ibsen's play Ghosts. Only he doesn't say "the sun, the sun," because he's found the perfect unity of form and weather, a big opened-up Scandinavian box of a house, powered by 29 photovoltaic panels overlooking the Yorkshire grit. No, he says, "the sun, the sun," because he's in love with his sister and he's dying of syphilis and the light is blinding him. Still - look at that view, eh.
In any case, this house might just solve a particular condition that some of us suffer from. Not syphilis, but the condition of being from Yorkshire, and the associated guilt at having so many property fantasies involving trendy architecturals in the south of England. You big silly ponce, mutters the grumpy voice in my head, get thee back to Yorkshire, and make your home amid the Satanic mills. (Alright, so that voice could also be caused by syphilis.)
But with this here property in Leyburn, North Yorkshire, you get a poncy new architectural for far cheaper than down south, while everything else you can see around you is rugged and grey and real. It's the perfect combination. Plus, it's only 20 miles to Barnard Castle if you stare into the sun for so long that you need to get your eyes checked.
See more of this property here.
Swan Cottage in Chelsea, London, £4,950,000
It's pink! It's a cottage! It's on Swan Walk in Chelsea! It's called Swan Cottage! It costs five million pounds! Oh God just forget everything I said about the last house, every last word of it, I'm moving to this humble abode now. For if I must grow old in London, this is the house I wish to grow old in, mere footsteps away from the River Thames. And if I moved in, here's what I'd do.
On the first night, I'd admire the mirrored wall behind my double bed - absolutely ideal if you like watching yourself have geriatric sex. The next morning, I'd take tea on my balcony looking out over Chelsea Physic Garden, the heavenliest secret place in London. (Top tip: book a ticket now, it's open.) In the afternoon I'd potter around my backyard, inviting friends round for a rampantly large gin and tonic, to admire my statue of cuddling angels and my bushes and blooms. And in the evening, when it got cold and dark and my rule of six had all gone home, I'd struggle to differentiate between the telly and the fireplace - don't they look similar? - and I'd burn the house down.
See more of this property here.
The big red boat! It's only £700k!
IMAGINE THE PARTIES YOU WOULD THROW IN THIS BIG RED BOAT! The roaring twenties and then some - eat your heart out Gatsby and West Egg, we're going to go mad in Royal Victoria Dock. Not just on the big wooden deck, but in the silver kitchen, or inside the hull, or even in that weird sort of hairdressing room.
Light Vessel 93, as she is known, is a six-bedroom houseboat with a lighthouse past that she doesn't like to talk about. Apparently she gets used for celebrity photoshoots, so you could make a sideline renting her out for the day. And she already costs less than half the flats in East London, at £700k. The only thing about her deceptively cheap price, for over 500 tonnes of boat at 134 feet long, is that it's probably danger money, as it's likely to be rather complicated to keep a motionless tanker in good condition in the River Thames. Maybe, just maybe, you would have to spend that much money all over again when she springs a leak.
But still - all the music you'd play, all the dancing you'd do, all the people who'd drink one too many lifestyle cocktails and fall over the side while posing for a selfie with. All the rescue missions. All the insurance claims. All the posers who'd try to get an invite onto your boat. Everyone apart from the Amazon delivery man, who you'd never see again.
See more of this property here.
Bargain of the Week: Cottage in Wiltshire for £310,000
Ach it's so cute, and it fulfils the first rule of cottages, which is that the staircase must not only be wooden but also appear to be hidden inside a cupboard. Then there's the master bedroom with impressively nifty built-in storage, the lil garden with more herb pots than Monty Don, and the kitchen where you can either cook or breathe, not both. Don't be greedy.
But back to that garden - is it somehow communal with the other gardens? Will people in from the other ones just stroll along for a friendly chat? Have I lived in London for too long if this thought makes me grossly uncomfortable and leads to the worry that they're also going to come back by night and steal my herbs?
Cough, sorry, communal gardening has been shown in studies to lead to greater happiness. Probably. I mean that's the sort of thing they always say, isn't it. Although I actually just typed hardening by mistake. Communal hardening. In the cottaging department - what is happening here. Help.
See more of this property here.
For Sophie Heawood's previous Property Binges, we have her pick of the best bohemian homes, her mansions for under a million and her artists' homes.
The Livingetc newsletter is your shortcut to the now and the next in home design. Subscribe today to receive a stunning free 200-page book of the best homes from around the world.
Sophie Heawood is a journalist and author, who writes regularly for The Guardian, Evening Standard and The Observer. She lives in London, and also contributes to titles such as Red. Her book, The Hungover Games, was published in 2020. As well as being brilliant on her own instagram, she runs the left field interiors instagram account @propertyjazz