On the House: Sophie Heawood's Property Binge. This week, town houses that feel like country homes
Sophie Heawood trawls Rightmove so you don't have to. This week, she unearths houses in towns that are like a breath of country air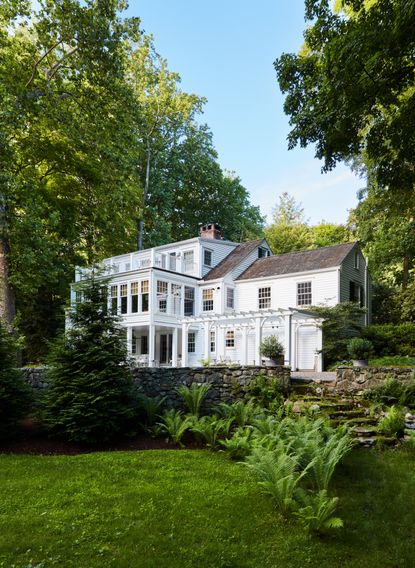 (Image credit: Tim Lenz)
The Livingetc Newsletter
For style leaders and design lovers.
Thank you for signing up to LivingEtc. You will receive a verification email shortly.
There was a problem. Please refresh the page and try again.
Perhaps you live in a filthy, rollicking city but you dream of the countryside. Perhaps, like me, you live in London, and you spent all of lockdown fantasising about life in a beautiful field. But now that it's time to put your Hunters where your Deliveroo is, you realise that you fear the field. And that, if you actually lived in the remoteness of the field, you'd run the risk of turning into the character from the Stewart Lee sketch who gets all smug about staring at the same horse every day, now they don't live in London anymore. Until they descend into madness and beg their old friends to come and stay, bringing drugs. Of course I wouldn't do anything of the sort, but the fact remains, I want shops and pubs and plenty of people, but we also want a lush country house in proximity of a field. So it is that I have searched and searched to find you the perfect combination: five gorgeous townhouses that FEEL like country homes.
Camberwell cottage, South London, £825k, The Modern House
The owners don't know it yet, but my soul has already moved in to this country cottage, hidden down an incredible country backstreet in a busy part of South London. Welcome to my new abode! Where every morning I reach out of my bedroom window onto my indoor washing line and reel in one of the eight bleu de travail jackets that I wear on rotation, as well as my genderless culottes, my red neckerchief, and my sense of wonderment at the world not having ended when Virginia Woolf did.
I gaze at the Farrow and Ball (Arsenic) paint on my sitting room wall to furnish me with a sense of frustration mixed with desire, before swinging from my beams and banisters like someone who hasn't heard of parkour. After a long day squinting at the Toast catalogue in my dark kitchen, I light a mirthless beeswax candle and fill my ceramic tub with lukewarm water. Before tugging a loofah down my back to remind me of the suffering of the war poets, especially Siegfried Sassoon, whose name I like to say out loud in the bath.
See more of this property here.
Oxford townhouse, £1.75m, Savills
This house is right in the heart of Oxford, a busy university town, yet it overlooks the calming greenery of Christ Church, which you can pretend is your country manor. When in fact it's an Oxford college attended by Lewis Carroll, David Dimbleby and that Winklevoss twin who didn't get to own Facebook and who now comforts himself by tweeting about Bitcoin.
And this house has surely housed an ageing Oxford don or two, inviting their twinkly young students into that book-lined study for a session on the daybed. A study session. And then for a sit-down in the panelled dining room to get a good look at their juicy pair. I mean pear. Those pears. And then to peer through that lovely arched doorway and - hold on - dear god - who IS that in there, guarding the wall like a sentry waiting for a portaloo at a festival? Wasn't he in Night at the Museum 3?
Anyway, look at that charming blue staircase, and imagine the brainy dinner parties you'd have around that ancient dining table, discussing nuclear fission and the Nicene creed and whether there are grounds for beheading people who describe it as a 'tragedy' that the Queen's husband has died about a hundred years after he was born, a fairly opportune moment to die, if you ask me, I'm just saying.
See more of this property here.
High Street, Lewes, £3m, Strike
Who doesn't want a ten bedroom townhouse that says business in the front and party in the back? Out front, you've got the main shopping street right on your doorstep, with the best pub ever, the Lewes Arms, and all the lovely Lewes townsfolk who make their living printing linocuts of owls. (This is the legal occupation of everyone in Lewes, I'm afraid, so bear it in mind if you're planning a move.) While out the back, you can gaze bucolically over the green hills of the South Downs with not a soul in sight. Then inside the house, you've got endless posh rooms, a rather 'plantation' staircase that seems intent on single-handedly bringing back colonialism - and the LEAF ROOM.
This property was on the market quite recently, and I think it was taken off it again, and it had all these same photos - apart from the LEAF ROOM. All I can imagine is that someone said look, we have to make a serious attempt to shift this place, we're charging three million quid, let's photograph everything apart from the LEAF ROOM. And then nobody bought it and they went ok the thing we need to do, so people realise it's really worth three million quid, is definitely add in a photo of the LEAF ROOM. Which is presumably inhabited by either an au pair who was recruited on an anti-5G website, or an estranged spouse having a midlife crisis in the attic wing. Either way, we love them. But will they kill again?
See more of this property here
Bradford-on-Avon, Wiltshire, £1m, Hamptons
I know, I know, this one really looks like it's deep in the deepest countryside, but ha! It's actually on a street that leads you to the pulsating heart of Bradford-on-Avon. A town with a population of, ooh, about 2000 people, all of whom wear red trousers and laugh like braying chihuahuas, but what can you do, look at that nice fireplace with the plants in it. While perhaps ignoring the patio they've added outdoors, with its curious grey platform that looks like a filled-in swimming pool with some topiary de la Homebase balanced on it.
But what a beautiful house! The rambling, raggedy flowers all over the paths outside! And that heavenly blue sitting room! And the bedroom with the ceiling beams that is veering us perilously close to LEAF ROOM territory again! "CARPE DIEM," says the sign: seize the day. Obviously I'd prefer it if you rang the police and asked them to seize the patio, but there's not a court in the land who would convict these homeowners. Not when you compare them with our next house, number 5. Oh god. I can't cope. Just you wait. I dare you to keep scrolling.
See more of this property here.
WRECK OF THE WEEK! Gateshead, £500k, Belle Vue Estates
Dear readers, I tried to keep this one from you. I tried to save your eyes from this particularly cruel form of truth. But I can hide it no more, for it IS, sort of, a country home in a town. At least, it's on a sweet road called Well Street, with ivy growing up it, in Gateshead, and the exterior almost looks like a boat. So far, so cute! But now you must hold on tightly to your brain before you look at the inside. Prepare for an architectural panic attack. For I don't know if this is a house, or an oxygen gulag.
Now I can just about understand why there isn't any natural light in the basement, but the entire house seems to be a basement, with the rooms only connected by "go towards the light" corridors of death. The toilet is where hope dies. The cooker is where fire dies. This house is the reason Daft Punk split up. It's like something an astronaut would wear, in a bid not to be destroyed by the sun.
Living here would be like going to a clinic to get your eggs frozen and then deciding to climb in after them yourself. Like inhabiting a 3D printout of the American pronunciation of the word 'aluminium'. Or like being trapped inside the Mitchell Brothers' homage to the Starship Enterprise, built underneath The Arches, as storage for their dead.
On an unrelated note, does anyone know what the planning regulations for "being able to breathe" are?
And please do not make the mistake of watching the estate agent's video while alone at midnight in a candlelit room, like I just did. They've put the O Fortuna music by Carmina Burana over the top of it! It's terrifying!
I mean, I have BEEN in rooms like these, to have my pubic hair ripped from my genitals with hot wax, but I didn't stay in them any longer than 20 mins. If a house could be used as a murder weapon, I'd put this one in the line-up. It's like hell, but for people who are still alive and didn't deserve it.
See more of this property here
See Sophie Heawood's previous Property Binges: homes to make you happy, artists' homes, mansions for under a million, bohemian homes and houses with pools.
For style leaders and design lovers.
Sophie Heawood is a journalist and author, who writes regularly for The Guardian, Evening Standard and The Observer. She lives in London, and also contributes to titles such as Red. Her book, The Hungover Games, was published in 2020. As well as being brilliant on her own instagram, she runs the left field interiors instagram account @propertyjazz