Explore a modernised Grade II listed Georgian townhouse with stunning joinery, a basement spa and landscaped gardens – it's for sale
This historic, Grade II listed Georgian townhouse in Belgravia is now a modern family home with rich and tactile interiors. It's been brought into the 21st century with a modern kitchen, breathtaking joinery and an enviable basement swimming pool...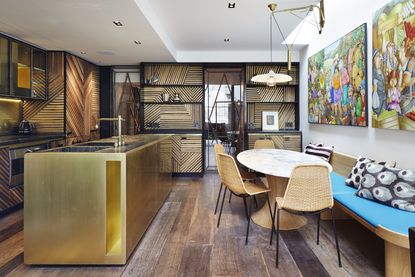 (Image credit: Jack Hobhouse)
The Property
A Grade II listed Georgian townhouse in Belgravia has been carefully updated and renovated. The historic property is brought into the 21st century with a modern kitchen, breathtaking joinery and an enviable basement swimming pool. Despite its historic bones and exterior, it's now a modern home (opens in new tab) that takes traditional ideas (like wood panelling) and updates them with modern finishes. Designed by architecture firm De Rosee Sa (opens in new tab), in collaboration with Belgian designer Lionel Jadot (opens in new tab), the Georgian townhouse is now a modern family home with rich and tactile interiors. The property has just come onto the market with Savills for £8.25 million (opens in new tab).
Exterior
The Georgian townhouse is located in the picturesque Wilton place, Belgravia, with direct views over St Pauls Church.
HALLWAY
The traditional, black painted front door pushes open into a modest hallway (opens in new tab).
Kitchen
The heart of this home is the modern kitchen (opens in new tab) at the back of the house. The cabinet surfaces, statement modern kitchen island (opens in new tab) and brass details might be the first thing you notice – but at closer glance, it's the attention to detail in the joinery that really steal the show here.
The house incorporates craftsmanship in every room, and every surface – every component of the design was made bespoke, and made by hand, whether it was the brass hand-formed kitchen island or the reclaimed factory floor boards re-milled and laid by hand with traditional tools by a third-generation Belgian installer.
The kitchen opens on to a leafy west-facing garden.
The design of the house passionately advocates craftsmanship, achieving an unusual and tactile space.
The process involved De Rosee Sa commissioning separate makers and craftsmen for individual components of the house to create a layered look using various different materials.
Even the furniture pieces showcase stunning craftsmanship.
Utility
Separate to the kitchen there's a handy utility space.
Kitchen snug
The kitchen continues into a relaxed family room or snug.
This space incorporates additional kitchen storage (opens in new tab), an L-shaped sofa (opens in new tab) and a TV.
Even the way that the shelves have been attached to the wall showcases great attention to detail.
Dining room
The middle reception room can be used as a through way between the kitchen and TV room, and can become a dining space when needed, as the dining table is on wheels and slots into a nook in a wall of built-in storage.
The wooden dining table was created bespoke, and rests on a leather covered shelf to prevent scratches, wear and tear. Leather covered dining benches slot neatly underneath.
The table can easily be rolled out (the back two legs are on wheels), with dining chairs borrowed from the adjacent kitchen.
Even with the dining table there is clear attention to detail, with contrast wood feet and the two back legs featuring wheels in the same contrast wood.
TV room
Salvaged oak panelling was cut and installed to form a smart, leather-and-oak clad TV room / snug.
Walls are upholstered in leather, while sliding wood panelling surrounds the fireplace – concealing the TV.
The wood panels slide apart to reveal the TV.
Sliding glass doors were installed so that this space can be closed off when the telly is on.
Upstairs living room
On the first floor is a very spacious second reception room and small study, both of which open onto a sunny terrace overlooking the garden.
The grand proportions of these spaces were retained in keeping with the listed status of the house, with classical details carefully reinstated.
Home office
The first floor landing features a wall of storage built-in under the staircase (opens in new tab). A door directly opposite opens into a small home office (opens in new tab).
A window connects the home office to the landing, letting in natural light and opening this space up.
Wood shutters close to create a more private area for concentration.
The desk design is essentially a wall-mounted floating shelf, with floating drawer storage underneath.
Wall of storage on landing
Out on the landing there's ample built-in storage, covered in a textural, woven fabric.
Bedroom 1
The top three floors comprise a total of four bedrooms, two of which benefit from en suite bathrooms, and two that share a small shower room.
One of these bedrooms features a floating desk with similar textured built-in cupboards as seen on the first floor.
This is one of the more modest bedrooms, but still highly detailed.
Bedroom 2
The master bedroom (opens in new tab) features a wall of built-in wardrobes (opens in new tab), with a vanity area and a concealed TV.
We love the velvety texture of the covered fronts, and the aged look of the brass details.
Bedroom storage (opens in new tab) continues on the opposite wall, framing the bed.
Bedroom lighting (opens in new tab) is modern and discreet.
Ensuite bathroom
The bedroom opens into a private master bathroom (opens in new tab), featuring luxe materials, bathroom flooring (opens in new tab) and wallcovering.
Even the inside of the doors were designed, featuring the same gold colouring as the accents on the bedroom storage (opens in new tab).
There's a separate shower enclosure with rain shower...
... with a modern, freestanding bath (opens in new tab) next to it. Lighting is recessed, and there are uplighter spotlights too. Black taps (opens in new tab) add to the overall modern look.
Bedroom 3
The top floor is home to a more spacious bedroom and ensuite bathroom (opens in new tab). As before, the bedroom features walls of built-in wardrobes (opens in new tab), with a wall mounted floating desk.
As with most of the furniture, the floating desk is hand made.
But the piece de resistance is the walk-in ensuite bathroom (opens in new tab), framed in glass panels.
Ensuite
A mirrored door opens into this compact but sumptuous bathing space.
A small sink are offers direct views back into the bedroom, with a small bathroom mirror (opens in new tab) hung above.
Gold leaf wall tiles (opens in new tab) and black taps (opens in new tab) make this a modern, glamorous bathing zone.
Basement spa
While the Grade II listed townhouse has been preserved in many ways, the basement level was dug out underneath and added on as a new extension.
The basement was excavated in order to make room for a heated indoor swimming pool and sauna. Down here there's also a guest bathroom and an extra guest bedroom (opens in new tab).
Walls and floors are covered in irregular cut slabs of stone, laid in abstract, geometric pattern.
Narrow stone steps lead down into the water.
Garden
The beautiful private west-facing garden features a small patio area directly outside the kitchen (large enough for a barbecue and some garden furniture), with steps leading down to the main garden and a further patio area on the lower ground level (seen from the basement spa, shown above).
The garden also has direct access to Kinnerton Street.
Securing consent from Westminster Planning Department and the Grosvenor Estate, negotiating party walls awards with three sensitive adjoining owners, and with complex construction and temporary works, the project took just over 3 years to finish.