Built-in wardrobe ideas – 22 fitted, sleek and stylish storage solutions for the home
These built-in wardrobe ideas utilize every square inch of space, and seamlessly balance form and function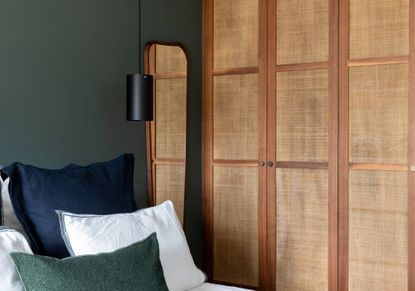 (Image credit: Built in wardrobe ideas-Laura Jacques Photography. Peggy Bels Interior Design)
The Livingetc Newsletter
For style leaders and design lovers.
Thank you for signing up to LivingEtc. You will receive a verification email shortly.
There was a problem. Please refresh the page and try again.
These built in wardrobe ideas will give your house a sense of solidity and permanence. These add character to an interior, reduce clutter and seamlessly blend into the interior, saving precious floor space.
'Investing in built-in wardrobes allows for efficient use of every inch available due to the unique tailoring to your specific space,' says Ginger Curtis, CEO and founder of Urbanology Designs. 'Built-ins provide designated storage for clothing, shoes, accessories, and personal belongings to be out of sight, allowing the space to appear organized and visually appealing.'
To help you decide on what style would work best for your home, we asked top designers to share a score of designs for living room, kitchen and bedroom ideas with built in wardrobes that not only look stylish but also suit you and your lifestyle.
1. Take the wardrobe all the way up to the ceiling (or close to it)
If you want to maximize storage in your modern bedroom, consider building the wardrobe all the way to the ceiling. This will not only help you stow away all the clutter of the room but also give the room a luxe feeling. To add a more eye-catching effect, paint the wardrobe.
'All of the joinery in this apartment was custom designed to make use of the 4m ceilings,' say Kirsten Dahl-Feathers and Carlie Ng of The Stylesmiths. 'In this bedroom we used a rolling library ladder to access the top cupboards which can be hung on the side when not in use. The internals include a walnut lined shoe storage and LED lighting.'
2. Mix open and closed storage
While a wall of doors might suit your style if you are trying to blend your built-in wardrobe into the room, mixing both open and closed storage gives you the opportunity to turn your storage into decor too.
Mariana Poletto, Senior Designer at Neatsmith says that her 'clients are choosing to have a combination of doors and open wardrobe interiors creating both practical storage and emulating luxury boutiques for an at home fashion experience. Partly this is driven by high street shopping not being available over the last 18 months and the resulting increase in online shopping, and partly through a new recognition that storage doesn't just have to be practical but can be a space in the home to be enjoyed.'
3. Add character to plain doors with panelling
Paneled doors are a really popular option with built-in wardrobes as they add interest, texture and create the illusion of original features in a modern bedroom. These bespoke, floor-to-ceiling wardrobes were designed to match some existing original paneling found throughout the rest of the home. And if you're wondering how one would reach the very top, there's a ladder that doubles up as rustic decor too.
4. Paint kids' wardrobe doors in chalkboard paint
Fashion stylist Siouxsie Dickens has updated the sliding board doors in her kid's bedroom with chalkboard/blackboard paint, turning plain cupboard doors into an ever-changing canvas. And of course, this look needn't be just reserved for children's rooms either, you could create a very adult-approved mural by either commissioning something beautiful or having a go at it yourself (if it goes horribly wrong no harm done, just wipe it away).
5. Bounce light around small or dark rooms with mirrored doors
This narrow space has been used to create a dressing room with built-in wardrobes on either side. Pretty wallpaper in panels on one side adds a glamorous touch, while mirrored panels on the other make the space feel bigger and provide a practical solution when the owner is getting ready.
6. Add warmth to a grey scheme with natural materials
Floor-to-ceiling wardrobes here utilize the entire wall space and make a great storage idea for smaller spaces, while designing them with the same timber tones as the floor creates a calm and cohesive scheme. Plus, the warm wood tones add warmth to the grey bedroom scheme and soften those cooler shades.
7. Upholster built-in wardrobe doors for a luxe look
A little fabric goes a long way in this tailored master bedroom created by Wolf Lewitt Interiors, where upholstery lends a soft touch to plain wardrobe doors, instantly elevating them from ordinary to extraordinary.
8. Fake tongue and groove with MDF
Built-in wardrobes in this master bedroom is made with pre-grooved MDF boards and painted in the same shade as the walls. A really easy way to cheat a more expensive look. The top of the built-in wardrobes offers space for displaying personal collections.
9. Paint your wardrobe to match your walls
Similarly, in this bedroom scheme by Suzy Hoodless, the wardrobe doors are clad in a pre-grooved wood which gives the room texture and charm. Walls and wardrobe doors are painted the same shade of porcelain pink. The sheepskin chair lends a luxurious, sculptural element to the room.
10. Take built in wardrobes right into the corners
An awkward loft conversion space has been utilized for storage, while sleek, handleless wardrobe doors keep things simple and clean. Built-in wardrobes line the entire wall, and continue right into the corner under the sloped roof, maximizing every square inch of space.
11. Turn built in wardrobes into a design feature with a contrast colour
Designer Tom Barlett designed this smart storage as part of a renovation project in a west London townhouse. Sleek and simple, but bold in color they are the main feature of the bedroom and the starting point for the primary color scheme. You almost can't tell this is a built-in wardrobe, appearing more like a feature wall.
12. Decorate wardrobe doors with wallpaper
Because wallpaper isn't just for walls. The built-in wardrobes in this beautiful bedroom are covered in Gucci's Heron wallpaper, turning them from bland, barely noticeable built-in wardrobes into a show-stopping piece of furniture that perfectly suits the glamourous vibe.
13. Or opt for a delicate mural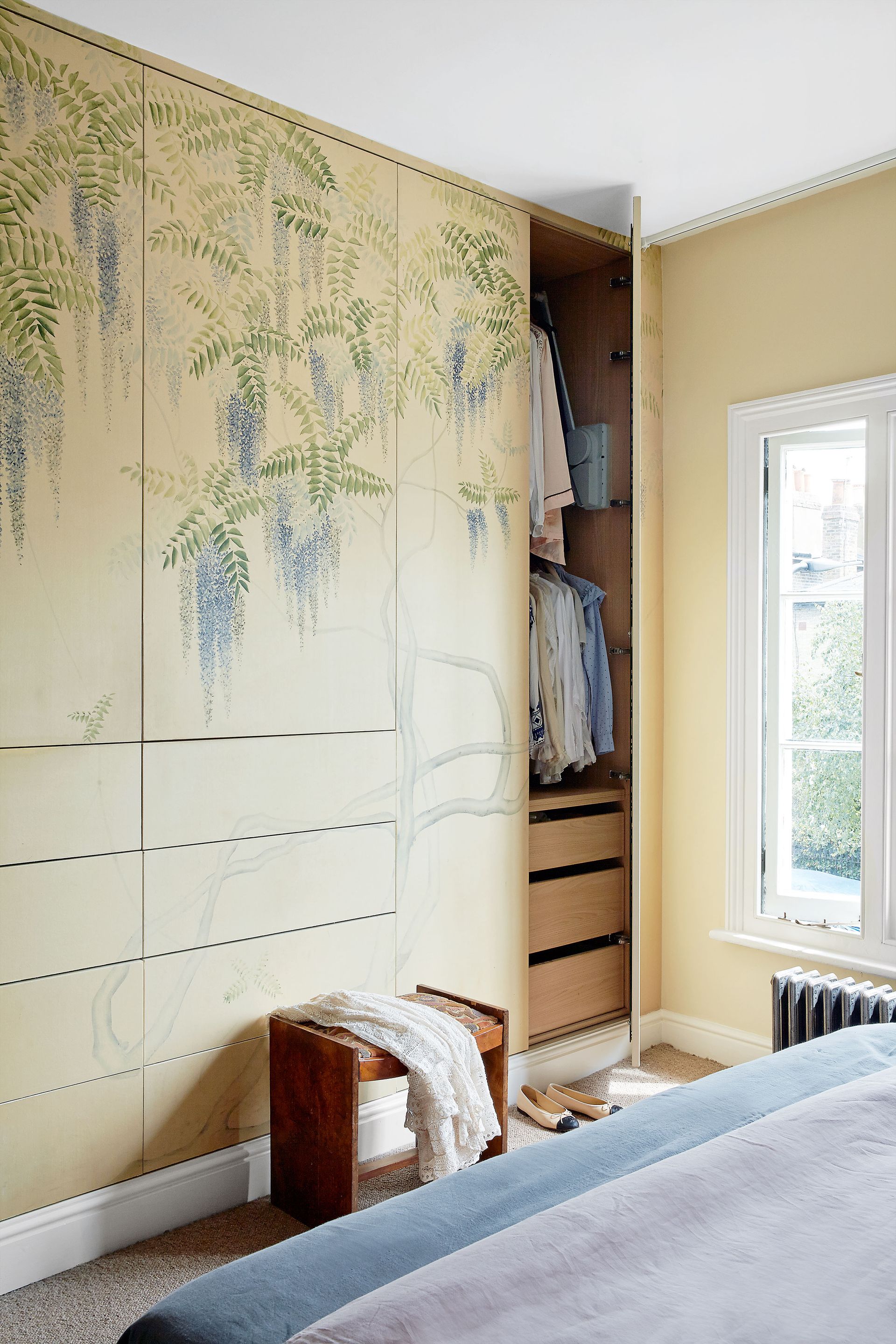 Similarly, a deGournay wallpaper covers the wardrobe doors below, encompassing the doors into the rest of the bedroom scheme and turning them into a feature wall rather than just storage.
14. Go for whitewashed wooden doors for an airy, relaxed look
The dressing area leads through to the ensuite bathroom – there's even a dressing table in the cupboard. The whitewashed oak surfaces give this master bedroom an airy, relaxed look.
'Bleached wood has a lovely, airy look and serves as an excellent means to add brightness to any space, all while adding a soft textural dimension,' says Kashi Shikunova, directory of Yam Studios. 'It has a timeless appeal that remains remarkably adaptable to accommodate your evolving style preferences over the years.'

15. Inject luxe texture with suede upholstery
There's a certain sumptuousness to this bedroom, with its rich textures and colors. An impressive amount of storage space helps keep it clear of clutter, while the upholstered wardrobe doors inject instant luxe texture.
'Suede is a luxurious yet delicate material that requires special care to maintain its beauty,' says Kashi. 'Anything sticky or greasy has the potential to cause irreparable damage. Additionally, suede tends to accumulate dust easily, making it susceptible to looking dirty. When considering upholstery for the inside of a wardrobe, it's essential to include doors that can shield the horizontal surfaces from dust buildup. On the doors, it might be good to delicately hover them with a soft brush attachment regularly. Furthermore, it's advisable to position the suede upholstery away from areas where there might be grease or dirt, like make up areas or shoe storage. '

16. Disguise built-in wardrobes with decorative plasterwork
Paneled walls open to reveal hidden storage and screen doors glide seamlessly into wall recesses to separate this South Kensington apartment. The entire wall behind the bed is actually a run of concealed cupboards with white moldings.
'Plaster offers a charming natural texture that showcases the artistry of the installer's hand,' says Kashi. 'You can determine the level of intricacy when it comes to applying the plaster, which can result in a rustic and busy appearance or a more refined and delicate one. Keep in mind that the edges can be quite fragile, so consider incorporating a stylish metal trim detail for added durability and a polished finish. To achieve the best result I always advise using a professional installer for application. It is a skilled job and needs someone who has experience with the material.'
17. Transform recessed handles into a 3D art display
These built-in wardrobes were made bespoke for this industrial, late-Victorian home in north London. The design (which conceals inset handles) is based on dandelion seeds being blown in the wind. Inside, the wardrobes are meticulously arranged with a space for everything.
'Handles offer an exciting opportunity to infuse personality into your wardrobe design,' says Kashi. 'If you're aiming for a clean, minimalist aesthetic, routed-out linear handles will exude a sleek and understated elegance. On the other hand, for a more impactful and fin statement, consider oversized handles with organic shapes, available in bronze or wood finishes.'

18. Use wardrobe doors to conceal a built-in vanity area
This clever design ensures the built-in wardrobes also incorporate a dressing table area, keeping this vanity space out of sight the rest of the time, and keeping a calming neutral bedroom design.
19. Use raw, weathered wood doors for a rustic effect
Nature feels like it's just an arm's reach away with these huge windows overlooking the garden and the rustic built-in wardrobe reflects that connection with the outside space. Made bespoke from reclaimed wood, it adds lots of lovely texture to this boho-style bedroom.
'Raw wood always creates a warm feeling in a room as it brings a touch of the 'outside' inside,' says Grey Joyner, founder of Grey Joyner Interiors. 'If you have a room with natural colors and materials, a raw wood wardrobe can enhance that feeling. You can give it a more modern or glam look by how it is finished. Consider a high glossy burl wood as it gives more of a glam look and a more dull and minimal look gives you more of a modern look.'

20. Go for gloss for a bold look
These wall-to-wall wardrobes provide ample storage space and are painted in a bold teal gloss shade for a statement look. Going for a gloss finish may seem brave, but lacquered walls are bang on trend right now, plus this is a look that can work really well in a small bedroom as it helps bounce plenty of light around the space.
'The finish on a wood wardrobe can help change its look and feel,' says Grey. 'If you want a really glamorous and dramatic look, consider a high gloss paint or stain on the wood. Taking this approach will also make the wardrobe the focal point in the room.'

21. Or go for gloss wood doors for a retro look
This bedroom has been transformed into something really rather gorgeous with the gold-leaf ceiling, one raw concrete wall and lacquered green elsewhere. We love the mix-up of modern and traditional – with retro style wood wardrobe doors.
'Some of the woods I like to use for a wardrobe include Ppine, mahogany, burl, and maple,' says Grey. 'Each has its own unique qualities, colors, textures and looks so it depends on how I am designing the overall room and if I am looking for subtlety or something that really stands out.'

22. Split it up into top and bottom cupboards
Built in wardrobes are split into floating top and bottom bedroom storage, creating a shelf area in the middle to display treasured items or have things easy to hand.
'Want to blend the wardrobe into the room?' says Grey. 'Design it in the same color and finish as the wall so that it all blends together and does not stand out in any way. This will create a look of symmetry and balance.'
Does a built-in wardrobe add value?
Practical storage is always going to add value to a home and is very appealing to potential buyers too. Lack of storage space is in fact one of the most off-putting aspects of a home when you come to sell, so turning those awkward spaces like alcoves or under the eaves into easy to use storage, or adding a wall of built-in cupboards to a bedroom is going to make your home more attractive when you come to sell.
For style leaders and design lovers.
Lotte is the Digital Editor for Livingetc, and has been with the website since its launch. She has a background in online journalism and writing for SEO, with previous editor roles at Good Living, Good Housekeeping, Country & Townhouse, and BBC Good Food among others, as well as her own successful interiors blog. When she's not busy writing or tracking analytics, she's doing up houses, two of which have features in interior design magazines. She's just finished doing up her house in Wimbledon, and is eyeing up Bath for her next project.
With contributions from